3D printing is a remarkable technology that allows turning graphic designs into physical objects. Although the previous generations of 3D printers used non-biodegradable materials such as plastics made from fossil fuels, new technologies are being developed that allow 3D printing to be done in environmentally responsible way. We have selected several impressive projects showcasing how designers use biodegradable and bio-based filaments to create objects that are both beautiful and functional.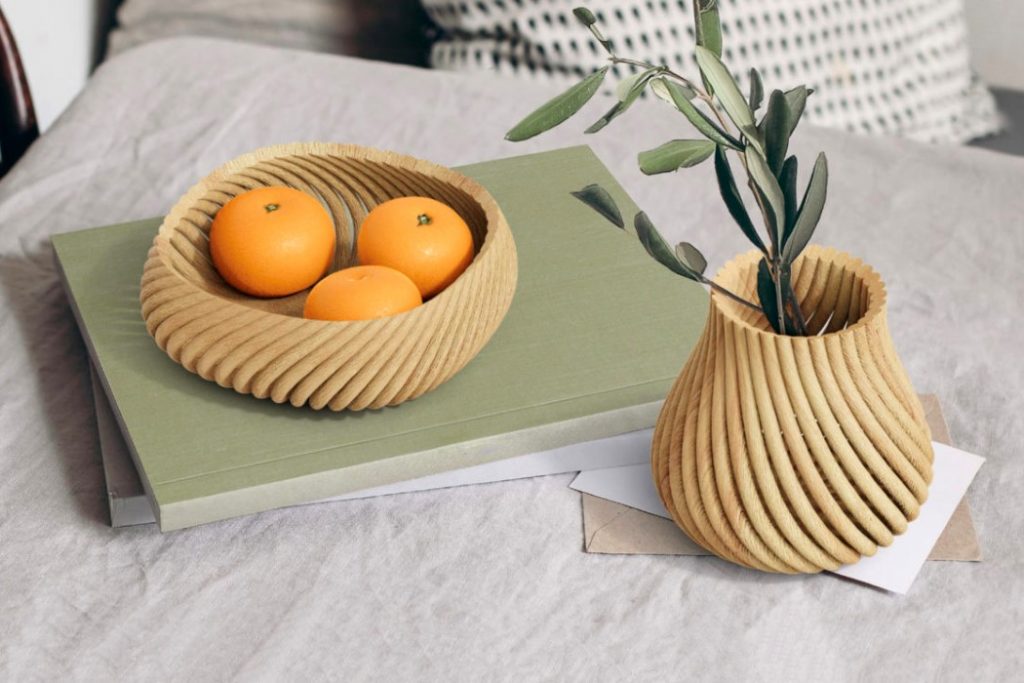 The Ohmie 3D printed lamp developed by Milan-based start-up Krill Design can be composted along with organic household waste, when no longer in use. Seeking a material that would not run out, the team turned to discarded orange peels from the two or three fruits sourced a family-owned food producer in the Messina province of Sicily. Given that oranges are one of the many Italian produces renowned worldwide and Sicily alone produces about 3 per cent of global oranges, that allows the start-up to stock up on the peels and helps promote a local supply and production chain.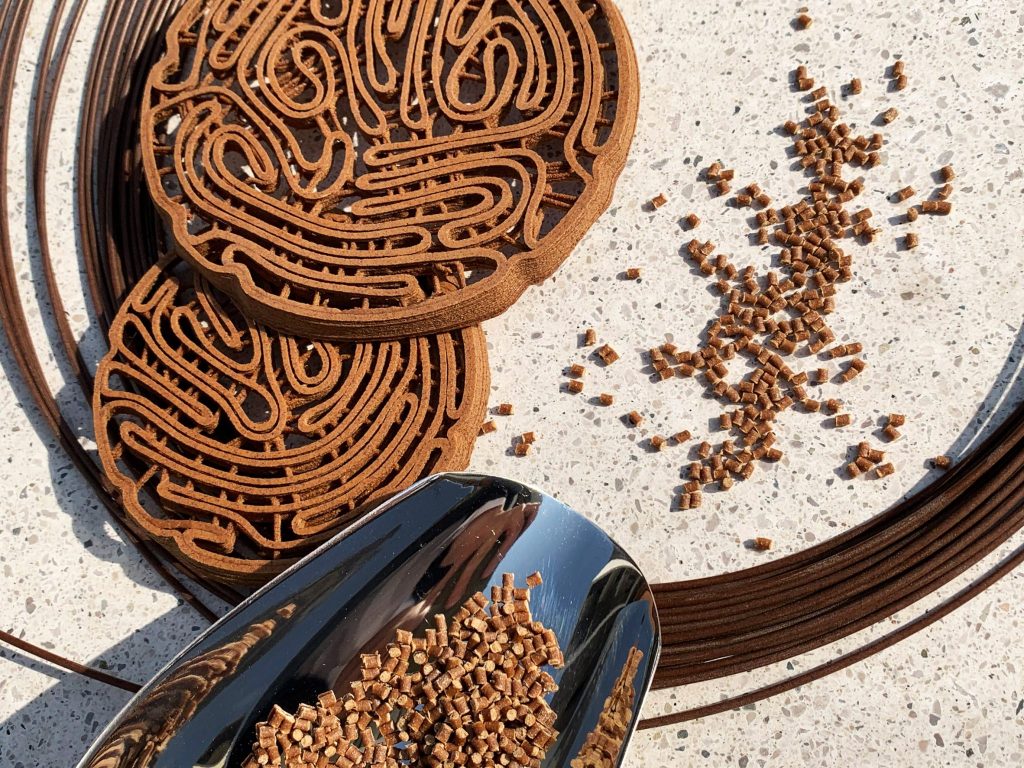 The peels are dried, ground to a fine powder and then sifted to make sure all grains are fine enough. The powder is then sent to a compounding facility where it is added to a biopolymeric vegetable starch base. Afterwards, the orange biopolymer is produced in the form of pellets, which is the only part of the production that is outsourced, for the machinery needed is extremely bulky and expensive.
After this, the team extrudes the orange filament from the pellet. This is then used to 3D print the lamp. The 3D printings technique has been chosen by the team to "avoid any form of waste during production".
The resulting 23-cm-tall lamp, at the end of its life, can be easily broken down by hand into smaller pieces and tossed with the household's food waste to be disposed of in composting facilities. The team is planning to go on with their research in order to develop a material that can be composted in nature or in an at-home compost.
The Vine line of homeware designed by Yves Behar's fuseproject uses a technology that is even more advanced than conventional 3D printing. Developed and pioneered by Forust, a subsidiary of Desktop Metal, this technology involves innovative printers that can print annular rings, knots, and grains into the patterns associated with wood.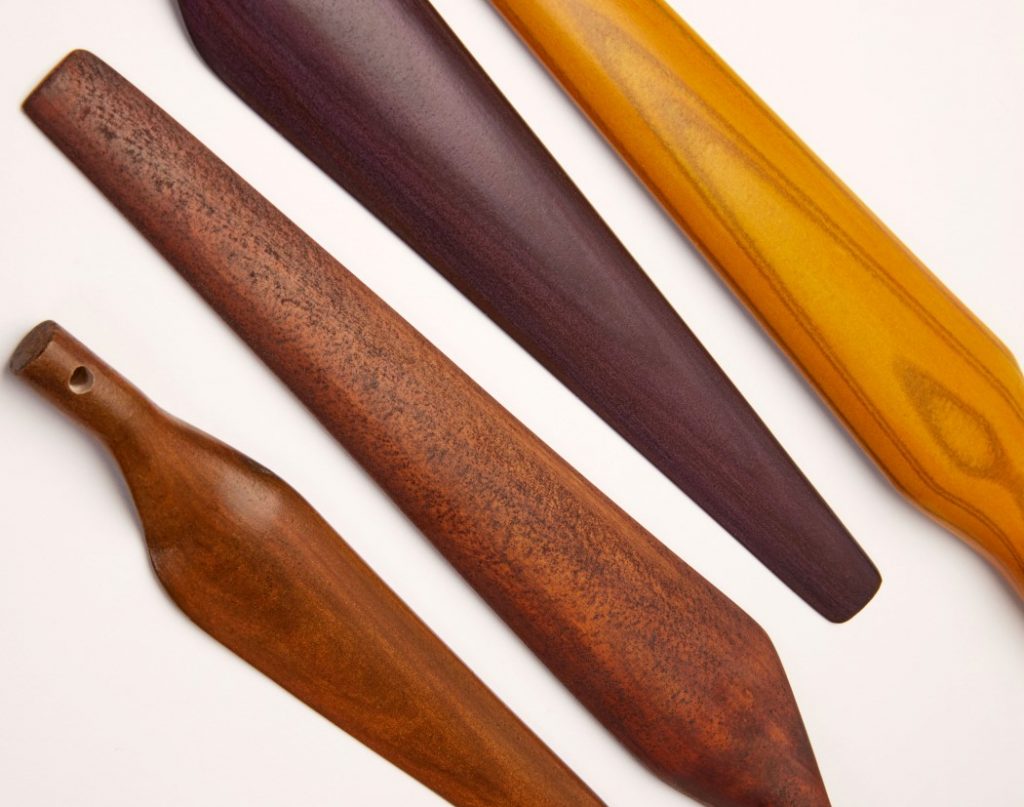 The 3D printed material is a unique composite of recycled sawdust and bio-epoxy resin, but the result forms look exactly like real wood and has strength similar to wood. The printed material can even be sanded and finished with conventional wood finishing methods, so they feel like wood too.

The game-changing technology was developed by Forust with an ambition to disrupt the furniture industry by creating a more sustainable alternative to cutting down trees for 'valuable' hardwood. The Vine collection that comprises an array of bowls and vases, aims to showcase the revolutionary printing breakthroughs.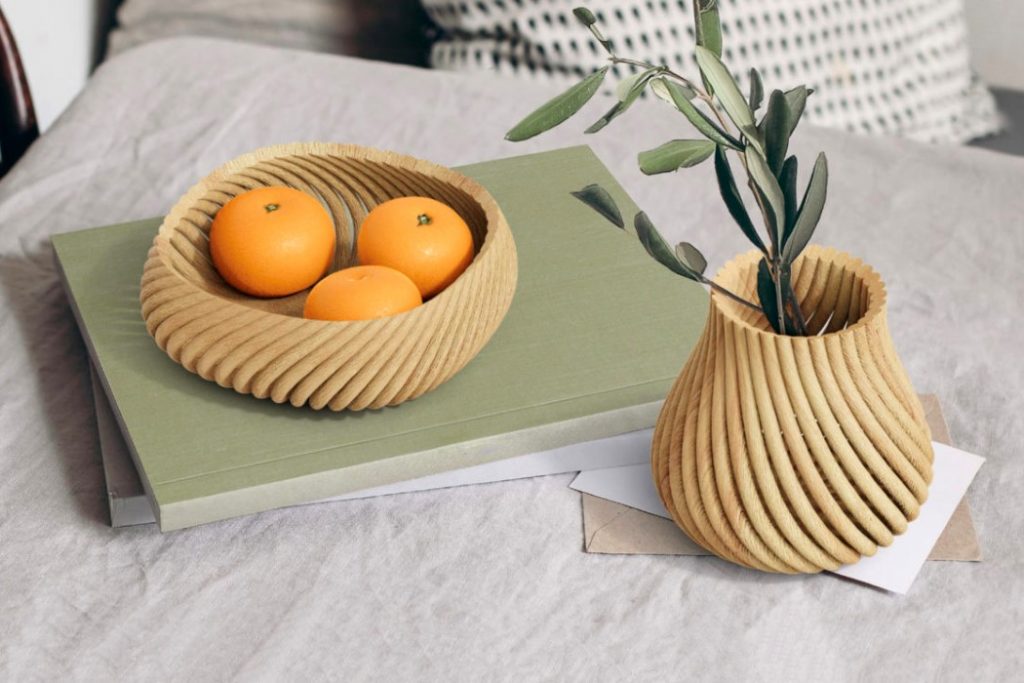 In exploring the unique capabilities of the technology, the team has opted to design each piece from a singular extrusion point that twists up into a simple, repeating pattern to create its shape. The collection is printed with cylindrical rods of the same diameter and requires no additional connecting pieces or adhesives. The pieces' curving, organic form, which is easy to pair with any other home décor, juxtaposes against their dense but lightweight wood and bioresin composition that exhibits the same functionality and structural durability as conventional wood. The multi-functional shapes and sizes make the Vine collection easy to pair with other home decor.
Lighting brand Gantri uses the world's first sugar-derived polylactic acids (PLAs) that promise tough material that does not harm the planet to 3D print lamp designs developed by the best designers of our time. The brand's aesthetics is a mix of Japanese minimalism and Scandinavian design elements that emphasize a clean, clutter-free interior with mood lighting.
PLAs blends are the base ingredients of Gantri Plant Polymers. Traditional PLAs not heat tolerant and do not diffuse light evenly, which is why they are typically only used for consumables such as disposable cups and straws, and seldom for durables such as furniture and electronics. Plant Polymers retain the sustainable benefits while meeting the needs of premium lighting products.
The translucent blend offers a beautiful, frosted glass-like effect when lit, while the opaque blend, finished with a premium water-based paint, is 50% more temperature resistant than traditional PLAs and safe to use even near electronics.