Wearable technologies have become an integral part of our daily lives. The list of smart devices that can be worn on the body includes much more curious wearables than an Apple Watch or a VR headset. Top-of-the-line devices can track biometric data, push the boundaries of training, enhance communication providing tactile feedback, and even automatically cool or warm the body based on body temperatures. Be it gaming, fashion or healthcare industries, these electronic devices are becoming popular consumer technologies that take us right into the future.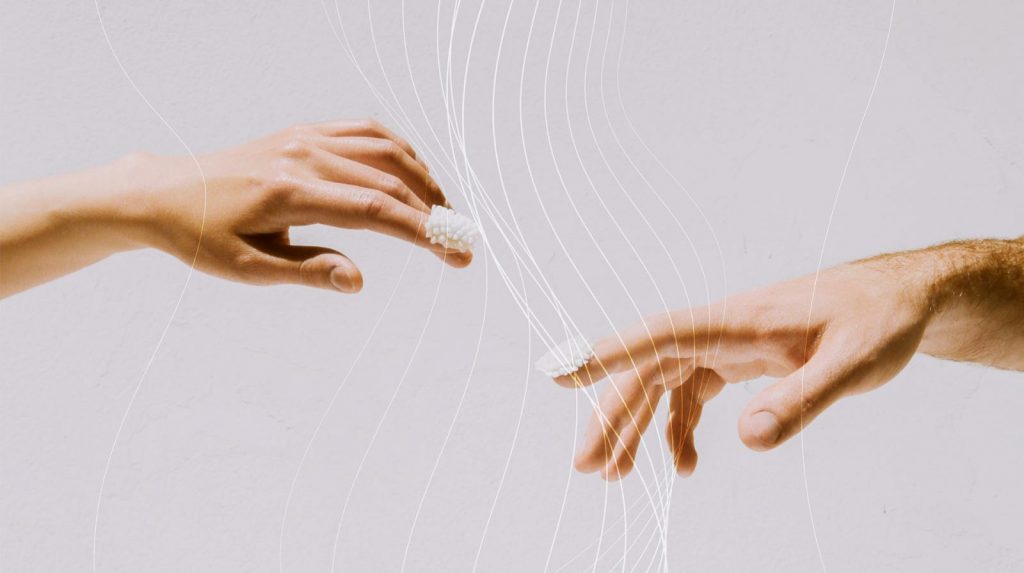 As temperatures are high this season, a portable wearable device that keeps the user cool via a smartphone app developed by Sony startup program could come just in handy. Named Reon Pocket, it encompasses a small air conditioner, about the size of a card wallet and weighing just 85 grams, that utilizes thermoelectric cooling that supposedly cool a user's body temperature by 13 degrees Celsius.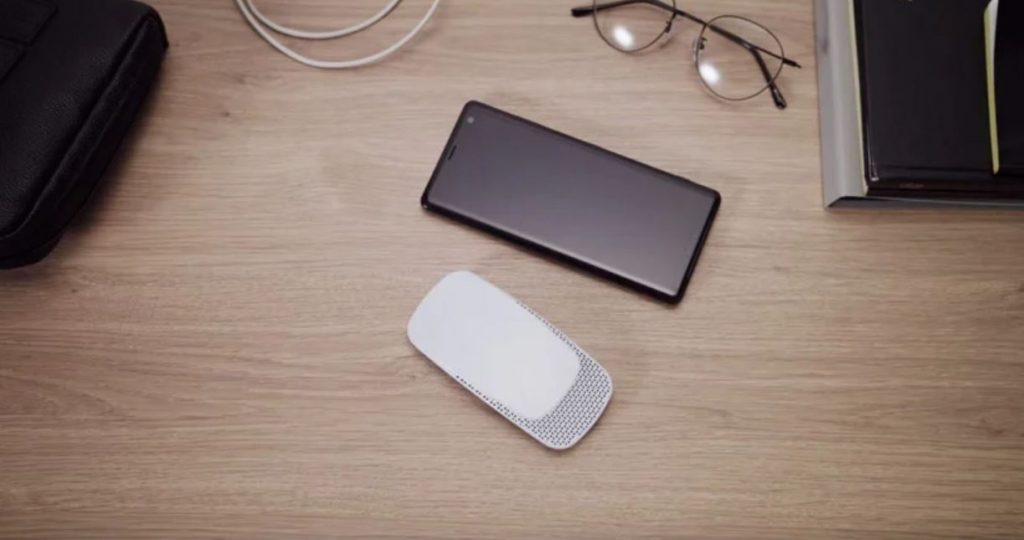 The device slips into a special undershirt with a pocket at the base of the neck and connects via Bluetooth to an app, which lets users control the temperature using their smartphone. The conditioner has a charge time of two hours and can run for 90 minutes.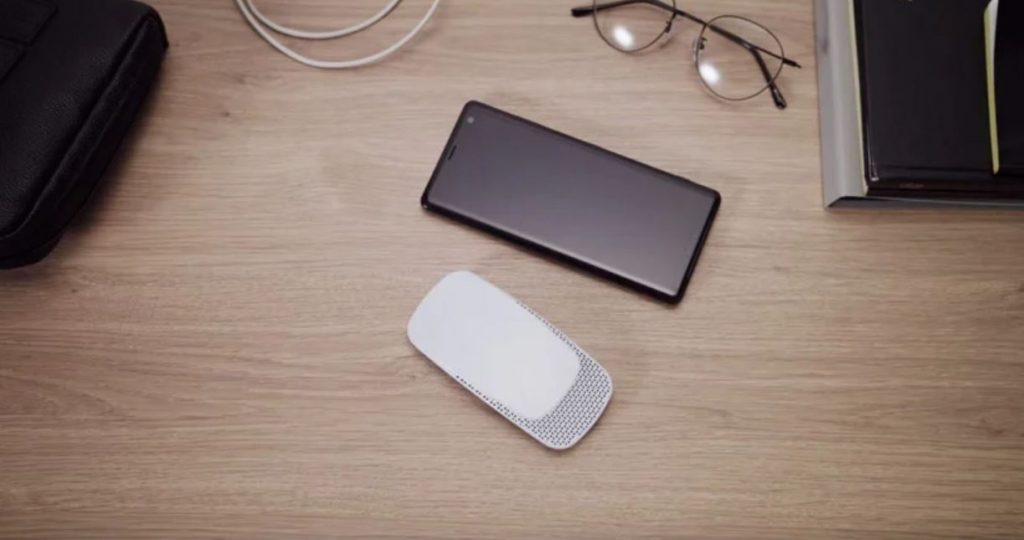 According to the team, the gadget can also be used as a heater on winter days, raising the user's body temperature by about 8 degrees Celsius.
Inspired by how Nature uses rain to clean the air, industrial designer Kevin Chiam has developed a small 3D-printed clip-on air purifier dubbed Airtomo. The ingenuous device removes air pollutants using release dry, atomised water vapour through a process called aggregation.
Ultra-fine mist of water droplets binds harmful particles to form large, heavy aggregates, which fall to the ground, thus removing microscopic particles that create pollution from the air. They no longer resuspend, even after water has evaporated, and can subsequently be swept away with a mop or broom. The water vapour is fine enough that it doesn't get the user's clothes damp.
Airtomo is made from a combination of 3D-printed parts along with a bespoke circuit board, a battery and an ultrasonic transducer disc that atomises the water into fine droplets. Designed to be used on the go, it is charged with a micro-USB cable and can be replenished with water wherever necessary. A single atomiser consumes 23ml of water per hour and cleans 167 litres of polluted air in a minute.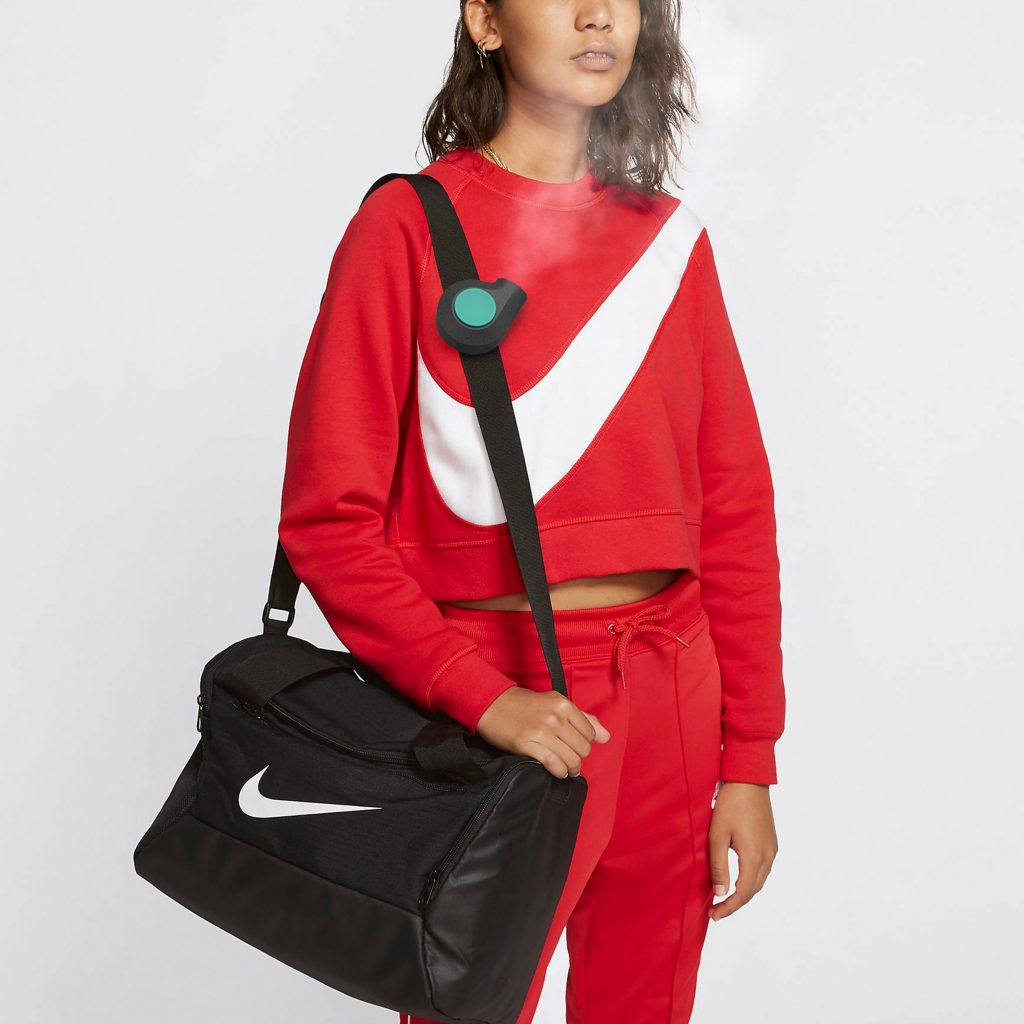 The small purifier can be attached to a bag, pocket or shoe, and comes in a series of bold colours. When positioned near the chest, Airtomo helps to safeguard personal health as the vapour cloud directly cleans the air individuals breathe. When clipped on a bag or shoe, it helps protect the collective well-being of occupants in a given space and the environment.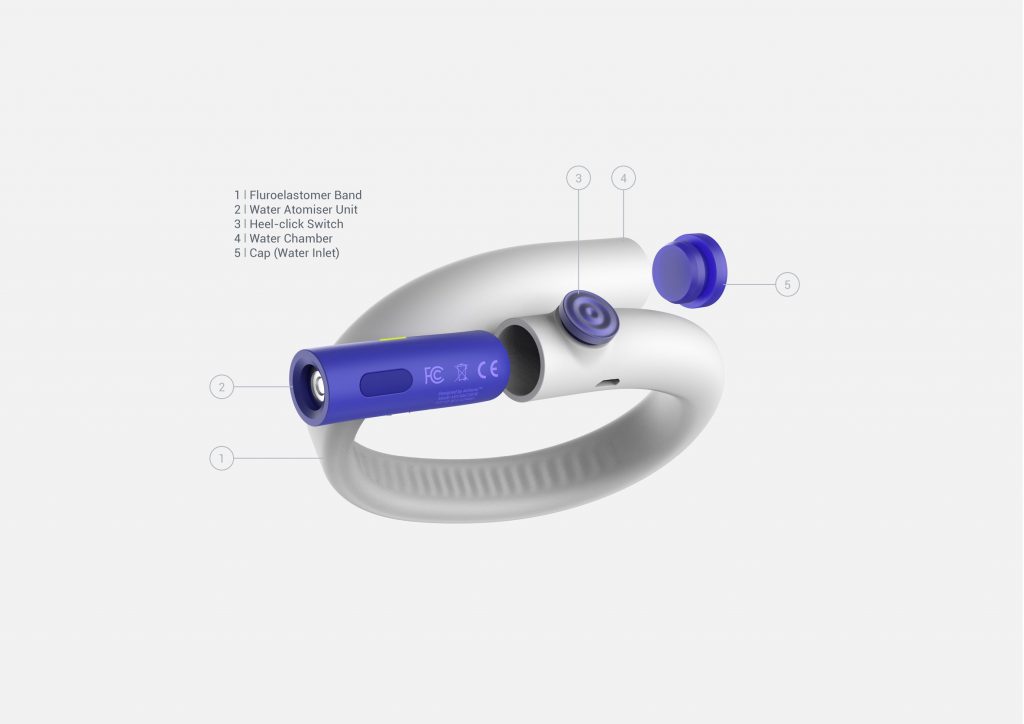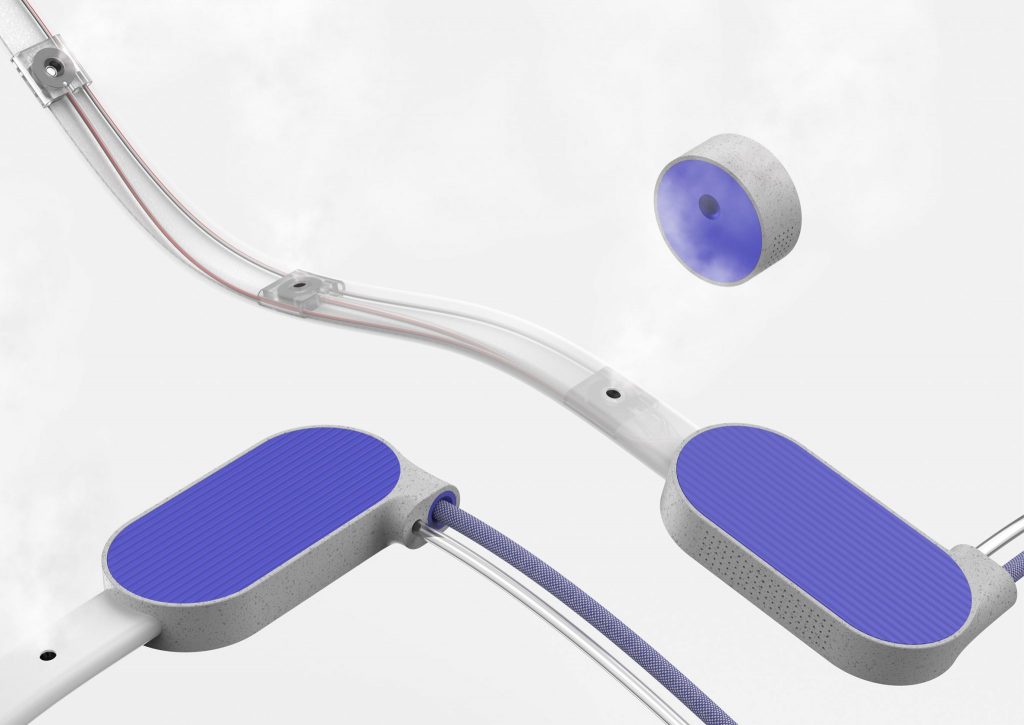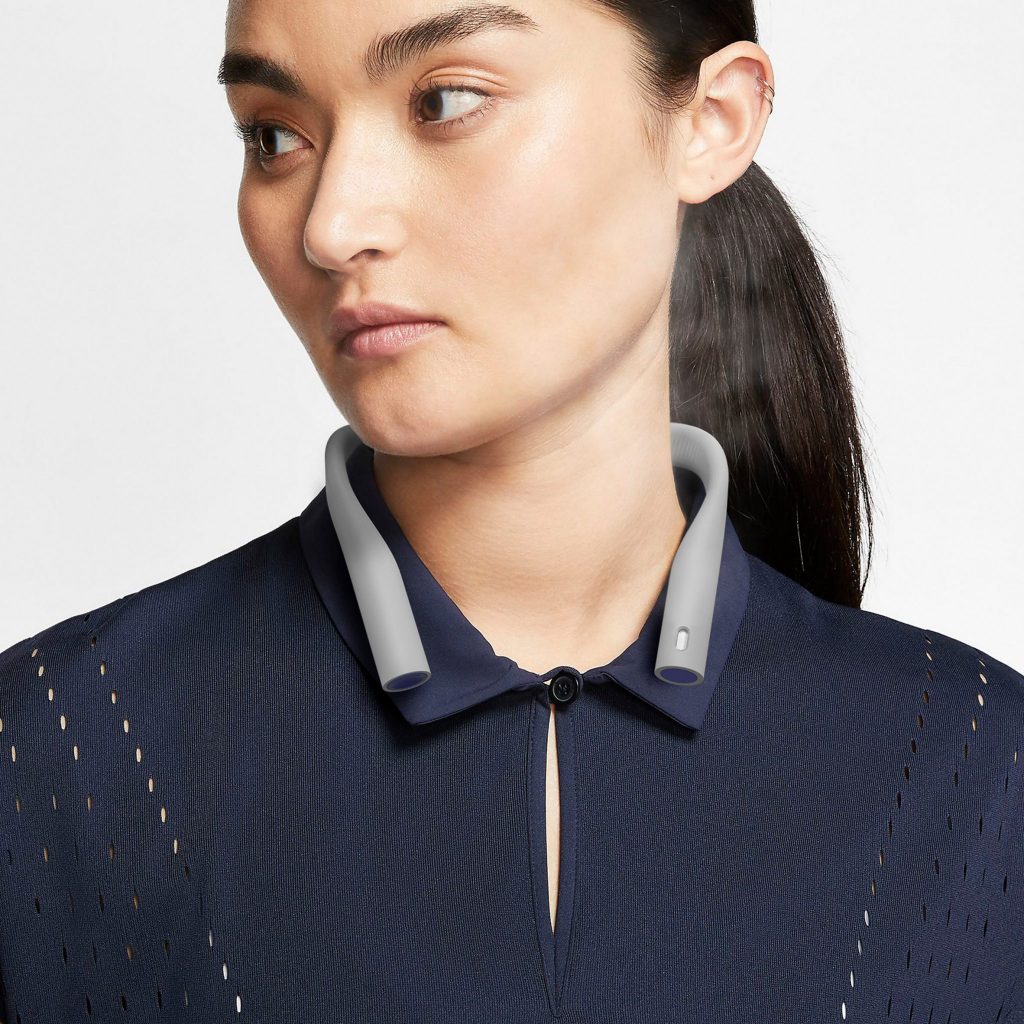 Chiam has created a working prototype for Airtomo and is developing concepts for purifiers in ankle and neckband form.
Aiming to introduce the sense of touch to everyday digital interactions such as video calls and online gaming, London-based Studio Tada has introduced a fingernail-mounted haptic device for augmented reality named Fulu.
Although touch is the most important sensory system to create trust and empathy, it is neglected by digital communications that are primarily audio-visually focused. Fulu means 'tangible' in Japanese. It is also phonetically close to 'full', implying full touch.
Connected to mobile devices via Bluetooth, Fulu recreates various sensations that range from stroking the fur of your dog, to touching the hand of a loved one from anywhere in the world. Fulu creates texture and touch sensation from 2D images, adding 3D depth to current 2D screens.
Fulu is small enough to be carried around in your pocket and is easy to use. Users can connect to Bluetooth devices such as smartphones and laptops to send and receive touch remotely. The device is applied on the nail side so that the user can retain physical touch on the finger pad.
Applications are numerous: the device enables "touch calls" with a long-distance friend or family member, or can, for instance, learn professional guitarists' hand touch while practicing the guitar.
A team of design graduates from Royal College of Art and Imperial College London have invented the first-ever surveillance proof multi-factor authentication interface in the form of a wearable device hidden in the mouth. The device, called Stealth, offers a "surveillance-proof" method to verify the user's identity scanning and storing the user's palate biometrics for identification purposes.
According to the team, people leave traces of conventional biometrics data easily and unconsciously everywhere, which makes them less reliable. Once biometrics are forged or hacked, we can do nothing to change them. Unlike fingerprints and facial recognition, the mouth has multiple biometrics that are by default concealed and cannot be easily collected by others.
Sharing a visual likeness to dental wire retainers, the Stealth device would be worn on the roof of the mouth and work similarly to fingerprint recognition, identifying the individual via the unique patterns of their rugae – the ridges or folds of skin located on the mouth's palate.
On top of that, Stealth leverages the tongue's capability of sensing and performing gestures to facilitate a communication protocol. When authentication is required, the device delivers a code of digital simulated sense. The user should perform pre-defined gestures in response to each sense. The challenge-response pairs are shared knowledge exclusively between the user and their device. In this way, the knowledge-based communication protocol eliminates passwords, avoiding fraud, and making it extremely hard to intercept.
For the designers, the most exciting element of the Stealth device, however, is its potential to combine different methods of in-mouth data collection – such as biometrics, temperature, humidity and pressure – and applying this to an artificial-intelligence-based algorithm. When connected to devices like smartphones, the Stealth gadget could also deliver digitally simulated tastes to the mouth to communicate incoming calls or messages. A sweet taste might be used to represent a family member, for instance, and the wearer might tap their tongue on a certain spot three times to signify that they will call back soon if they are unable to pick up.