Made from the same non-biodegradable plastics that is used to build car tires, chewing gum is the second most common form of roadside litter, after cigarette butts. Taking 50 years for one single piece to even begin decomposition, it poses a serious ecological problem. In the meantime, synthetic rubbers bubblegum is composed of, like polyethylene and polyvinyl acetate, can be molded, pressed, and hardened into different shapes, creating a material that is relatively durable and easy to work with. Noticing the wasted potential of chewing gum and the harmful effects it poses on the environment, product designers recycle the confectionary into an array of amazing objects.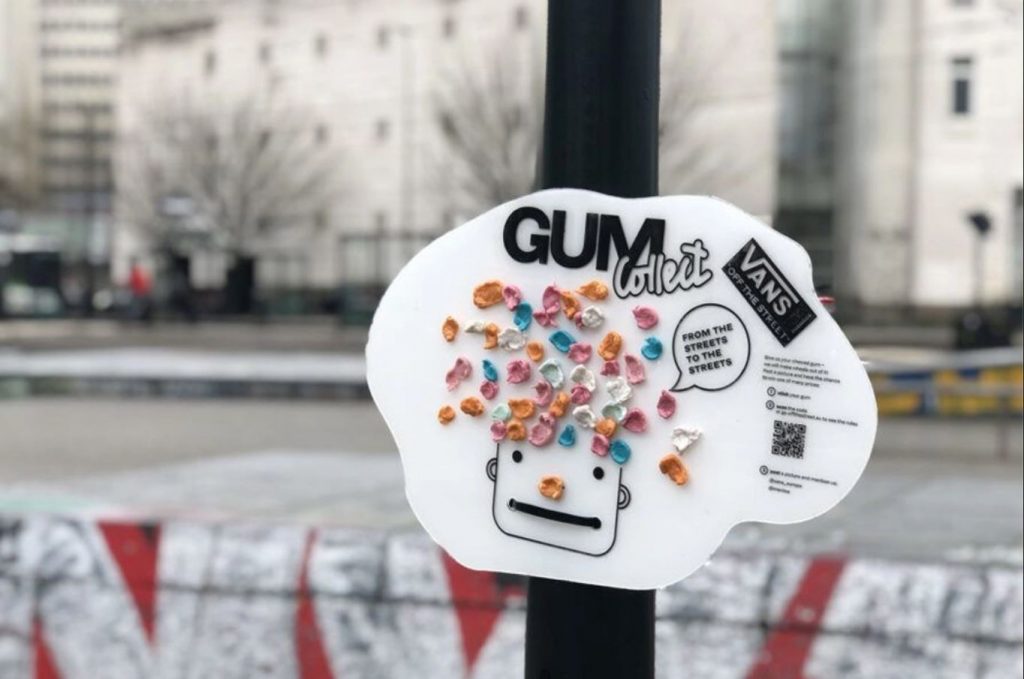 London-based start-up Gumdrop, founded by the product designer Anna Bullus, has developed Gum-Tec,  recycled compound that contains a minimum of 20% chewing gum, which is then repurposed into a vast number of things from wellington boots, to mobile phone covers, stationary, packaging and much more.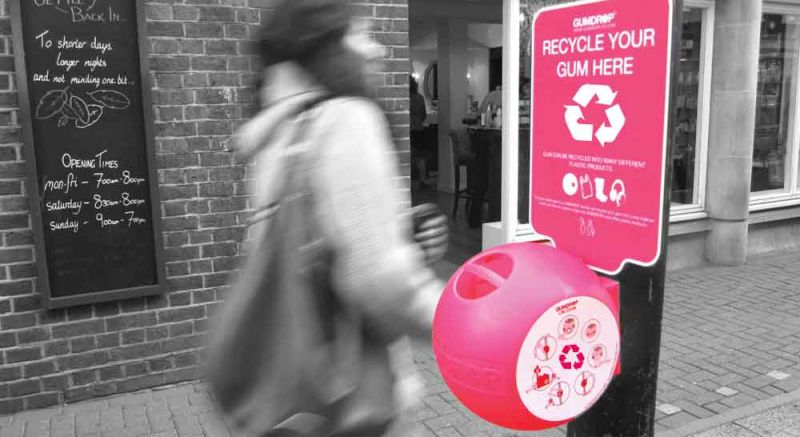 To collect the raw material for their work, the company installs specially-designed bright pink, bubble-shaped bins at head-height in the streets, encouraging passers-by to donate their gum. These bins are themselves made of recycled chewing gum. Once they are full, they are taken to a recycling plant together with its content, to be processed to manufacture new ones, which makes it a closed loop.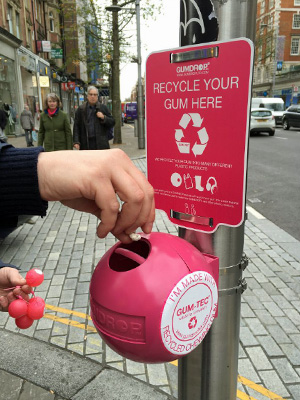 To recycle the waste, Bullus works with a moulding specialist in Leicester called Amber Valley, which removes unwanted materials (e.g. wrappers) before grinding the Gumbins into pieces and compounding it with other recycled polymers. The mixture is then put into an injection moulding machine where it is heated and then ejected as a paste, which can be moulded into new designer objects as it cools.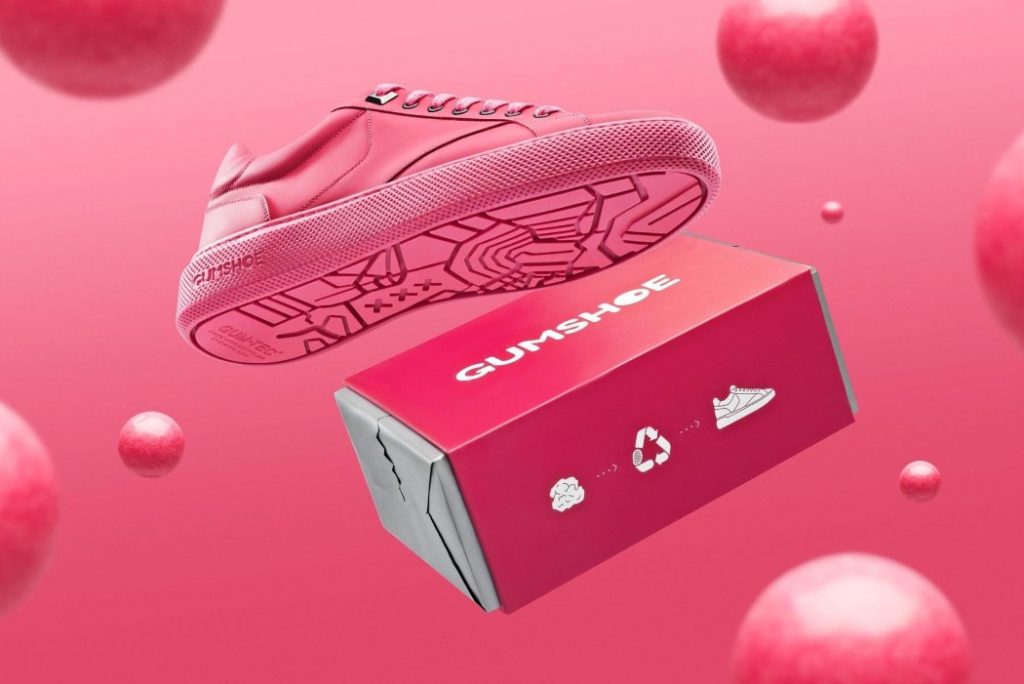 The start-up also teams up with manufacturers and companies worldwide to make products from recycled and processed chewing gum. Recently, it has collaborated with Explicit Wear to design Gumshoes, sneakers that come with a Gum-Tec sole, available in red and pink, colours that are associated with bubblegum, and a leather upper body.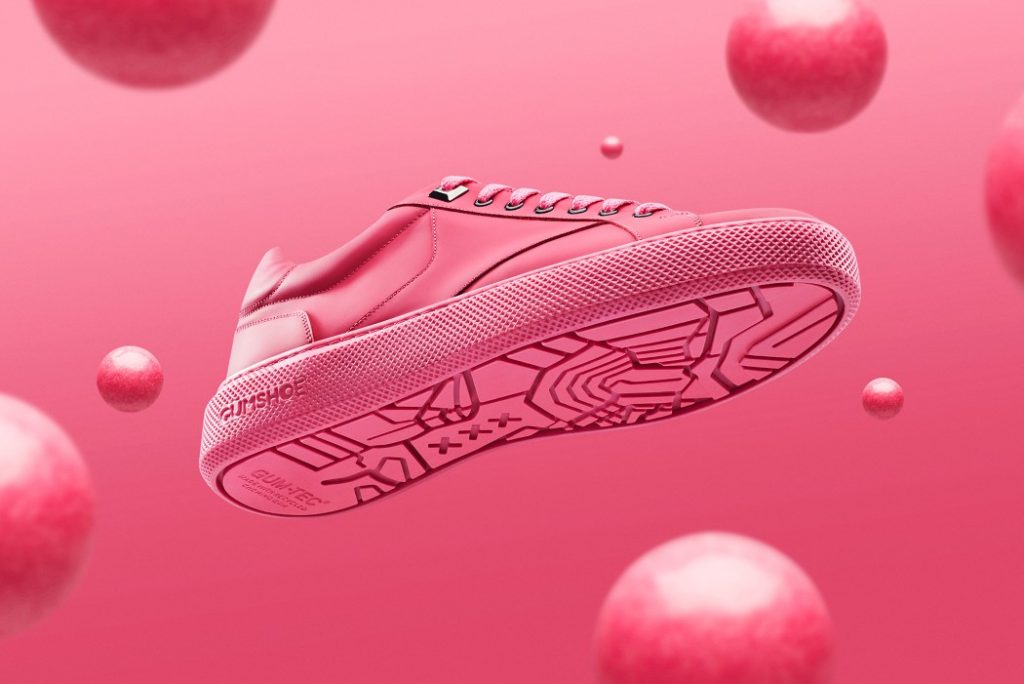 It takes about a pound of discarded gum to create a pair of Gumshoes. The gum waste for them are collected from the streets of Amsterdam, a city where an incredible 3.3 million pounds of gum are incorrectly disposed on the sidewalks each year. The sneakers that are as durable as any other rubber shoes are marketed by Iamsterdam and feature the Dutch capital's signature XXX logo.
Following the same trail of thought, design students Hugo Maupetit and Vivian Fischer have envisioned a partnership with Mentos and Vans, which proposes collecting discarded chewing gum to construct skateboard wheels out of it.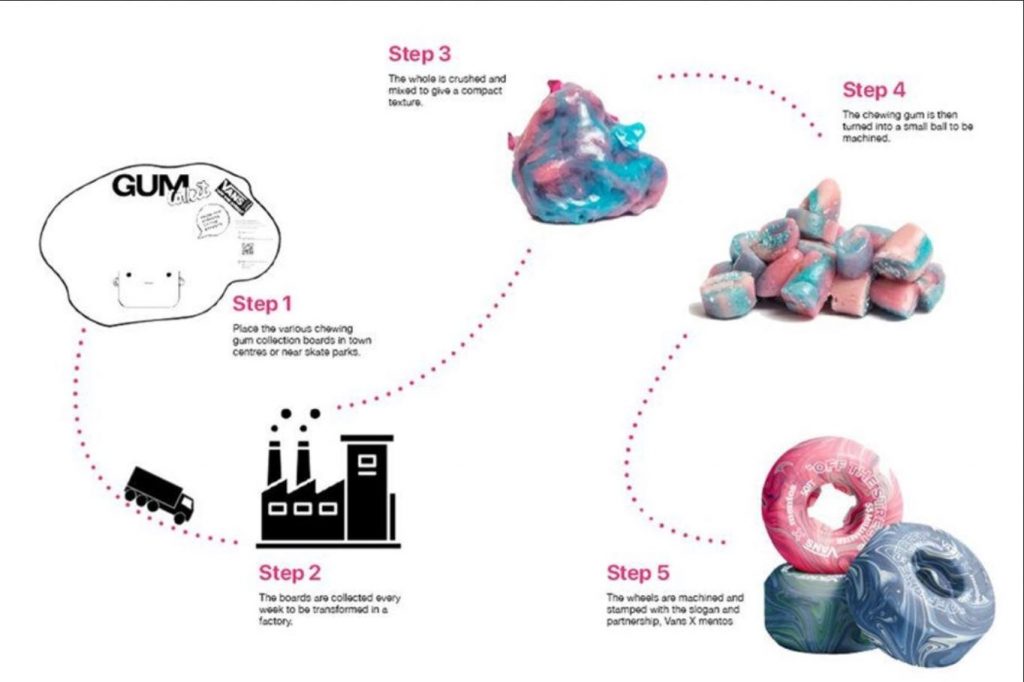 In the imagined collaboration, the duo suggested that 'gum boards' be installed throughout their university city of Nantes, where residents could tack their finished chewing gum instead of spitting it onto the ground. As the gum boards filled up, the individual pieces would be collected, cleaned, molded together with a stabilizing agent, and stained with natural dye to form the wheels' bases.