The art of lacemaking is an ancient craft, which originates in the Middle Ages and remains an important part of European heritage and culture. Today, lace sees a celebrated revival, with artists combining traditional crochet techniques with unexpected media, merging 2D and 3D, and – literally – taking lace art to a whole new level.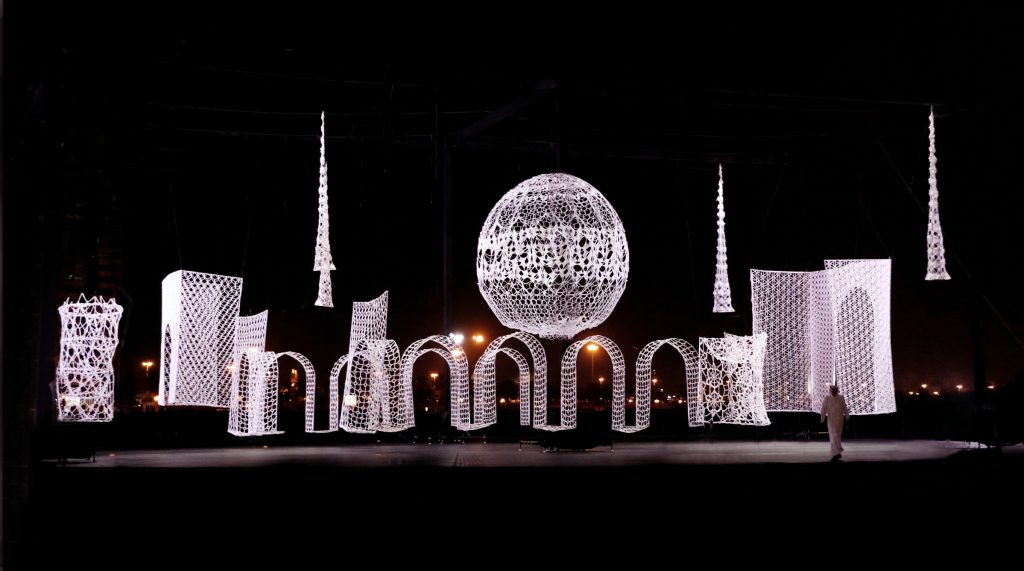 Hungarian artist Agnes Herczeg creates intiricate lace works, incorporating small pieces of wood, bark, coconut shell or other found materials into her sculptures to constitute a compositional part of the picture. She studied textile conservation at the Hungarian University of Fine Arts, and over the years has gathered several methods of embroidery and lace making to use in her work such as needle lace, pillow lace, braiding, macramé, and more.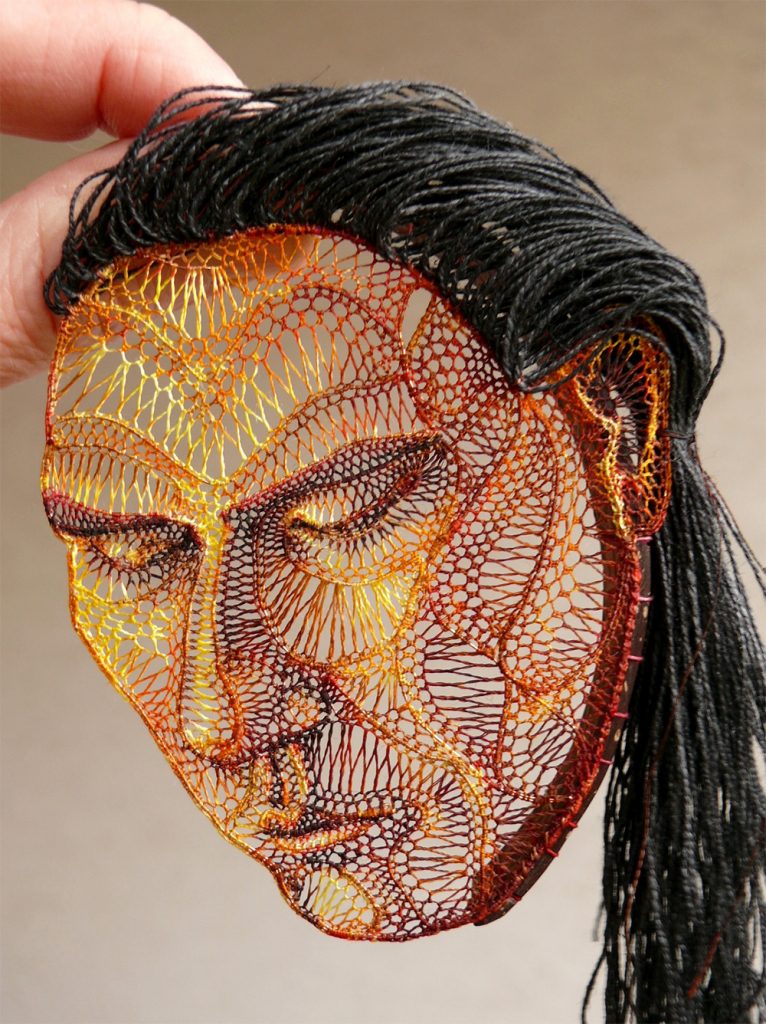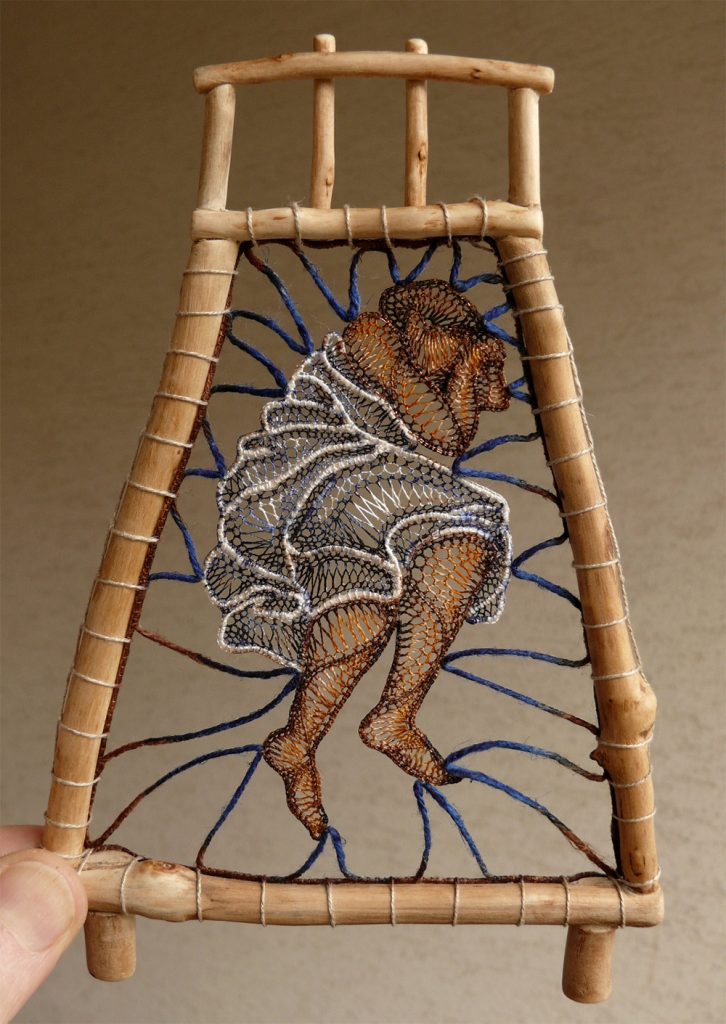 The artist describes the process of creating her needle lace artworks as drawing with the help of stitches. Based completely on improvisation, it is time-consuming and delicate, requiring a high degree of attention. Herczeg mainly uses natural threads of different plant origin (pure silk, linen, hemp, cotton, jute, raphia etc) and thickness. The pattern and density of the stitches within the contour made of thin wires determines the graphics of the given lace work, which is then dyed to eventually become a figurative picture.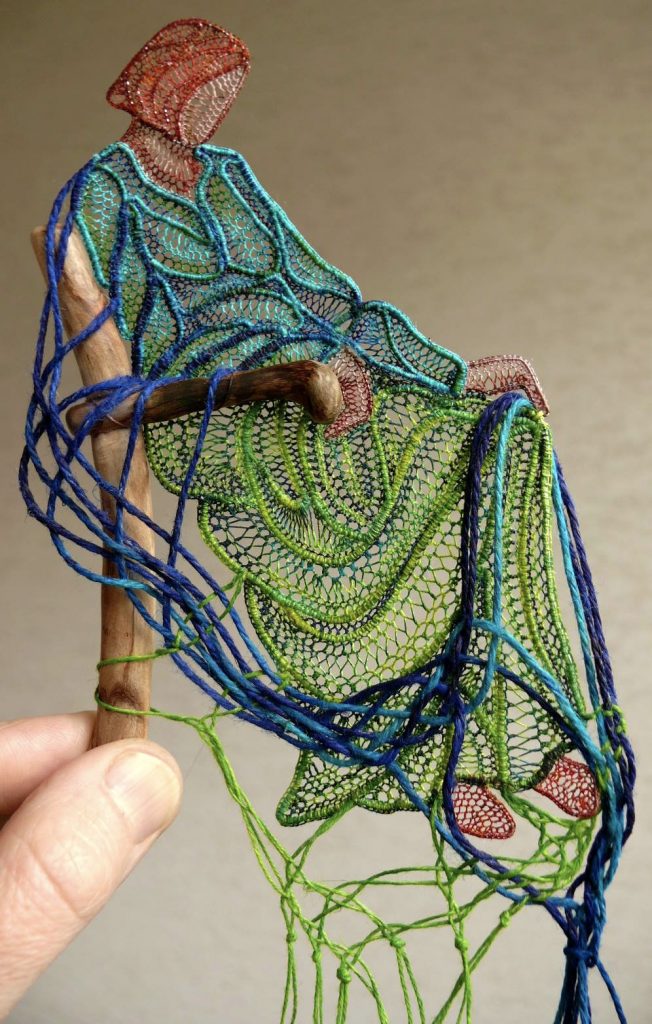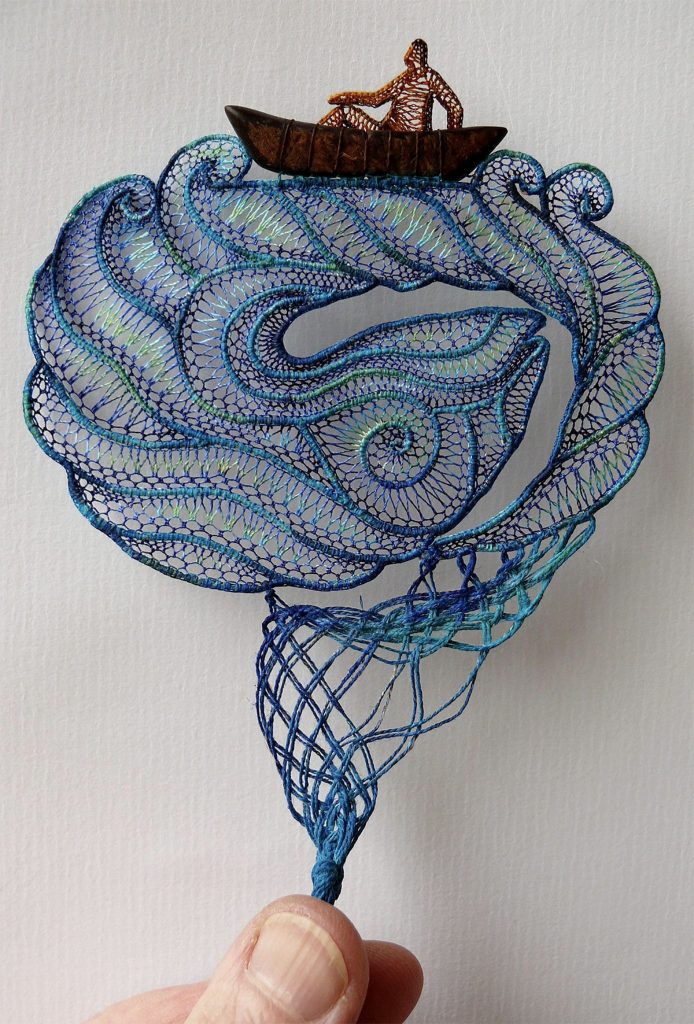 Herczeg's works mainly focus on female forms, capturing them in moments of contemplation or work. The artist admits that she lays emphasis on planning for she has to provide not solely visual content for the picture but also elaborate its structural elements and the order of work phases, which may sometimes be as complicated as solving a riddle.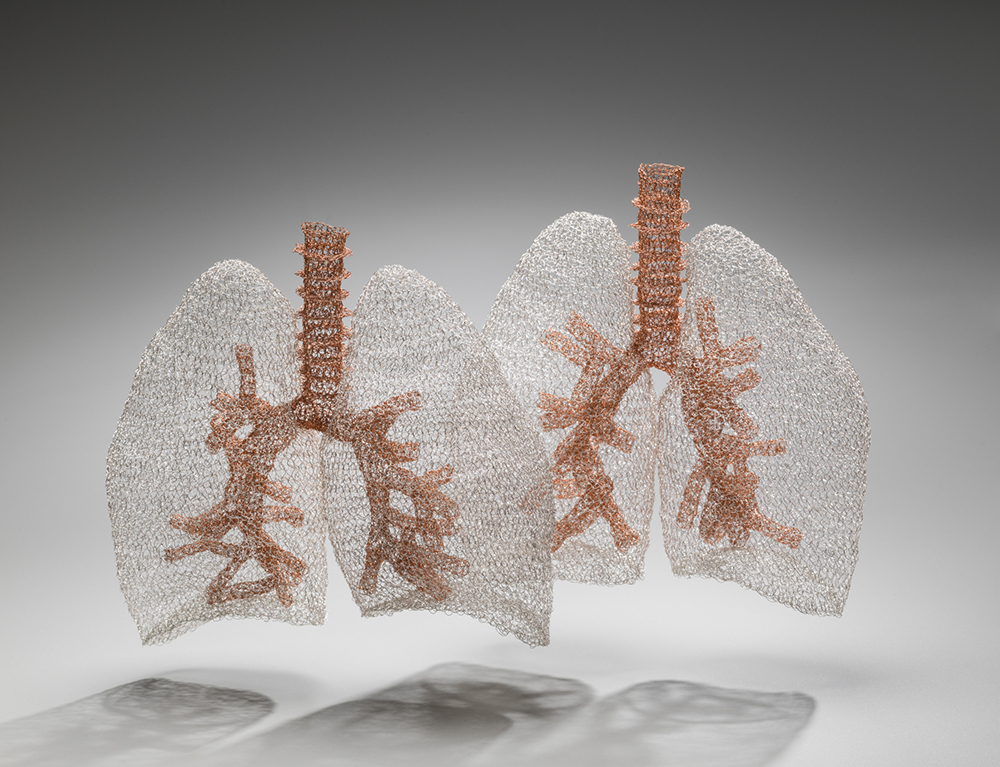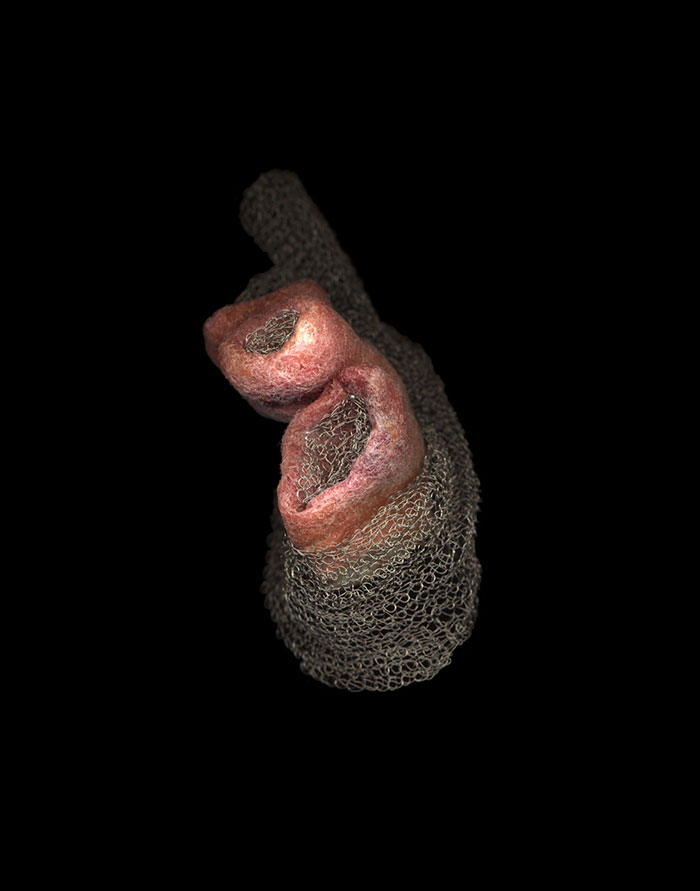 US artist Anne Mondro reinterprets forms of human body and internal organs as crocheted sculptures made with steel and copper wire. Her artworks are amazing anatomically correct hearts, lungs, limbs, and even entire bodies that allude to ethereal silhouettes associated with shadows, ghosts or decay. The interwoven forms, which each takes hundreds of hours to accomplish, are structurally strong, yet visually and physically light.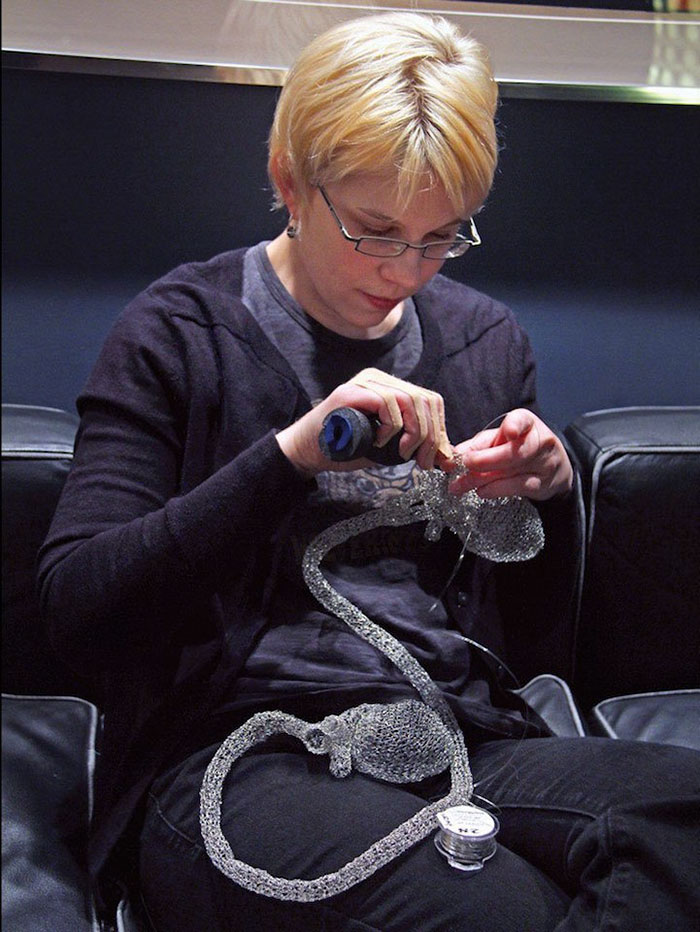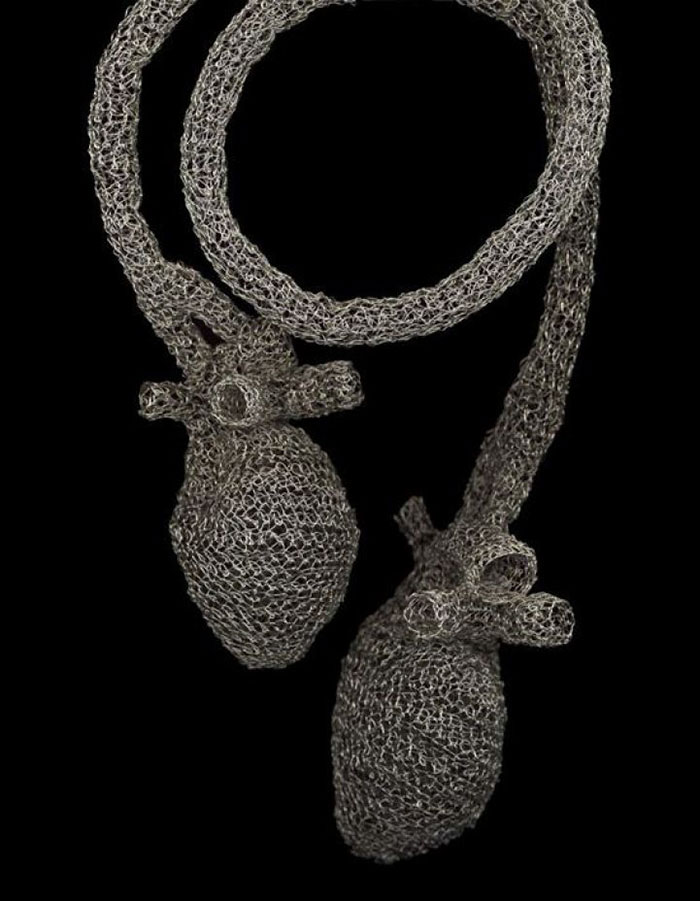 To ensure that her art is as anatomically correct as possible, the artist spent about a year researching the anatomy of a heart, figured out how to make human organs using 3D modeling software and complemented the process by spending time in the anatomy laboratory of the University of Michigan, where she works as an Associate Professor at the School of Art and Design.
Choi+Shine Architects, with bases in Boston, London, Seoul, are famous for working with lace art on a bigger scale, literally. They create site-specific crocheted installations that comprise a shell of interwoven threads held in tension over an aluminium frame and suspended by thin, near-invisible cables.
During the full day sun, the lightweight and yet huge lace sculptures cast intricate, patterned shadows, creating both a pleasant visual experience and a second reading from the overlapping lace patterns. In the morning or when illuminated at night, they appear as glowing, translucent objects.
The studio's Kantate and Arizona installations encompass ethereal lace ribbons creating a sense of magic with their dynamic movements frozen, emphasizing the stillness of the sculpture.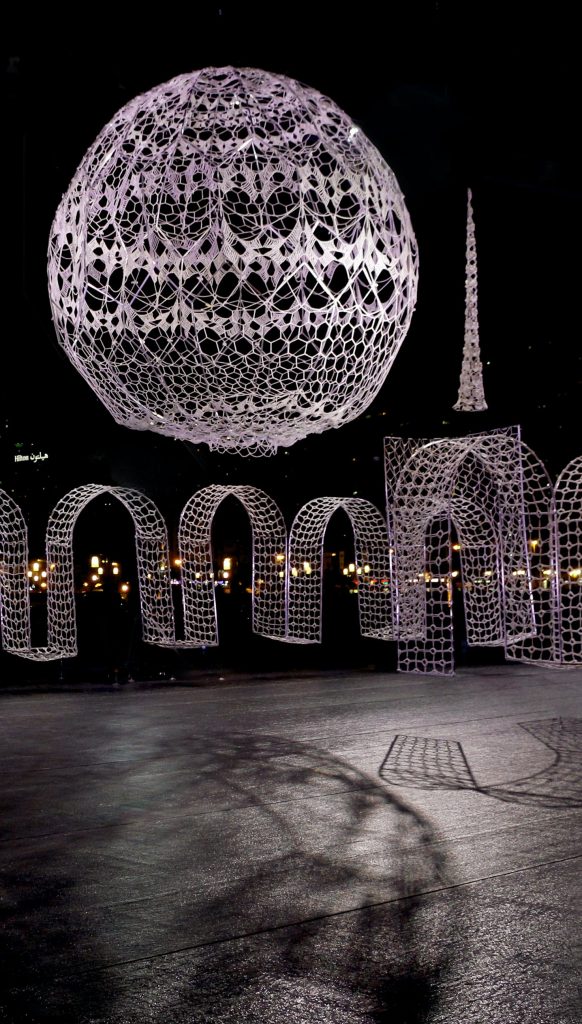 The Flying Mosque project is crocheted in geometric shapes, which are repeated to compose cross-cultural design language that is used both in the east and the west. While repetitive geometric patterns are informed by Islamic architecture, the minimalistic approach to the forms and the abstraction of the surface treatment are taken from contemporary western design.  The elements are arranged in a way that the composition's axial view allows a visual interpretation of an Islamic mosque.  When the viewer's position is off the axis, the composition loses its legible visual order and the elements become seemingly unrelated.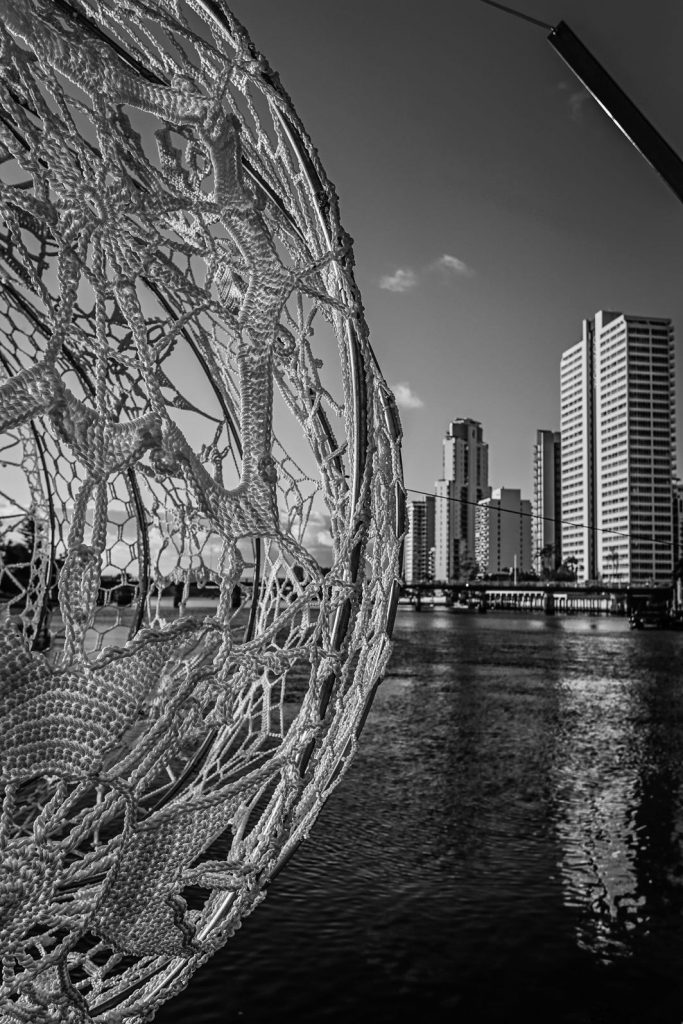 The Urchins installation mimics the delicate and textured surface of sea urchin shells, creating a visual harmony between nature and the manmade environment in the urban context. Although they are composed of a firm membrane made from strong marine grade cord held rigid in metal construction,  the Urchins create an illusion of a levitating diaphanous lace, light weight and delicate, softly glowing with gentle movement, responding to the wind and touch of visitors. In this project, the intricate detailing and mathematical patterns juxtapose the old with the new, feminine lace with masculine urban scape and nature with man-made.