Apart from its functionality, concrete has been appreciated by designers and artists for its brutalist aesthetics that can present itself in many guises. The material can take the shape and texture of whatever surface it is cast against, offering the potential to create elegant straight lines or complex geometries. The surface of exposed concrete inspires designers of various disciplines to replicate it in totally new and unexpected ways.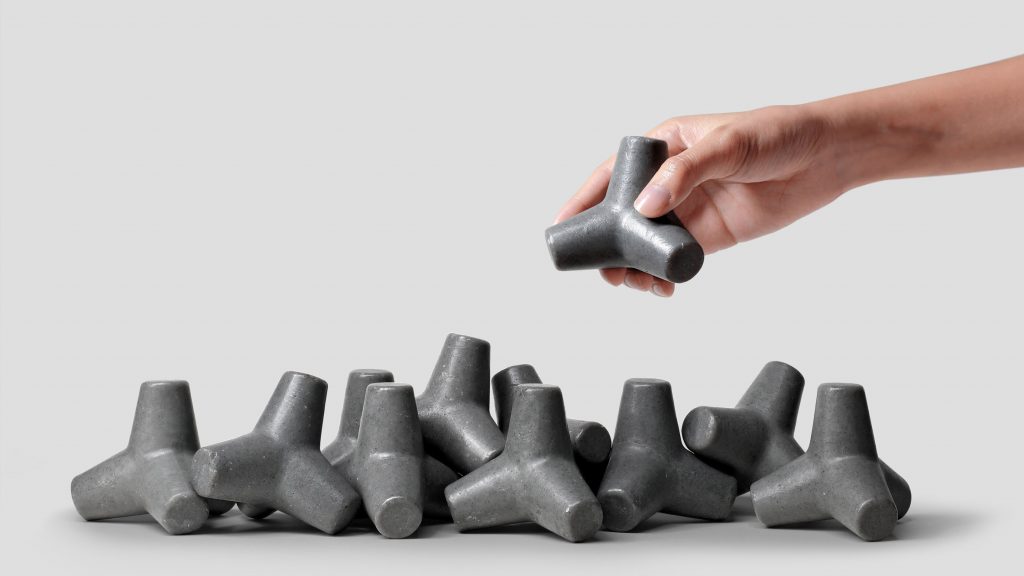 Hong Kong brand Tetra Soap draws inspiration from tetrapods, concrete water breakers used to prevent coastal erosion, which were designed in 1950 by French engineers Pierre Danel and Paul Anglès d'Auriac.
The tetrahedral soap mimics the surface of raw concrete, reproducing the material's colour and texture, and uses the same technique of production through casting.
Tetra Soap is made from Italian extra virgin olive oil, coconut oil, essential oils and distilled water and then individually cast in a unique Tetrapod-shaped silicone mould, which the designer claims "makes it 100 per cent slip free".
According to the team, the product's form with four pivot points prevents the product from slipping out of the user's hands while washing, making it much harder to drop. It also helps the soap dissolve slower.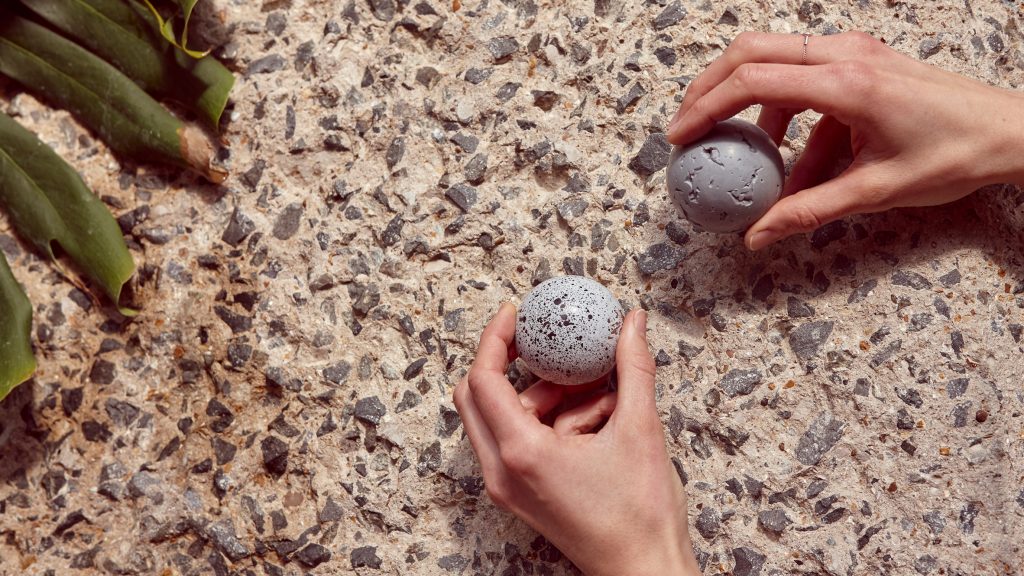 London-based designer and the Royal College of Art graduate Kia Utzon-Frank has designed a series of KUFpuffs, flødeboller sweets inspired by and imitating stone and concrete surfaces.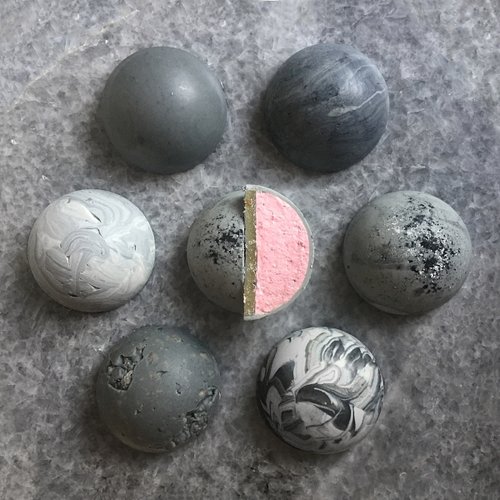 Flødeboller are a classic Danish treat made of soft Italian meringue on a marzipan, wafer or biscuit base covered in chocolate. Inspired by the Barbican's brutalist concrete surface hand-chiseled to obtain its look, Utzon-Frank (who is in fact a trained goldsmith) has reimagined the sweets encasing them in inedible-looking shells that contrast with their soft marshmallowy center. "Eating a KUFpuff is like biting into chocolate covered, sweet stone cloud," she says.
KUFpuffs come in an array of geometric shapes such as cubes, pyramids, and half-spheres, mimicking various stone textures, including a marbled and speckled design, and a rocky, concrete-like surface. All of them are glutenfree, suitable for vegetarians and made using natural ingredients. Their stone-like finishes are achieved through mixing white chocolate with natural black colourings and ground ingredients, like charcoal, black sesame, and Rice Krispie.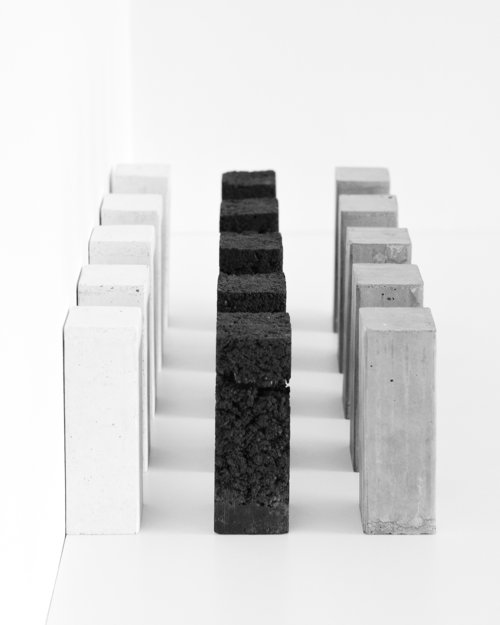 Designer Francesca Gotti has developed limited-edition block-shaped packaging for Italian perfumer oneofthose. Named Inaccessible Perfume, the series includes three perfumes wrapped in seemingly impenetrable shells made of a recycled fibreglass material named Glebanite imitating colours and textures of stone and concrete.
Grey-toned packages disguise the brand's Oxygen scent, black ones hide Sulphur, and the white set is filled with Curium.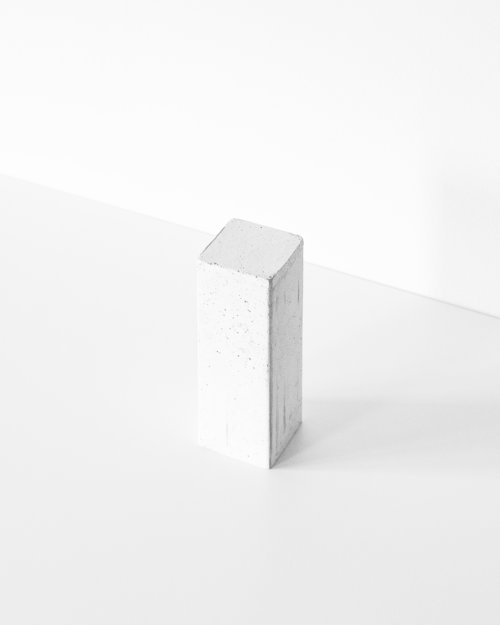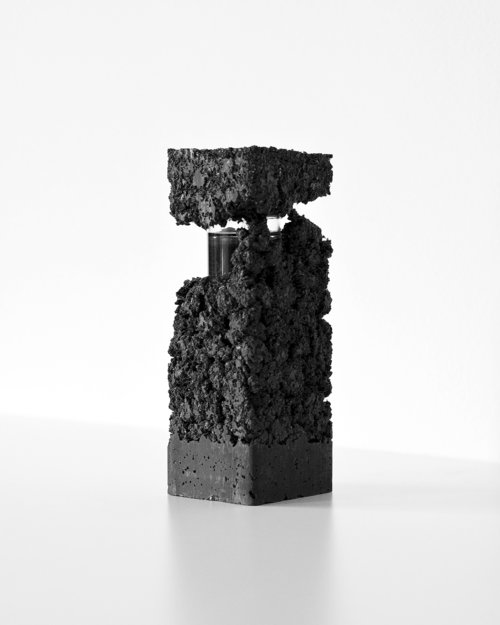 The monolithic fossils are used by the designer to enhance the wonder of discovery and offer the user a unique sensory journey while enjoying the 'new perfume experience'.