Wearing a mask has been a part of our daily life for months. Masks come in all sorts of shapes, sizes and styles, and for many has also become a fashion accessory, morphing from a personal necessity to a form of personal expression. Designers globally go on trying to find new and more efficient types of face gear that are not limited to their primary function of slowing down the rate of disease transmission but also address other issues, be it plastic pollution or communication hindrances.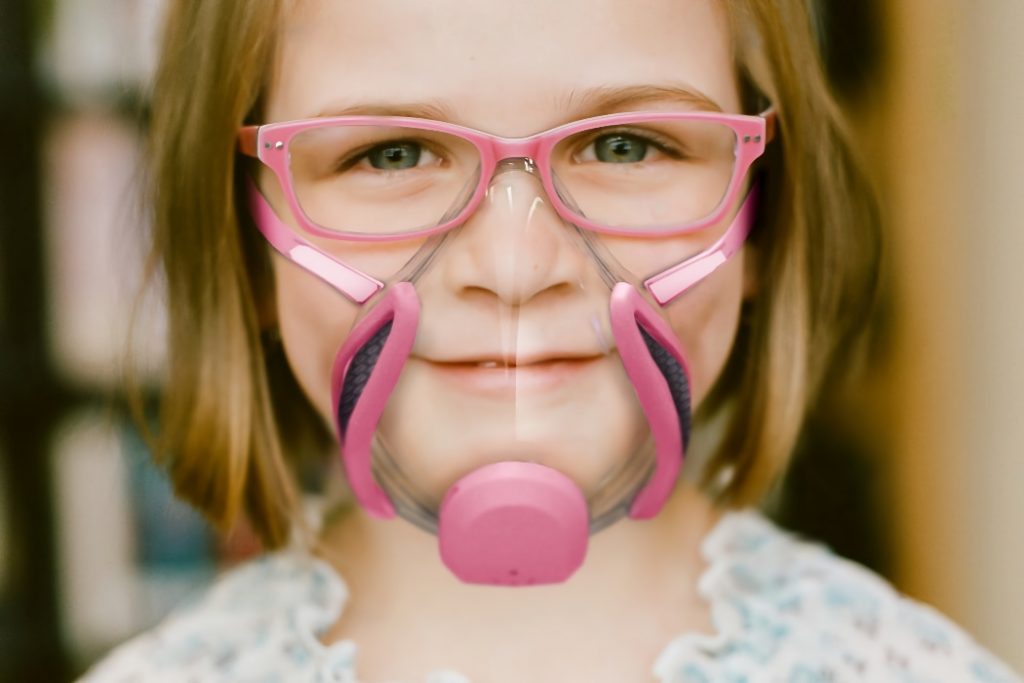 UK startup Petit Pli has developed Batch 4 (MSK), a washable expandable face covering made from recycled plastic bottles. In response to the recent reports showing that disposable personal protective equipment during the pandemic leads to a surge in plastic pollution, the Petit Pli's founder and former aeronautical engineer Ryan Mario Yasin has decided to use their patented technology of expandable geometric pleats to develop reusable face masks. Originally developed to create children clothing that can grow with a kid, the system of permanent folds can unpack to stretch and then return to shrink.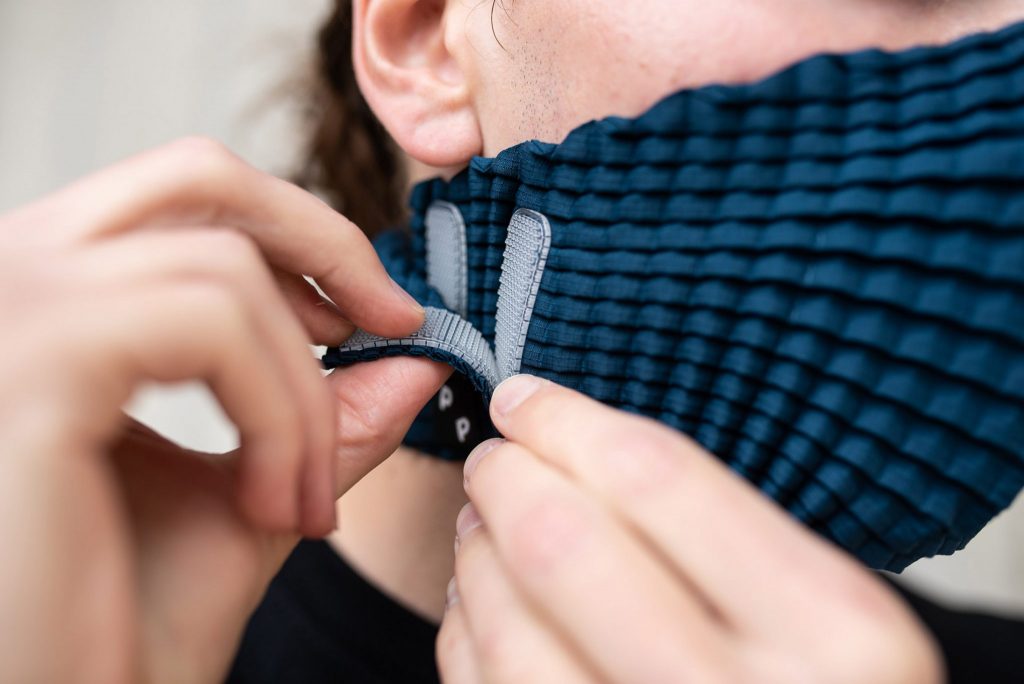 These pleats make Batch4 (MSK) a comfortable accessory that fastens around the neck like a soft fabric collar. When needed, it can easily convert into a face covering by simply tugging on the top of the fabric to pull it up over their chin and nose in one quick movement. A pocket between the face and neck can be used to insert an extra disposable filter.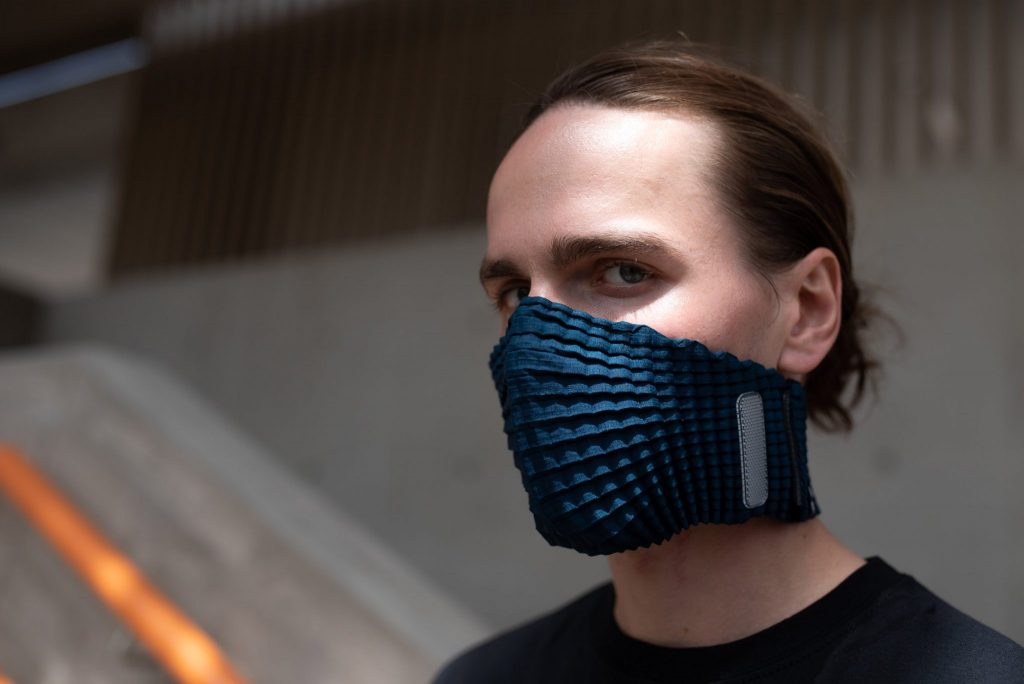 Like other Petit Pli's products, Batch 4 (MSK) is made from 100% recycled polyester fabric created using plastic from recycled bottles, while its pattern is designed to waste as little fabric as possible. The reusable face covering can be machine washed at 30 degrees Celsius.
Apart from environmental issues, facemasks present a problem for those who rely on lip reading for communication, which is why some designers start to create clear, see-through masks. One of these is the Weetbe Mask developed by a startup from Bilbao, Spain. Not only it features a transparent design that enables users to be protected without having their face concealed (and to use facial unlocking on their smartphone too), but can also boast a number of unique features.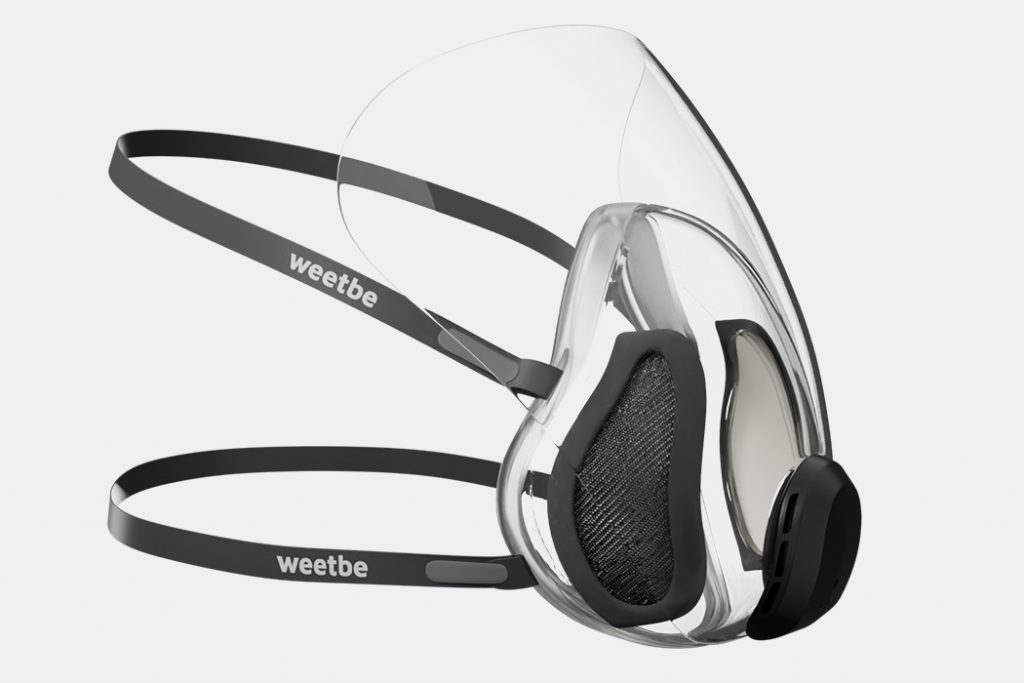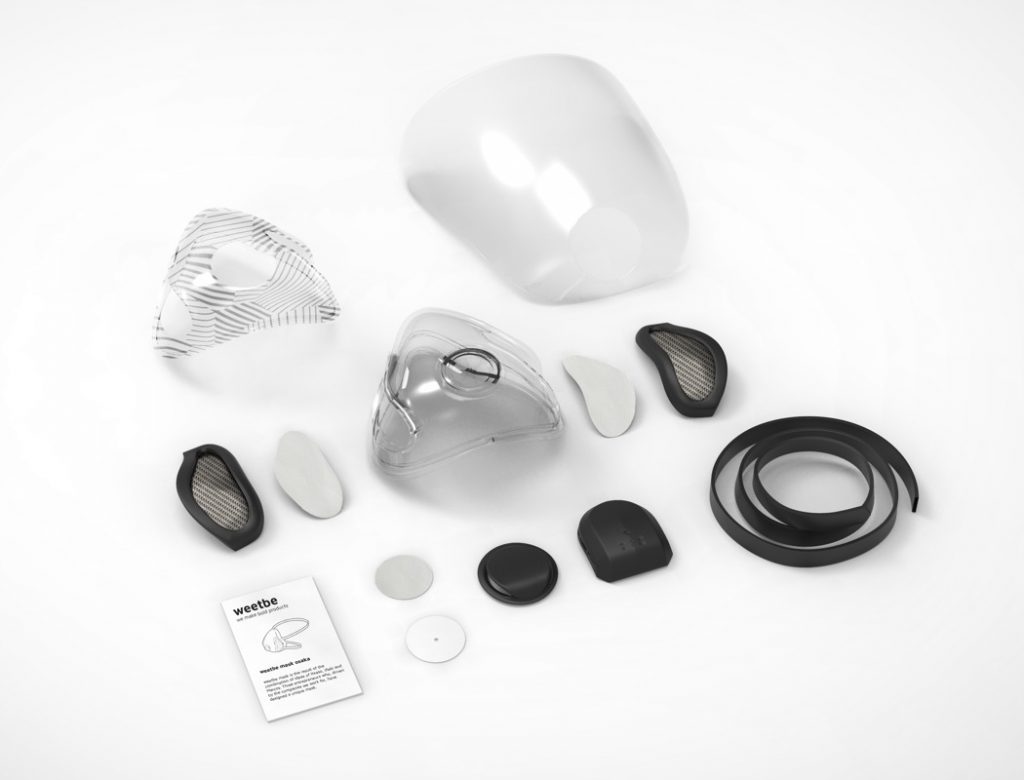 The mask comes with a clear splash-resistant body complete with an air-sealing lining and an anti-fog coating, while three Proveil filters on the front and the sides help the user breathe 98% purified air. Made from nanofibers, these filters are washable, reusable and biodegradable, which addresses the plastic pollution issue.
What makes the Weetbe Mask special is its modularity. It can be enhanced with a face-shield component to protect eyes from airborne particles including viruses or with a modular fan unit that can be beneficial for people who find it difficult to breathe through a conventional mask.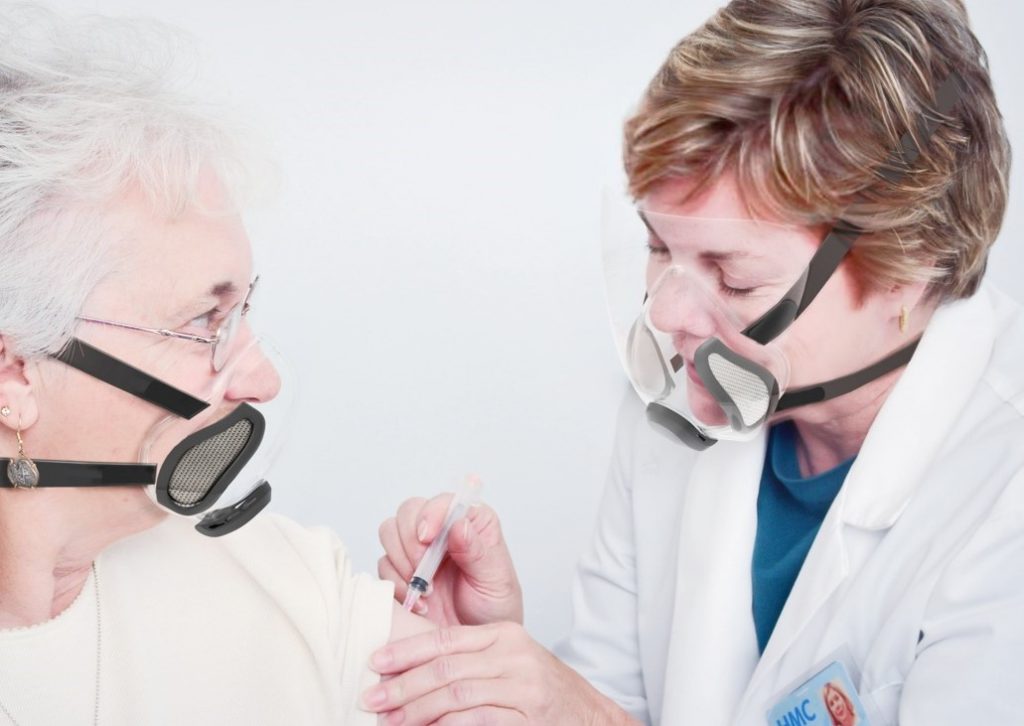 The Fan Osaka module snaps on the front filter and pushes air through it to create positive air pressure inside the mask. Own lithium-ion battery allows the fan to work silently for as long as 8 hours, which makes it indispensable for jogging or exercising. The Screen Osaka feature can be attached to the top of the mask. Made from clear polycarbonate with an anti-fogging feature, it protects the upper part of the face without obstructing the view by condensation.
Korean American inventor and co-founder of US-based firm Solight Design Alice Min Soo Chun also opted for a transparent mask but offered a more radical alternative to traditional N95 face masks. Aptly named SEEUS95, the transparent mask features a layer of a skin healing material called chitosan — a natural biopolymer with moisture harnessing properties used in skin rejuvenation for burn victims, hip replacements, and cosmetic applications for wrinkle reduction.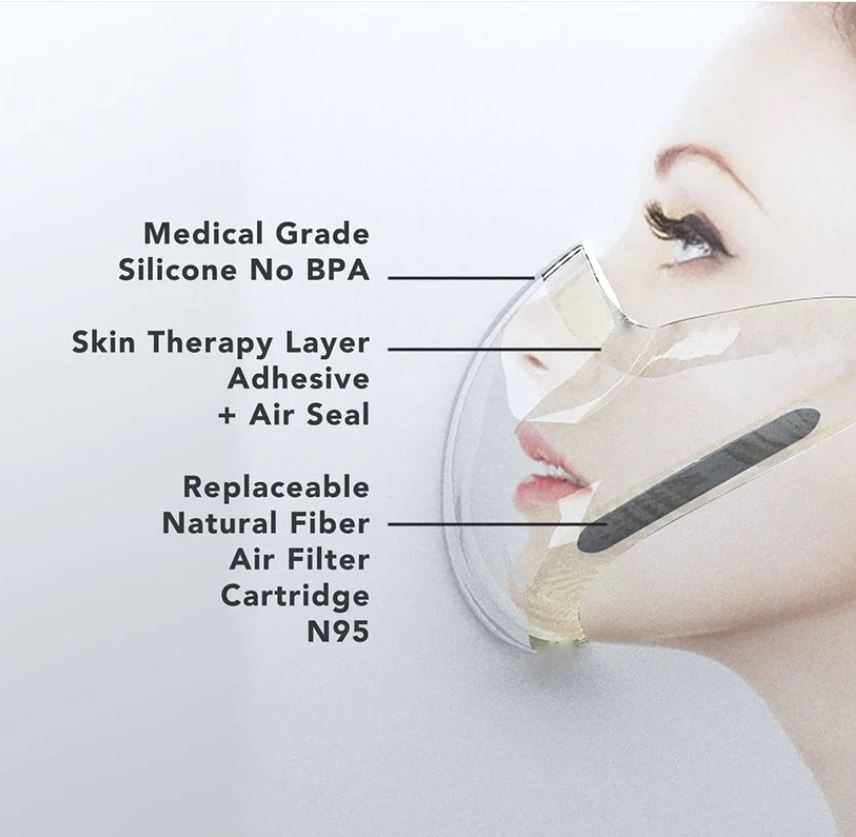 The self-adhesive mask does not include earloops and claims better protection than market leading masks made from non-woven polypropylene or cloth thanks to the natural filter made of bamboo, silk, silver and carbon. All the materials used for the mask are sustainable and environmentally safe.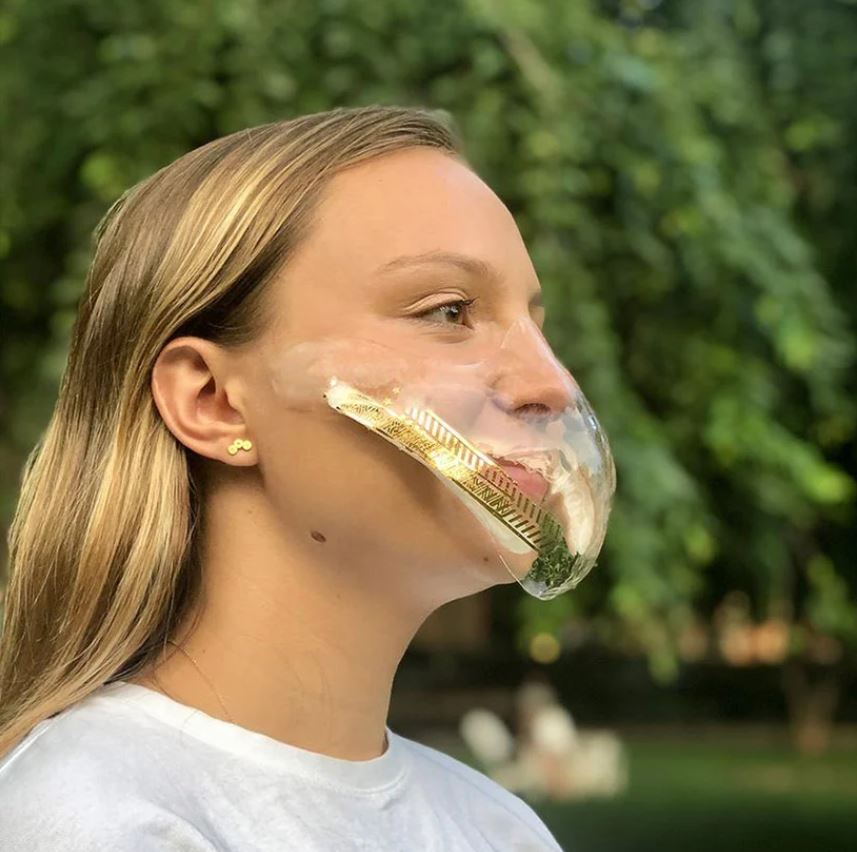 Bamboo is known for its anti-bacterial and anti-microbial properties, while silk fiber carries an electrostatic charge that attracts viruses. Nano silver (AgNPs) have been effective in killing both gram-negative and gram-positive bacteria strains, and lastly, active carbon is effective in pulling toxins from the air.
To avoid the natural condensation, SEEUS95 has an anti-FOG coating on the inside surface of the mask.