Our gardens have increasingly become extensions of our home. Practical yard furniture made from weather-resistant materials is indispensable in the contemporary 'outdoor hangout'. Space-saving, multipurpose or otherwise innovative and practical outdoor furniture make gardens and pools areas a truly inviting zone.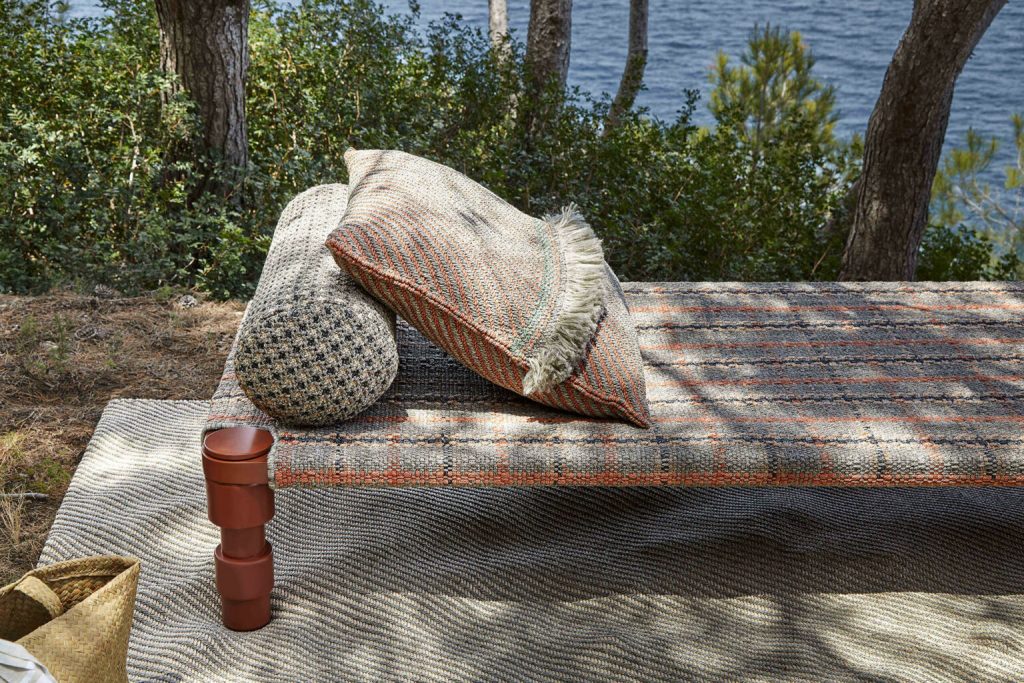 BEOPEN Community member Patricia Urquiola has created an Indian-style daybed and side table for Spanish textile brand GAN. It is designed to reference the architecture and traditions of the Mughal Empire, which ruled India for approximately three centuries.  According to the designer, Mughal culture celebrated nature and outdoor spaces, and gardens and terraces were common spaces to relax and talk.
The daybeds and side table complement the original series of rugs, mats, roll pillows and cushions, rearrangeable in infinite possibilities for the outdoor living – similar to how, in Mughal times, it was customary to sit on a carpet-covered floor.
The collection is suitable for any climate or season thanks to the innovative use of materials. The tables and the frame for the daybeds are made from powder-coated aluminum, while innovative fabrics and fillings for the textile parts. The pieces can be put on any type of surface including decking, grass, concrete or even sand.
The range of patterns and colours makes Garden Layers an infinitely adaptable collection where different elements can be mixed and matched in order to customise individual outdoor spaces.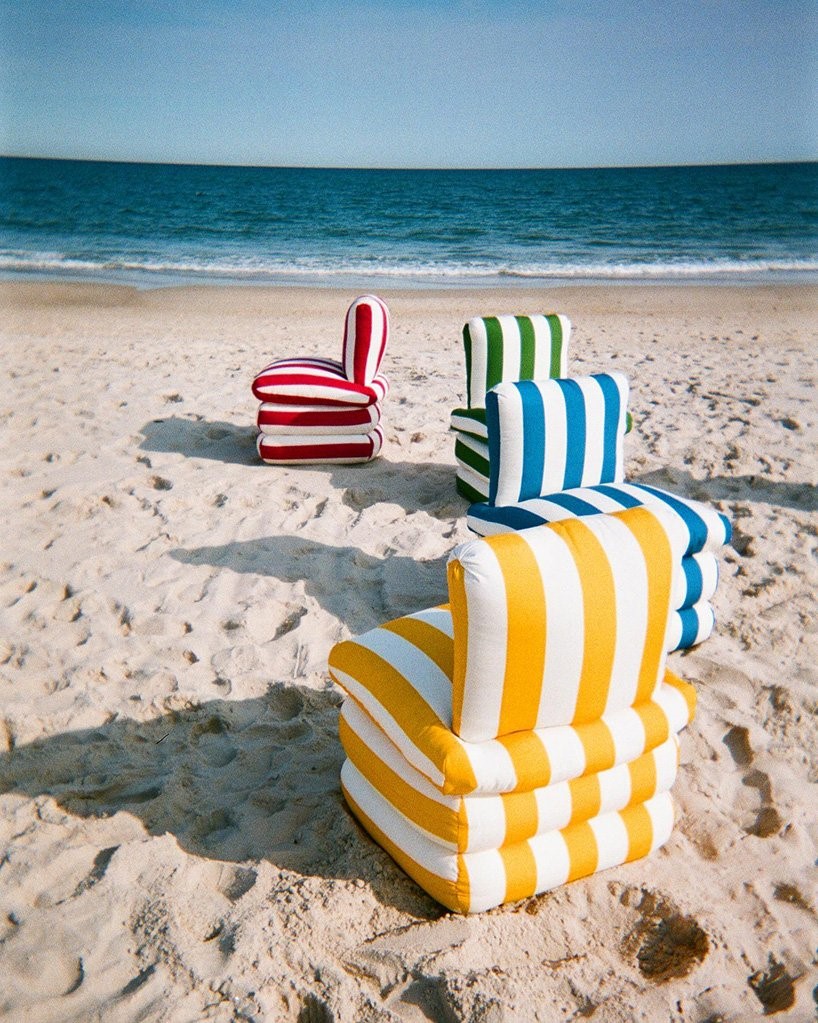 Inspired by the relaxed glamour of the 1960s Italian Riviera, the Pillow Chair by Will Cooper, chief creative officer at ASH NYC, physically embodies the longing for lazy summer days. Originally created for the use indoors, this soft seating object has been developed with weather resistant options and upholstered with Schumacher 1889 outdoor fabrics in colorful and classic stripes.
The custom ash NYC fabric is a durable poly blend, and the interior is composed of soft foam and Dacron, making it able to stay as soft as a pillow while keeping its form.
The chair brings to mind stacked pillows and is a playful gesture to a season of leisure, while the bold stripes are a nod to long, hot days spent seaside under a breezy cabana.
French designer Philippe Starck has developed a collection of outdoor seating for Italian brand B&B Italia, inspired by the outdoor furniture of nomads and soldiers. Named Oh, it rains! the collection pays homage to desert tents and field equipment, with their colonial colors and light materials, essential shapes and functions.
The collection includes a sofa and an armchair with large backrests that do not simply serve as a decorative element. Due to its size, the backrest forms a kind of modular wall, that can be used to separate spaces and create privacy. It acts like a partition to create an intimate and private setting, and when it starts to rain, folds down on top of the seat to protect the users from the elements.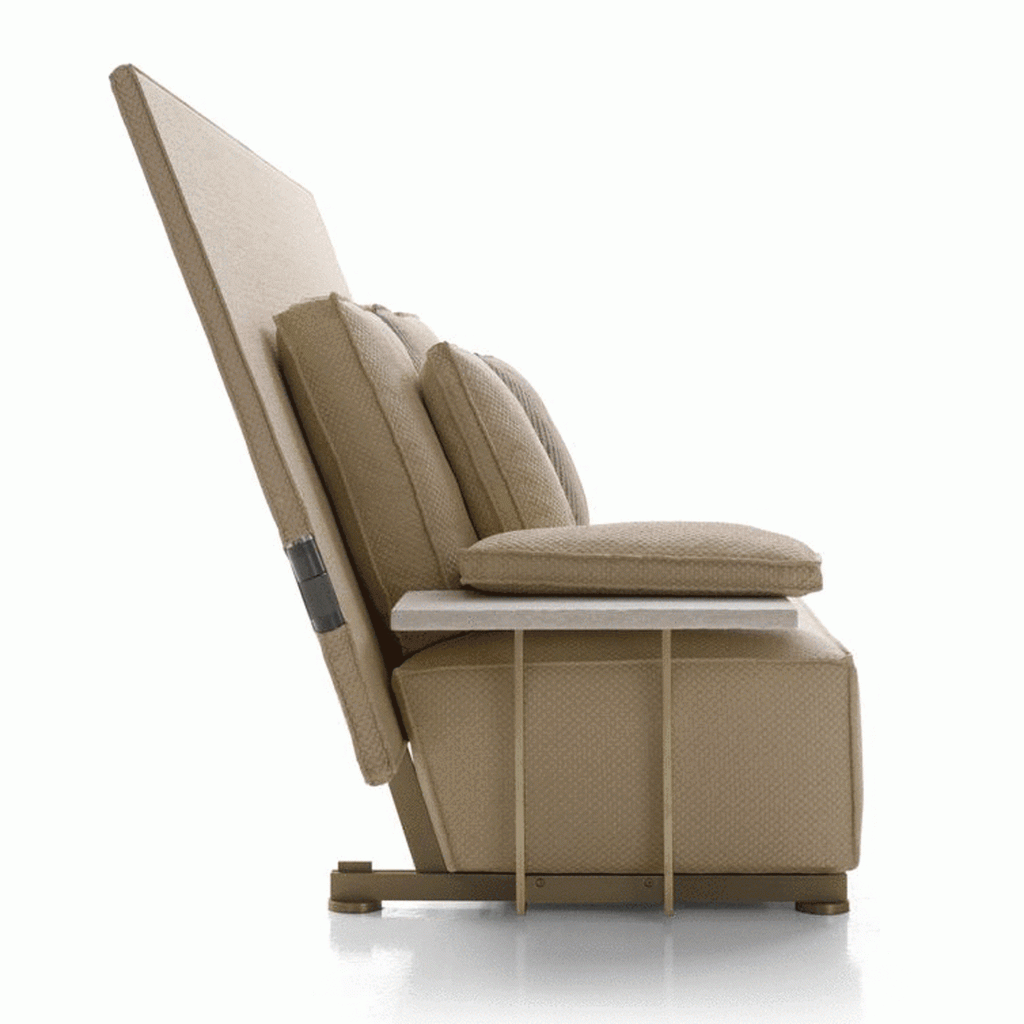 From a technical standpoint, the backrest is made with a double layer of water-repellent fabric with a raffia-reminiscent texture, which makes it 100% waterproof. The collection is enhanced by optional cushions that guarantee extra comfort and a side table integrated into the structure, available in natural teak wood or Mediterranean stone.
Milan-based designer Umit Can Koralay has conceptualized a space-saving multi-purpose grill that doubles as outdoor furniture. Named Domino Barbecue, it incorporates a marble slab that can be folded to uncover the grill underneath.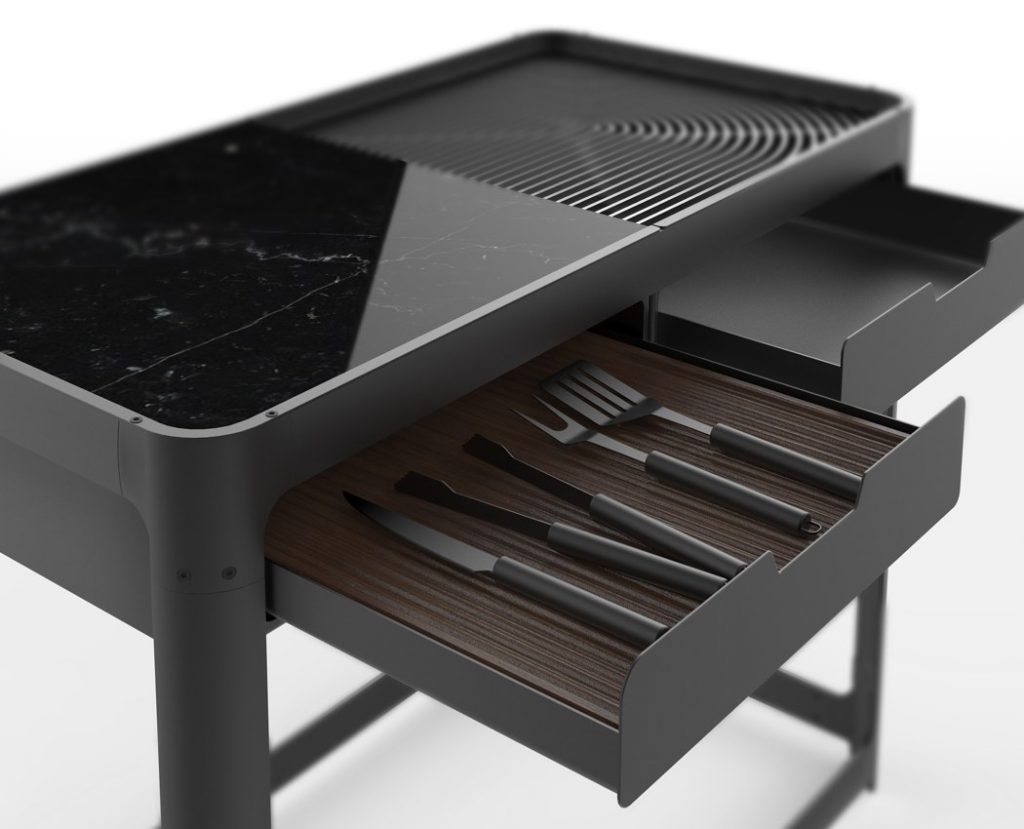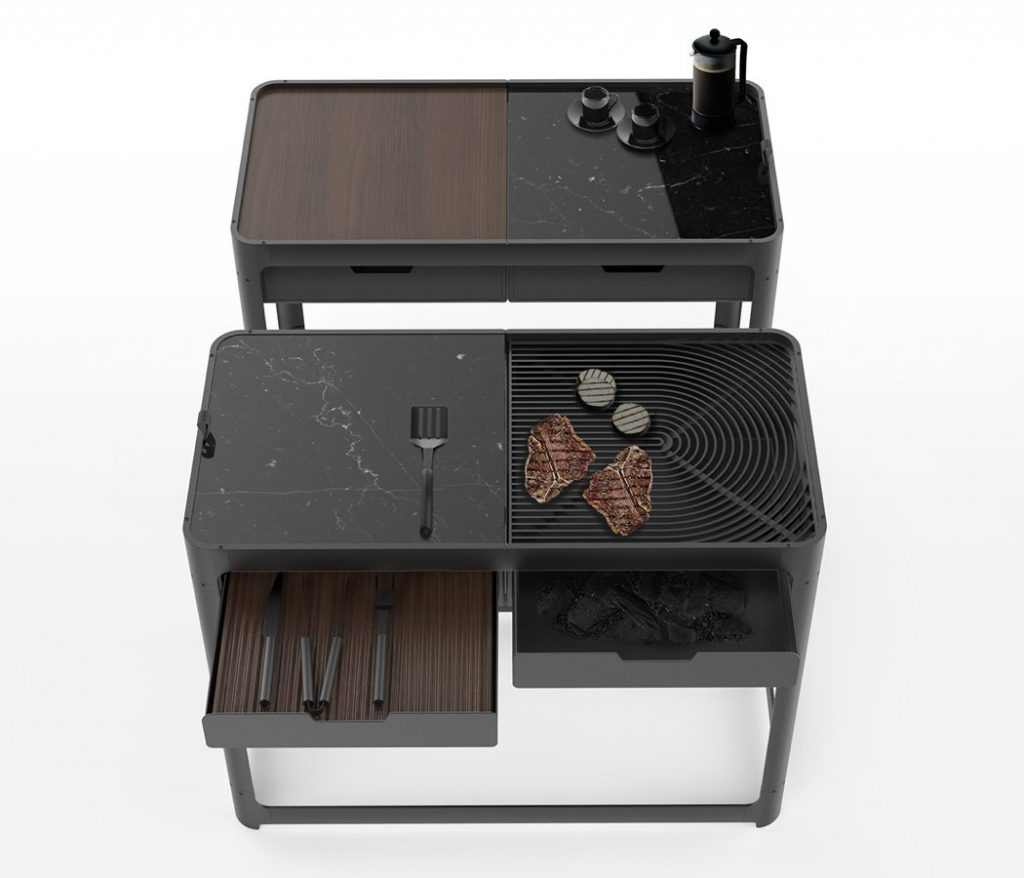 When you are grilling, the marble surface can be used as food preparation or serving area. Underneath, there are two drawers – one for storing coal and the other for cutlery.