While such furniture pieces as a table or a chair are often designed to be showstoppers, a shelf is primarily the background to whatever it displays, rather than a statement piece to look at. Their main function shifting from a storage unit to display, contemporary shelving designs vary from utterly functional modular systems to units conceived to showcase the objects they hold.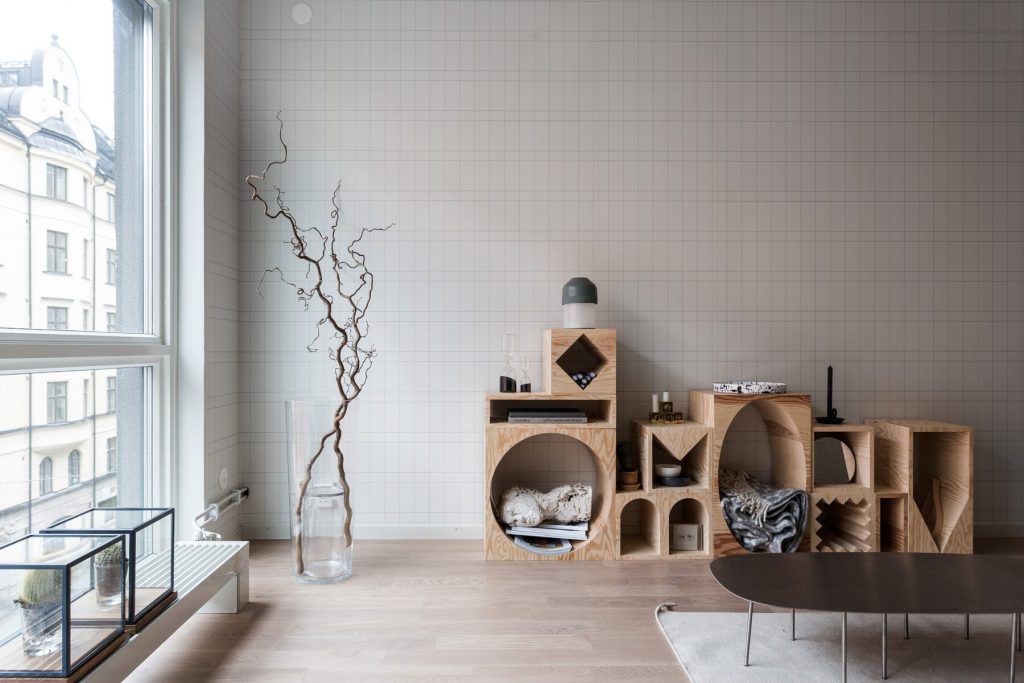 The Room Collection by Stockholm based designers Erik Olovsson of Studio EO and Kyuhyung Cho is a furniture system of 25 stackable blocks inspired by items of different shapes and sizes they can hold.
Conceived as 'rooms for objects', the components with various geometric voids can be mixed-and-matched in numerous graphical compositions to form either a long shelf or a tall cabinet.
This playful and creative furniture allows users to pick their favourite elements and build up their own piece, be it a shelf, a table or even a sculpture.
German design studio Ambivalenz have designed the Fläpps System, a modular flat-folding shelving system that blends in unobtrusively into any home in the most functional way possible. The collection comprises a vast combination of widths, heights and shelves to choose from. Each stand-alone unit can be used separately or combined with other modules to become a wall system.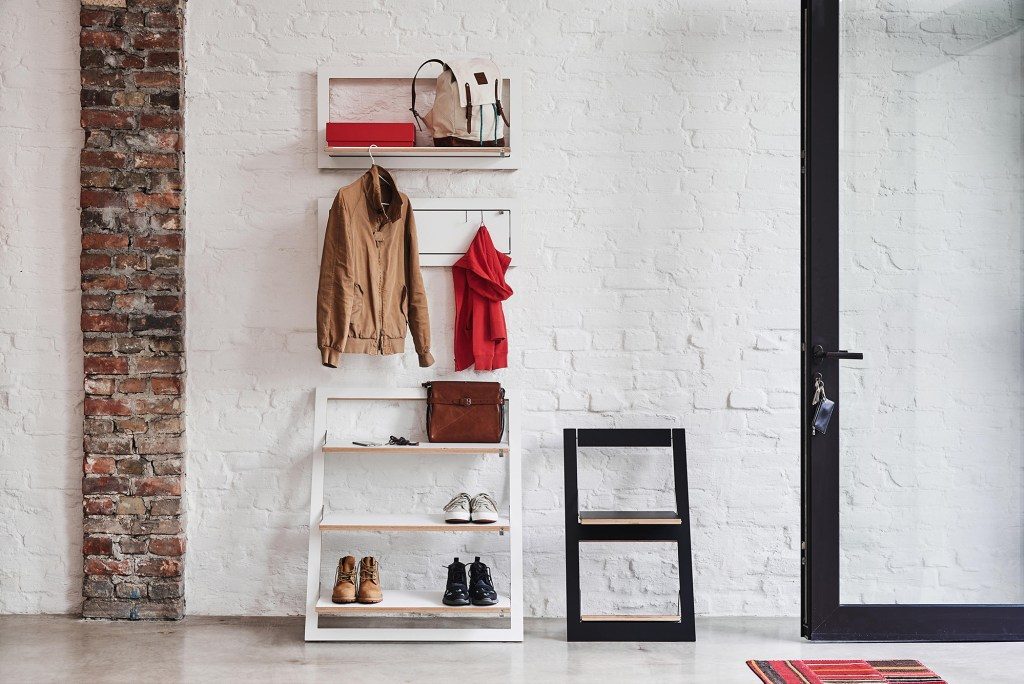 When fixed at different heights and unfolded, the furnishings described by the team as 'beautifully discreet' can be used as bookshelves, a workplace or a storage for numerous applications in an office, living room, kitchen or entrance hall. This space-saving furniture can even be transformed into a chair or used as wall art when folded, as apart from the black and white general scheme Ambivalenz also provides Fläpps with various colourful prints.
Thanks to its reduced design, flexibility and high standards of quality, the system can create elegant and adaptable workplaces and breakfast nooks or serve as a beautiful gap filler.
https://www.designboom.com/design/hyukjoon-choi-designs-invisible-furniture-10-24-2019/
https://www.instagram.com/joonchoii/
'Invisible' shelving by Hyukjoon Choi
Seoul-based designer Hyukjoon Choi has developed the Invisible furniture series which includes shelving and storage pieces made of thin layers of reflective materials bridged together using small screws.
Designed to blend into the background, the furniture takes on a different aesthetic depending on the angle from which it is viewed. When viewed from straight ahead, the main elements appear so thin, they make the objects placed on the shelving stand out, creating an optical illusion of them levitating. Thus functioning mainly as a display unit, the Invisible series with its unobtrusive design is perfect for contemporary and minimal interiors.
Copenhagen-based studio Moebe has developed a shelving system which is so flexible it can literally fit any setting. Assembled without tools and utilizing wooden wedges to hold its shelves in place, Moebe's shelving system can be built as tall and wide as needed, can wrap around corners or span different levels. It can be simply placed against a wall or double as a room divider.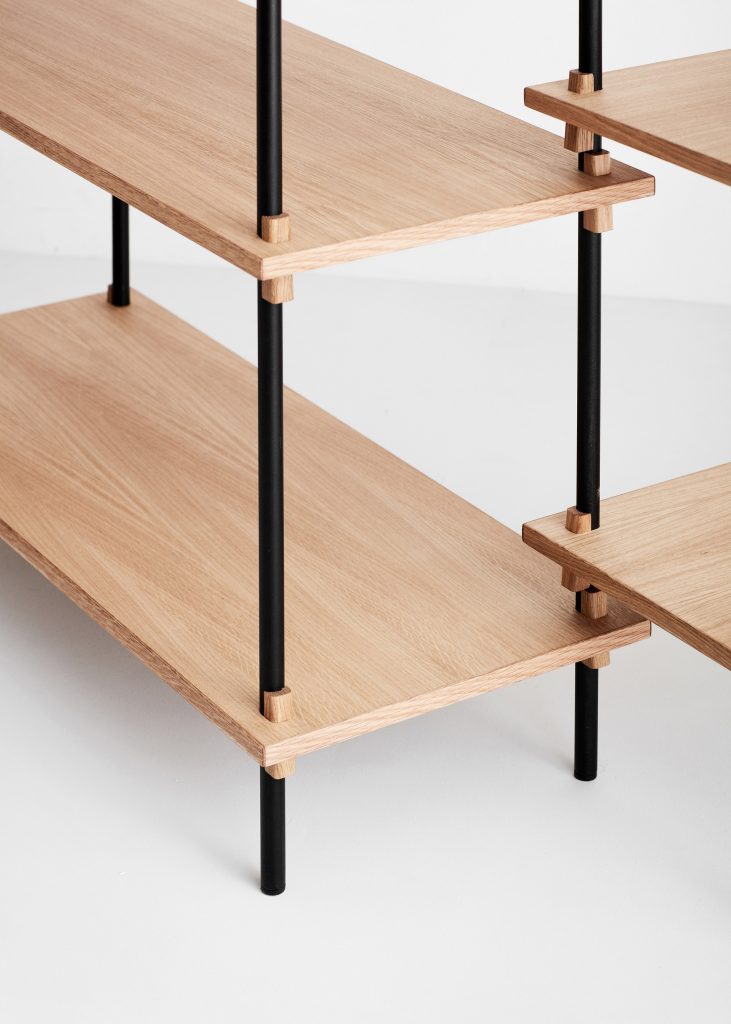 The team says they strive to reduce our designs to their most simple forms and functions. The system consists of shelves, wedges, and uprights that come in three heights and can be linked to be extended in both width and height, thus giving the user full freedom to create their own piece of furniture, fitting to their specific needs.
Structurally, the shelves are held together by a set of wedges pushed in from below, which means any additional weight on the surface only makes the joint tighter and more stable. The shelving system comes in sophisticated oiled oak and black stained ash wood, which together with the clever construction and fine lines gives this piece of furniture its refined look
Appreciating the modern functions and design of shelving systems, the Aram Gallery in London dedicated their exhibition Twelve Shelves (2018) to this single furniture typology. The show presented various shelving projects where 12 emerging designers and studios approached the same function through different materials, techniques and concepts.
Square Peg System by London-based designers Adam Guy Blencowe and Thor ter Kulve is notable for its flexible nature. It consists of wall paneling perforated with holes of different shape, which enables users to customize the number and the height of shelves to fit their needs. Brass rods supporting the timber shelves can also double as bookends if placed strategically above individual fixtures.
Rotterdam-based studio Odd Matter's Mass Shelf looks more like an artwork than a functional object, with its handmade rock-like textured shelves with a cork terrazzo finish. Matteo Pacella and Philippine Hamen's Palazzo and Aqueduct bookshelves are something inbetween. Inspired by archetypal forms of classical architecture and referencing the Roman aqueduct, the piece is made of a series of round arches coated in a vivid blue resin.