A conventional office that is not flexible and artificially confines employees to a fixed workplace seems to be out of date. Product designers take a lot of efforts to develop adaptable working environment that encourage collaboration between co-workers, inspire exchange of ideas and motivate staff. The resulting furniture solutions might probably be the reason employees won't want to take holidays anymore.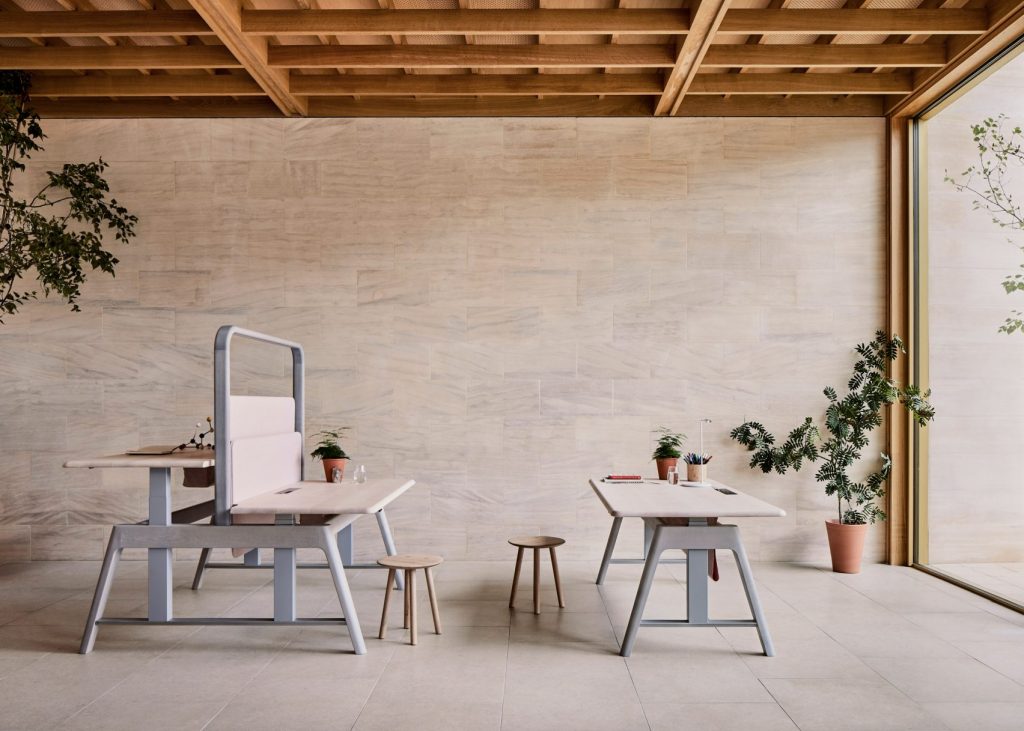 Italian manufacturer of office furniture Fantoni collaborated with San Francisco based architecture, design, planning and consulting firm Gensler to develop Atelier, an adaptive furniture solution which is reactive to current trends in workplace culture. Conceived as a response to the everchanging landscape of offices in cities around the world, the innovative furniture system successfully combines a multiplicity of spatial functions.
Gensler joined forces with Fantoni when planning a renovation of its London office and finding themselves unable to find a product that was at once adaptable and efficient. Totally unobtrusive in an office environment, Atelier allows staff members to effortlessly reposition the collection's pieces in countless ways, turning them into a social area or a more private space.
The flexible modular solution comprises four key elements, all of them supremely elegant: a configurable workstation, multifunctional collaboration and touchdown tables, storage units including one equipped with a detachable pin board and a storage system.
High collaboration and touchdown tables on castors are best suited to informal meetings. Highly practical, they feature discreet cable-holding facilities and sleek drawers. They also can be extended or interlocked with the tall storage units which comprise a frame supported by cabinets and forming open shelving. The latter can also double as room dividers. The mobile pin board makes it possible to conduct a meeting basically anywhere in the office. The detachable panel is reversible and dual-functional: one side is covered with cork, the other with a wipe-clean whiteboard.
The New York firm Rockwell Group known for their theatre sets for Broadway plays has designed Sage, an adaptable collection of sustainable office furniture for the British furniture maker Benchmark. The range consists of various workplace furnishings, such as sofas, benches, storage units and movable desks. All items are all constructed with natural non-toxic biophilic materials and finishes that comply with environmental sustainability standards, which include walnut, sycamore, oak, wool and copper. Upholstery on the sofas and benches is filled with coir, latex, sheep wool and recycled cotton, rather than plastic foam, which overcomes the significant concerns surrounding the disposal of toxic, fire-retardant chemicals.
Showcasing the adaptability usually found in set design, the collection's pieces can be transformed and customized to suit multiple functions and different working environments and allow different levels of privacy. The height of the Sit-Stand Desk and Workbench can be adjusted at the touch of a button allowing users to work on their feet, while a rounded panel made with wool felt and cork extends up from the centre of the desks to act as a functional space divider and board for pinning up items.
Designed for workspace and hospitality as well as the home, other pieces in the collection include sofas in two heights, one of them featuring a wooden back for a sense for a sense of privacy and enclosure, both visually and acoustically; as well as circular oak and sycamore side tables, upholstered benches, dining tables with patinated copper details that can also double as adjustable height meeting surfaces and a sideboard that serves as both a divider and storage unit.
Similarly oppose to the conventional office of cubicles, London-based Japanese designer Shin Azumi has developed a modular system named Cacomi for Japanese furniture manufacturer Itoki. The transformable range comprises multiple components including a frame with a ceiling panel which enables employees to create a space like a compartment, as well as tables and benches of different heights.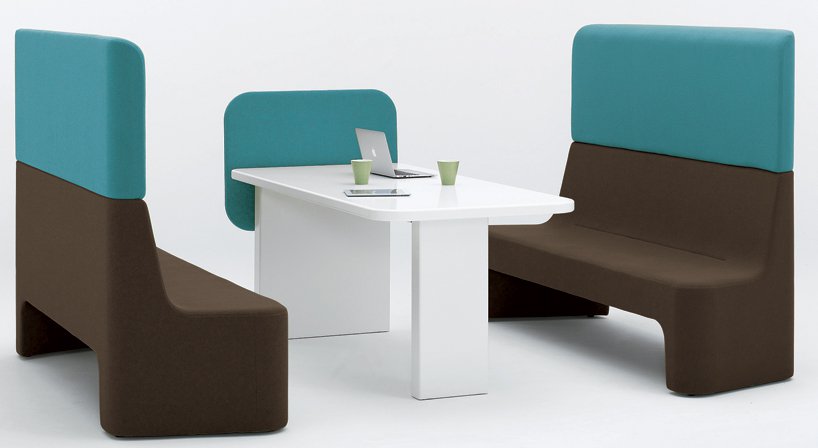 The pieces of the series can be mixed&matched to form either more intimate or more public working environments. Cacomi allows to create a semi-enclosed layout in an open-space office, the level of division and privacy depending on the way the items are combined.
A family of high-back sofas Plenum developed by Valencia-based designer Jaime Hayon for the furniture manufacturer Fritz Hansen offer the possibility of a refuge, suitable for concentrating in privacy, working in groups or being social in pairs and can be used in any open office, airport lounge or hotel lobby.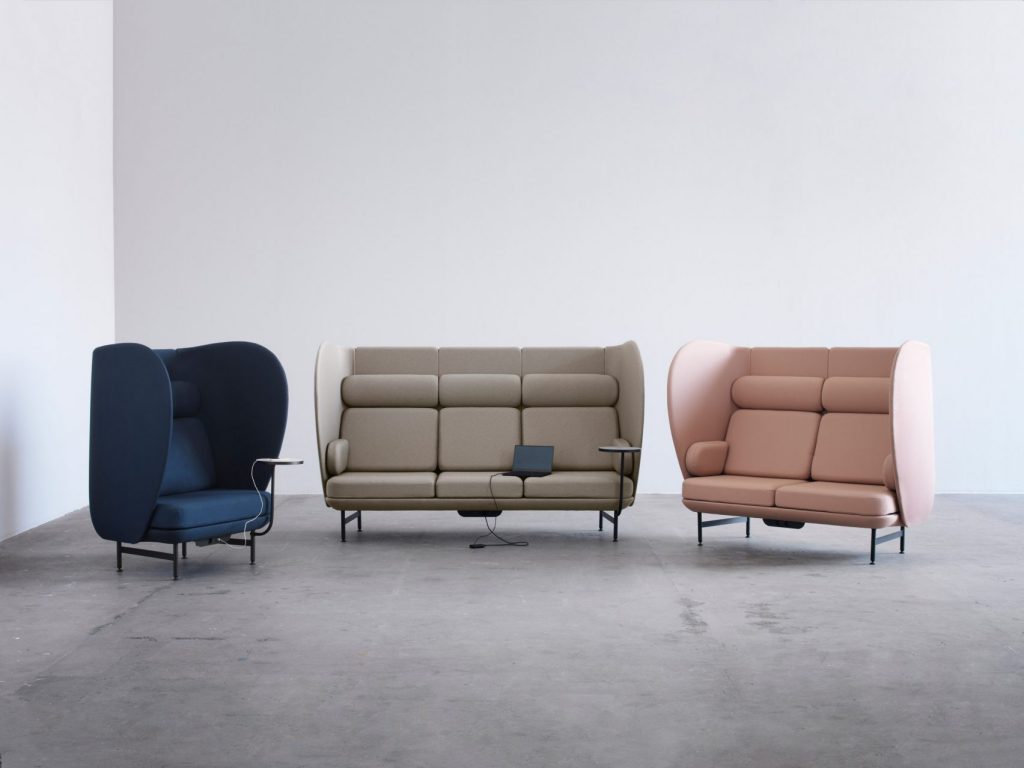 According to the designer, the collection aims to transform the idea of traditional office furniture, with designs that have the same look and feel as those used in the home. The system consists of a one-, two- and three-seater units in the strongest polyester and polyurethane foam materials. The sofas are equipped with power plugs, USB ports and mounted side tables for a functional but aesthetically pleasing experience in any space, be it for collaboration, concentration or relaxation.