Toy building blocks are a recurring source of inspiration for architects and artists. Simple and geometric, they were originally designed as a tool to develop creativity and teach younger ones to feel primary shapes and colours. Designers reimagine building blocks to turn them into a creative toy, a brand new modelling kit or even an artwork.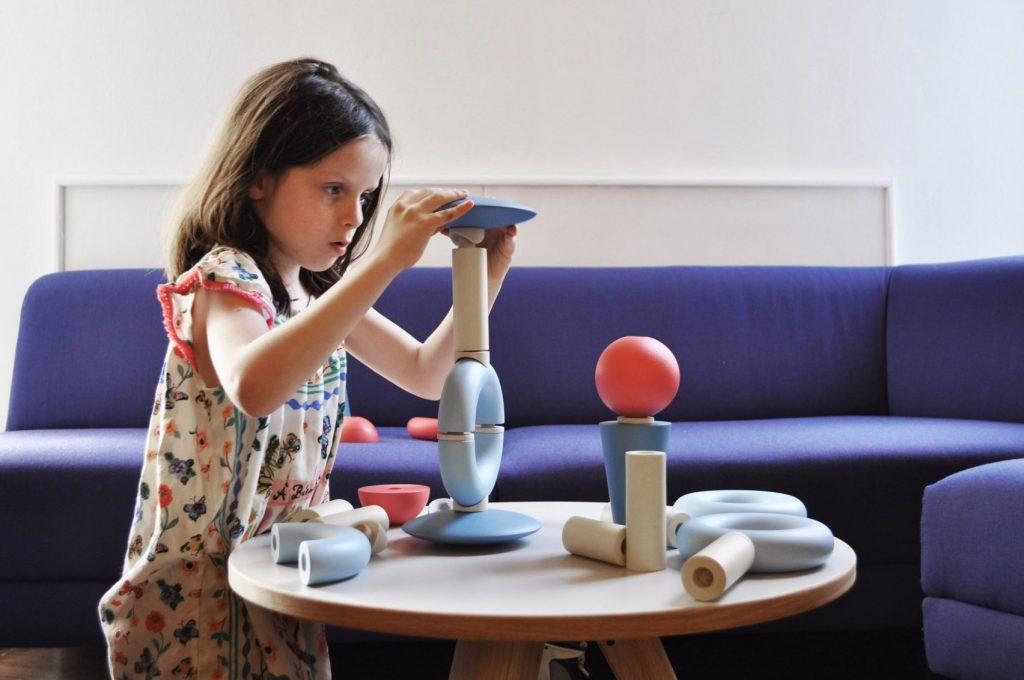 Royal College of Art graduate Alessandra Fumagalli Romario has developed Imaginary Language, a set of archetypical geometric objects that can be combined to create a variety of new forms. The project is based on Irving Biderman's theory of psychology, according to which the human brain recognizes objects by isolating them into basic geometrical forms named 'geons'.
Imaginary Language is described by Romario as a tool to foster creativity in children and actors.  According to Romario, creativity is a really important value to learn. The set of simple shapes is designed to encourage creative play among children and be used as tools to aid actors in improvisational exercises. Users can then assign functions and meaning to their creations by projecting their own socio-cultural experiential knowledge onto them.
Romario also developed a modular collection of furniture called Creo based on the forms and principles of Imaginary Language. It is made of geometrical shapes that users can assemble in different shapes and assign a function to them.
One of Japan's most respected architects Kengo Kuma has created a modelling kit named Tsumiki, which is Japanese for building blocks. The set consists of V-shaped wooden pieces that can be stacked and arranged in different ways to create complex unique sculptures without the need for adhesives. The V shape enable the pieces to support themselves when stood up or laid on the side. The formations can be easily disassembled into components that can be reused.
Kuma admits that he has loved building blocks since he was a young boy, and he looks upon his project as designing the sort of tsumiki which hasn't existed before.
Kuma's Tokyo-based studio even created a temporary pavilion made of giant-sized Tsumiki pieces for Tokyo Design Week 2015.
Graphic artist Steven Scicluna from Valencia, Spain has designed Objekts, a series of hand-crafted wooden sculptures made up of simple shapes and primary colors and intended for home use. Conceptually, Objekts were an attempt to create something playful and pure, attractive in its geometric simplicity.
Just like classic children's building blocks and towers, Objekts encourages users to create their own compositions. The only difference is that they are equally as unique as any artwork you hang on your walls.
Going further still, Ghent-based artist Conrad Willems has based his architectural sculptures on the children's wooden construction blocks developed in the 19th century by educational theorist and teacher Frederich Fröbel.
Willems believes  'play' is a really important concept. Owning more than 2000 actual toy pieces in his collection, he uses them to make a structure for his sculptures. Willems' artworks are made of sandstone blocks which are not affixed in any way, but placed on top of each other in a specific building order.