Electric cars have been gaining more and more popularity these days and will most likely be the transportation of the future. No wonder, conventional gas stations typology is in decline, giving way to electric charging stations. Though Elon Musk's scenario features electric cars driving by day and charging at home by night, with roadside electric stations completely eliminated, the e-car as it exists today still relies on a public network of charging points. Some of them are really something to get inspired by.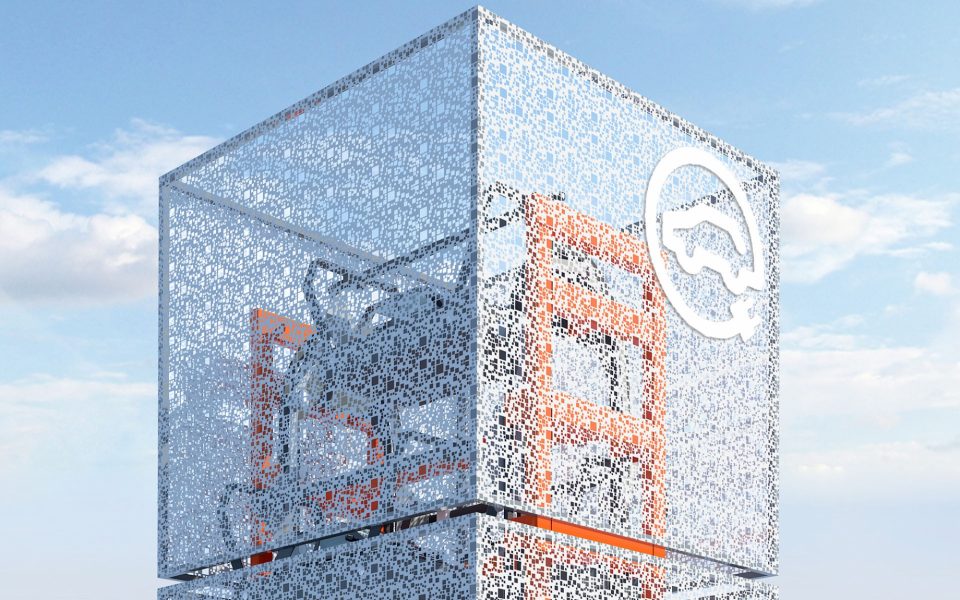 Unlike filling up a car at a gas station, standard charge method for an electric car might take up to five hours, which raises the question of where to put a car while it is charging?  That is the challenge New York based Ennead Architects faced, when asked to develop a concept for an electric car charging station for a new urban development in Shanghai.
To fit maximum number of cars simultaneously utilizing a standard charging system in a small urban, pedestrian-friendly site, the team combined existing charger technologies with stack-parking technologies to create a Charging Tower, an urban roadside beacon for electric cars. Super-charge stations are situated at the ground level beneath a light-weight canopy, while multi-storey parking and charging towers are housed above, clad in a reflective, perforated metal.
Alternatively, an electric car can be recharged with new ultra-fast super charge, which utilizes both alternating and direct current simultaneously to provide a vehicle with over 100 miles of charge in only 15-20 minutes. Such a system is best used by drivers who are still on their way to their destination or need some extra miles to get home.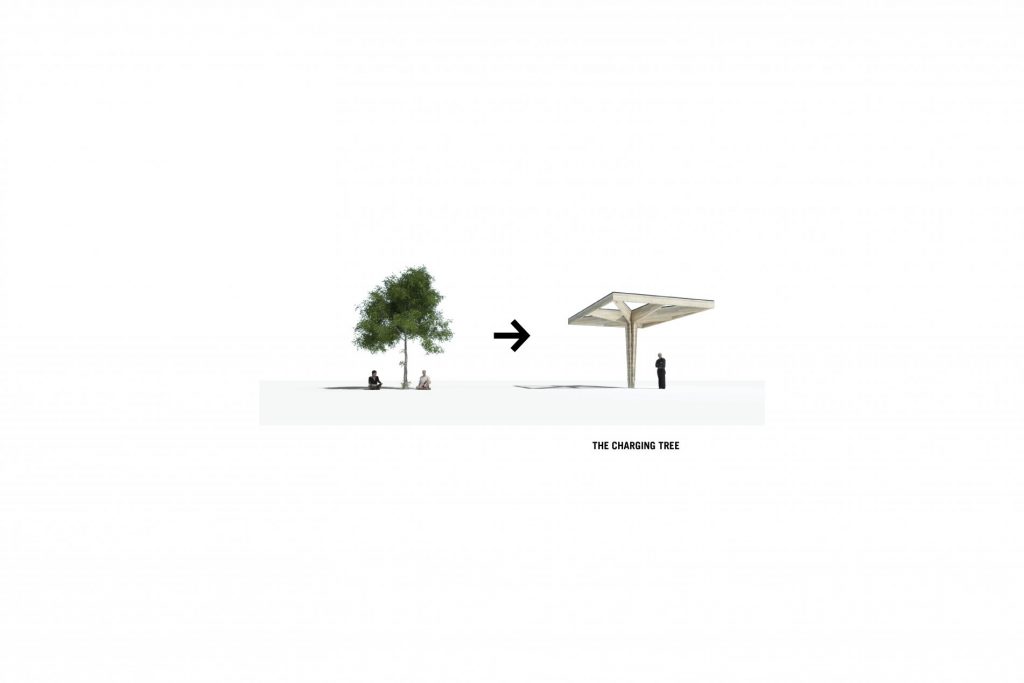 COBE, Danish community of architects, has presented the first of 48 ultra-fast charging stations in Scandinavia for the Germany-based energy giant EON. The idea behind the new stations is described by the team as a 'meaningful break' for the driver and the passenger. Based on a sustainable rethink of a conventional gas station, the station is formed by a series of structural 'trees' with 'crowns' that create shade. The modular system allows to scale the design, with 'trees' multiplying to become a 'forest' as required.
The choice of building materials emphasizes the sustainable essenceof the project. The stations are constructed in certified wood and concrete with a roof clad in solar panels, and are surrounded by natural trees specially selected to increase biodiversity of the site. All components of the structure can be reused or recycled.
Inventronics Electric Vehicle Charging Station in Hangzhou by Chinese studio GLA is another attempt to develop a charging station which can be built as quickly as a traditional petrol station in a standardized way.
The architectural design of the station conveys the trend of conversing from conventional petrol energy driving to new energy driving. With the major product of this experimental project focusing on LED photoelectricity driving, kinds of photosystems driven by electricity visualize this trend – although usually 'electricity' is neither visible nor touchable. Additionally, 20m overhang of the roof with solar photovoltaic system forming an energy generator creates a visible contrast with stand columns of a traditional charging station.
All components for the structure of the building, exterior and interior, utilize pre-fabricated modules which are then jointed on site. Both, the refined design and the construction method reduce on-site construction time, enhancing its efficiency, as well as make the concept scalable and suitable for all kinds of spaces.