Play is a powerful tool which triggers children's imagination and develops their physical and cognitive strengths. It is through play that they engage and interact with the world around them, so designers seek to help them with this. They develop unconventional playgrounds that tell stories, pay homage to influential artists of the past or attempt to make science fun.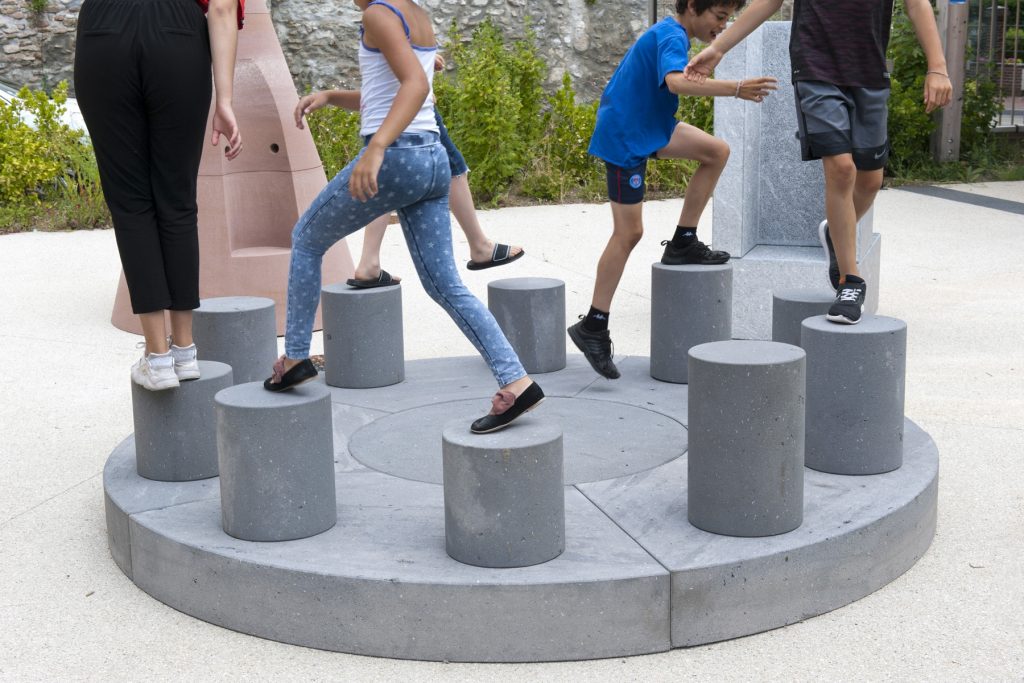 French designer Olivier Vadrot has created an open-air playground of geometric structures that oscillate between sculptures and functional objects. In order to make the playground elements monumental as well as time- and children-proof, Vadrot used volcanic stone from the Auvergne region and sandstone from the Vosges region in France. Named Conversations, it encourages children to play and exchange ideas.
The playground includes three monolithic pieces which children can climb, run around and hide behind – the Ventriloquist's Throne, the Pink Cockpit and the Council Seats arranged in a circle around an imaginary fire. Symbolic shapes of the pieces enable children to start conversations in different ways – e.g. through featured holes they can peer and communicate through.
Designing their Landscape for Play, a huge temporary playground in the Matadero Madrid cultural centre, London-based studio Aberrant Architecture was inspired by the work of Dutch architect Aldo van Eyck. The multi-award winning architects researched the many playgrounds created by Van Eyck in Amsterdam after World War II and discovered his architectural vocabulary – a series of varying geometrical shapes aimed to create a territory which stimulated imagination and led to interaction and play. They applied these principles in their temporary installation to create a number of colourful patterned objects that invite children to run, climb and create games.
The bold colours and patterns contrasting the industrial environment of the former slaughterhouse also reference the post-war graphic design.
London-based Unit Lab has created a whimsical Anamorphic Playground, a permanent outdoor playground at Eleanor Palmer Primary School in London. It comprises a series of three-dimensional objects designed to look normal in cylindrical and conical mirrors that surround them. As a result, they are distorted in reality.
The playground is part of Eleanor Palmer Primary School's new science lab. The Anamorphic Playground introduces the kids to optics and light: how things reflect in a mirror and how things can get distorted. When one starts interacting with the objects on the playground, in the warped mirror they look perfectly rectangular – it is the person who appears deformed. For example, on the slide the person looks thin at the top but stubby at the bottom.