Plants and trees as a part of urban landscape delight the eye and bring shade as well as help us to offset CO2 emissions. However, the idea of city parks as an urban retreat or an oasis in a concrete desert is already too limited and outdated. Architects of today find ways to cover facades and rooftops with greenery to provide modern cities with green lungs.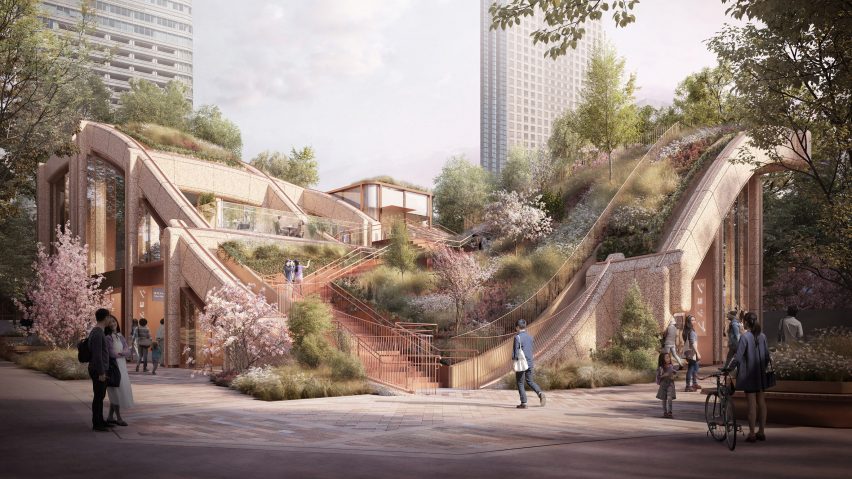 The trend of green facades and hanging gardens has gained especially significant popularity in Asia, not simply for aesthetic reasons but also as a response to significant urban expansion in recent years, as much as it is the result of economical or environmental concerns.
The Naman Retreat Pure Spa in Danang , Vietnam by Ho Chi Minh based MIA Design Studio is an oasis of tranquility. The ground floor contains open spaces surrounded by serene lotus ponds and hanging gardens. Planting trails down from the upper floor creating the impression of walls without the confined feel.
The building was designed for Vietnam's tropical climate. The façade of lattice patterns and carefully allocated plants forming screens provides natural ventilation and filters strong sunlight at the same time offering spa-goers privacy in this sheltered 'no-wall' place. Areas of intense vegetation form an integrated part of the masterplan. Not only it brings nature into the spa experience creating a place of relaxation, but it also changes the light situation inside, softening it.
Although a spa seems to be a natural place to go with greenery, India based studio VDGA proves that green facades can be a great solution for business premises too. They covered the façade of a factory and office complex in Hanoi for electronics manufacturer Star Engineers with plants placed elegantly between perforated metal screens. Unlike most of the factories that look like simple, shed-like volumes, the VDGA's building was designed as a facility that would be pleasant to work at in hot weather.
A facade of perforated metal in different colours prevents the need for blinds or further sun-shading, while planters placed in gaps in the grid offer a nice cooling image on the industrial premises and keep the office areas fresh. Internal courtyards are filled with a mixture of paving, plants and large rocks, offering a pleasing view of landscape and water instead of blind partitions and visual clutter.
Heatherwick studio, the London-based design and architecture firm led by Thomas Heatherwick, has revealed plans for a 'gigantic planted pergola' that will form the focal point of Tokyo's redeveloped Toranomon-Azabudai district. The masterplan includes a public square, a mix of shops, offices, residences, hotels, spas, as well as a school and a temple with an overarching pergola-like structural system to accentuate the topography of the natural valley through design.
"As many new developments around the world can be harsh and sterile we wondered if we could provide a more human-centred alternative by integrating surprisingly intense quantities of planting and greenery. As a way of combining an architectural construction system with significant amounts of nature we developed the idea of a garden pergola scaled up to district size," said Thomas Heatherwick. The project is due to complete in March 2023.