Universal Everything is a global collective of digital artists, designers, animators, musicians, and developers, creating video artworks for iconic architecture, inventing immersive multi-sensory experiences and directing new forms of moving images.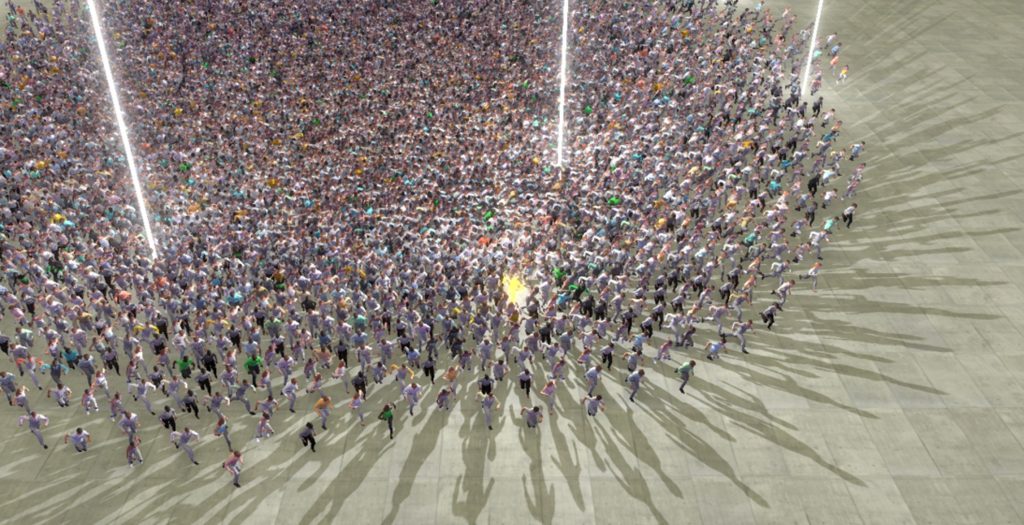 Emergence by Universal Everything
The Collective's works explore the future of human expression and collaboration, which it brings to life using emerging display technologies, illuminating iconic architecture and exhibitions at leading cultural institutions worldwide.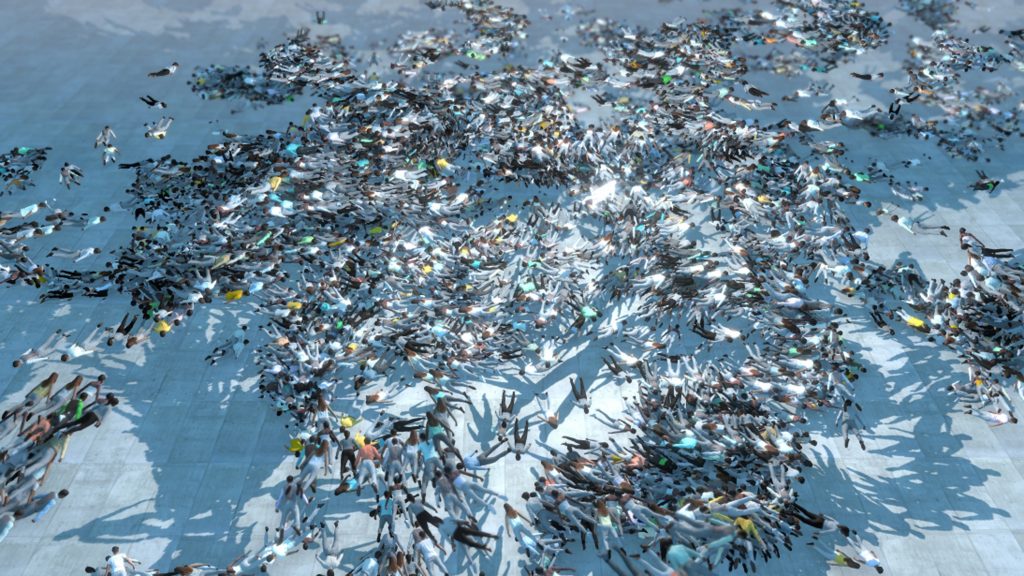 Emergence by Universal Everything
Emergence is an open-world environment, expressing the primal desire to maintain individual identity whilst at the same time being part of a crowd. Showing 5000+ intelligent human behaviours, Emergence offers a powerful, unique experience of a crowd only possible using the latest graphics technology. The work forms part of Universal Everything's solo show Fluid Bodies at Borusan Contemporary, Istanbul, in 2018-2019. An updated Virtual Reality (VR) version of Emergence, will be presented in collaboration with VR and augmented reality specialists WITHIN. It will premiere at the 2019 Sundance Film Festival as part of New Frontier, a curated collection of cutting-edge independent and experimental media works by artists and creators working across new mediums.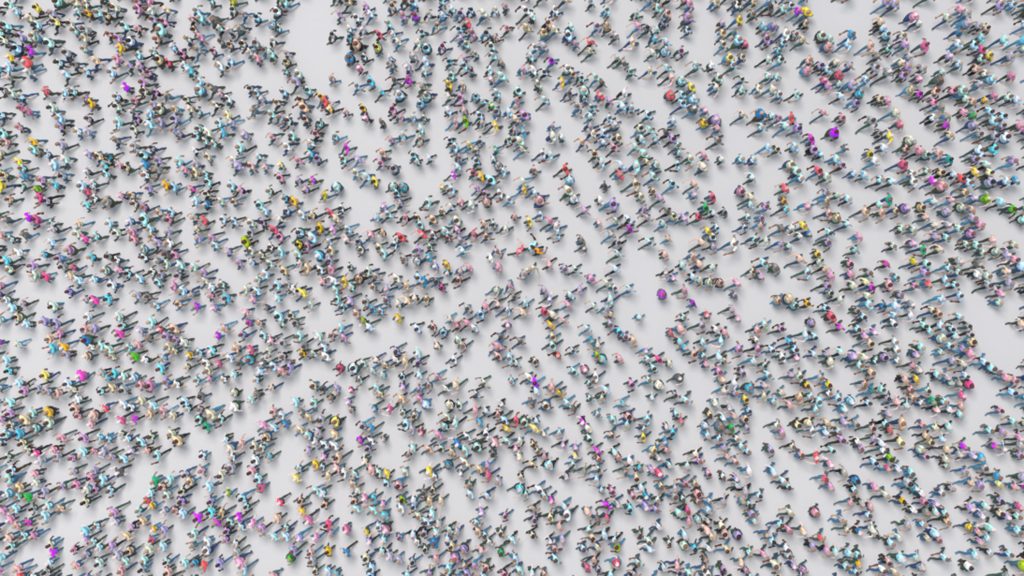 Tribes by Universal Everything
Tribes is Universal Everything's study of human behaviour on a mass scale – thousands of tiny people moving in sync, forming connections, creating collective patterns on the landscape, and seemingly sharing common goals. 
The film allows a duality of perspective. Pictured from above, the human figures in these ever-changing mass simulations are living artworks, barely distinguishable from one another. Together they create a fluid movement of colour, with the crowd's behaviour revealing patterns that are only visible from a distance. Yet viewed close up, the individuals that make up the crowd are revealed, each following a unique trajectory in their shared environment. The film continues Universal Everything's longstanding lines of enquiry into choreography and rules of human behaviour. Informed by the complexities of crowd dynamics, the project explores autonomy, self-organisation and group interrelationships and questions the impact a crowd can have on an individual within it, creating an impression of the universality of human behaviour. 
Hype Cycle is a series of futurist films exploring human-machine collaboration through performance and emerging technologies. Machine Learning is the second set of films in the Hype Cycle series. It builds on Universal Everything's past experiments with motion studies, and asks: "When will machines achieve human agility?" It is set in a spacious, well-worn dance studio where a dancer teaches a series of robots how to move. As the robots' abilities develop from shaky mimicry to composed mastery, a physical dialogue emerges between man and machine – mimicking, balancing, challenging, competing, outmaneuvering. 
Can the robot keep up with the dancer? At what point does the robot outperform the dancer? Would a robot ever perform just for pleasure? Does giving a machine a name give it a soul?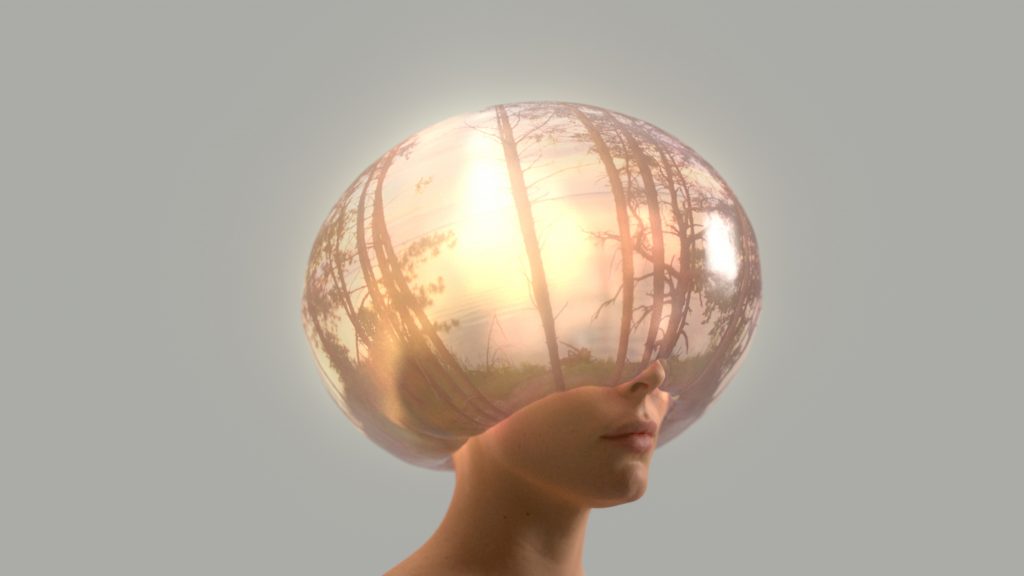 Screens of the Future series by Universal Everything
Finally, Screens of the Future is Universal Everything's ongoing series of visionary prototypes, based on the emerging technologies of flexible displays, shape-shifting materials and context-aware functionality. The moving image artworks are intended to "highlight humanity's increasingly integrated relationship with technology, serving as product demos of our near future".