When there's a squeeze for space in urban areas, what better way to maximise the space you have than to use the rooftops of buildings. These creative schemes make the most of building roofs while at the same time turning urban areas into creative playgrounds.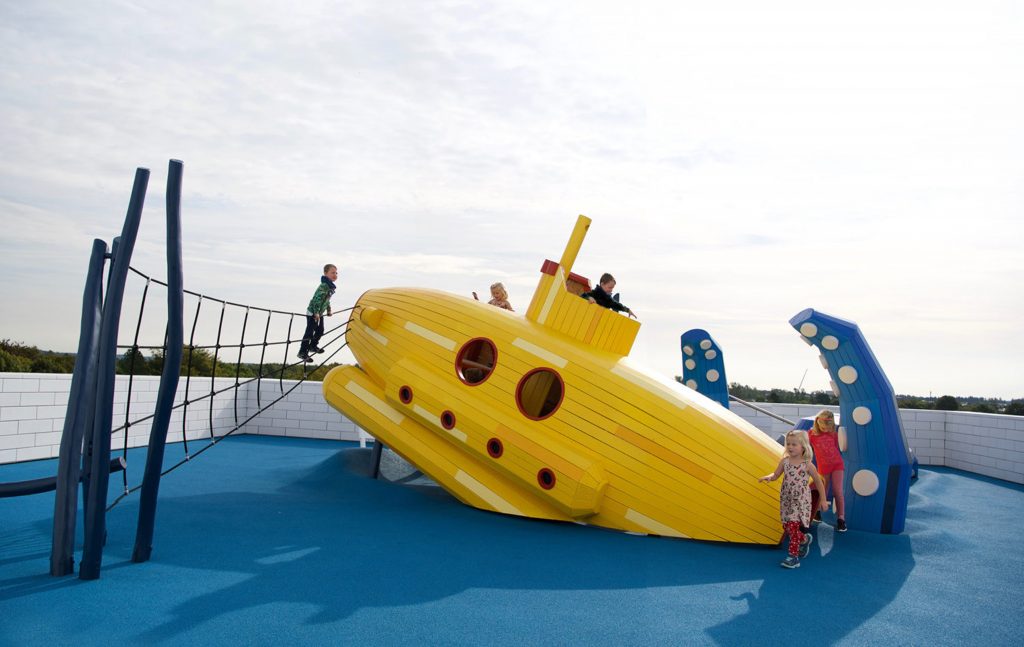 Lego roof, Photo by Iwan Baan
The rooftop of the Lego House – the new visitor centre for the Lego toy building bricks company in Billund, Denmark, designed by BIG architects, boasts a range of linked roof terraces and public playgrounds. The spaces were designed by Monstrum – the specialist architectural and artistic playground company founded in 2003 by Ole Barslund Nielsen and Christian Jensen who met while working as theatrical scenery designers.

Monstrum made nine playgrounds for the Lego House, each designed to fire the imagination about an imaginary journey to get there – via a hot air balloon, rocket or even by submarine?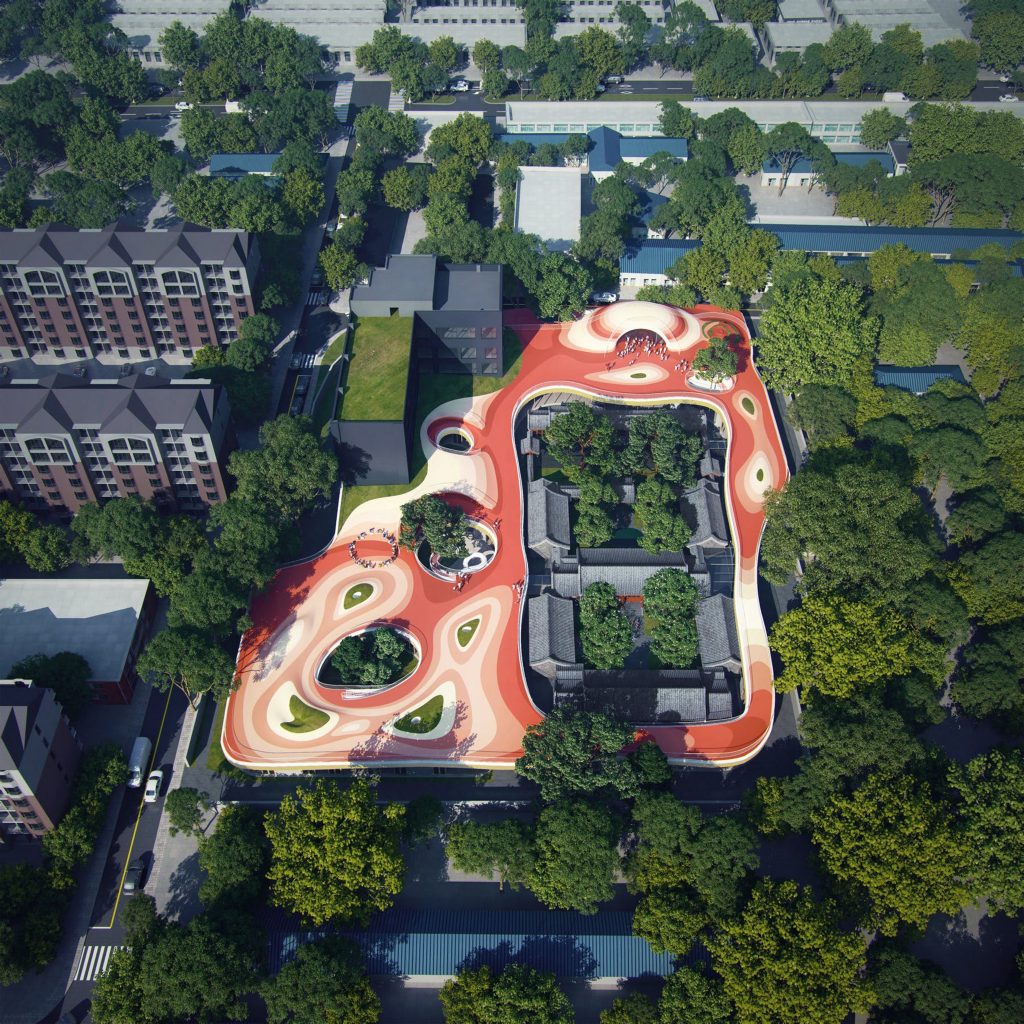 Roof Kindergarten, Photo SAN
MAD architects has designed a beautiful and dynamic rooftop playground to surround the historic Chinese courtyard of the Courtyard Kindergarten in Beijing. The studio wanted to preserve the cultural heritage of the site – and three ancient trees that grow there, while at the same time creating new spaces to wrap around the original 18th-century buildings. 
The school is on the site of a traditional siheyuan courtyard dating back to 1725. The new roof transforms the limited space between the various school buildings into a colourful, raised playground that will function as the main area for sports and outdoor activities.
Underneath the playground are open-plan areas including teaching spaces, a library, a small theatre and a gymnasium. The Courtyard Kindergarten will be completed in 2019.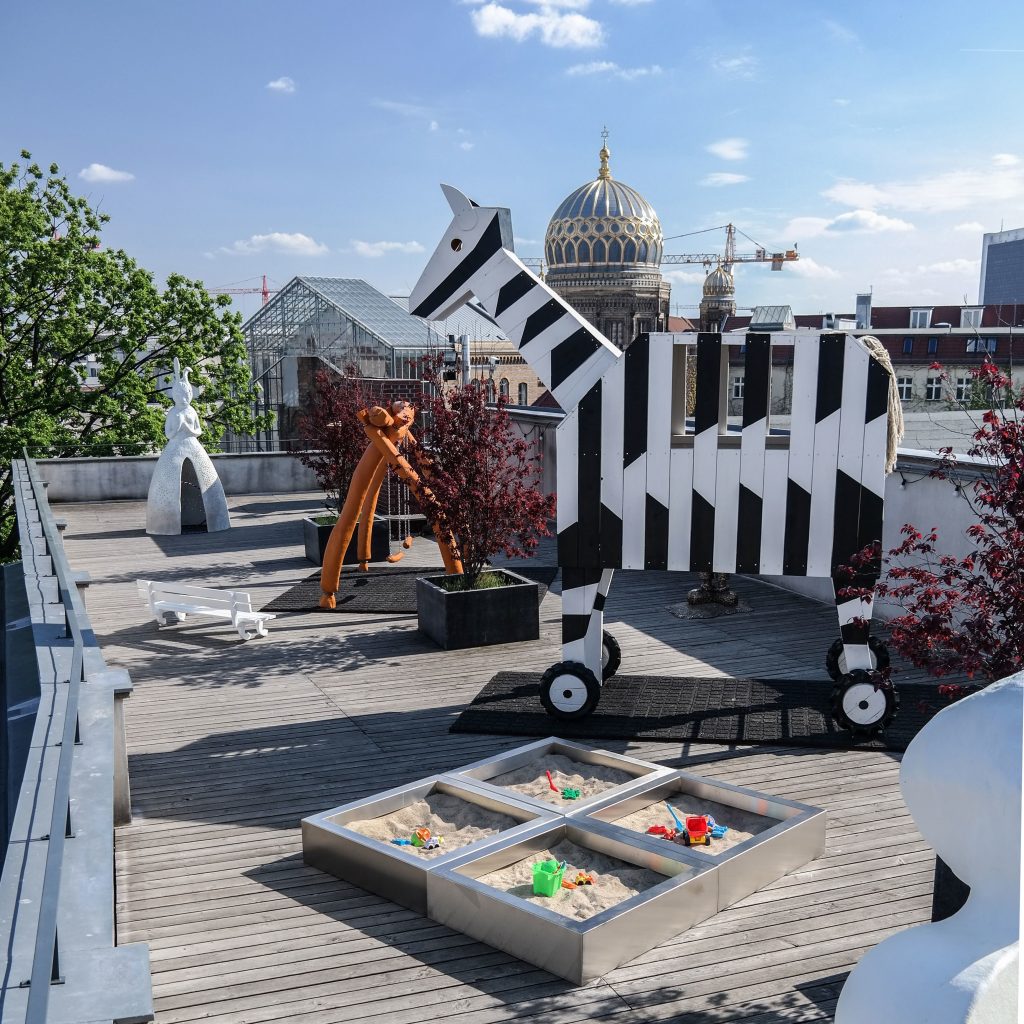 Rooftop Playground by Michael Fuchs Gallery
The Rooftop Playground is the new private exhibition space in Berlin, Germany opened this year by the Michael Fuchs Galerie in a former Jewish Girls' School. It is set to host year-round exhibitions including interactive and playful works of art and can also be rented for private as well as public events. 
The project came about after Michael Fuchs secured a 30-year lease on the school in 2011. He and his wife, Constance Breton have refurbished the run-down building into a central hub for art, gastronomy and culture. Fuchs and Breton commissioned 10 artists to create oversized, interactive pieces for their unique playground and the final product is "a portal into a fantasy world, created for children, that can still be enjoyed by adults". The works are a bold mix of playful structures: Mexican artist Gabriel Rico created a quirky, über-German sausage swing and a large bone-shaped slide. Children's book author and artist Tomi Ungerer produced a large, zebra-striped Trojan horse, while Leiko Ikemura's statuesque rabbit-teepee and Olivia Berckemeyer's Mickey Mouse can be hidden beneath, climbed and become animated at night.