Water is an element that has given birth to life on Earth, and our bond with water remains significant as ever. Creating water-based habitats for humans will soon become a need to survive, as according to experts' predictions, 90 per cent of the world's largest cities will be exposed to rising seas by 2050. We are closing our series of posts dedicated to floating architecture with a selection of futuristic living spaces designed by architects as man-made floating ecocystems adapted to climate change and the resulting threat of rising sea levels and extreme weather events.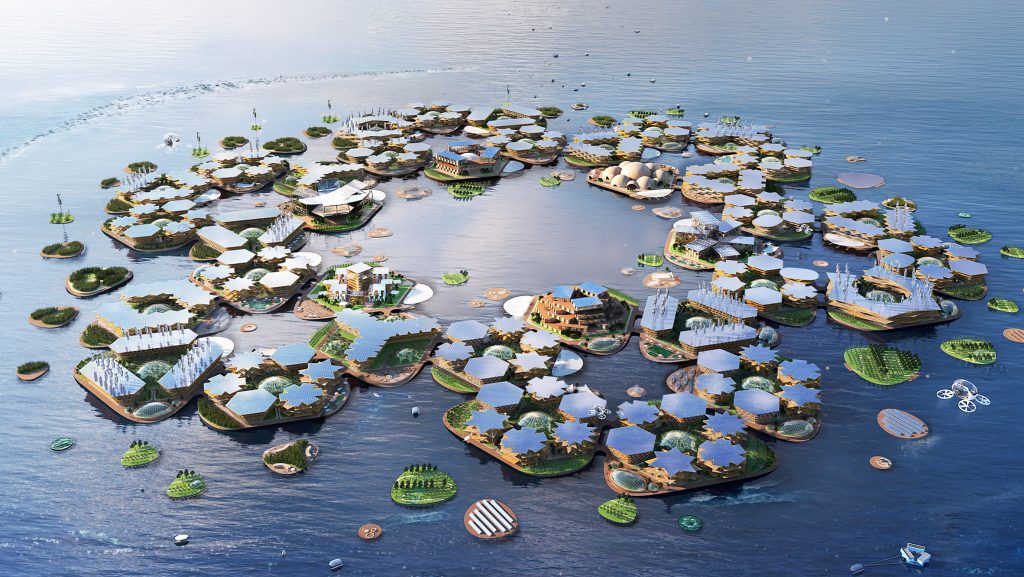 Grimshaw, a global design practice with offices all over the globe and headquarters in London, has collaborated with Dutch manufacturing specialists Concrete Valley to develop an innovative system of modular water dwellings. The accommodations are conceived as a reaction to the growing risks of climate change and the challenges of increased urbanization and reduced resources. The project offers an affordable and sustainable alternative to land-based construction which is resilient to the looming threat of flooding from rising sea-levels.
A long lifespan of the homes to be manufactured by Concrete Valley is ensured by the use of durable and non-corroding materials, including concrete and glass, for manufacturing standardized components. As far as energy consumption is concerned, the dwellings are very efficient, with their solar roof panels, heat exhangers built into base boxes before waterline and well-insulated lower pontoons and upper stories.
The design also prioritizes the experience of the inhabitants, providing a close connection to nature through the proximity to water and encouraging an active lifestyle. The homes can be orientated in different ways to best respond to its site, local conditions, light sources and views. Shared social resources, such as floating gardens and terraces, is one of the potential ways of the project's future development.
The Seasteading Institute, a non-profit organisation founded by political economic theorist Patri Friedman and Paypal co-founder Peter Thiel, sees its goal to build 'start-up countries' at sea, which they call 'seasteads'. According to its website, the institute's goal is to develop "open spaces for experimenting with new societies" in order to "allow the next generation of pioneers to peacefully test new ideas for how to live together".
On January 13, 2017 the institute signed a Memorandum Of Understanding (MOU) with French Polynesia to cooperate on the creation of a seazone with a "unique governing framework" in a lagoon near Tahiti, the test city, entitled Floating Island Project, that would act as proof-of-concept for the organisation's plan to build further settlements at sea.
The existing floating architecture technology developed by Dutch engineering firm Deltasync would be utilized for the construction. The firm's  feasibility report guarantees the structures would serve up to 100 years.
The city would be built on a modular network of rectangular and pentagonal platforms for it to be easily reconfigured to adapt to the need of its residents. The platforms would be made from reinforced concrete, strong enough to support three-storey buildings that would house hotels, residential and office units. It is planned that between 250 and 300 inhabitants would be living in the community.
BIG, a Copenhagen, New York, London and Barcelona based architecture firm, has envisioned a floating city accomodating 10,000 people. Called Oceanix City, the project comprises hexagonal modules clustered in groups of six to form villages, which are then repeated to form a 12-hectare village and further still – a large archipelago.
The project is named after Oceanix, a company that develops innovate ways to build on water, that commissioned BIG and MIT's Center for Ocean Engieneering to develop a habitable, off-shore environment in the event of rising sea levels.
The hexagonal shape is chosen for the modular system of the city, since it has the omni-direction of a circle as well as the modularity and rationality of something manmade. The low-level buildings of the city, planned to rise four to seven stories, would be constructed on land from locally sourced replenishable materials, such as wood and bamboo, after which they would be towed to sea and anchored in place. Like the islands themselves, the structures are designed to survive a category-five hurricane.
Oceanix City is intended to be developed in sub-tropical and tropical areas that are most at risk of flooding first. On top of that, the floating villages are set to be an affordable development, so that they could be used in displaced societies.
To make the floating city self-sufficient, the team would incorporate a number of renewable energy resources, such as wind and water turbines and solar panels. Food production and farming would be integrated and follow a zero-waste policy.
A prototype of the project is planned to be built on New York's East River.