As the world's climate changes, extreme weather events and rising sea levels present new challenges for architects. Floating architecture should not only be viewed upon as a way of making a building 'future-proof' in case of environmental disasters, it also attempts to find ways to live in peace with Water instead of trying to conquer it. Floating structures nowadays have the most different uses, recreational, infrastructure, cultural, and we have selected some impressive references.
Dutch architects Powerhouse Company has designed FOR, a floating office in Rotterdam, for the Global Center on Adaptation, a Rotterdam NGO that focuses on the mitigation of climate change through technology, planning and investment. The office is supposed to be an example of what the team calls "climate-resilient office design": if sea levels rise due to climate change, the office will float rather than flood. The three-storey building will host the organisation for a period of 5 to 10 years, before it is either made available to rent or relocated.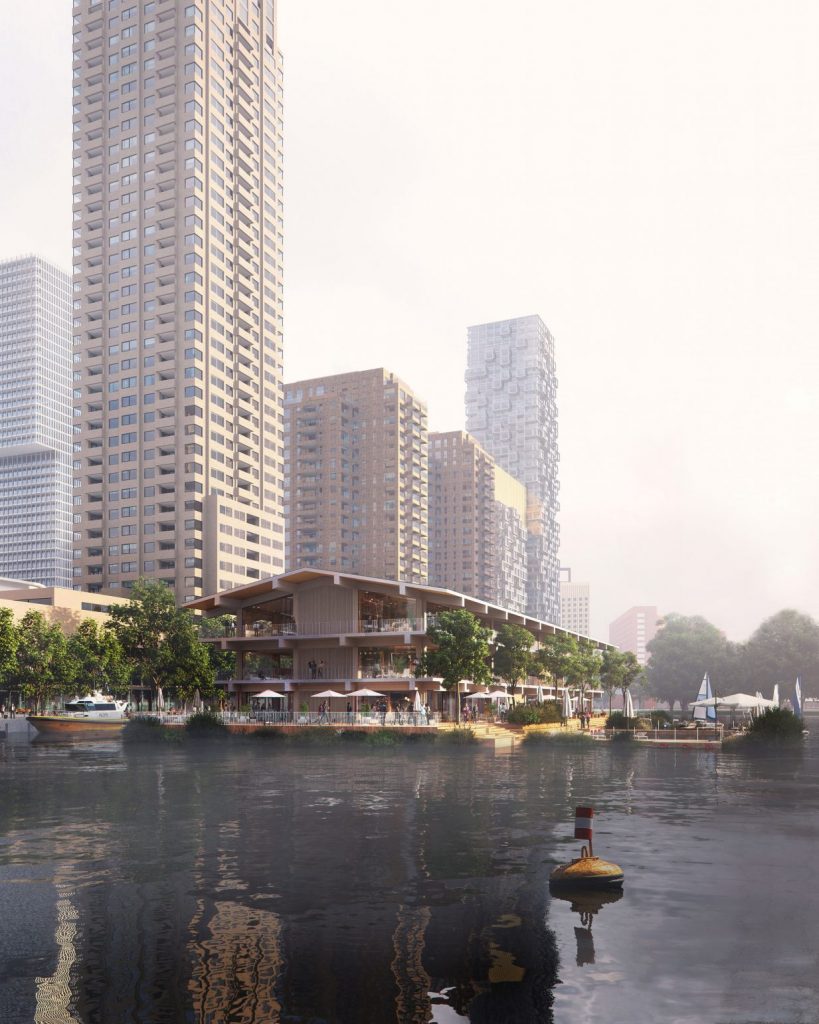 To make the structure 100% self-sufficient and carbon neutral in operation, it will feature solar panels on the roof that will serve as as a large energy source and a water-based heat-exchange system using the Rijnhaven waters to cool the building. Vegetation on the pitched roof and recessed balconies around each floor will also help to keep the building cool. FOR will be built offsite out of timber, the material chosen for its minimal carbon footprint.
The building will also have a public restaurant with a large outdoor terrace and swimming pool positioned in line with the river.
FOR is not the first waterborne building in Rotterdam , a city that is investing heavily in design and technology. In the harbour of the city's M4H development zone, an area which aims to stimulate and facilitate innovative and experimental activities, there is a compact triple-stacked structure which houses 40 dairy cows, known as The Floating Farm. The concept developed by the local studio Goldsmith encompasses an agricultural building based on nautical principles, it aims to show a new way of bringing farming back into the city, with minimal impact on resources and the environment.
The structure is designed to follow circular design principles. It generates all of its own electricity from floating solar panels and provides fresh water through an integrated rainwater collection and purification system. The cows are fed with grass from playing fields and golf courses in the city, along with waste food products like potato scraps, bran and brewers grains. Their manure is used to create a natural fertiliser.
All heavy structural and technical components of the building  are situated in its submerged part, while all significant functions are placed on a lightweight structure on top. As a result, the three-layered façade ranges from concrete to translucent polycarbonate, with the upper part of the structure left entirely open.
The facilities include production of fruits that are used as ingredients for yogurt, milk and yogurt processing, feeding system, manure handling and retail. The covered cow garden is supported by a manure cleaning robot and a milking robot along with other elements intended to enhance well-being of the 32 cows on the farm.
The farm is deliberately made as transparent as possible. The two vertically connected galleries around the cow garden string can also be used as an educational route for the visitors of the Farm without disturbing the business process
International design and innovation office Carlo Ratti Associati (CRA), in partnership with Mobility in Chain (MIC), has unveiled a new vision for the waterfront of Lugano, Switzerland. The project aims to physically connect Lugano and the lake, allowing the city to stretch out onto the lake thanks to a newly created floating island accessible to the public.
The proposed plan suggests a new system of spaces for public enjoyment, featuring a floating garden island connected by a new water navigation system. The rotating island would be accessible via a series of boardwalks, and would host various public spaces, including a garden to preserve the biodiversity of Lake Lugano.
Aiming to preserve the historical value of the lakefront designed by Pasquale Lucchini in 1863, the project envisions it a transition zone between the city and the water body. The reimagined waterfront will feature a dynamic system of reconfigurable roads capable of responding to people in real-time, as well as shared surfaces with playgrounds and social gathering spaces. It will also include a system of smart signage, responsive street furniture, infrastructure that produces clean energy from heat absorption, and a series of mobility hubs where people can select their preferred, shared mode of transport.
According to Carlo Ratti, founding partner at CRA, Lugano's distinctive waterfront, nestled between the Swiss Alps and the glacial lake, is an opportunity to create a responsive edge for the city, experimenting with novel ways of blending nature and urban space.
Read about floating hotels and housing here.