More than 70% of the planet is covered with water and most of the population lives in its vicinity. Designers and architects of today suggest we should learn to live with water, as a great way of solving such environmental issues as climate changes, global warming and consequent increase in water levels.  We are happy to introduce you to some exciting projects designed to be implemented directly in the waters in our series of posts dedicated to floating architecture of today – and tomorrow.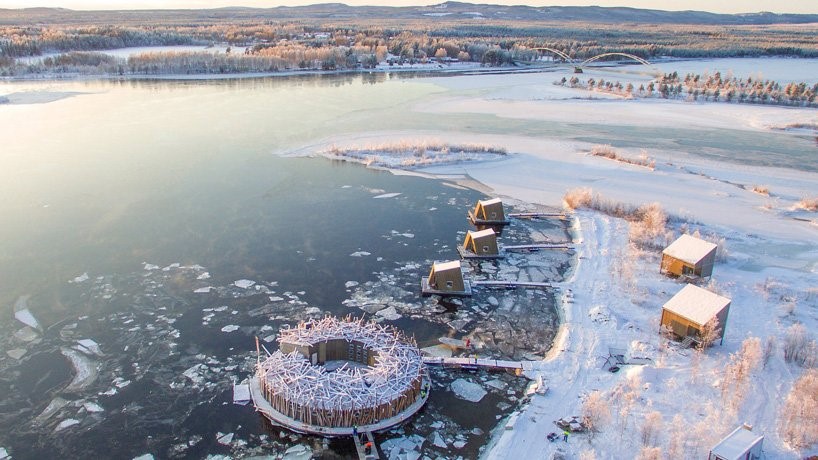 Set in Harads, in northern Sweden's scenic countryside, Arctic Bath is a new kind of a hotel allowing its guests to immerse themselves in the elements while leaving a minimal environmental footprint behind. This unique hotel's circular main building and a series of accompanying cabins are floating on Sweden's Lule River.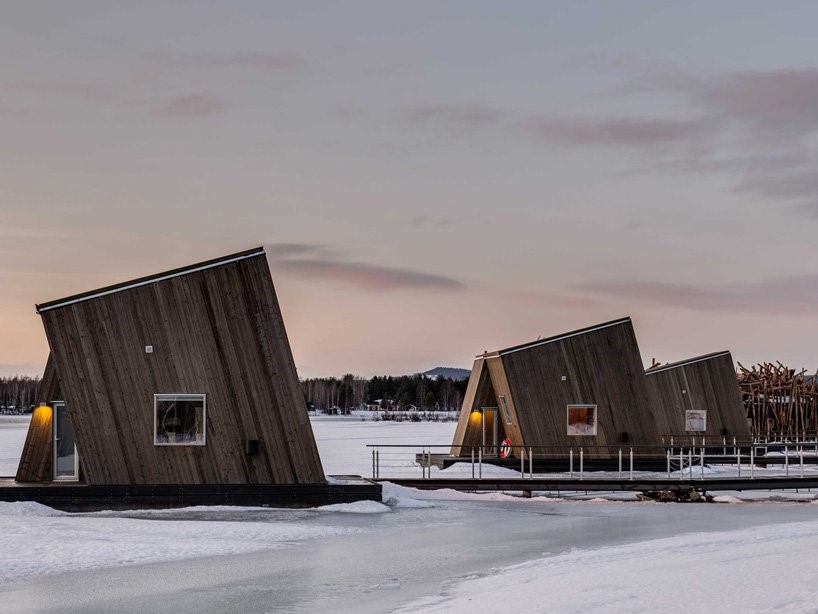 In the ever-sunny summer months, the entire hotel floats upon the water's surface, while in winter, the structure locks in place upon the frozen river, providing an ideal platform for watching the northern lights in winter. Designed by architects Bertil Harström and Johan Kauppi to imitate a jam of logs drifting down the river, Arctic Bath is a remote year round getaway with a spa, hot and cold baths, saunas, shops, and a restaurant.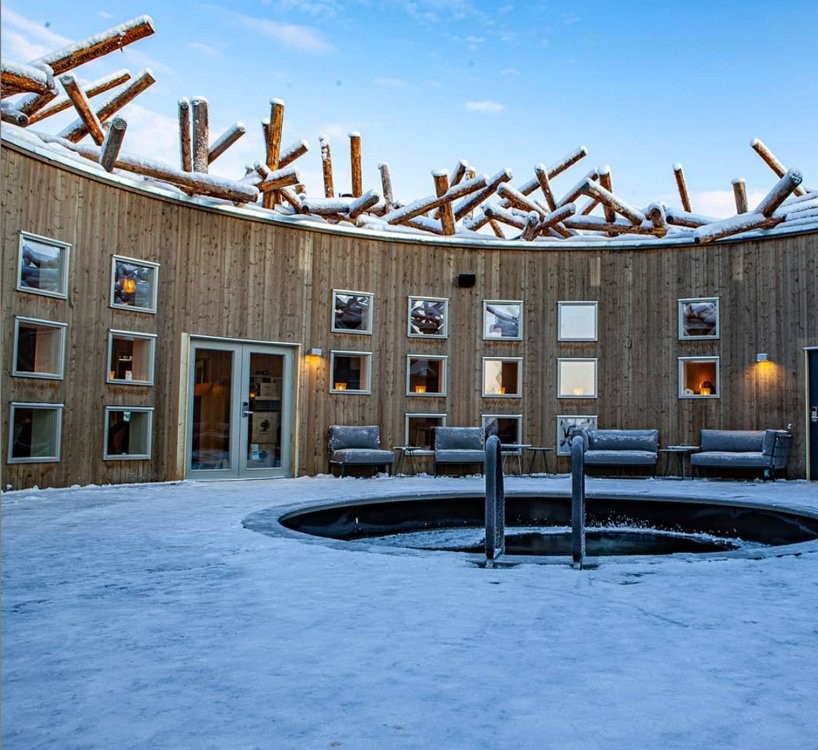 Outside, the striking circular structure blends in with the picturesque environment, while internally it features an enclosed soaking tub that allows guests to view the open sky at all times of the year. Six accommodations sit inside the floating rotunda, and the other six situated in land cabins elevated on poles. The rooms designed in sleek Scandinavian style feature skylights and wood-burning stoves. The surrounding nature finds its way into the lodging through natural, sustainable materials with a rich history such as wood, stone, leather and luxurious textiles.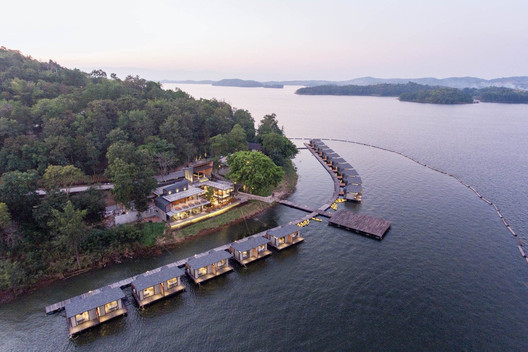 Floating on the Srinakarin Dam in Kanchanaburi, Thailand is the Z9 Resort, a picturesque hotel awarded IDA 2018 Winner Prize "hospitality" from BCI Asia. The designers of Dersyn Studio were commissioned to develop a design project that would reflect the owner's conviction that the best way to enjoy natural environment is to stay in a sustainable resort.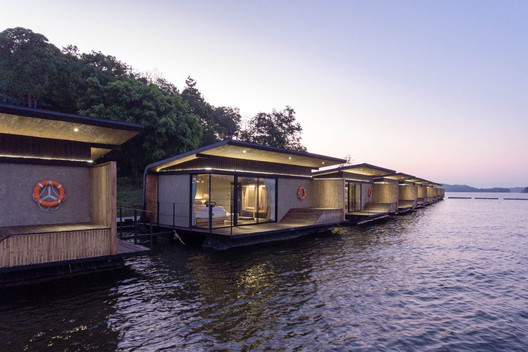 Following the 3R concept (Reduce, Reuse, Recycle), materials with a minimum ecological impact, such as steel structures instead of concrete ones, were utilised in Z9's construction, while to craft decorations, embellishments and furniture pieces excess wood from the existing resort was utilized. As a part of the hotel's sustainable approach, each building features natural ventilation.
Z9's raft-like accommodations allow the guests to absorb privacy, serenity, blend in with the natural context of Kanchanaburi, one of Thailand's most famous place for enjoying hillside and lakeside scenic, during their stay. The south-facing rooms indulge guests with dazzling sunset views from private waterfront decks, while the rooms facing north offer relaxing sea and mountain landscapes.
A more futuristic concept of a floating city-hotel has been developed by Rome-based architect Pierpaolo Lazzarini. Hi is trying to crowdfund the creation of Wayaland, a self-sustainable floating community consisting of modular pyramids. Inspired by Mayan architecture and that of a Japanese temple, the modular pyramids offer different living and entertainment settings. The bigger ones are meant to house a hotel, spa, gym or a cinema, while smaller structures are suitable for bars or bedroom suites.
Reminiscent of luxury yacht design, the floating pyramids would sit on 3,000sqm floating basement units topped with ten floors rising 30 metres up above the waterline. Guests are supposed to arrive by drone copters and helicopters, while the basement units would also feature an entry port for boats.
The structures would be composed of fiberglass, carbon and steel and placed onto the basement unit on site, after it is anchored in place. An engine and propellers installed in the basement allow the platform to be moved into another position.
To make the floating building self-sufficient, solar panels and water turbines would generate power, a desalinator would be stored under the main level to provide a water supply, and floating gardens could be used to grow food.