Every year Goodwood estate in the UK organizes Goodwoof, an event dedicated to dogs. Barkitecture is a creative competition where architects compete to design innovative and contemporary dog kennels within a £250 budget. Each of the kennels is auctioned by Bonhams with their proceeds donated to the Dog's Trust.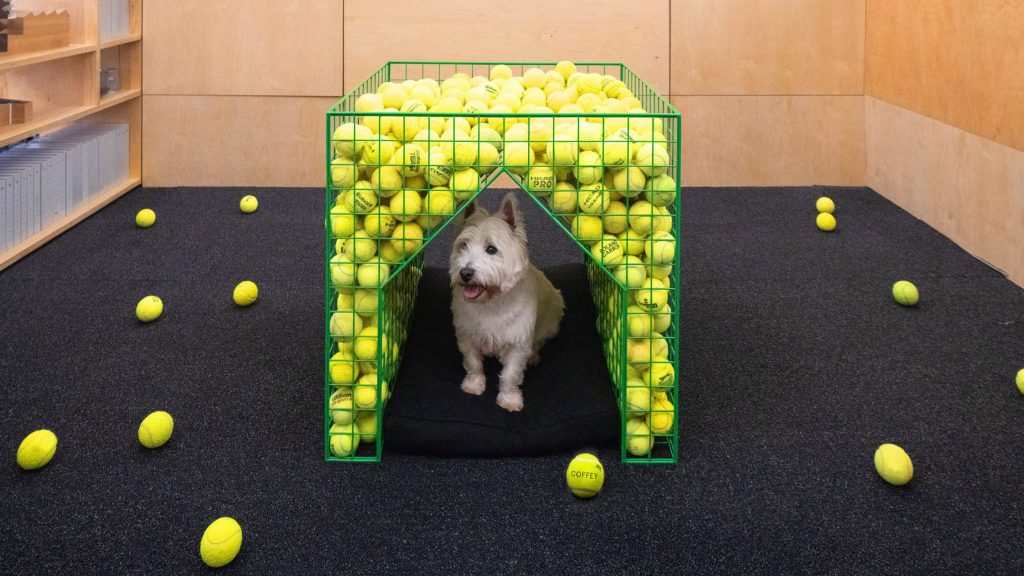 Among Barkitecture entries this year is an architectural kennel made from a gabion, or mesh basket and filled with approximately 500 tennis balls. Named Fetch, the playful bright-green structure has been created by London-based studio for their office dog – a West Highland White Terrier (Westie) called Lucky. Not only it needed to fit the architect's furry companion's size but also aimed to fit in with the style of the office.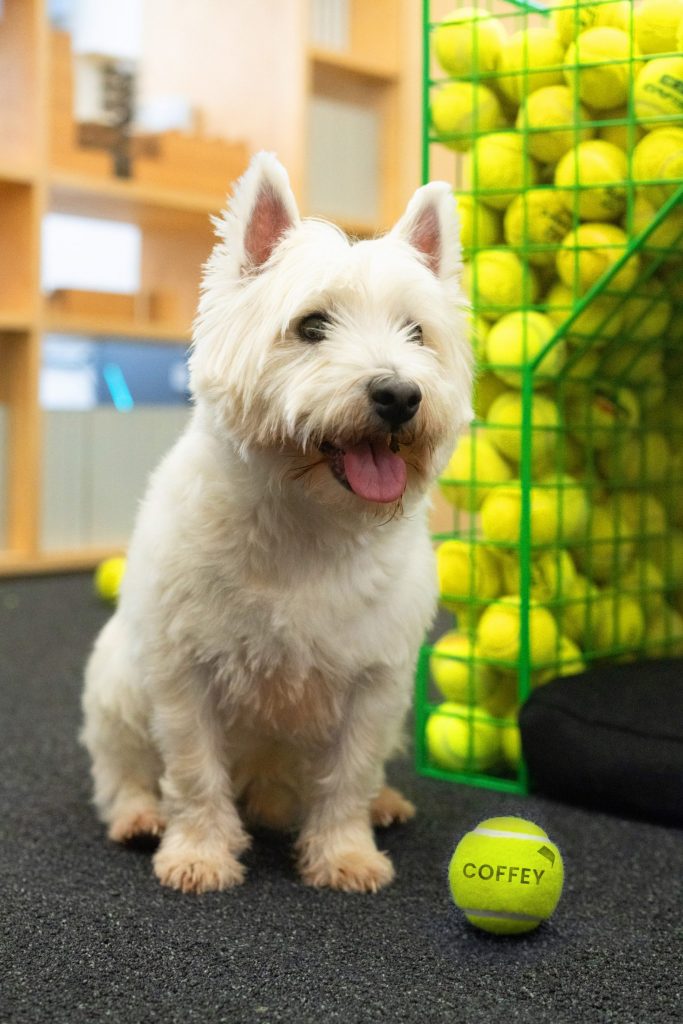 For the main material, the team opted for gabion, which is typically filled with rocks and used to form walls in architecture and landscapes. For the kennel, clunky, solid rocks were replaced with vibrant, bouncing tennis balls calling out to be thrown around, while the grey mesh was transformed with bright hue of green that complemented the balls.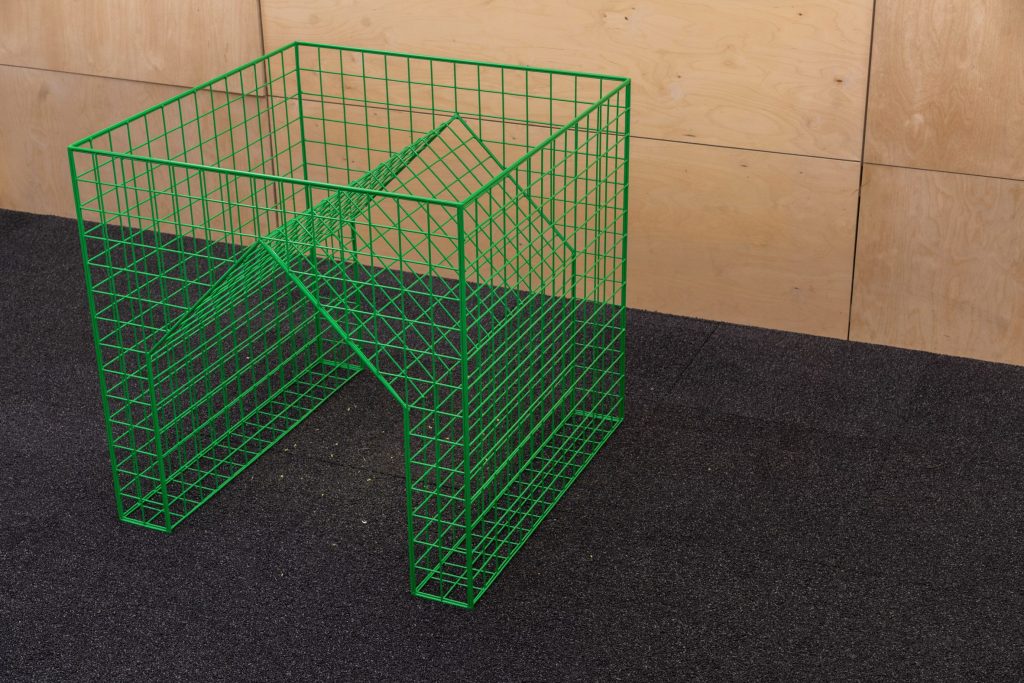 Otherwise, the kennel is deliberately simple in shape. The mesh cube is punctured by opening shaped after a house with a pitched roof. The resulting basket can be filled with items other than balls too. The team is planning to fill it with Lucky's chew toys, old shoes or even some calming herbs such as lavender or rosemary.
Another Barkitecture competition entry is a mobile hit doghouse devised by Conran and Partners with offices in London and Hong Kong. Named Bowowhaus, the conept is an invitation to dog owners to create their own version of their wooden hut on wheels using basic tools and recycled materials such as discarded wheels, used slats from skip-harvesting, and old wooden pallets.
The design is a modernist take on a working shepherd's dog's kennel. The slanted roofs of the structure is made of drawing boards as a reference to the studio's interior and the architects' drafting tool, while its walls are crafted using pencil-thin slabs of light wood.
The triangular shape of the construction allows ample space for dogs of varying sizes to step in and out, while openings on each side of the wooden hut let the air freely pass through for continual ventilation. There is a dedicated space for bowls and food containers behind the house, which helps avoid spillage in the bed-space area.
The roof also features incorporated solar panels, which are meant to power the hut's wheels, so the whole structure can be easily transported or moved. Besides, dog owners can add their personal off-grid enhancements, including covering part of the roof with solar panels to provide renewable energy-reliant lighting and under-floor heating for the dogs during cold weather conditions.
Last year, the main prize of Goodwoof's Barkitecture competition was granted to British architecture studio Birds Portchmouth Russum Architects who proposed a dog kennel wrapped in bone-shaped columns named Bonehenge.
The kennel was designed specifically for Birds Portchmouth Russum Architects director Richard Portchmouth's own cocker spaniel Illy. Its oval-shaped design was inspired by the cocker spaniel's hereditary characteristics of circling prior to settling down to rest – intuitively compressing long grass to make a soft bedding.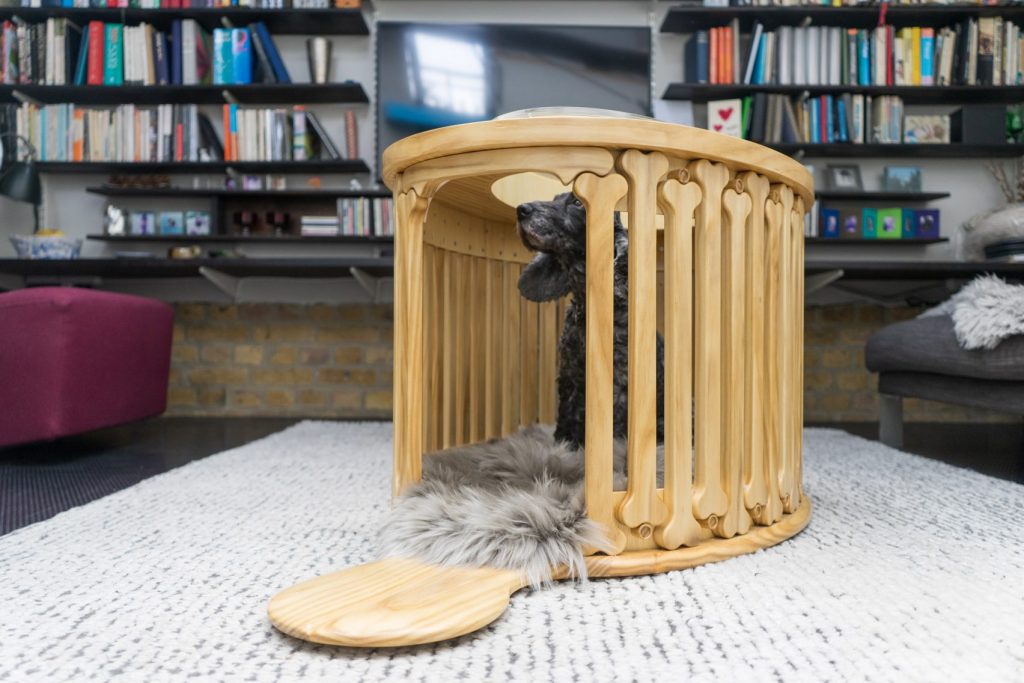 On the other hand, the concept was informed by ancient structures encircled by colonnades. Similarly, Bonehenge introduces what the studio claims to be "an important new order of Barkitecture, the 'Boneian' Order," to adorn the little palace. The structure evokes ancient henges, protective settlements and enclosures. The kennel is made out of CNC-cut wood and topped with a roof fitted with a skylight and rainwater spout to direct rainwater, if the kennel should be kept outside.