You must have heard on numerous occasions that good design is a powerful healing tool.  We have collected a number of interior design projects that take this principle at face value. These bespoke hospitals demonstrate that asking patients and staff what they really need and want from healthcare spaces can truly transform them from bare and clinical to richer, more welcoming and useful.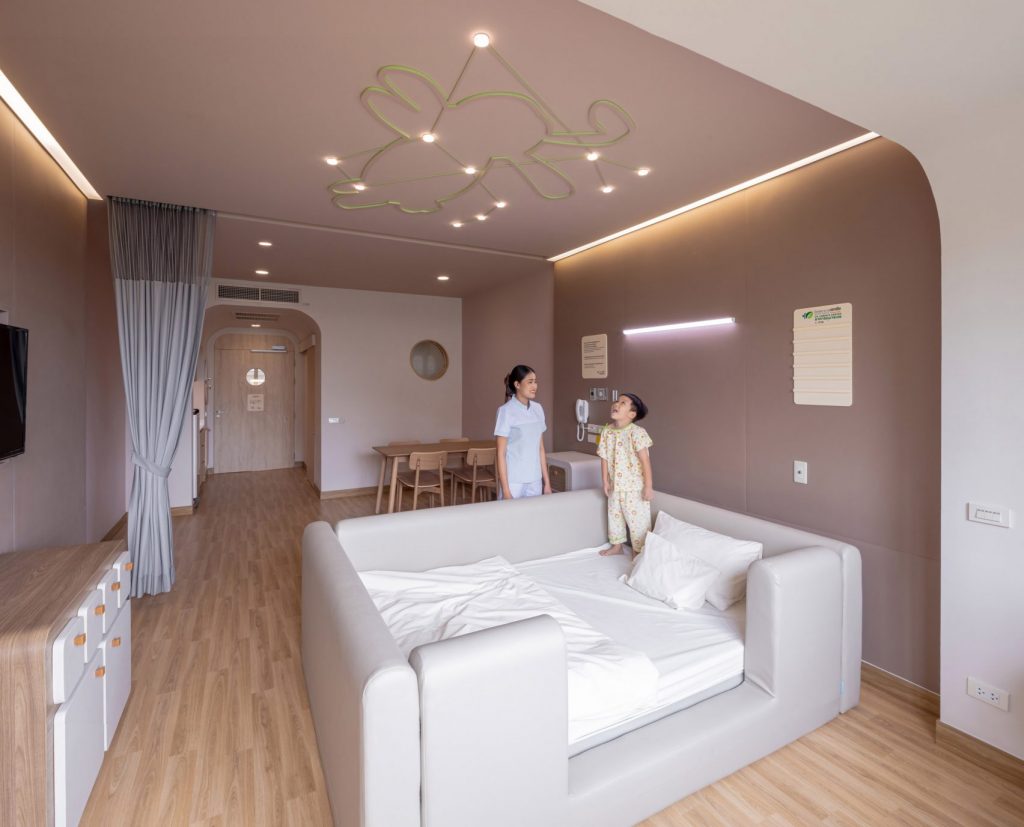 London studio Projects Office has collaborated with the art consultancy Ginkgo Projects on the interior design for a mental health unit at the Child and Adolescent Mental Health Service (CAMHS) facility in Edinburgh, funded by Edinburgh Children's Hospital Charity.
Aiming to create a comfortable but practical interior, the designers envisioned the interior as "a third space which is neither hospital nor home." To understand many of the subtle details that would make the space feel like a domestic environment, they held a series of workshops and interviews with young patients, their parents and staff members.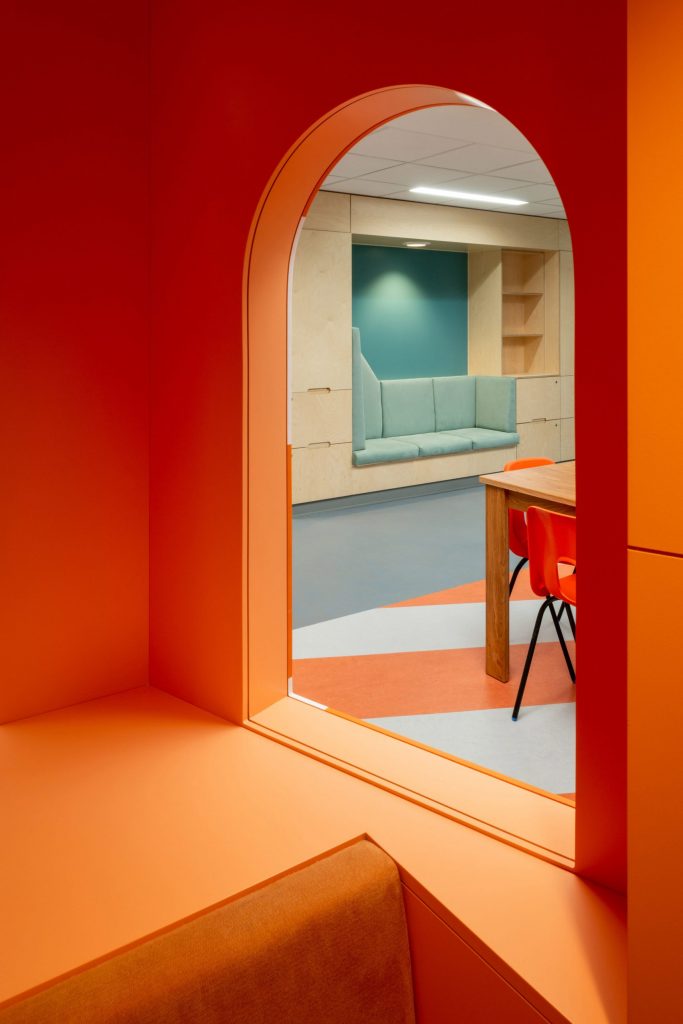 For example, the designers found that the seaside was often mentioned as an environment that helps to improve mental health, which is why the design incorporates various seaside references. Colours, patterns and motifs take inspiration from the seaside. This ranges from simple maritime pennants that spell out the name of the unit in a TV room to a large lighthouse mural with a goal and targets for ball games in the central garden.
For the communal areas, a key challenge was to offer a spectrum of levels of privacy and togetherness for all patients. He designers have created an array of various zones that range from communal activity and convivial conversation through to upholstered seating nooks built into the walls, banquettes that extend up to the ceiling, and a lighthouse-inspired den, all of which provide the opportunity for private conversation and offer the patients a sense of safety without feeling isolated from others.
The bedrooms are designed to give a clean slate to new patients. They can be easily personalized using playful shelving  and movable furniture to create a feeling of ownership, and later easily reverted back to the original state. The design also offers a variety of different ways for families to sit together.
The use of standard hospital furniture with additional furniture elements that were custom built from simple plywood made it possible to realize the project on a tight budget.
Bangkok-based design studio Integrated Field has added playful touches to the interior design of EKH Children's Hospital in Samut Sakhon, Thailand. To help distract children who could be nervous or feeling unwell, the designers have filled the place with various fun elements, such as a bright yellow slide that spirals through the reception and animal shapes above hospital beds that double as night lights.
An indoor swimming pool with white clouds decorating the walls and arched windows forming circular reflections in the water adds to the fun. All doorways and seating areas feature similar arches, which are scaled to the kids height.
Bedrooms are painted in soft pastel tones, including pink, blue and yellow. Each specific colour refers to a specific animal representing each zone – Whale, Turtle, Lion and Rabbit. On the ceiling of the rooms, there is an outline of the corresponding animal as well as a pattern of lightbulbs forming a constellation of starts that act as a comforting nightlight for young patients.
To create a more welcoming environment, the designers have replaced harsh fluorescent lights usually found in hospital settings for soft, ambient lighting.
British designer Adam Nathaniel Furman has created a series of architectural artworks in specially-made waterjet-cut ceramics for the Maternity ward of Chelsea & Westminster Hospital in London. The works, collectively called "Radiance," have been commissioned by the London hospital to enhance its reception area and entrances.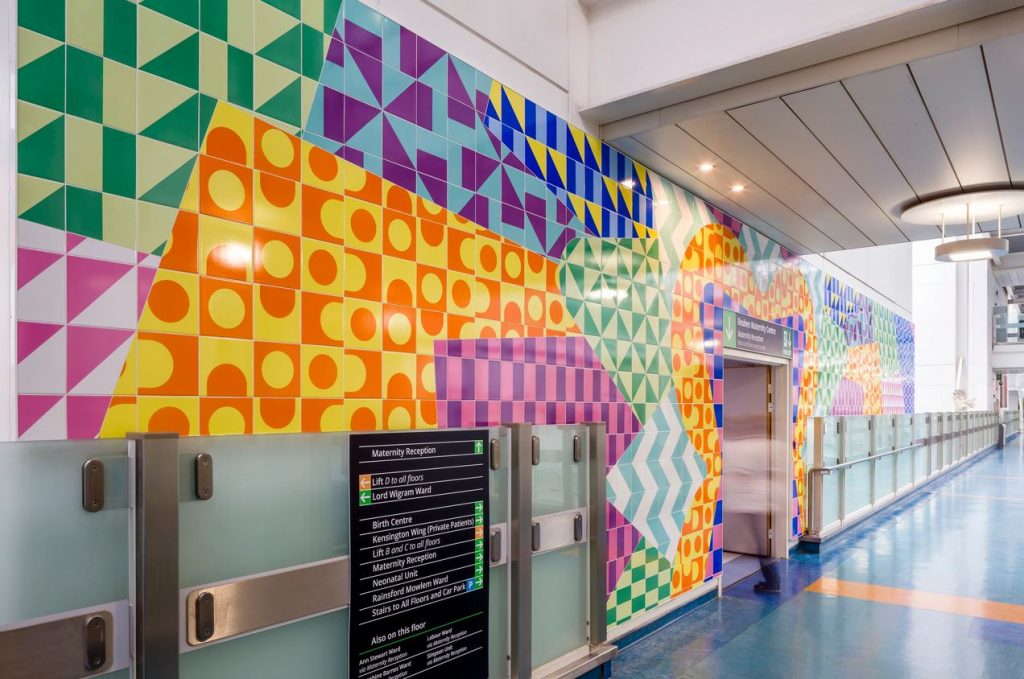 The artist explained that the project is based on the theme of birth and rebirth, which is "associated with the joy of spring" and the emergence of colourful flora. It is said that after birth there is a miraculous glow that immerses and then radiates from the mother and child, an aura of newness and possibility and love. Fusing these themes, Radiance is described by Furman as a colourful flowerburst of verdantly effusive happiness.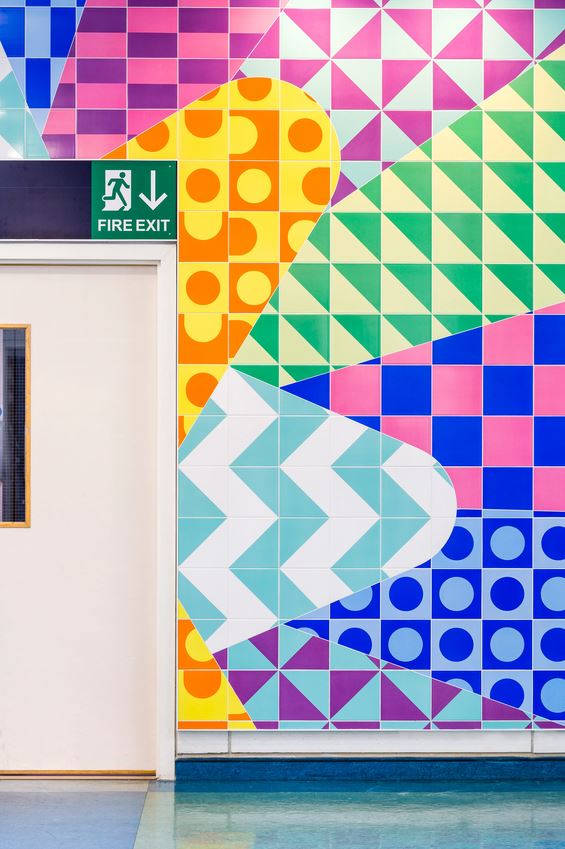 To make wayfinding easy, the doors to the various wards inside the centre are framed by different coloured ceramic 'gateways.' The chromatically deep and rich colours specified by Furman were screen printed onto the tiles in Stoke-on-Trent by The Surface Design Studio. Then they were cut using a water-jet machine to achieve the complex mosaic effect.