Ephemerality of nature has been one of the most recurring themes in art over centuries. Aiming to preserve delicate and vivid blooms before they wilt and wither, artists create breathtaking botanical sculptures, encapsulating bouquets and petals in ice, literally freezing their transitory beauty in time.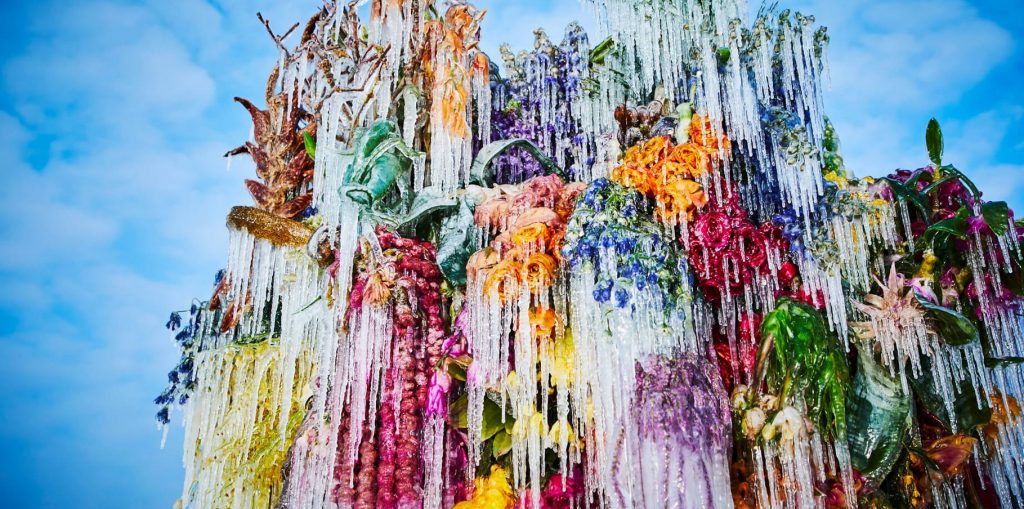 Frozen Flowers is the title of one of the recent creations of florist and botanical sculptor Azuma Makoto, known for his surrealist flower installation art. To accomplish the project, the artist travelled to the Notsuke peninsula in Hokkaido in the dead of winter. Aiming to explore unknown possibilities of flowers and express themselves under extreme conditions, he constructed a tall tower of numerous flowers and poured water over it, so that it would freeze over.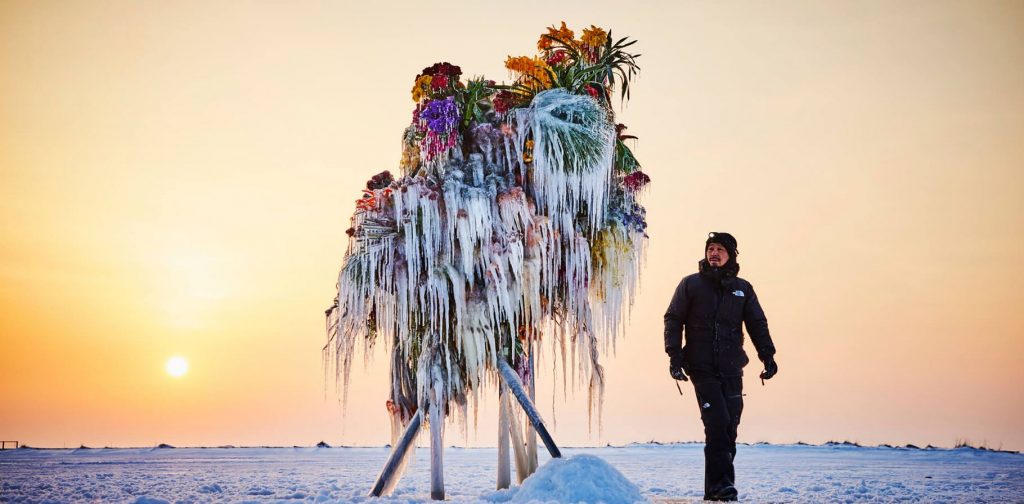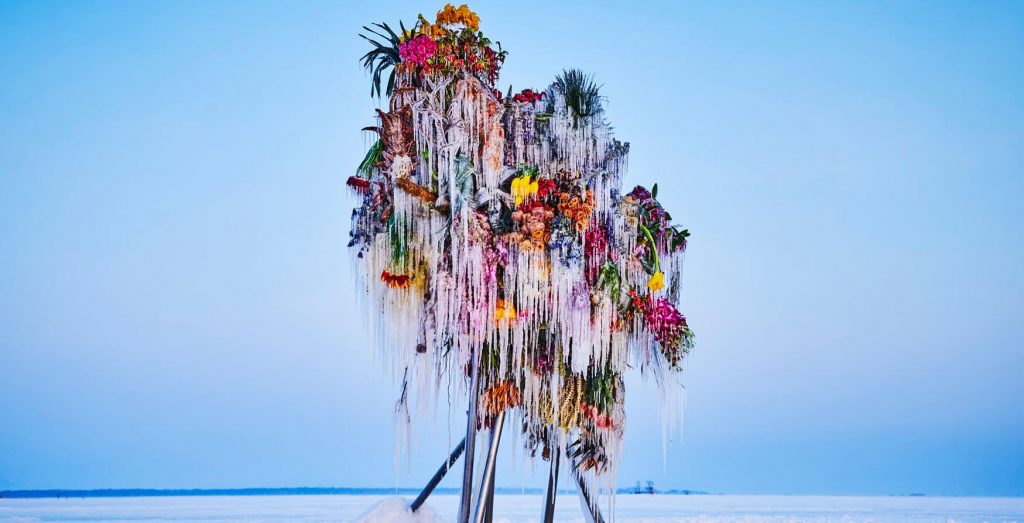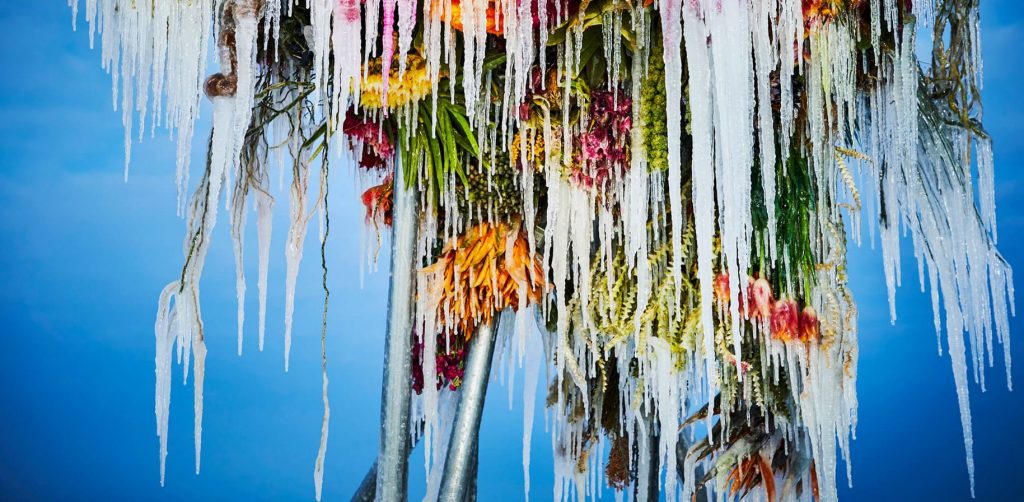 The layers of ice cover the stems, leaves and petals, and the numerous icicles preserve the buoyancy and bright colours of the flowers. The botanical sculpture creates the only focus among the flat, desolate landscape of Hokkaido, which is often referred to as the end of the world. It appears to be a visual representation of the power of flower, as the gentle blooms manage to shine through the dense ice.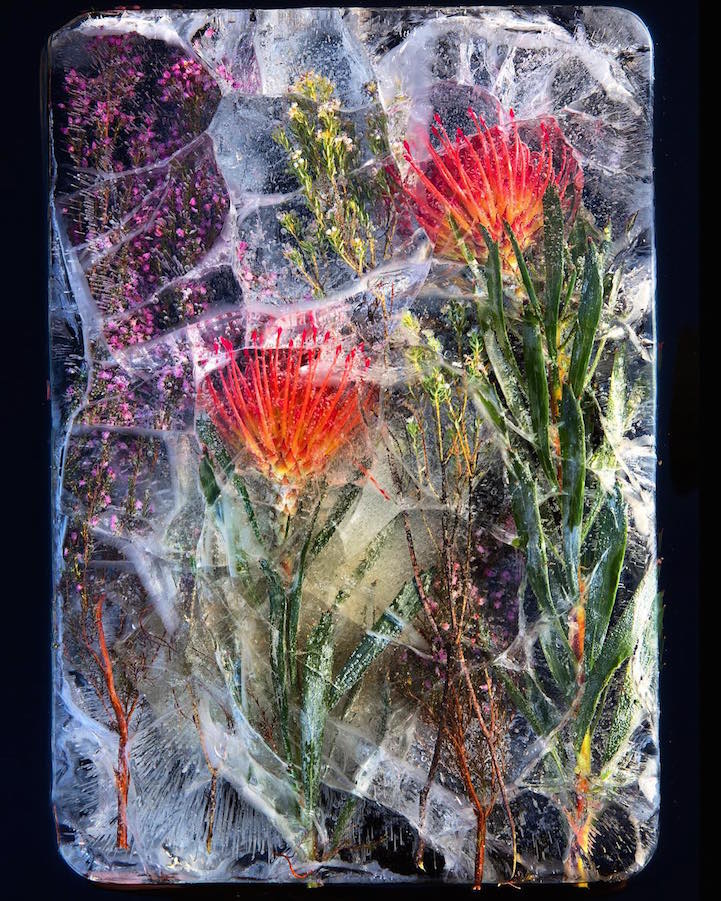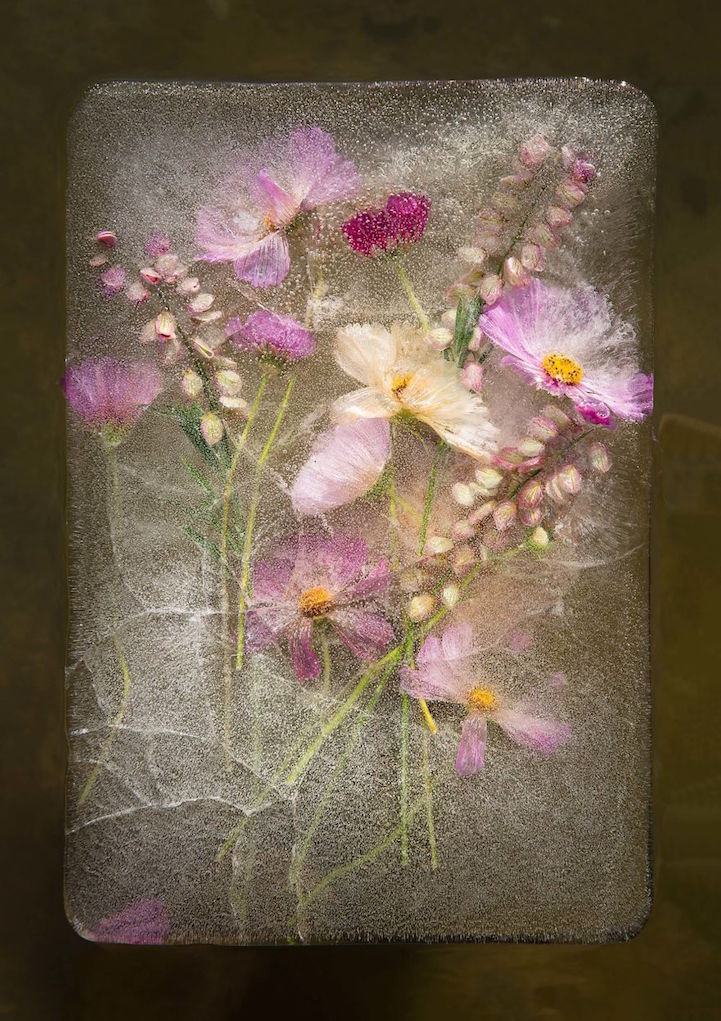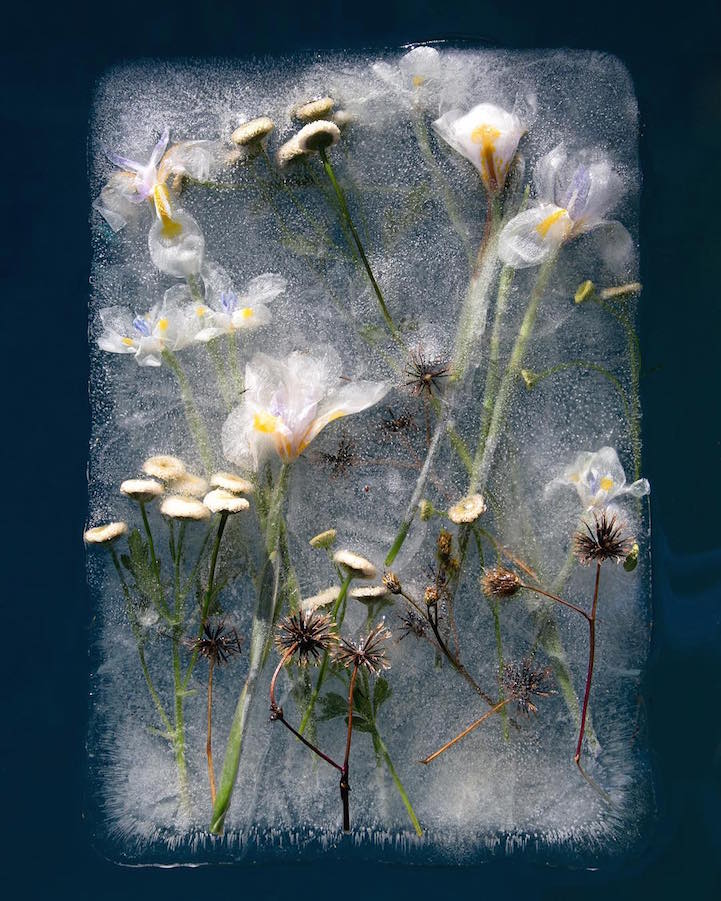 South African photographer Bruce Boyd is fascinated by the way objects look distorted when encapsulated inside a large ice block. Together with his girlfriend Tharien Smith he experimented with ice blocks, throwing them into water and observing the wrinkles and cracks that distort the surface.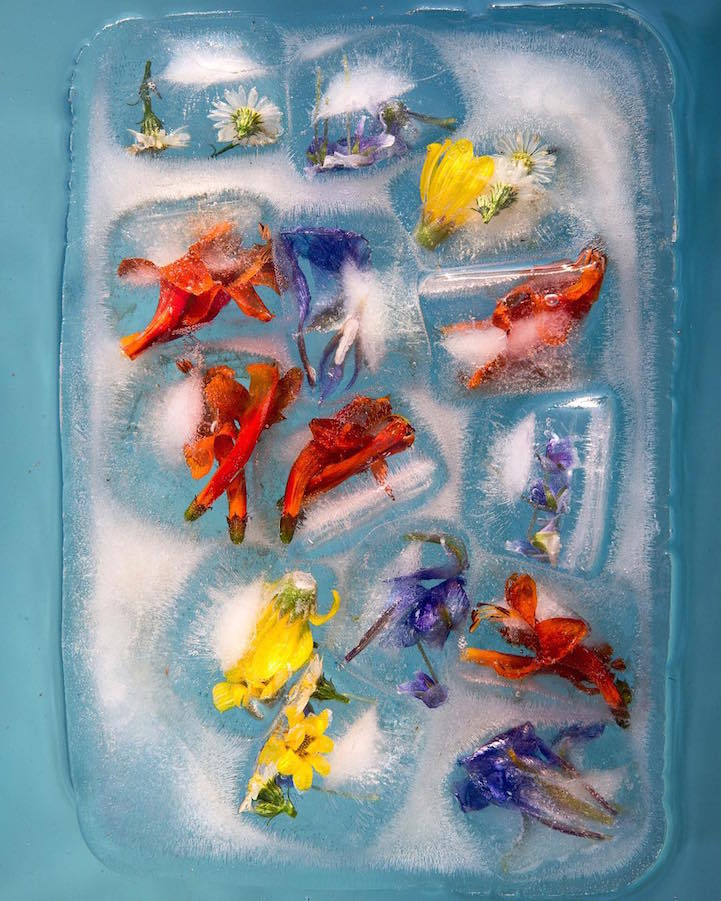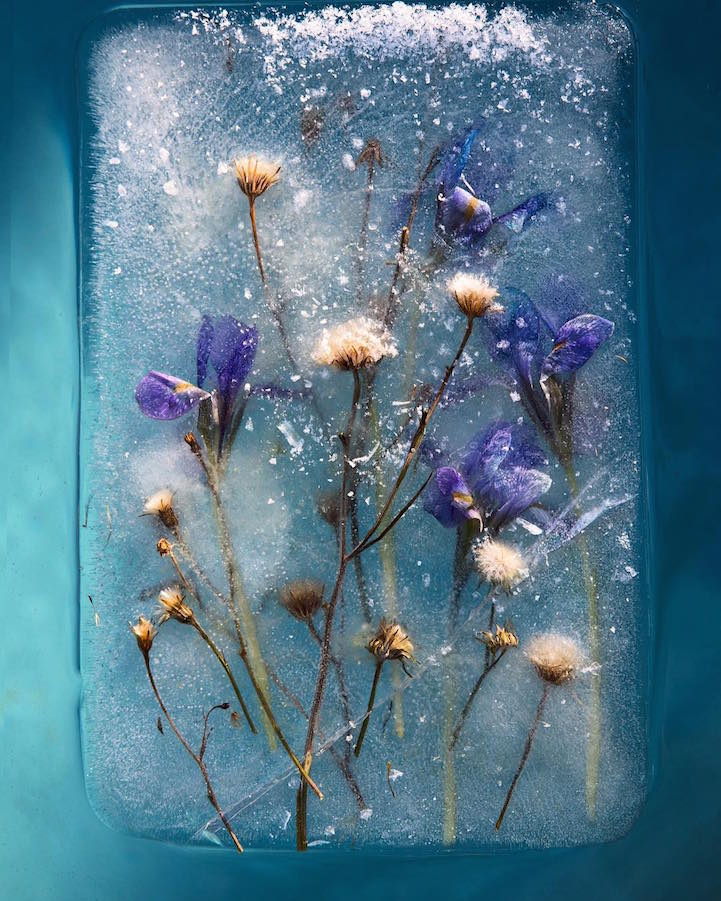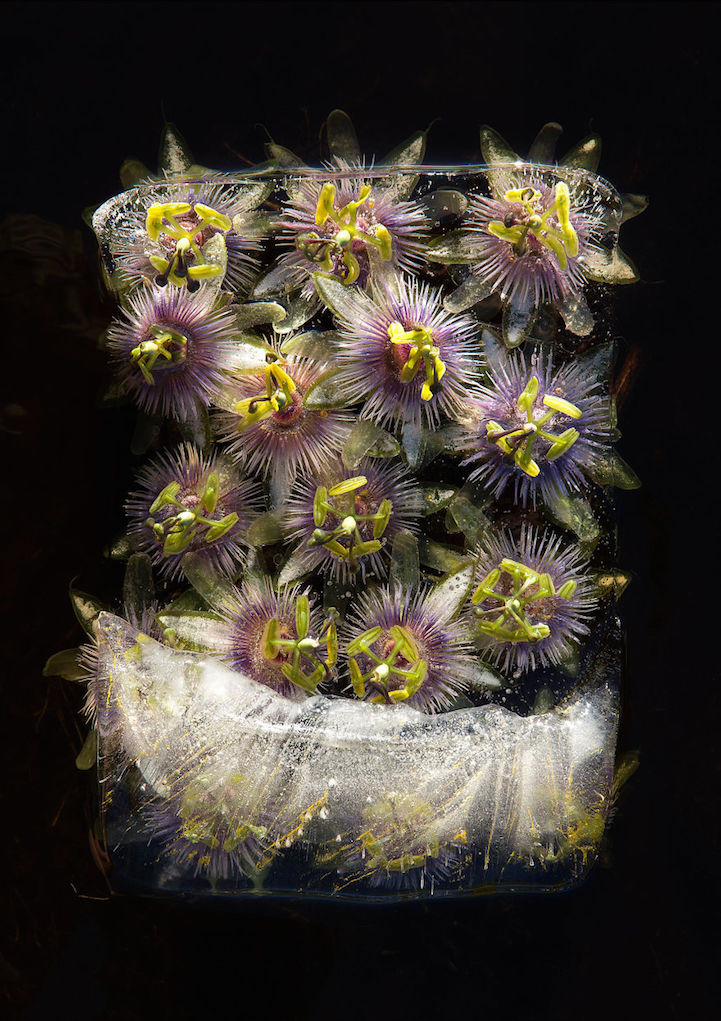 Their Zero Degrees (0°C) project comprises a series of pictures showcasing colourful delicate flowers preserved inside ice blocks, which the duo throws into various bodies of water, from streams to muddy puddles. The photographer only has a few fleeting moments of this preserved beauty, before the ice melts and flowers wilt. The resulting photographs represent simultaneously frost and flower, color and clarity, life and death.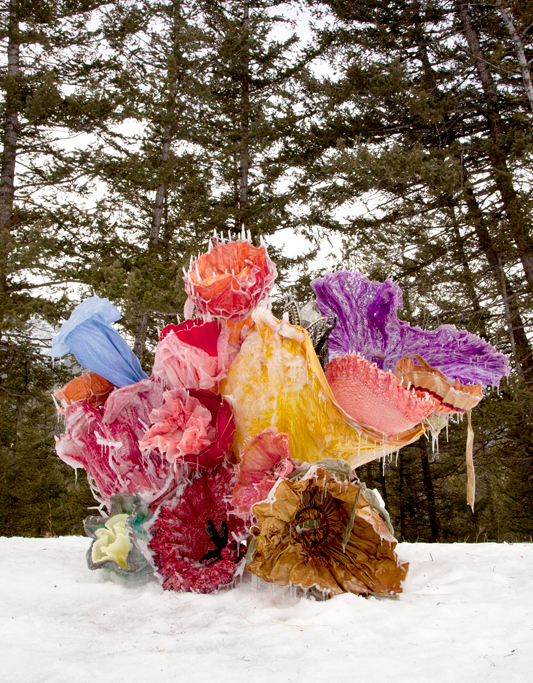 Ice is a constant inspiration to British Columbia-based artist Nicole Dextras, who uses it to create eye-catching installations that pursue such thought-provoking themes like environmentalism and ephemerality. For her outdoor Bouquet installation, which resembles an alluring bunch of flowers from the outer world, she has transformed vintage dresses into a frozen floral arrangement.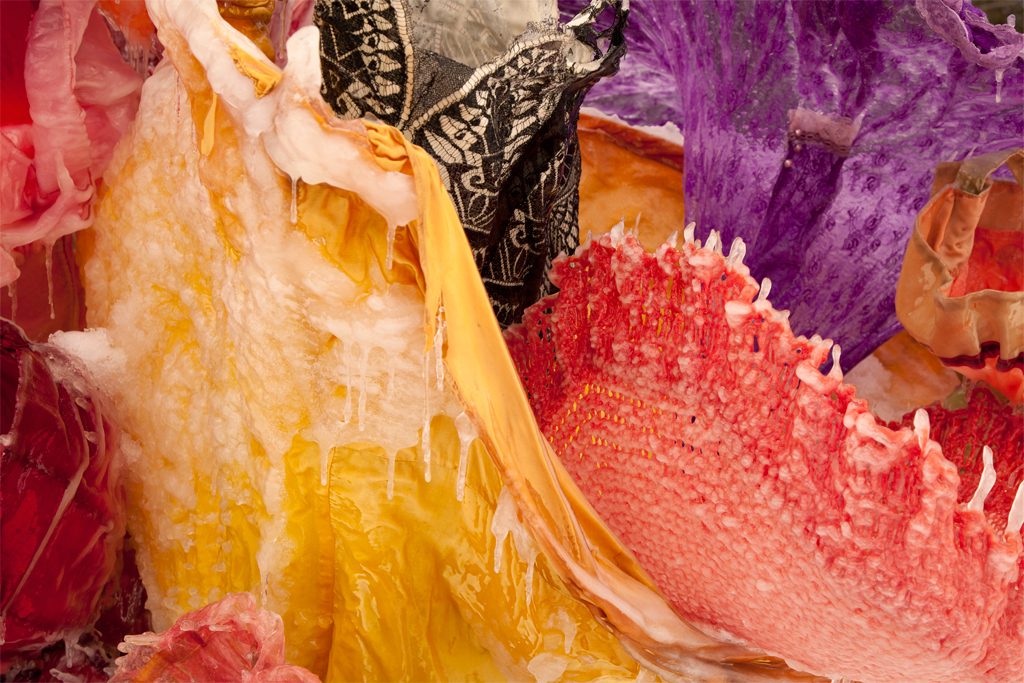 She sprayed water over a selection of 15 dresses from the 1940s and 1950s over a course of several days, so that ice began to cloak each individual garment, freezing their frills and full skirts into fabric petals. After that, the artist arranged the garments into a colossal bouquet bursting with the "bright colours and the delicate details found in the biodiversity of the natural world."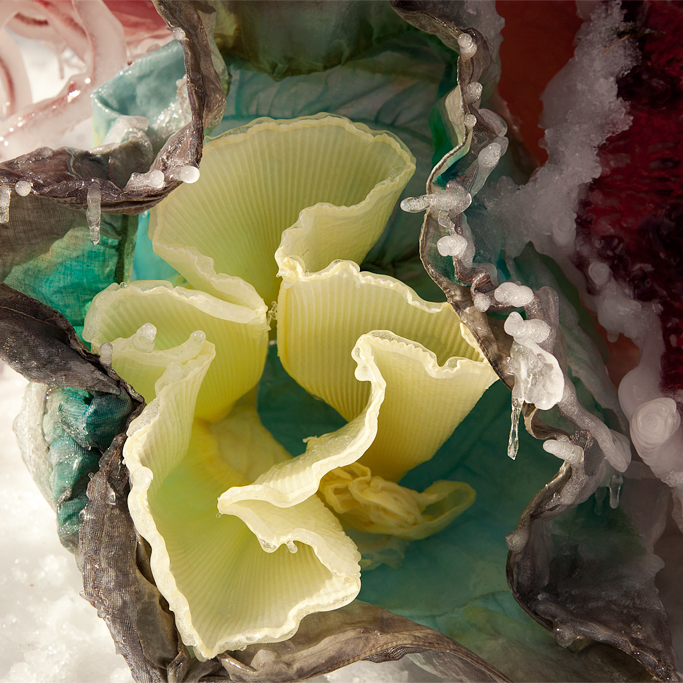 Details of frozen lace resemble trumpet-like flowers, while layers of skirts create layers of petals. The scalloped edges of one of the dresses is even reminiscent of the Venus flytrap, appearing out of the frozen earth "like the mythical man-eating trees in folk fiction."
Read more about beautiful flower art here