Each person has their own meaning for the word «fireplace», but there is hardly one who wouldn't love snuggling up in front of an open fire during a cold season. For all of us, a fireplace is associated with home comfort and respectable life. Architects and designers use fire as a decoration, putting it into the heart of their interior designs.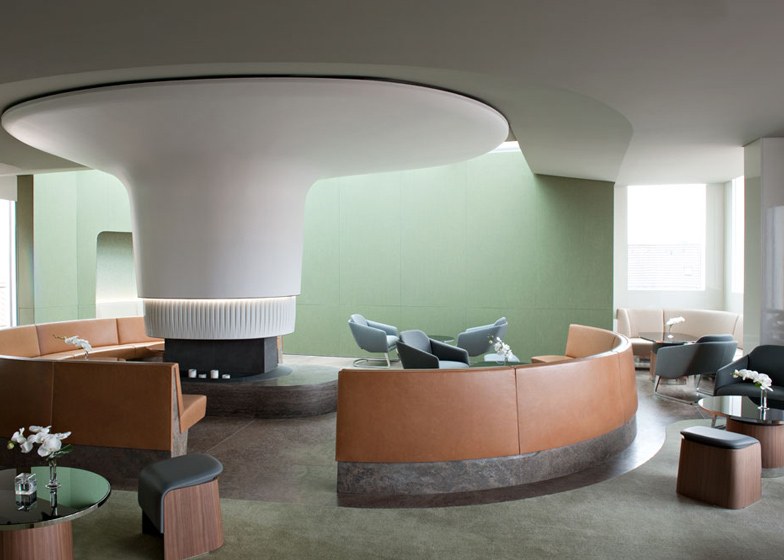 Developing a design project for the lounge of the Bayerischer Hof hotel in Munich, Germany, Patrick Jouin and Sanjit Manku of Paris studio Jouin Manku has created an elliptical fireplace, which together with the use of natural hues and textures, helps recreate a natural landscape and fantasy all at once.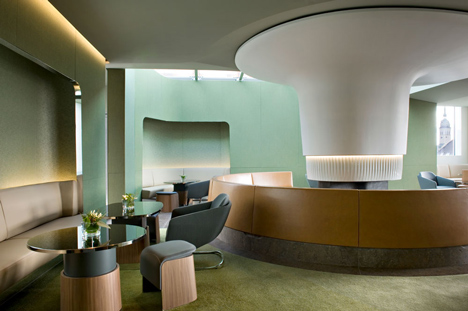 The sculptural piece is surrounded by curving benches made from wood and leather and topped by a funnel-shaped chimney that drops down from the ceiling of the hotel's sixth floor. Encircling the chimney, there are porcelain ribs creating constantly shifting reflections. The feature is echoed by the surface of the adjacent curving bar.
A restaurant next to the lounge features alcoves containing benches with undulating three-dimensional back panels carved from aerated concrete to suggest a mountainous scene and complement the stone flooring.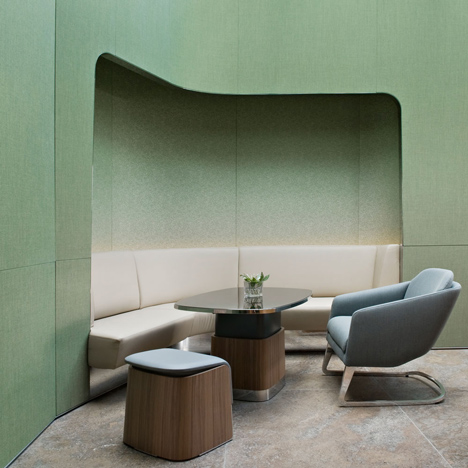 To enhance the natural feel of the space, the architects have continued supporting beams made from American walnut over the walls and integrated lighting in the curving folds of the surfaces. Their topographical shape is based on a mineral horizon made ​​of stone and snow, which appears to be carved into the rock.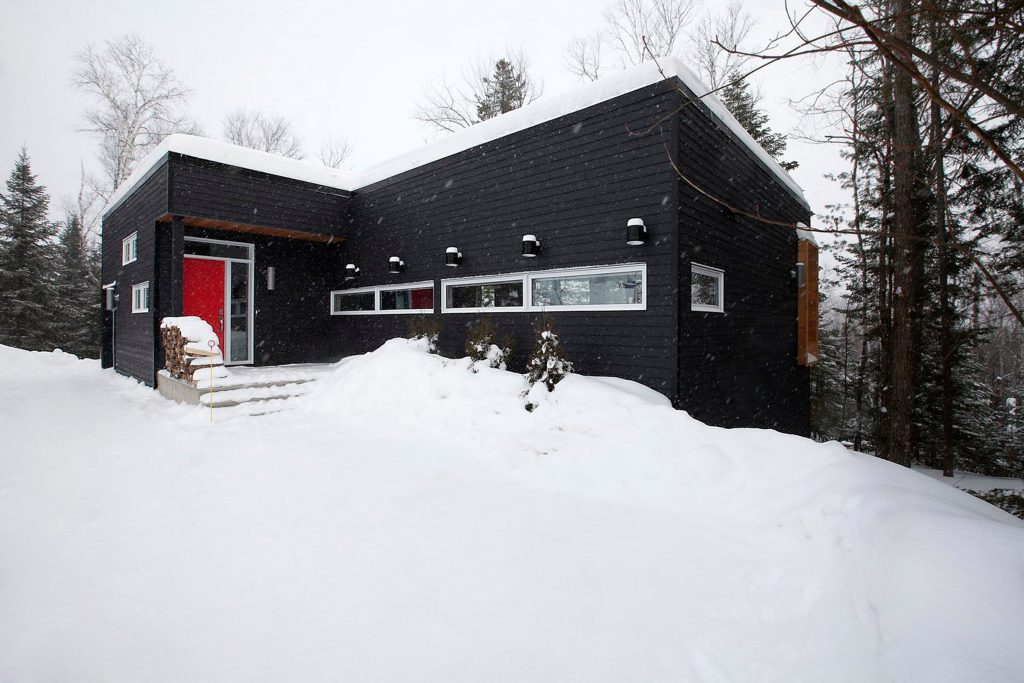 An imposing wood burning fireplace made from black concrete is a focal design point in the Ski Lodge an hour north of Montreal, Canada, designed by DKA Architects with interiors by Chambly studio Kl.tz Design. Conceived as a winter retreat for a family of skiers, the 186sqm two-storey chalet contains bedrooms on the lower level and a large open-plan living space above.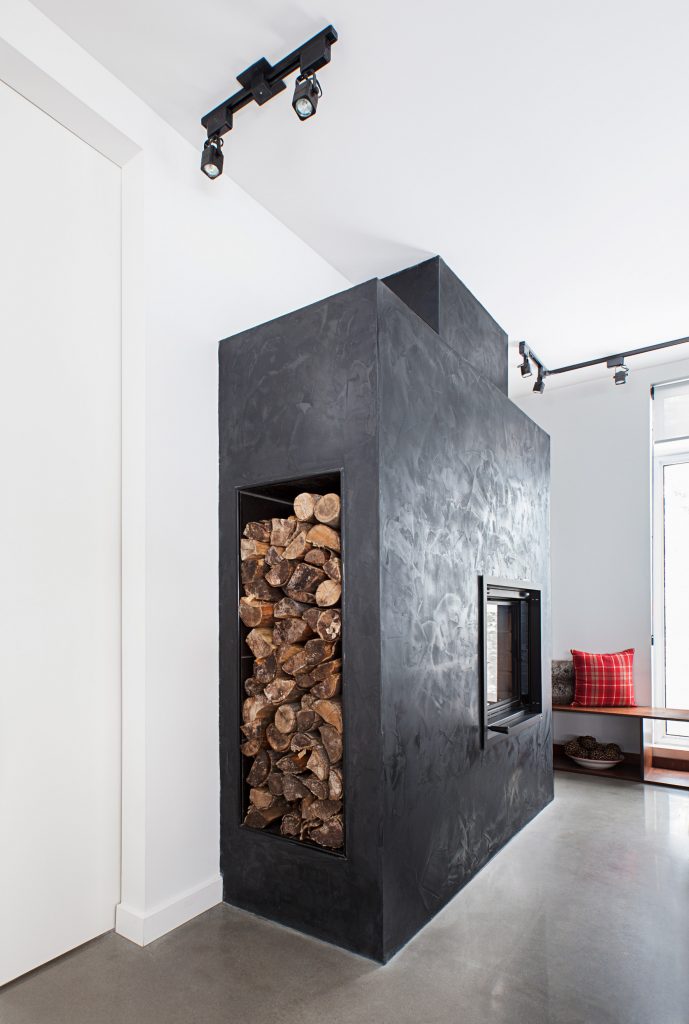 The huge black mass of the fireplace is contrasted to white walls and ceiling and polished concrete of the flooring. At the opposite end to the fireplace, which also features a recess for storing chopped wood in its side, there is a kitchen featuring a breakfast island and glossy white cupboards.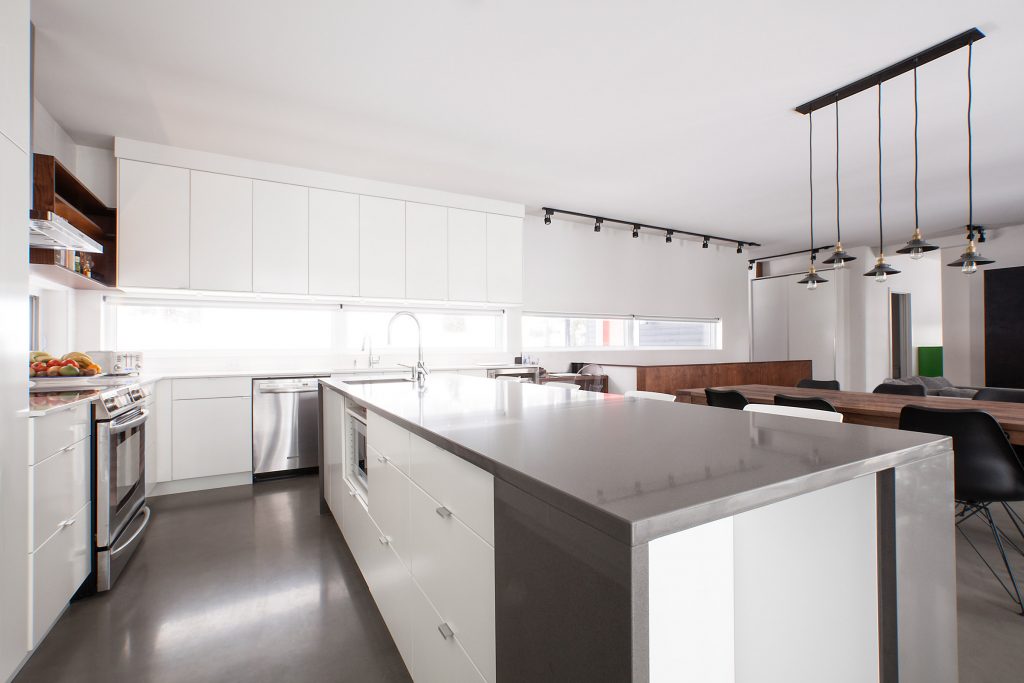 The architects have opted for wood as a material for storage cabinets, long bench for slipping off shoes and a central dining table, as well as for the staircase leading down to the sleeping quarters, in order to bring warmth to this white, monochromatic interior.
US studio T W Ryan Architecture have included three fireplaces in their Three Chimney House in Virginia for a young family that wanted the residence to link with the area's natural landscape and historic colonial homes. Pure and primitive in form, the building comprises a series of structures organised in a Y-shape and informed by the modernist Brick Country House by Mies van der Rohe.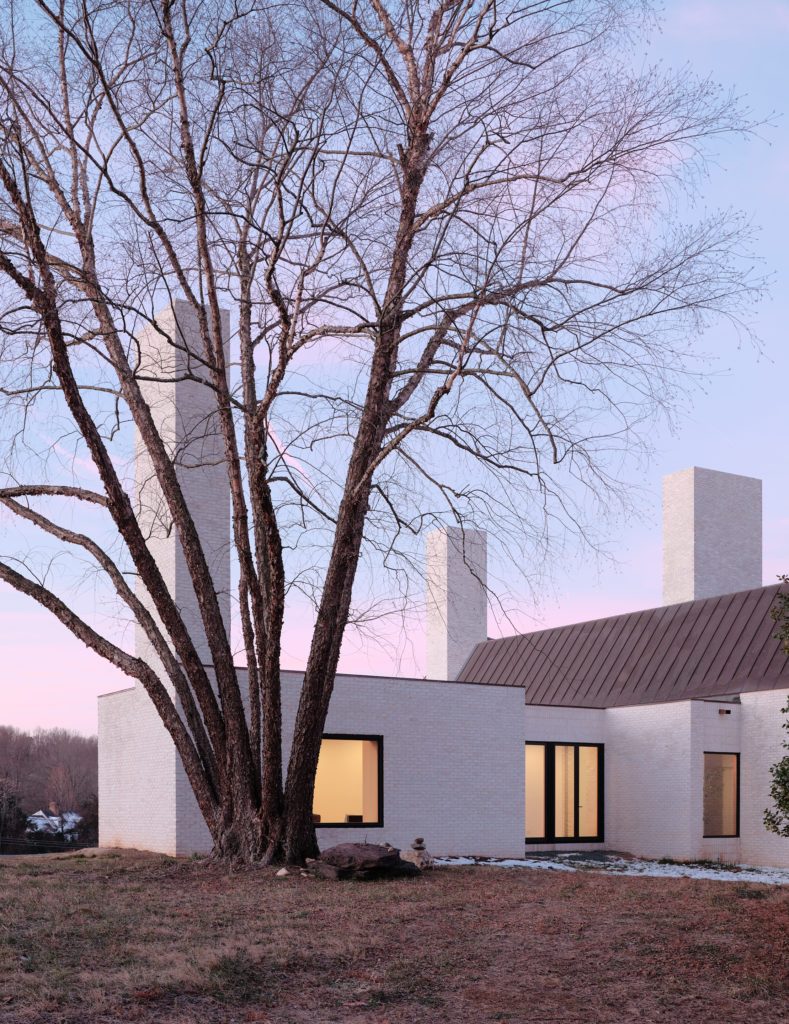 The exterior design of the house is defined by slender white chimneys reaching up to 9 metres into the sky, brick walls with flush mortar joints, and copper roofs conceived to patinate over time. While two double-height structure have pitched roofs, the third single-story structure, called the Main Hall, is topped with a slanting roofline. Inside the latter, there is a large room with a soaring ceiling and an imposing fireplace dividing it into a sitting area and a kitchen with an adjoining dining area. The fireplace is integrated into a wall of white bricks that complements pared-down white walls and pale wood floors.
Connected to the Main Hall is the Residential Wing, a volume with two bedrooms on the ground floor and a master suite upstairs. A detached volume contains an art studio and a guest suite.
According to the architects, abstracting and re-interpreting materials and archetypal elements of traditional colonial houses, they managed to create a timeless yet contemporary voice for Southern architecture in America.