Despite coordinated efforts to prevent and end homelessness across the world, there is still not enough support for this extremely vulnerable population even in the developed countries. In the cities, homeless people often have to live in unsheltered locations, such as tents, cars, or sidewalks. Designers and architects collaborate with social workers and activists to develop emergency shelters and transitional housing programs, aiming to empower the homeless to break the circle of poverty.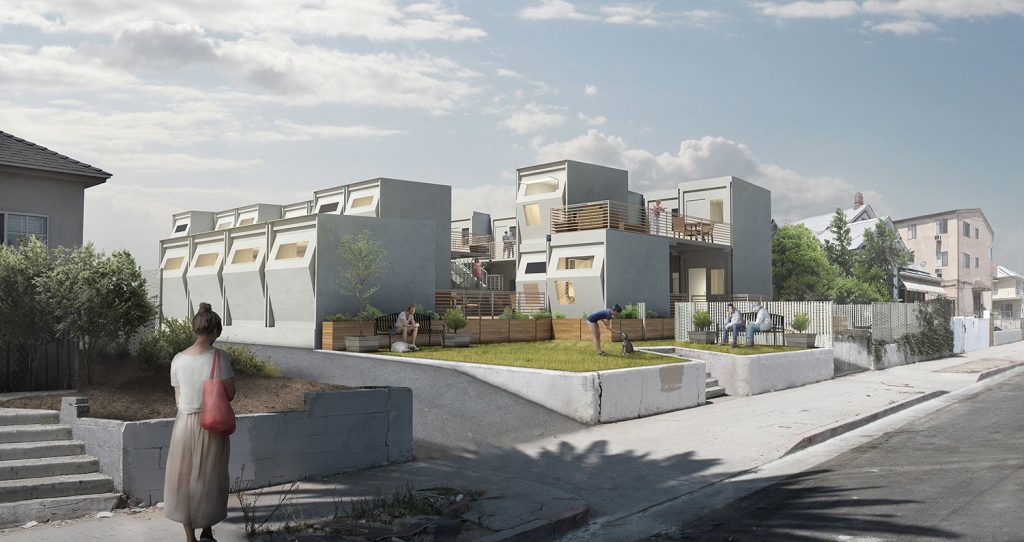 Temporary accommodation is the most immediate form of relief for the homeless. Such shelters provide privacy and a safe level of security for those who would otherwise be sleeping in the street, while offering dignity to the residents.
In response to the homelessness crisis in Los Angeles, which together with New York is the home to 20% of all US homeless, local studio of the architecture firm Perkins&Will has developed a modular prefabricated interim-housing system, which balances privacy for the individual, safety for the collective, operational flexibility for the site, and long-term functionality for the provider.
The project is a part of the Bridge Home initiative launched by LA Mayor Eric Garcetii and focused on creating temporary housing facilities for homeless residents. To better understand the landscape of interim housing, the team spent months visiting facilities to understand how they work – from registration, to intake, programming and placement in permanent housing. During this research phase, the team discovered that sleeping areas and storage top concerns among stakeholders.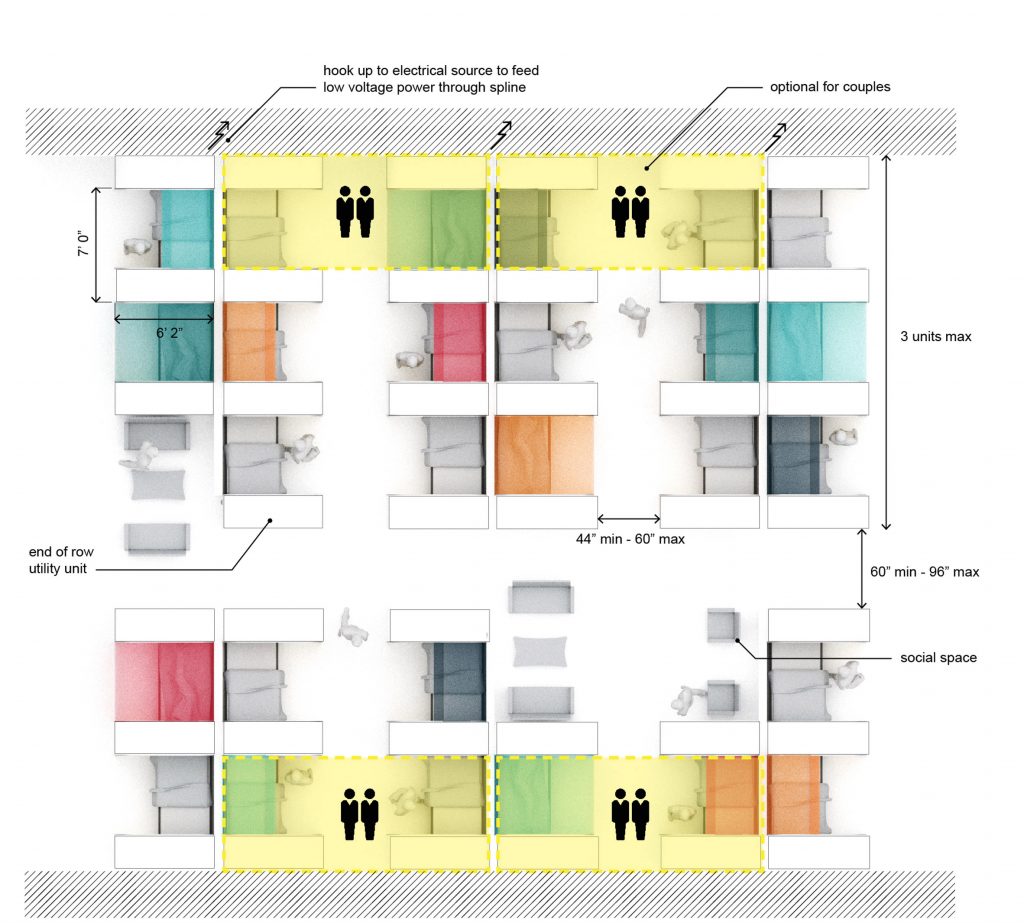 While US homeless shelters typically contain rows of beds in open rooms with limited to no storage space, the Dome unit contains a lockable wardrobe and a frame for a twin-sized bed. An optional fabric canopy can be used to cover openings, helping increase privacy. Designed to be installed against a standard drywall partition, which supplies the electrical connection, the unit also includes a power outlet and integrated recessed lighting to provide soft illumination at night.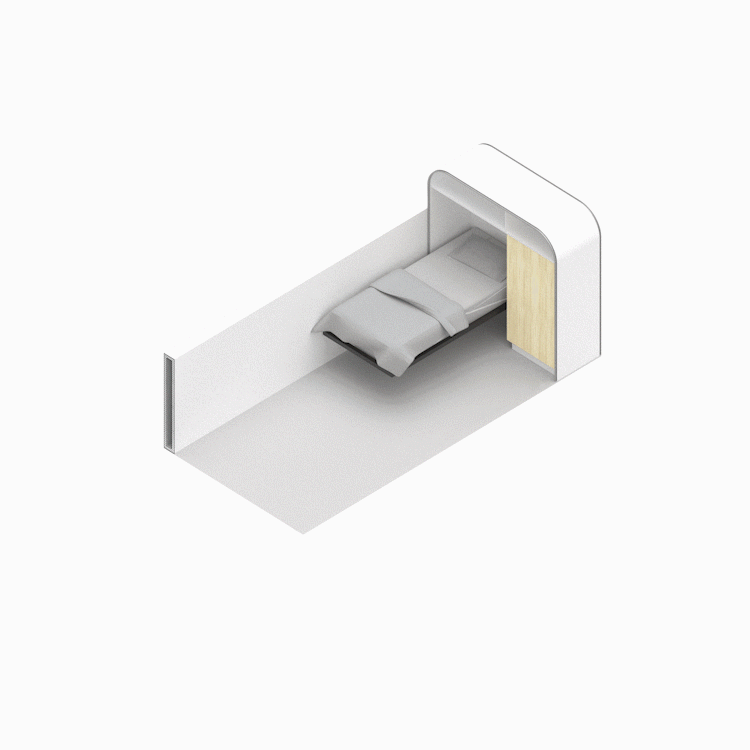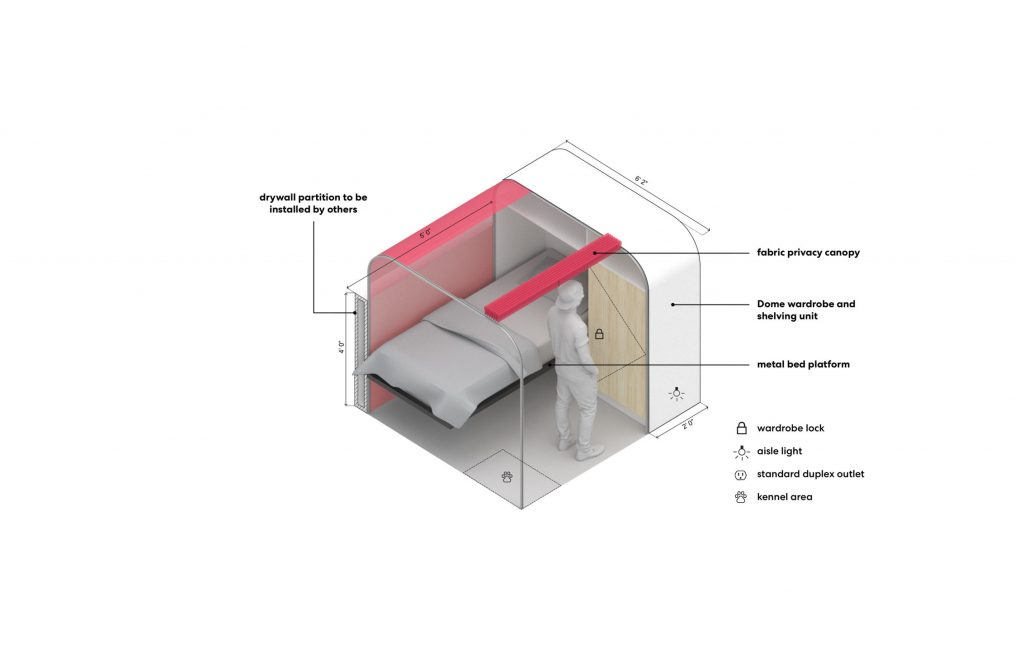 The pod is 2.1 metres by 1.8 metres, forming a space that totals 3.9sqm. The shell of the unit, as well as the internal shelving, is designed to be made from solid surface panels. This Corian-like product has been chosen for its low maintenance and resistance to scratches. To make the sleeping space less utilitarian and more 'residential' and dignified, birch plywood is used for the wardrobe door. The units are collapsible so that they can be easily stored and transported.
In London, local architecture studio Reed Watts has installed prefabricated modular sleeping pods inside the 999 Club night shelter, a large open hall where mattresses would normally be laid on the floor around the edge of the space. Made from easy-to-assemble 18-mm-thick interlocking panels of fireproof birch plywood, the units are easy to install in large halls and disused buildings without any screws, nails or glue.
The project is the second iteration of the original proposal for the competition hosted by the charity Commonweal Housing, which called for ideas to help Romanian migrant workers who were being forced to set up camp in public parks or underpasses. The winning solution encompasses 'low-tech' pods that can be easily installed in disused buildings and other open space facilities.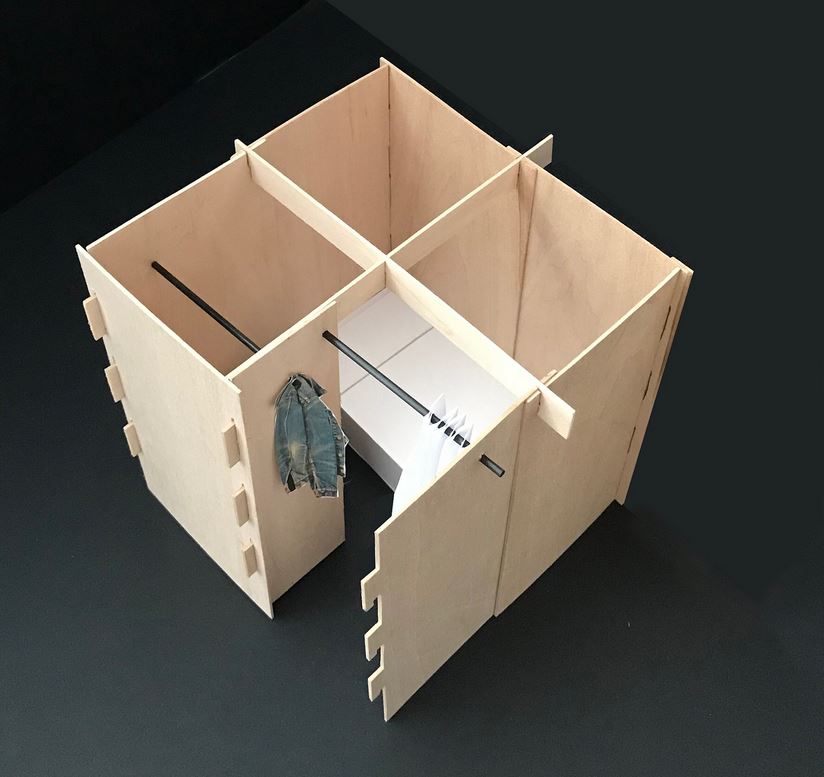 Seeking to provide privacy and a sense of security for the user, they encompass a cube-shaped structure measuring approximately 2x2m each. Every one comes with a mattress raised up on a platform that functions as a bed, a seat and a secure storage area, and a curtain for more privacy. The pods can be built singly or in a row, with side panels shared with the adjacent pod to reduce the amount of timber required.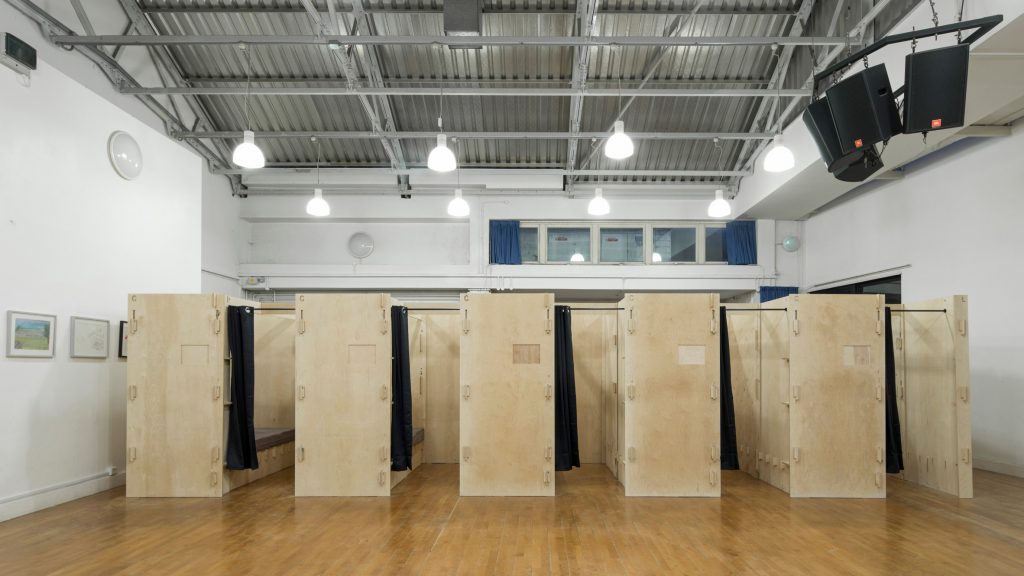 Cutting and assembling instructions are available online through a royalty-free Creative Commons license, for charities to be able to reproduce additional pods and make them available to people in need.
Homes for Hope, which Los Angeles design education foundation Madworkshop developed in collaboration with the USC School of Architecture's Homeless Studio, are also designed to provide intermediary housing for the homeless before they move into permanent accommodation, construction of which typically takes two to five years. Intended to house people for three to six months, the project comprises a modular system of units that are prefabricated off-site and are then assembled rapidly on any small plot of unused land.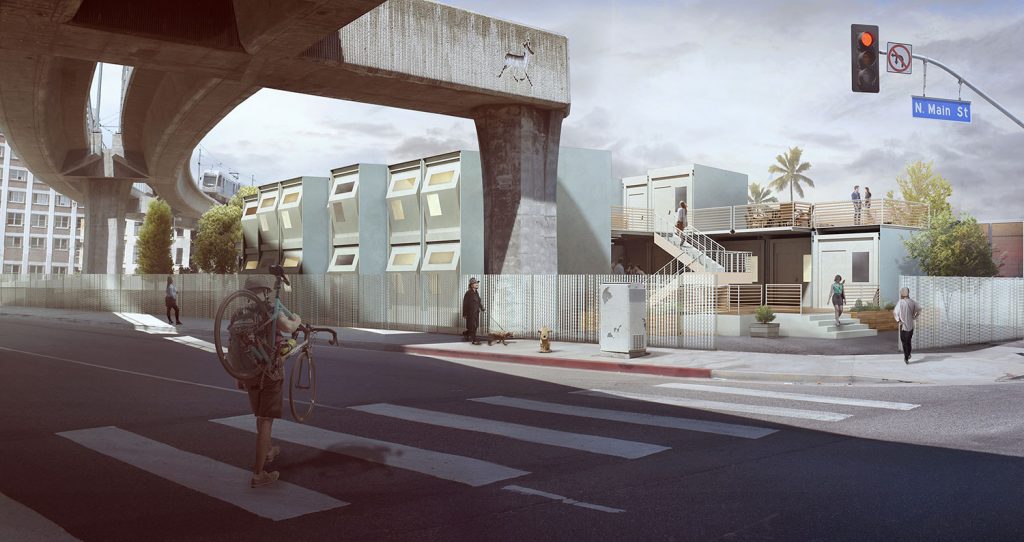 The Homes for Hope units can be manufactured in bulk quantities and at an affordable price. The prefabricated pods can be forklifted into place and stacked on top of each other or combined horizontally to create offices and communal spaces.
Aiming to develop a design that offers a level of dignity to the users and does not look like a conventional shelter, the team added an idiosyncratic kink in the wall facing the entrance that angles the window to allow more light into the space. This special manipulation makes the space feel as if it moves upwards, which in in its turn has a beneficial psychological impact. Each living unit features a warm and bright interior consisting of welcoming amenities that include a CNC-milled bed, dresser, desk, and storage. Units maintain the utmost levels of efficient thermal performance thanks to the use of sustainable strategies like cross-ventilation and passive solar design.
The team also tried to combat the tremendous amount of stigma around the homeless housing typology. According to them, one of the major challenges of building a temporary community for the homeless is gaining the support of the local neighbourhood. Externally, Homes for Hope looks more like an apartment complex. Besides, the project has been designed to make use of the 'by-right' housing laws passed in California in 2017, which let affordable housing projects of thirty beds or less bypass the procedures that allow community groups to appeal against their construction.
The first Home for Hope community for senior women will be built in partnership with Hope of the Valley Rescue Mission, a local charity who will act as an on-site service provider for the residents.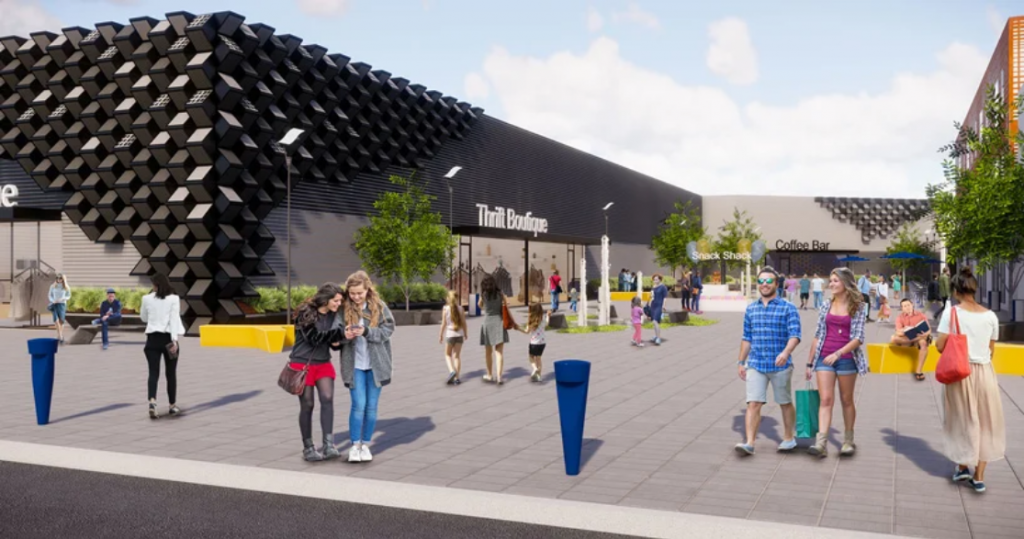 International firm KTGY Architecture + Planning has noticed that while there is an abundant need for transitional housing, there are many unused spaces that can be converted into habitable, self-supporting housing. That is how the team has come up with a proposal to repurpose vacant big box stores (like Macy's, JCPenney, and Sears, which are closing in record numbers, according to Forbes) mith mixed-use and residential components.
The Re-Habit solution offers a variety of sleeping options, ranging from a 20-bed pods to semi-private apartment units. Creating the supportive environment are spaces for leisure and recreation, such as a rooftop basketball court, a rooftop garden that allows to grow fresh produce on-site, and a communal dining hall.
Apart from the residential units, the floorplan comprises a series of on-site retail spaces, ranging from thrift stores to coffee shops, offering job training and jobs for the residents who exhibit progress in the housing and counseling programs.
Rotational chores, like working in the kitchen or keeping the dining hall clean, generate resident investment in the center's success and further the project's self-supporting goal, while a photovoltaic façade design supports energy efficiency in the building.