We all need food to survive. However, for lack of appreciation, between 33-50% of all food produced globally is never eaten. Bad weather, processing problems, overproduction and unstable markets cause food loss at an industrial scale, while overbuying and poor planning contribute to food waste at a domestic scale. Product designers in this post tackle the problem of food waste in a completely different way. Rather than expending efforts to decrease the amount of discarded food, they are utilizing leftovers to create a functional piece of tableware.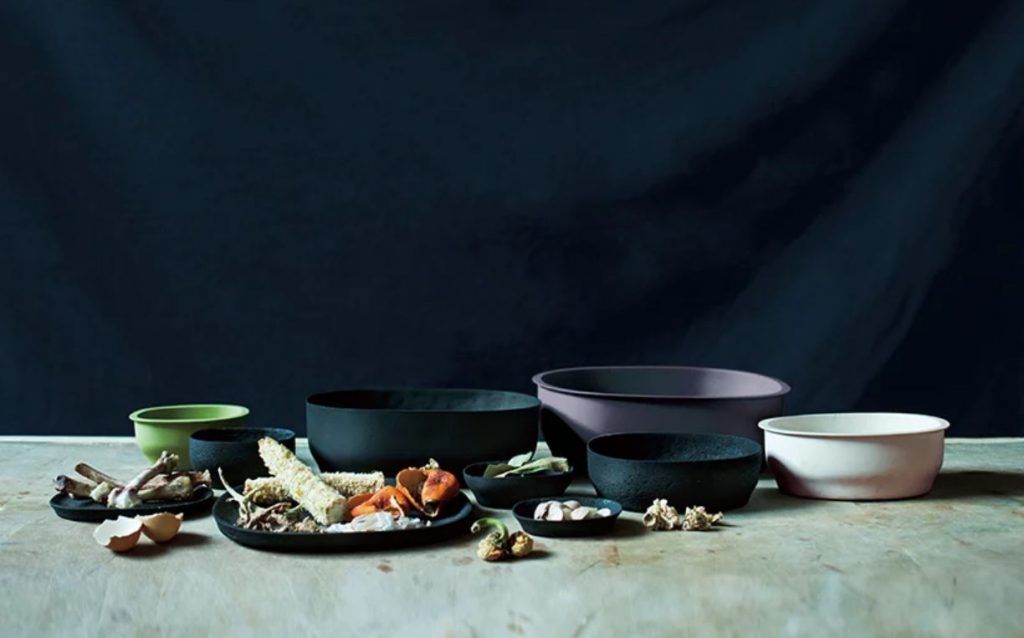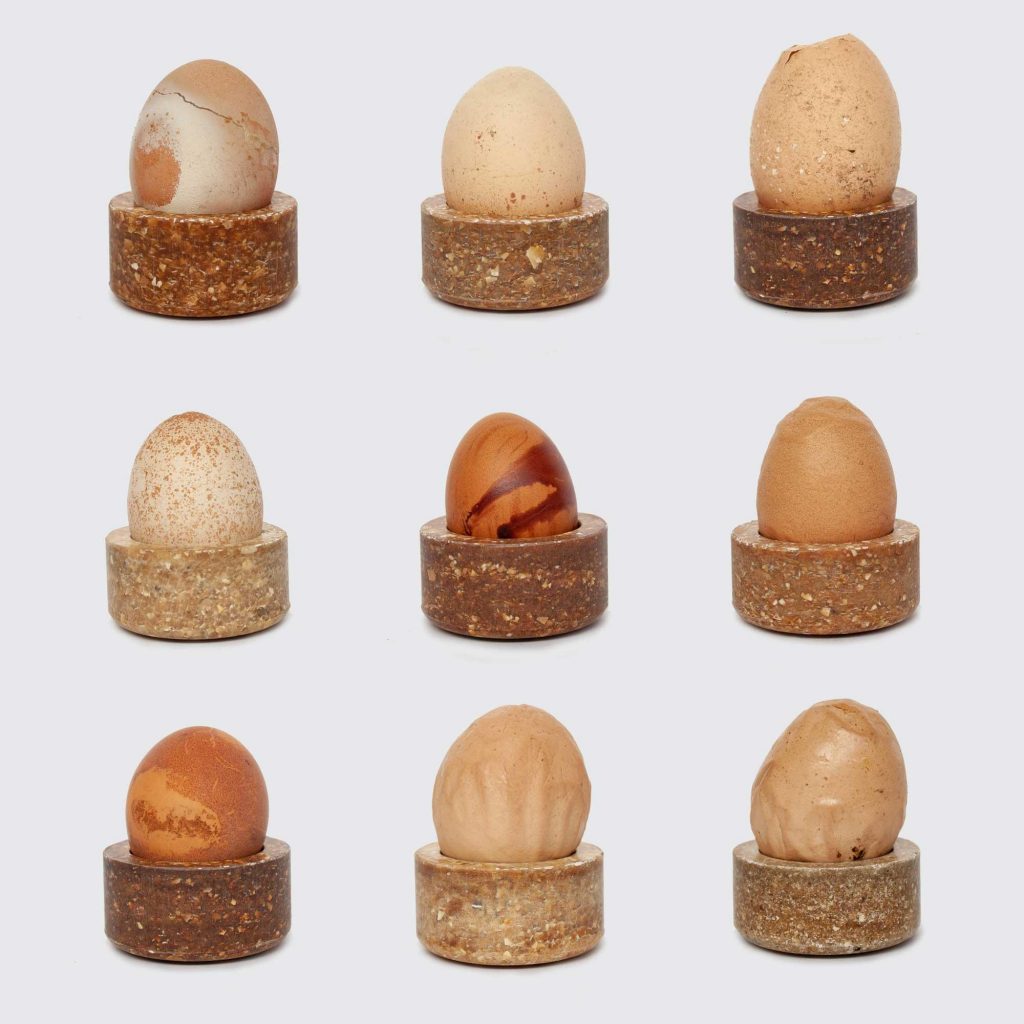 As part of his How Do You Like Your Eggs project, the Design Academy Eindhoven graduate Basse Stittgen has created cups and dishes from discarded eggs. The designer explains that while an average of 6.4 billion hens lay 1.1 trillion eggs each year, a big share of eggs with their short shelf life and fragile shell are often damaged and wasted.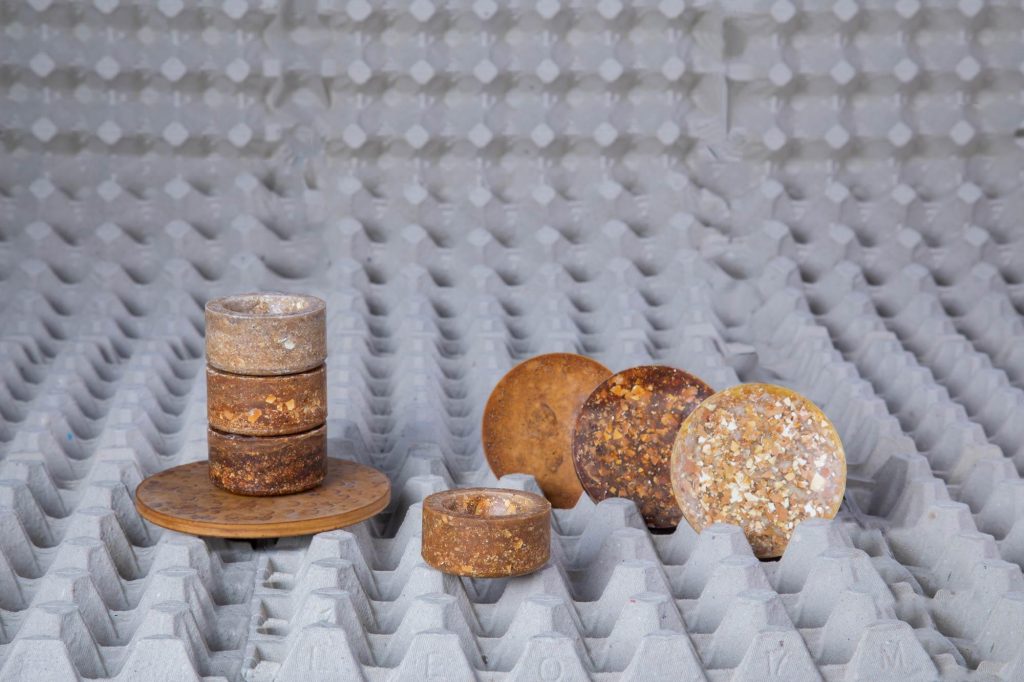 Stittgen uses expired egg whites and shells collected from the sorting station of the farm he is collaborating with to create fully degradable bioplastic that is then thermoformed into bio-plastic cups with zero additives.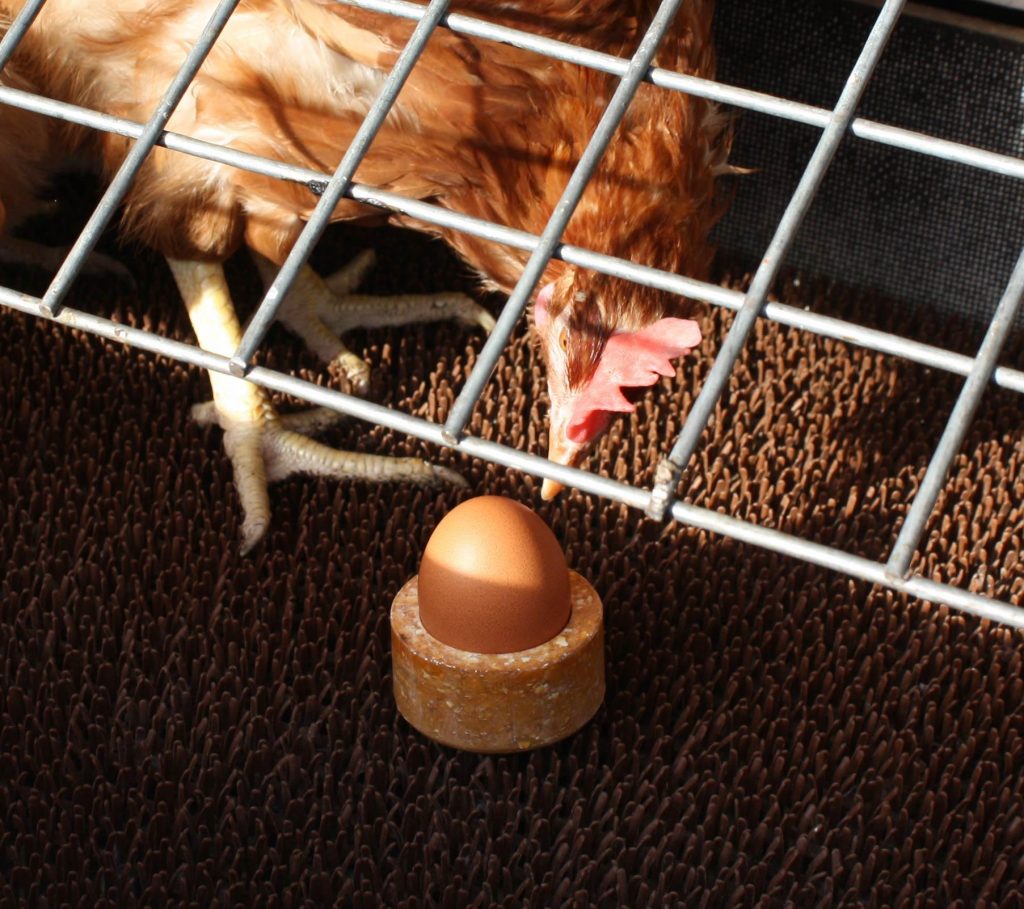 With the project, the designer hopes to create awareness of today's throw-away culture.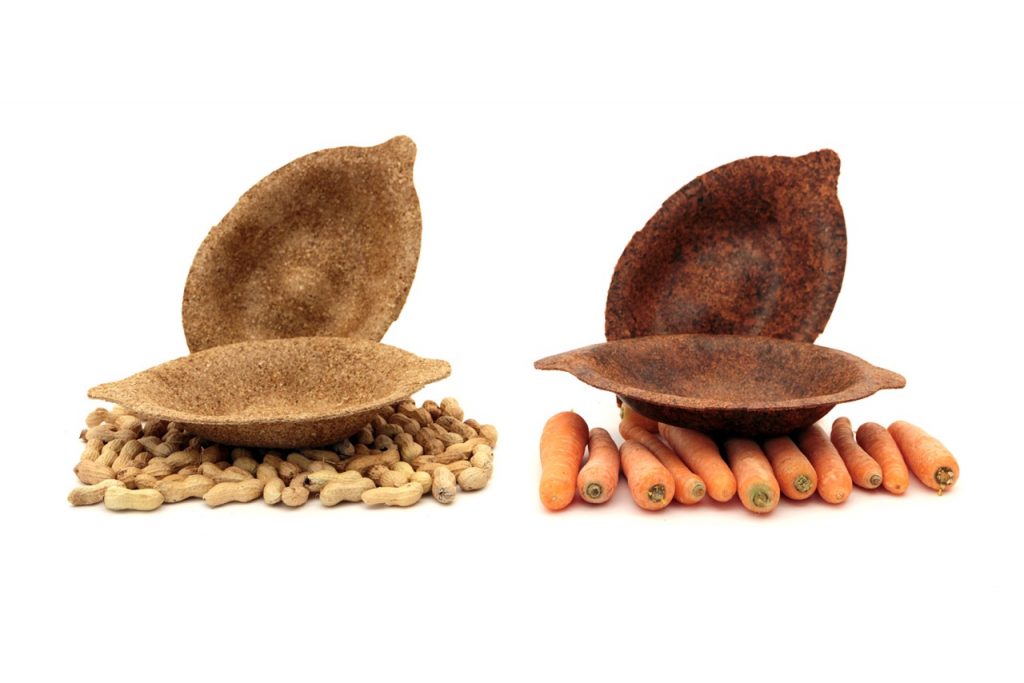 Italian designer Michela Milani and Milan-based design company WhoMade have tackled the foodwaste problem, while addressing the disposable tableware issue. Concerned by the single use plates and cutlery ending up in landfills and causing soil and ocean pollution, the designers have developed Foodscapes, a collection of biodegradable tableware made out of edible leftover materials.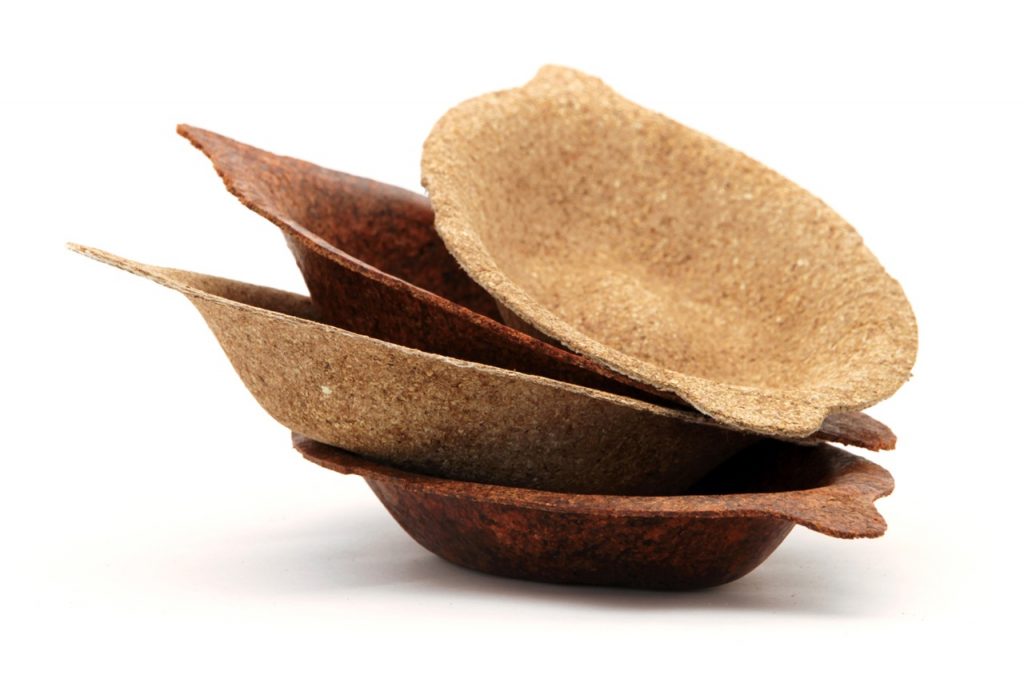 Food scraps are reconstructed into a seed-shaped bowl that can hold dry foods. The product prototypes were primarily made out of either carrot peels or peanut shells.The team claims the tabelware is free of any additives, preservatives, colorants, thickeners, correctors, and artificial agents. After use, the bowl can be dissolved in water and act as soil fertilizer, much like compost.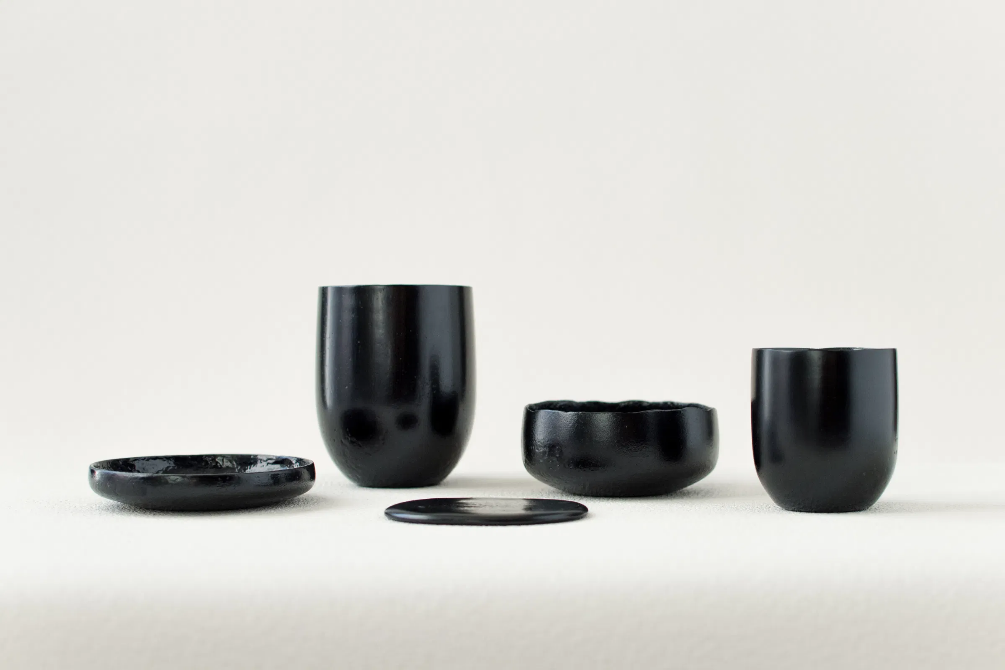 Geneva-born Tokyo-based designer Kosuke Araki has been examining and exploring the possibilities of food waste as tableware since 2013. His latest collection Anima is made from the charcoal of vegetable waste mixed with animal glue and finished with urushi, a Japanese lacquer that gives the objects a pleasing sheen and strengthens them. By pressing the mixture into silicone molds, the designer is able to make a range of subtle organic vessels with the color and luminosity of charcoal.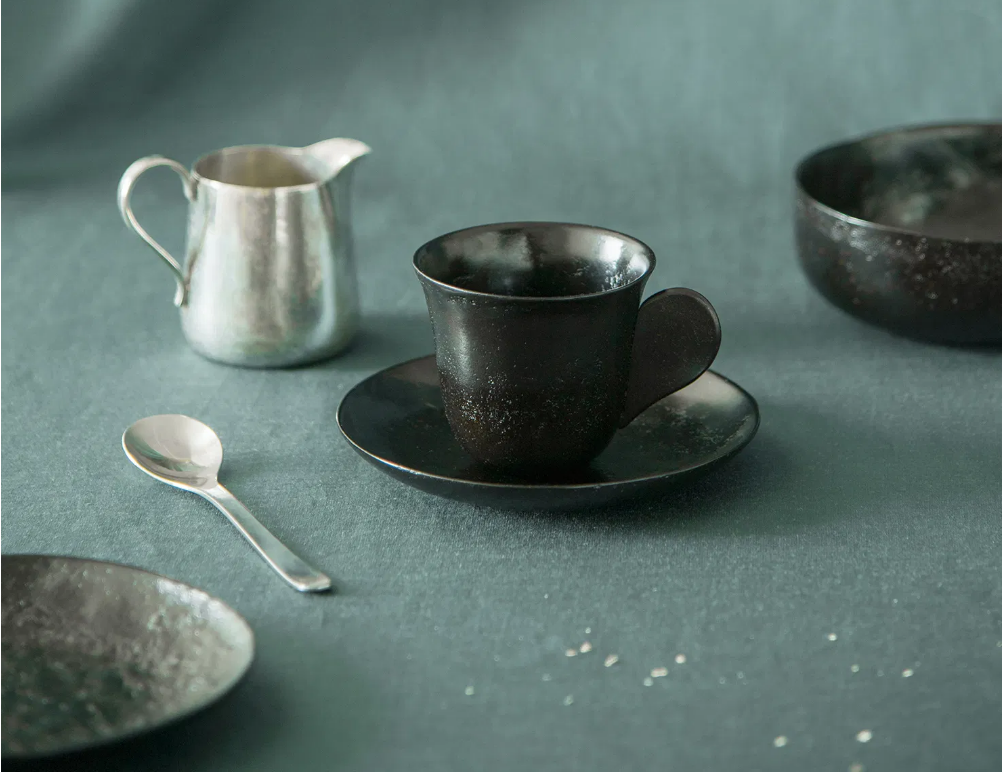 Historically, Urushi craft has a close relationship with leftovers of a meal. For example, rice or tofu is mixed with Urushi to adjust its viscosity for making sticky glue or textures. Kosuke revisits this food-related aspect in a contemporary context, making the collection entirely from wasted food.
Anima is a sequel to Food Waste Ware (2013), which was a project documenting food waste we daily produced and making tableware out of it. The project draws parallels to subjects of life and death: like cremation, food waste is carbonised and reincarnated into something else.
Header image: Food Waste Ware by Kosuke Araki