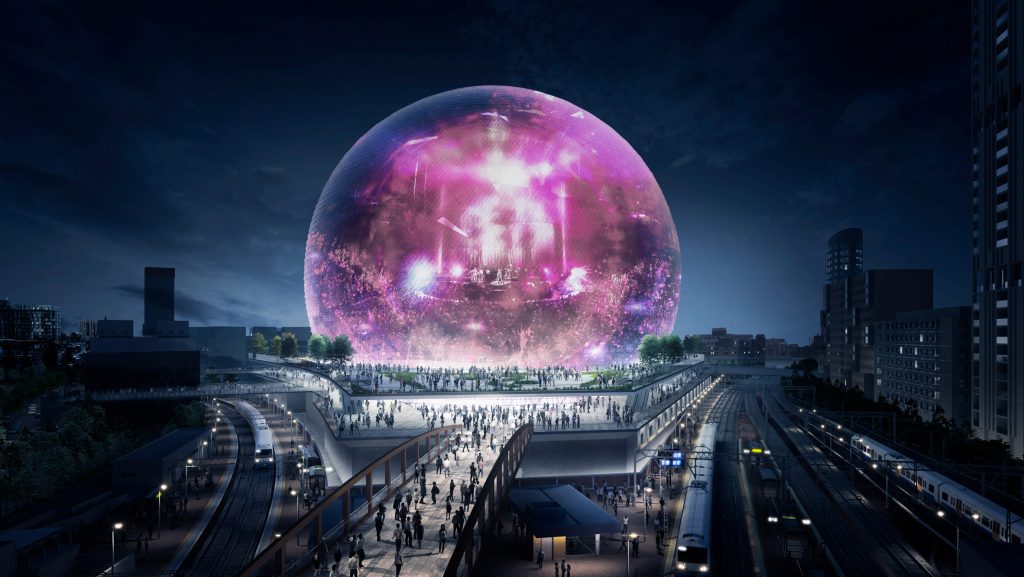 The Kazakhstan Pavilion in Astana, locally known as Nur Alem, is the world's largest spherically-shaped building, measuring 100 m in height from plinth level and 80 m in diameter. Its total area is 24,000 sqm. It was designed as an iconic high-performing centerpiece of EXPO 2017 by the eminent Chicago-based design firm Adrian Smith+Gordon Gill Architecture with a special focus on the exhibition topic, Future Energy. Post-exhibition, the building houses the family-friendly Museum of Future Energy.
All in all, the structure required the use of over 13,000 tonnes of metal and 3,535 insulated glass windows. The building is a pure-glass sphere — smooth, not faceted like a typical geosphere structure. To achieve this shape, the unique, two-directionally curved glass was heated in special ovens until the material was soft enough to take the form of a mold and then slowly cooled.  Each insulated glass unit was designed for its specific installation spot.
The sphere is supported by a central double core accommodating stairways, service elevators and restrooms. A central atrium is surrounded by eight glass elevators where visitors can experience the building and exhibitions as they travel from the ground level plaza to the top floor, where they can enjoy a breath-taking view of Kazakhstan's capital.
Countless designs were modeled and tested to find an appropriate form to minimize energy use, maximize daylighting, control glare, and take advantage of renewable energy sources. Nur Alem's façade incorporates photovoltaic elements that transform solar energy into electricity. To further improve energy generation, a scoop was carved out of the building's top for two noiseless wind turbines.
The new Apple Marina Bay Sands store in Singapore by architecture studio Foster + Partners encompasses a transparent glass sphere on a minimal platform creating the impression that it is floating gently in the water.
Completely surrounded by water, it can be accessed from the nearby shopping complex via a 45-metre-long underwater tunnel, which is flanked with product display cases and has an Apple genius bar running down its centre. Customers within the store can enjoy 360-degree views across the iconic Marina Bay to the surrounding city.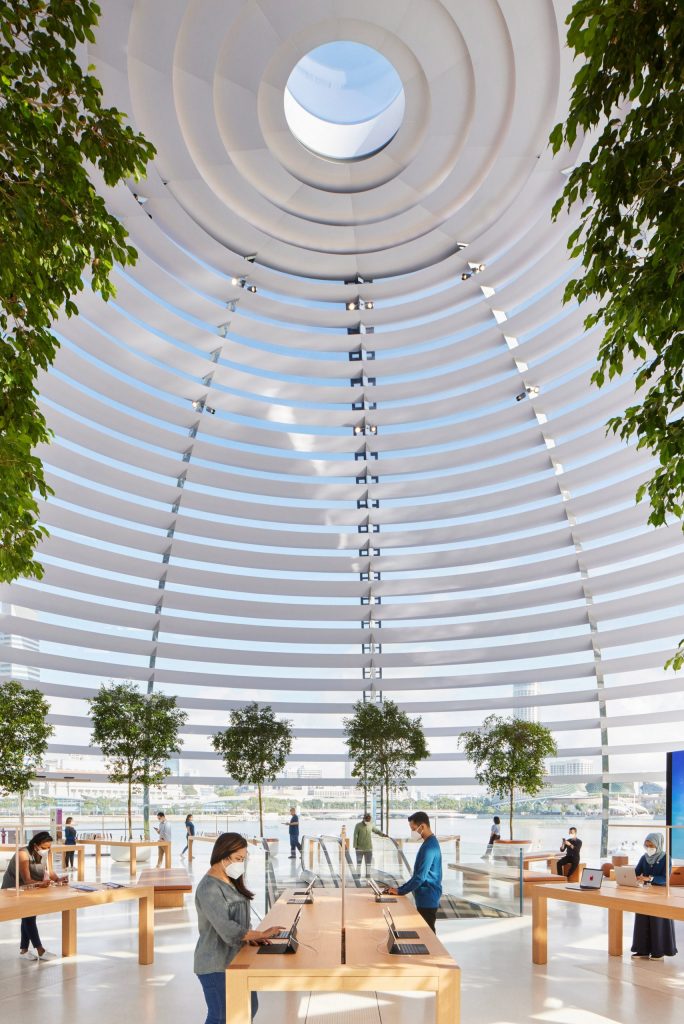 The 30-metre-diameter self-supporting dome is made from 114 pieces of glass with 10 narrow, steel vertical mullions for structural support. Within the glass dome, a series of concentric light sunshade rings have been built to provide shading for the open-plan area below. These rings rise to the top of the dome where an oculus has been created that has been conceived to be "reminiscent of the famous Pantheon in Rome". The resulting effect of the light changing its intensity and colour is very calming, creating what the architects call "a celebration of light."
Additional shading is provided by a ring of ten trees in leather topped planters that can double as additional seating.
The global design firm Populous has designed two almost identical spherical next-generation venues for the Madison Square Garden Company (the company behind New York's Madison Square Garden) to be built in Las Vegas and London. The building are intended to host traditional music events as well as awards shows, circus events, e-sports events and ring sports such as boxing or UFC.
MSG Sphere London is planned for a site near the Olympic Park in east London. The structure is designed to be 120 metres wide and 90 metres high, which will make it the world's new largest spherical building. The exterior of the sphere will be covered in LED screens used to display high-definition concert footage or advertising images – the designs suggest that the imagery will be clearly visible 150 metres away. Four pedestrian bridges will connect the structure with the surrounding area.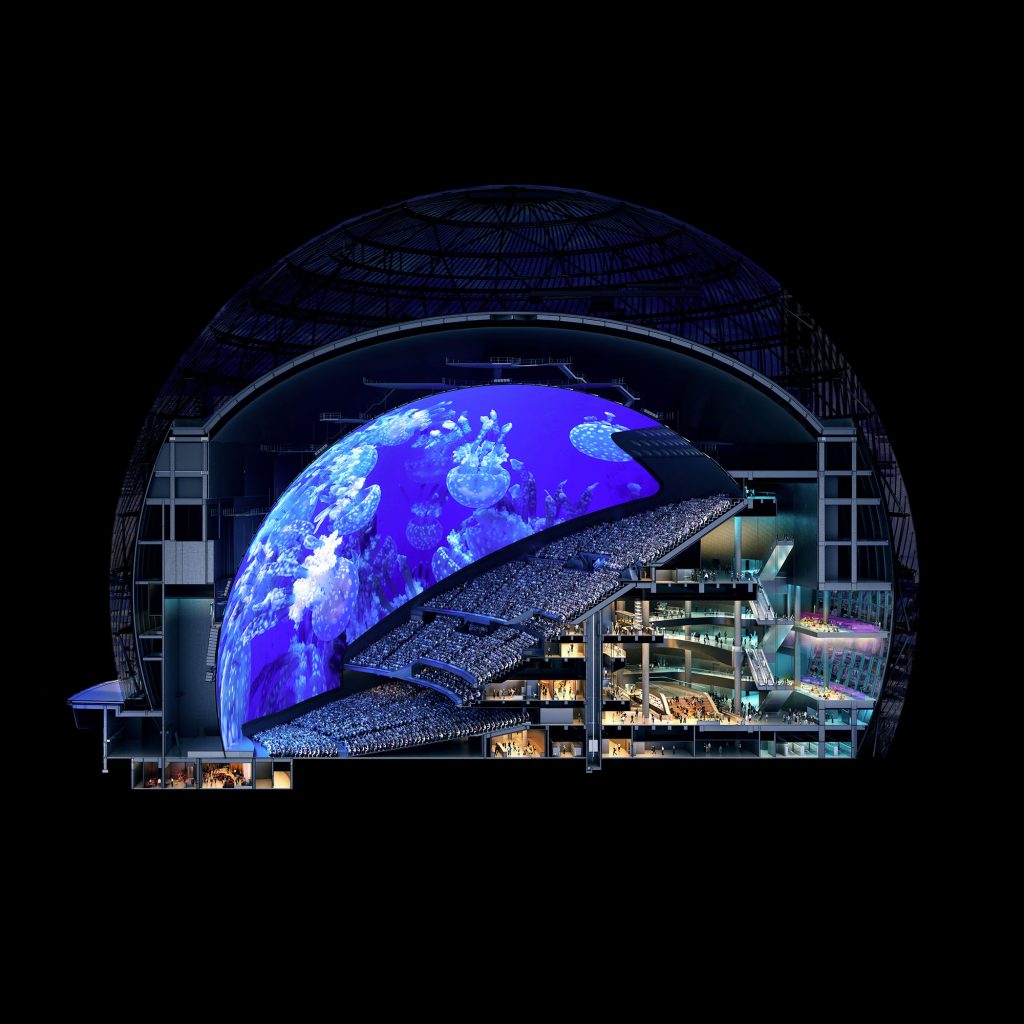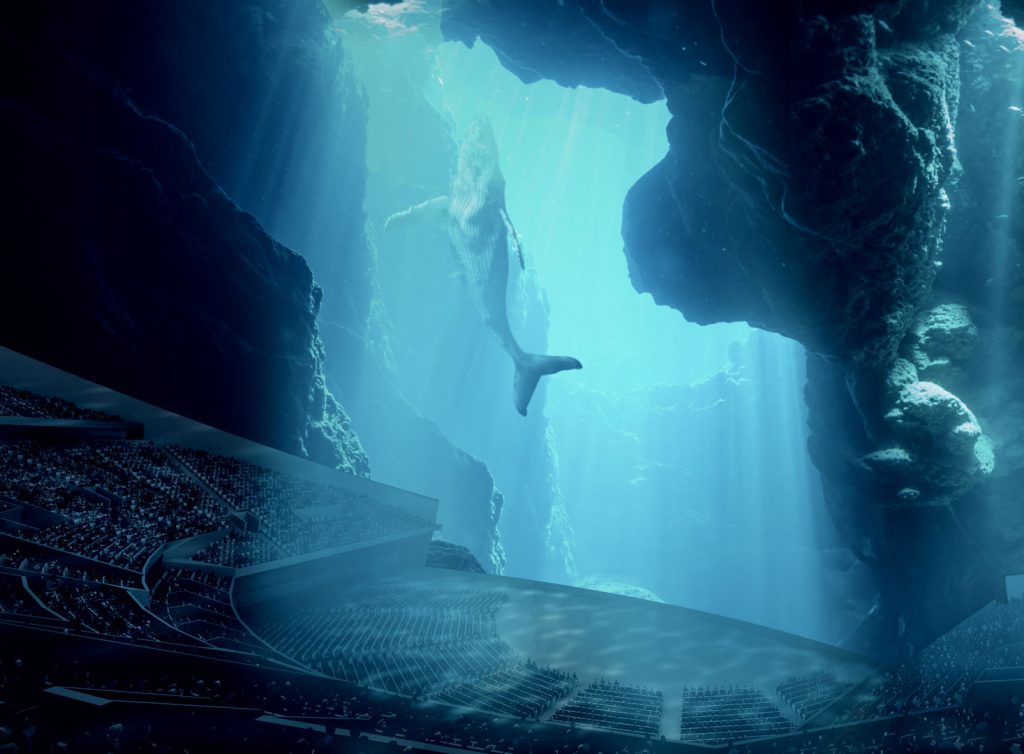 Internally, the main 18,000-seat concert venue would be a clamshell shape, with curved seating facing a stage on one side. The arena will feature a screen that the MSG describes as the "largest and highest resolution media display on Earth" and a range of high-tech audio and visual equipment including a "custom spherical camera system" and an adjustable acoustics systems.