With pollution awareness constantly increasing, more often than not city dwellers choose to ditch petrol fueled vehicles, preferring more sustainable transportation instead. Many solutions have been developed to address the so-called last-mile problem but it looks like the reign of traditional bicycles is being challenged by electric scooters and bikes in the first place. Futuristic looking or minimalistic, they can efficiently  transport urban residents from point A to point B, whether to commute to work, run errands around town, or simply for the joy of the ride – and look cool!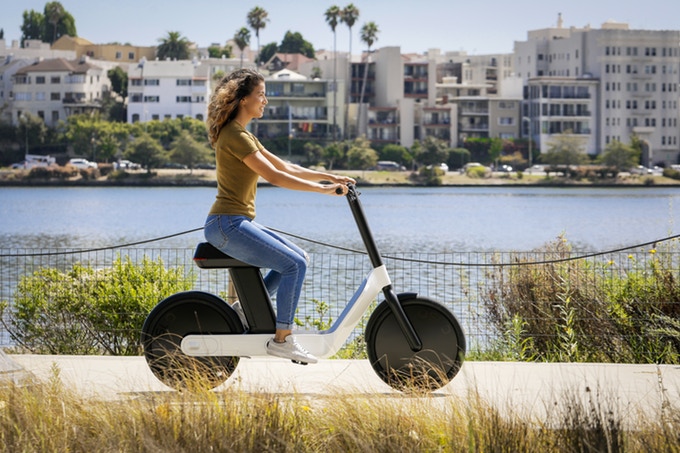 California-based company Karmic Bikes has been on the market 4 years manufacturing e-bikes to go with the team's motto 'Ride Fast & Have Fun'. Their latest scooter-inspired electric bicycle OSLO launched via Kickstarter campaign has already been compared to Apple products thanks to its uncomplicated design and minimal aesthetics. The team describes the OSLO as a forward-thinking bike with sustainability at its core that will get even more people on electric bikes.
The whole look is designed to be cleaner and sleeker than most e-bikes. Dangling cables and greasy gears, batteries and the chain have been successfully hidden. With its aluminum frame and thermoplastic bodywork, the whole vehicle tops out at a relatively light 20kg.
The wide and long saddle is inspired by that of a child's bike to provide maximum comfort as well as offer convenient storage with enough space underneath the seat to keep a phone and a wallet. The replaceable battery offering greater efficiency and faster charging is also located under the saddle. The OSLO is the first e-bike to use the new 21700 cell size (commonly referred to as the Tesla Cell). Being a class 2 e-bike it has both throttle and pedal assist options for a top speed of 20mph.
PAL, an electric scooter with hub motors and lean steering, designed by LAYER, design agency headed by Benjamin Hubert, deserves a special mention for its AI and machine learning. It is a near-future prototype of an intelligent, modular personal transport system to be launched by Chinese electric vehicle company NIO. This flexible and convenient city runabout caters to the user's lifestyle and changing needs through a choice of various accessories – bag, basket, shopping cart – which can be affixed to the steering column seamlessly via an electromagnetic panel.
Connected to a wireless earpiece via PAL app, PAL's system named NOMI can offer the user the fastest route or remind how much battery life is left. It also uses machine learning to accommodate to the user's riding style and become accustomed to their routes over time and eventually become autonomous.
The beautifully designed frame is made from graphene-coated carbon fibre, material as strong and fast as it is light and efficient, while the hub motors in each front wheel let the rider to accelerate if leaning forward strongly and turn if leaning lightly.
Taiwanese electric vehicle company Gogoro has revealed Viva, a lightweight e-scooter which in addition to being electric uses recyclable scratch-proof solid-core polypropylene and is an environmentally-friendly alternative to 50cc to 100cc gas scooters. Customers can choose from five colour combinations, with about 100 optional accessories including baskets and racks available.
Car manufacturers also try to follow the general trend and develop their own last-mile solutions. To address the problem of getting drivers from their car to their actual destination, Hyundai has created a prototype electric scooter that is designed to mount Hyundai and Kia vehicles to charge using the energy created while driving. It folds to the size of a backpack and weighs as little as 7.7kg to be easy to carry around.
Audi e-tron Scooter is an interesting combination of the advantages of an electric scooter and a skateboard and is intended for sporty riders. Riding the vehicle resembles surfing waves, which lets the rider to have one hand free and give hand signals when needed.  Production and sales are planned for late 2020.