Waves are around us: they move through space, and we can create waves by our own motions. But have you ever seen a wave in the middle of a city? Wave-like urban installations find their rightful place both in streets and in designated spaces, they target different feelings and hit different goals.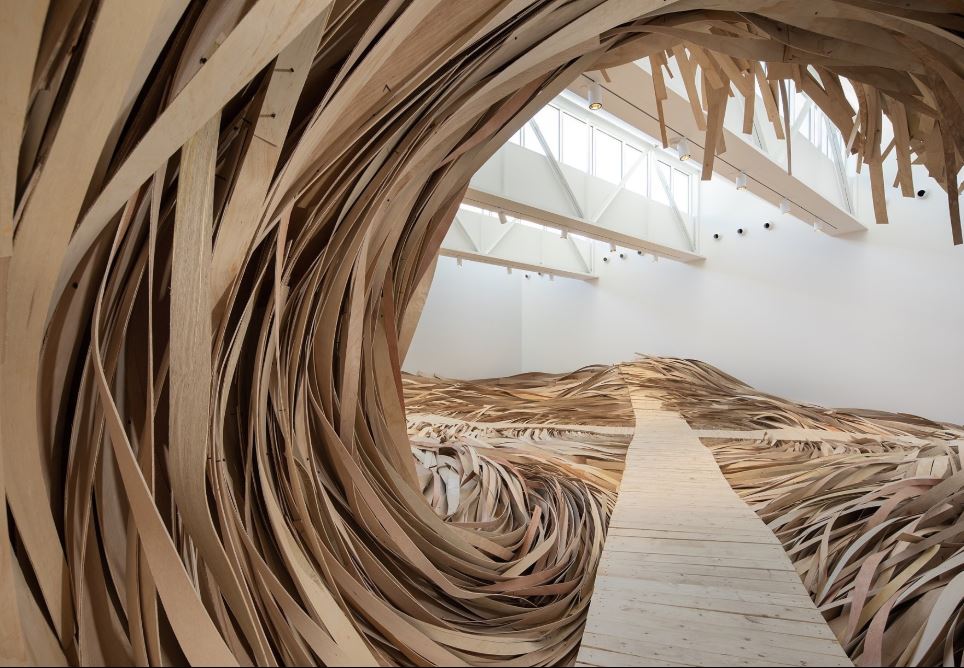 Wade Kavanaugh and Stephen B Nguyen, Maine, have created a wave-like installation for the Center for Maine Contemporary Art.
The open-plan gallery space is filled with long, curvy and bent wooden strips layered across the floor and up the ceiling. The inspiration came from the Maine coast, its rough waters and wind.
A pair of wooden pathways intersecting the space in the middle make the visitors aware of the movement of the artwork when they walk through it and are immersed in it.
The name of the installation – Hubris Atë Nemesis – is derived from three Greek words: 'hubris' describes arrogant confidence, and then transforms to Atë – a ruinous madness, and then onto Nemesis – a force of retribution that resets the natural order. These elements fuse together in this installation, as a reference to the natural environment.
London- and Athens-based Studio INI have created another immersive installation at the A/D/O in NY.
Urban Imprint is a kinetic installation that explores the notions of personal identity in cities. It allows to reshape a person's physical space by rising, receding, and partially separating as people walk through it, thus giving each individual a very personal cocoon-like experience.
The designer connected the floor and the ceiling with a pulley system, including multiple chords hidden behind a mirrored screen at the back of the structure. This allows to create the morphing effect of a wave: when a person steps on the platform, it dips down, triggers the pulleys, which tighten and lift the roof into a dome shape.
The installation inverts the typical relationship between people and the city environment: the structure adapts to people as opposed to people having to adapt to the city's environment. It places humans in highly responsive urban space aiming to make them feel more present and empowered through their own unique imprint.