A mosque, or masjid in Arabic, combines practicality with continuity and a sense of tradition for Muslims worldwide. As it is a spiritual place, a mosque's architectural features very much depend on the culture, heritage, and resources of each local community. When newly built or refurbished, their contemporary design and craftsmanship of fulfillment are well worth taking a look at.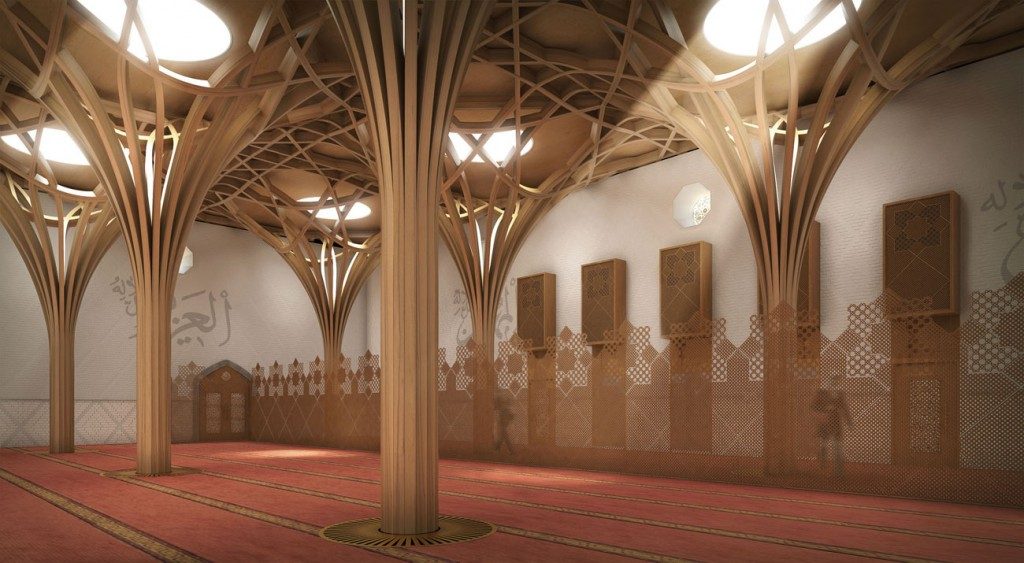 London-based Marks Barfield Architects (MBA) have developed the project for the first mosque to be built in Cambridge.
The team's project is a blend of English and Islamic architecture: inspired by the Gothic cathedrals, the mosque's project features calm, contemplative, cave-like spaces framed by structural stone vaults with light filtering in from above.
Another inspiration for the work was taken from the Gardens of Paradise, which resulted in the timber-made vaulting. The crowns of timber column trees intertwine into an intricate lattice ceiling. The railings of the main gate are based on the spreading branches of these tree vaults.
The dome of the mosque was a challenging task to complete: now its gold metal bulbous verticality suggests a breath of St Mark's in Venice and eastern exotica.
The building is complete with a community garden featuring a stone fountain and aromatic planting, an education center, a lecture hall, function space, an acoustically treated mother and child room with direct access to a play yard.
Sydney-based Candalepas Associates have completed a mosque with a decorative concrete-vaulted roof in the suburb of Punchbowl.
The mosque features a rectangular layout with two adjoined but separate courtyards which can be used as event spaces. The central worship space of the building is distinguished by a concrete honeycomb structure inspired by the aesthetics of Islamic architecture.
The upper galleries and the women's space sit below the dome and overlook the prayer space underneath. The moving silhouettes of the females can be seen from below through the timber battens in the window.
In the prayer space, the worshippers face ornamental vaulting of the south and west internal walls, orienting them towards Mecca.
The 102 half-domed forms of the sculptural stepped wall allude to honeycomb structure of muqarnas seen in traditional Islamic architecture. Each of them has a 30-millimetre hole in the center allowing streams of daylight in. The plywood clad dome with an oculus feeds even more light into the space.
Mumbai based Nudes have presented the project for the Mosque of Light in Dubai. According to the architects, light plays an essential role in mosque design in Islamic architecture.
The light in the proposed building bounces off the doubly curved surfaces and filters through the 'mashrabiya' apertures, generated by simple repetition of geometries.
The architecture protects the visitors from the intense sunlight and provides a cooling environment. The mosque is designed to hold regular daily prayers and features two floors, as well as a terrace.
The four minarets unify the geometrical concept of the overall building.