If you've never been to a sculpture park, it's time to make your first trip. In the UK alone, there are more than 30, and according to The Arts Council of England, art lovers are visiting them in increasing numbers.
Serpentine Pavilion designed by Frida Escobedo

In a report by the BBC, figures from five of the UK's top sculpture parks and attractions have seen an increase in footfall. In fact, Yorkshire Sculpture Park (YSP) has seen visitor numbers rise from 350,000 to 500,000 in the past five years, while Cass in West Sussex visitor numbers have nearly doubled.

Coming this month to the Yorkshire Sculpture Park is A Tree in the Wood by world-renowned Giuseppe Penone. Opening on May 26 and running until April next year, the exhibition features work drawn from five decades of Penone's career – from the late 1960s to the present day, "tracing his evolving and deeply thoughtful investigation of humanities intimate connections to the organic world."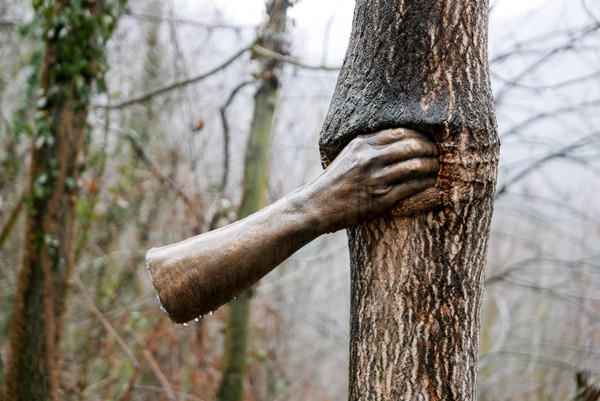 Giuseppe Penone; Photo courtesy YSP. ©-archivo-penone
Outside in one of the UK capital's most famous parks, the art world is getting ready for the 18th incarnation of the Serpentine Pavilion, an annual summer architectural event set on the lawns of the Serpentine Gallery in Kensington Gardens in central London.

This year's prestigious design commission is bestowed on the youngest and first-ever solo, female architect Frida Escobedo, an award-winning designer of dynamic projects that often reactivate urban spaces.

Mexican-born Escobedo has designed the pavilion as an enclosed courtyard with walls of latticed dark roof tiles inspired by traditional 'celosia' of domestic Mexican architecture and allowing diffused views into the park beyond. To emphasise the movement of light and shadows inside the pavilion, a cast triangular pool will sit opposite a curved canopy of mirrored panels. Visit for free from June 15 to October 7, 2018. Follow the link for more details.

Another show-stopper under construction on the Serpentine Lake, adjacent to the gallery, is an ambitious sculptural work by Christo. The sculpture, entitled The Mastaba, is a 150-ton floating stack of 7,506 oil barrels in the shape of a clipped pyramid.

Christo and Jeanne-Claude: Barrels and The Mastaba 1958–2018. Via Serpentine Gallery
This temporary installation coincides with a Serpentine Gallery exhibition of Christo and his late wife Jeanne–Claude's works. Famous for sculptures such as Wrapped Reichstag, the exhibition will include sculptures, drawings, collages and photographs spanning more than 60 years. Catch A Summer of Christo and Jeanne Claude and The Mastaba from 19 June 19 to September 23, 2018.

Finally, if you want to see the work of dozens of the world's top artists all in one spectacular setting then head for the Triennel Festival Bad RagARTZ 2018 in Switzerland, where more than 77 artists from 17 countries will show more than 400 sculptures in the open-air.