While psychologists discuss the numerous ways the technology boom is changing our self-identities, the fashion quickly adapts to the new environment. It is no longer a question of how you look — but of how many ultra-technical options are available to you and how much popularity that might bring you. Interested? Check those new trends in fashion — the ways the technology is transforming the conventional idea of 'clothes and accessories'.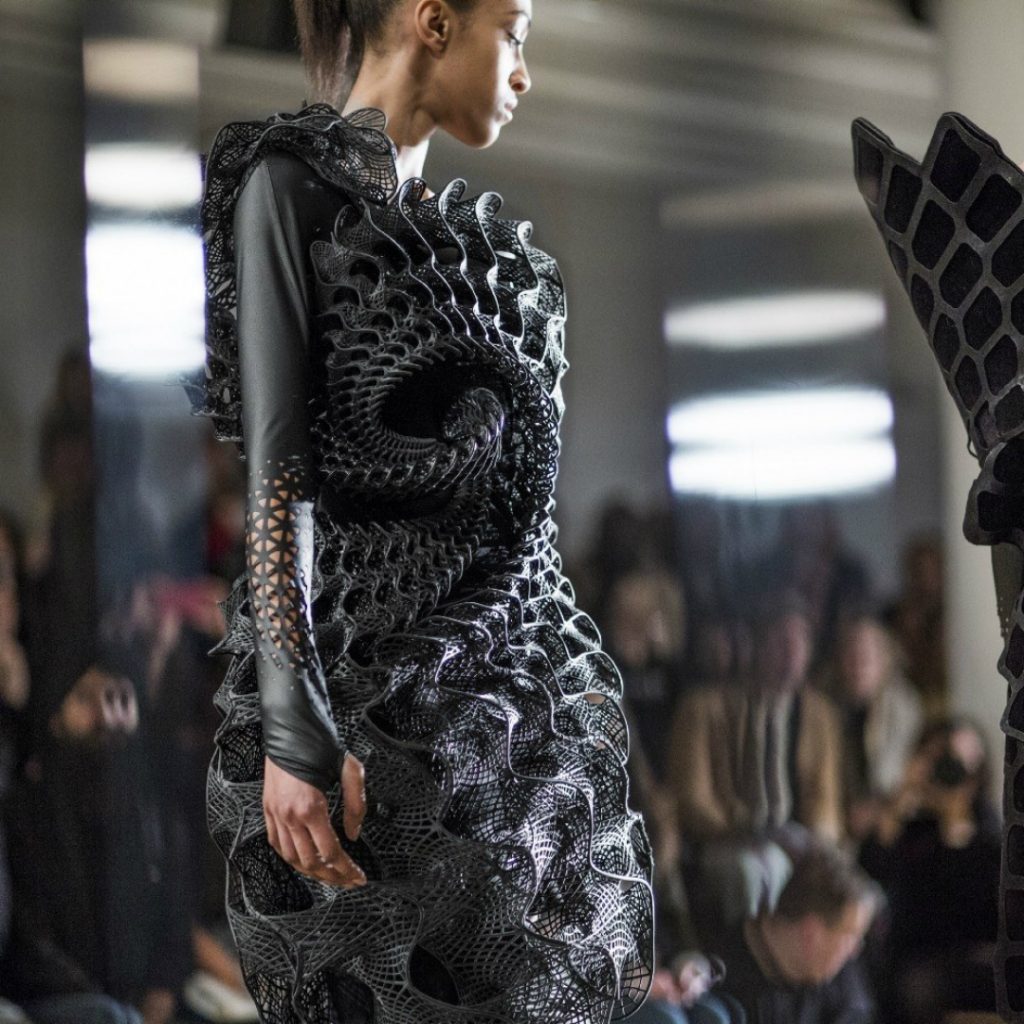 Pangolin Dress by threeASFour made from 30 different multi-color and multi-material 3D printed part
3D printing is the new black. It took over the haute-couture runways with the materials we've never imagined — mixing carbon fibre with felt and silk, nickel alloys with artificial gems and even… 'smart' biological substances. And then it left the runways and entered our homes — it's already more hip to print your own smartphone covers than to buy branded ones. Printing your own jewelry is the next step.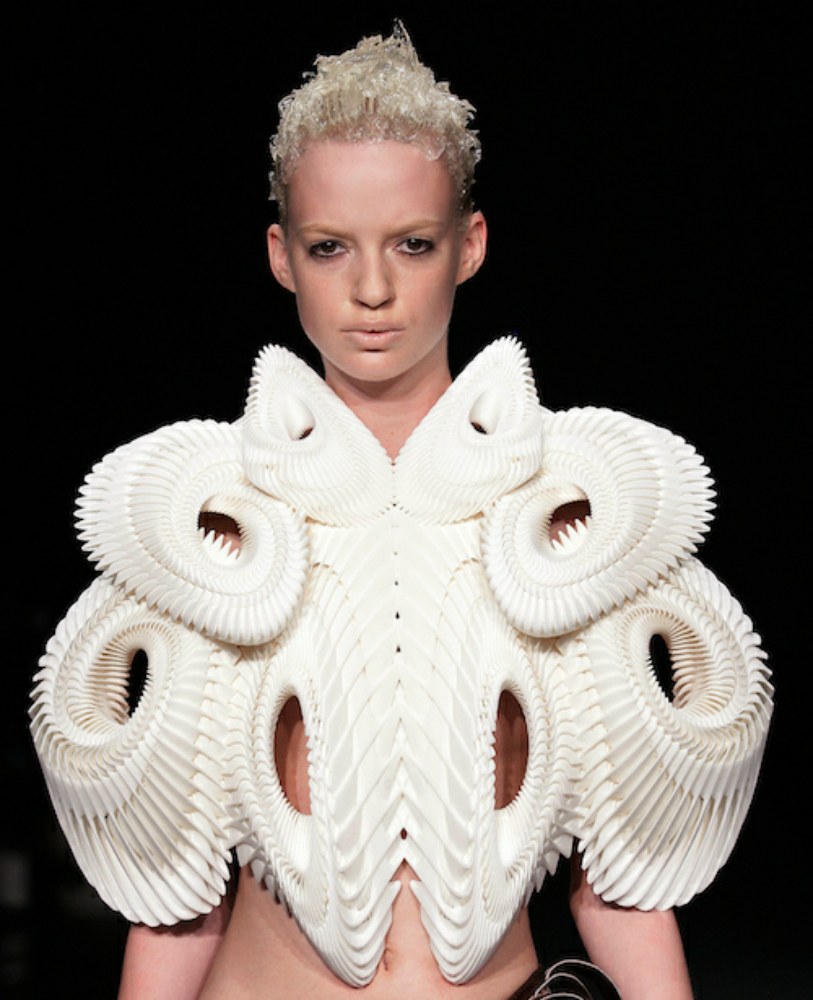 Iris van Herpen is a Dutch designer calling her own creations the "New Couture."
Interactive clothes and accessories. Simple jewelry (no matter how expensive) is giving its' way to more sophisticated devices, masked as trendy accessories. Most of them offer a wireless connection to your smartphone or a laptop, offering extra-points of connection between yourself and virtual reality. Scientists predict that smartphones will disappear sooner than we think — they will be substituted by the digital mesh incorporated in our clothes (if not the bodies). And these examples of 'trendy tech' give us the first idea of what it will be like.
Lauren Bowker (label the Unseen) has developed a fabric which can electronically detect emotions and change the color accordingly: blue for curiosity, green for wanting to communicate, yellow for happiness, purple for a medititative state (image via Forbes)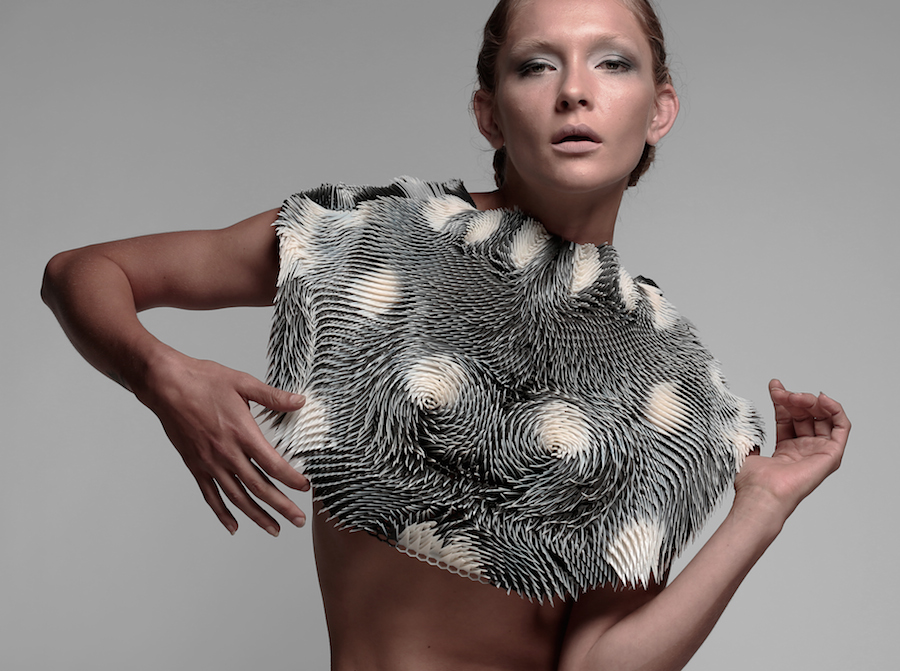 'Caress of the Gaze' is an interactive top by Behnaz Farahi which animates when it detects the gaze of someone.
Fashion apps. Do you use these already? They can help you do your shopping — faster than ever. They can act as your own personal style assistants. Time might come when AI will supervise the way we look — at least for those who are after the conventional side of fashion.
PS Dept., a personal assistant app, connecting you with fashion experts from the top online stores.
But no… we believe technology will not kill the spirit of fashion we love the most — the free and joyful self-expression, the urge to stand out of the crowd and celebrate life.
This dress is the result of collaboration between Hongbum Kim (CRES. E DIM.) and media artists BANG & LEE  (lab-alpha7)
When the augmented reality takes over, what will happen to the fashion industry?