Since the beginning of the coronavirus pandemic, not knowing how to dress is probably the least of anyone's problems. Fashion designers have attempted to explore the whole spectre of controversial mindsets, conditions and feelings that people had to face during these turbulent times.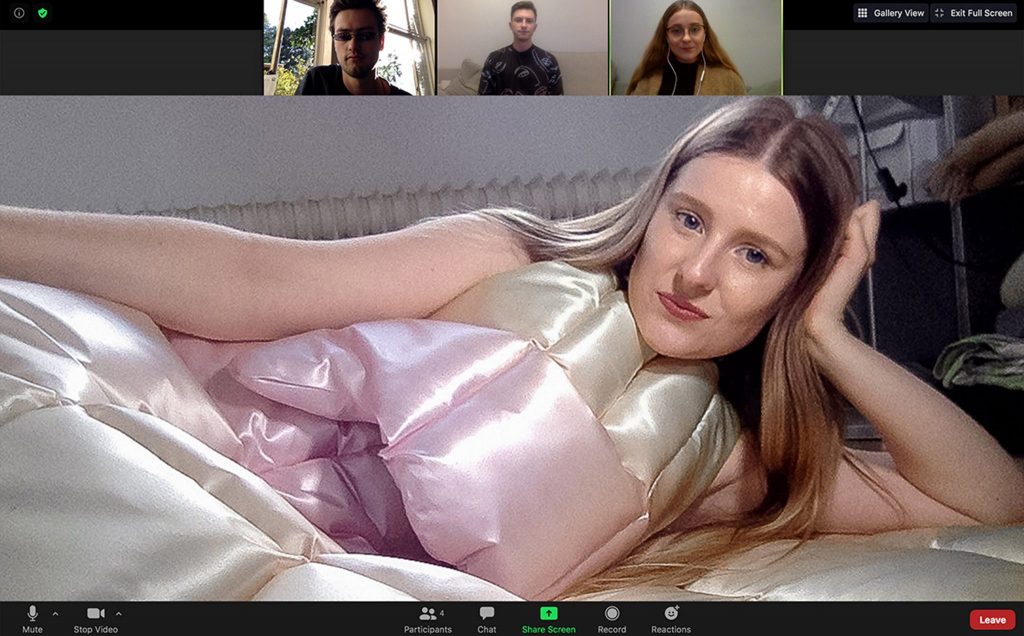 With its Autumn/Winter 2020 collection, Viktor&Rolf Haute Couture has presented a high-fashion take on coronavirus. Titled Change, the collection includes three mini-wardrobes for three different states of mind people might experience during "these extraordinary times of change" occurring as a result of the pandemic. Each of the three features three outfits: a nightgown, a dressing gown and a coat.
The first wardrobe, named Anxiety, embodies a rather somber mood. Boasting a gloomy palette of black, navy and dark grey and adorned with cone-like spikes that impress and make you feel safe and ornaments of dismal rainclouds, it emulates a feeling of sadness and anger, familiar to many these days.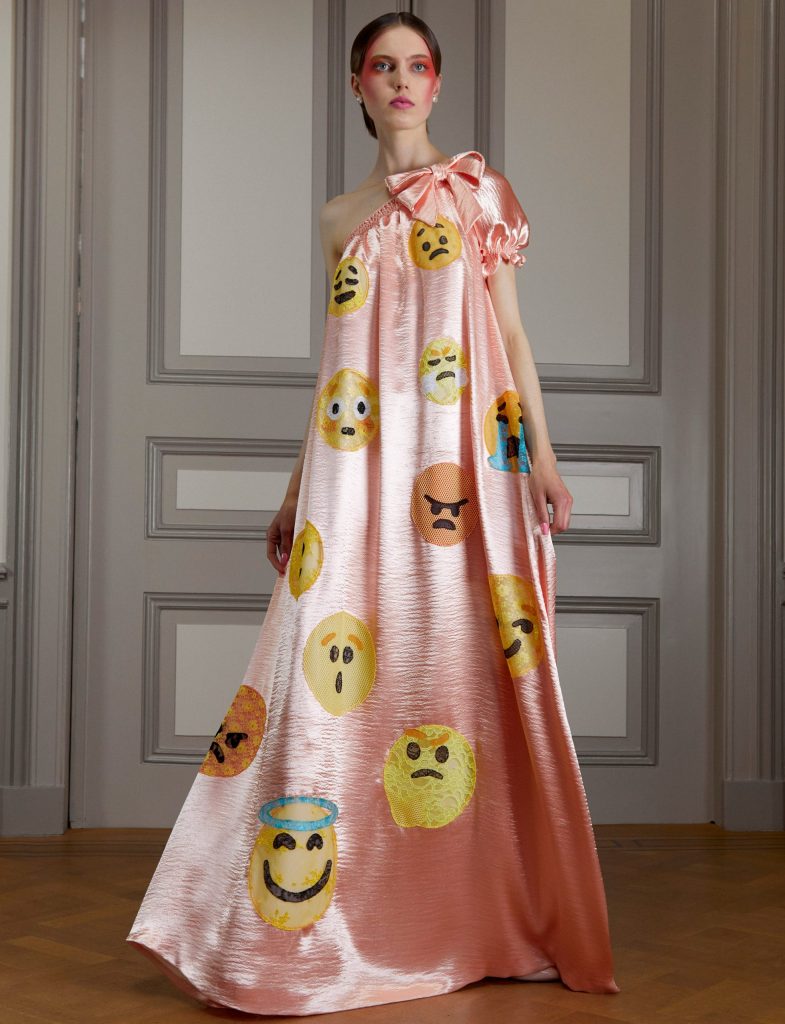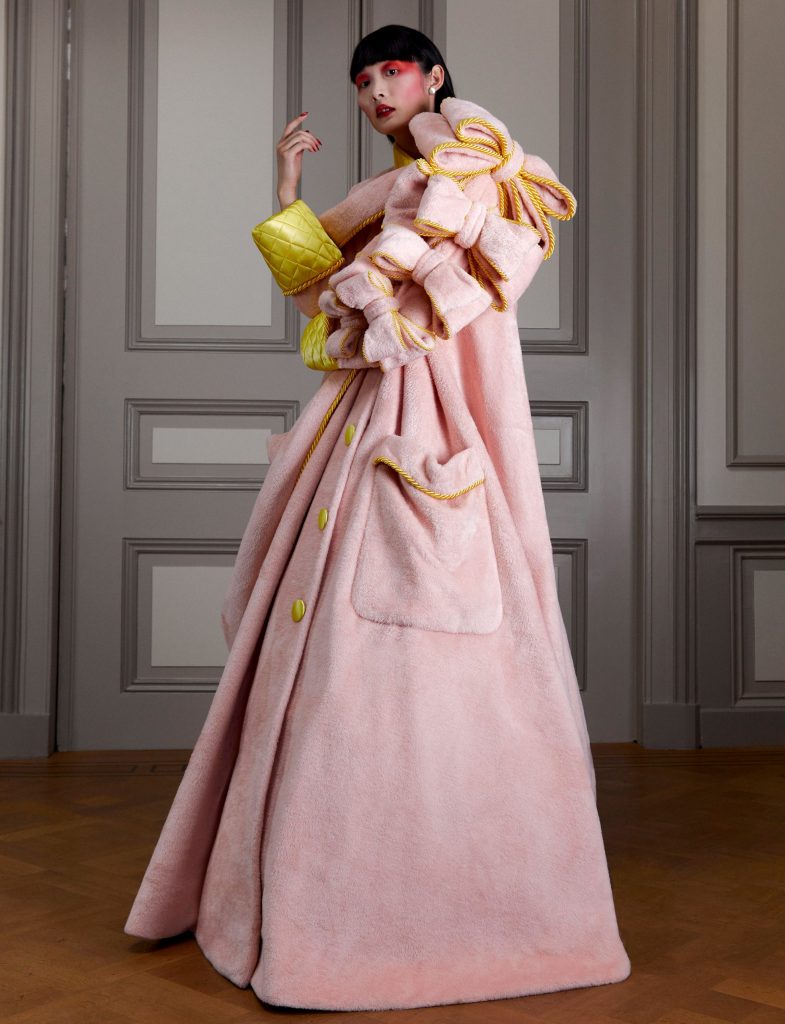 The second group of outfits, Confusion, signals the conflicting emotions that many are experiencing during the pandemic and that put our stability at risk. While the glossy pink nightgown of the wardrobe is manically covered with emojis displaying different feelings, from angry and scared expressions to a smiling face wearing a halo, the candy-coloured faux leather coat boasting abstract decoration of holes and tunnels looks at the same time unapproachable and attractive.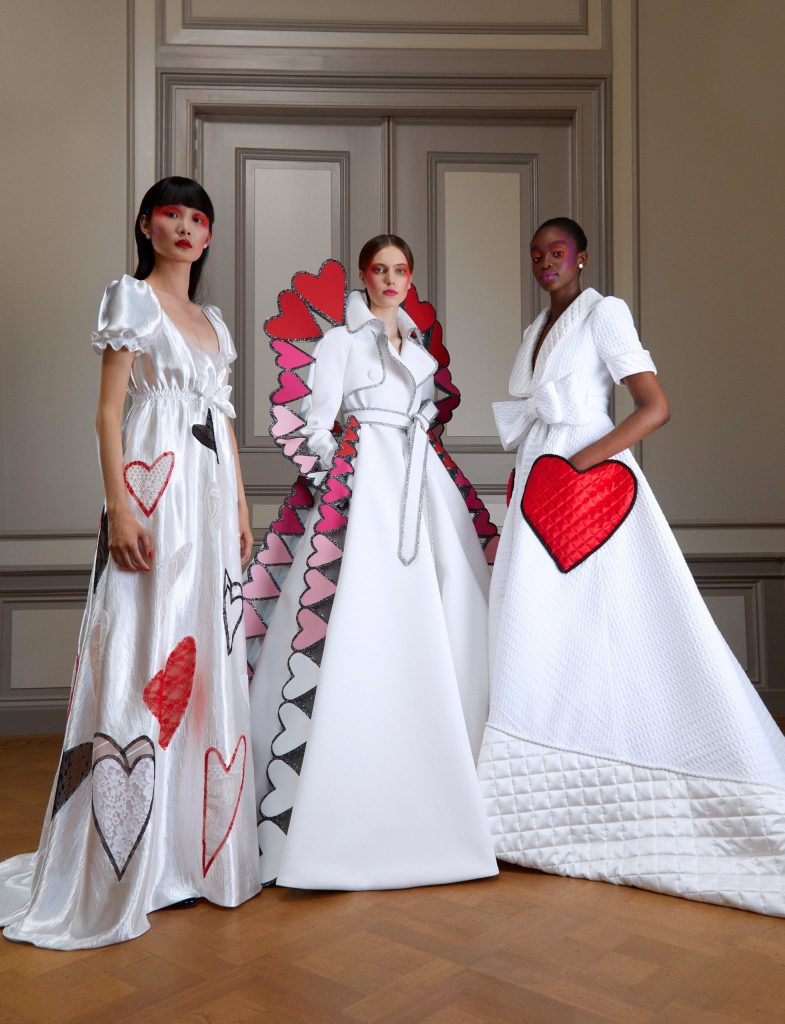 The last three ensembles embroidered with red, black and white lace hearts are designed to radiate Love and turn the "melancholy" of the first capsule collection into "serenity". Designed to represent unity, the coat of the wardrobe illustrates that "we all deserve to be loved, regardless of age, colour, gender, race, religion or sexuality".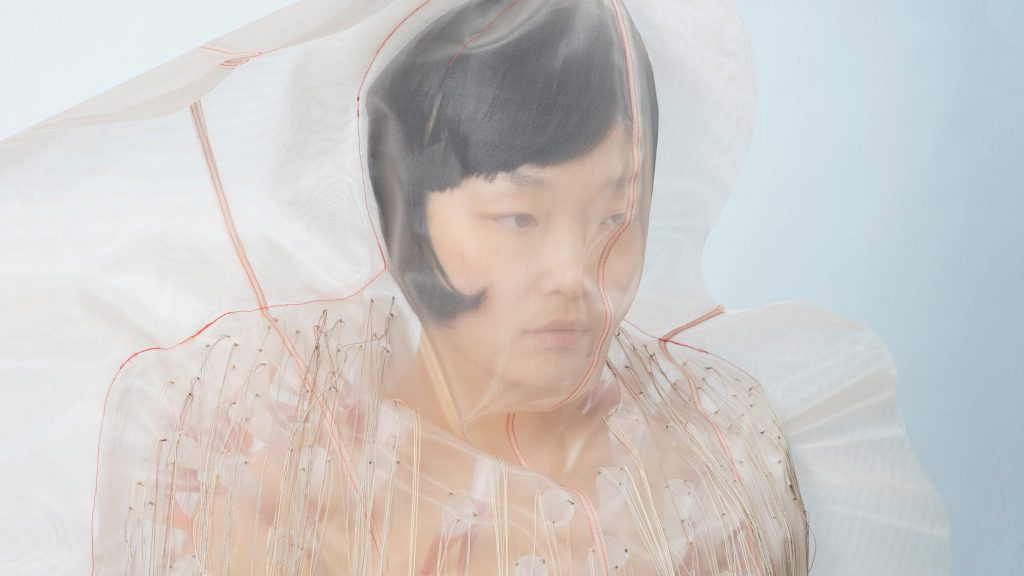 With her thesis project titled Within, Rhode Island School of Design (RISD) graduate Violet Zhou also seeks to explore different states of mind experienced during personal struggles, translating certain feelings into tangible garments.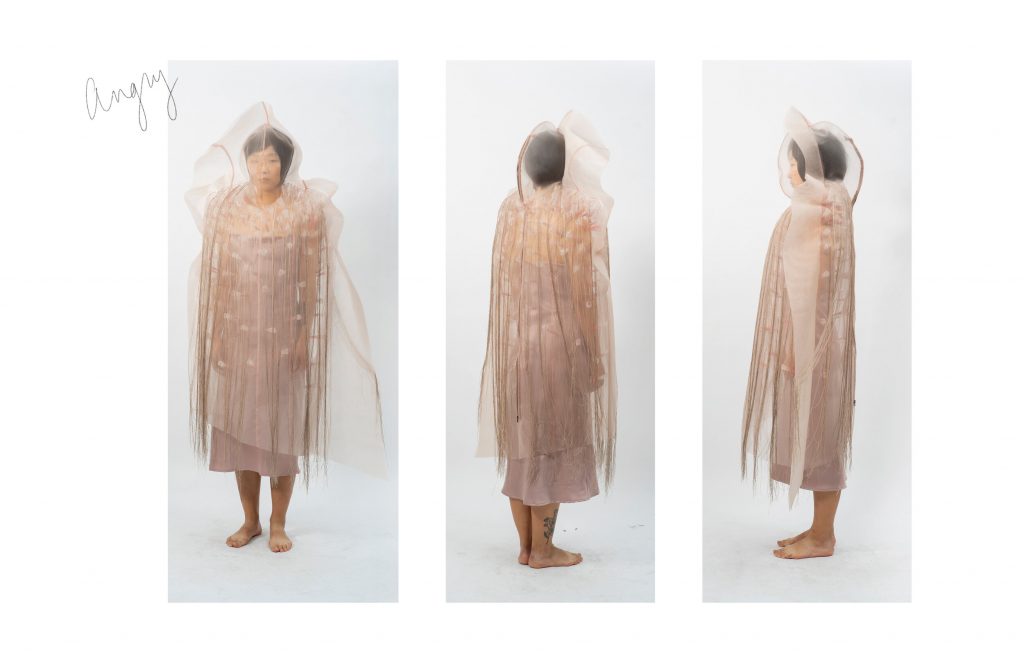 The collection comprises six looks, each representing a different stage in the process of going through and overcoming various emotional and mental challenges. These include Angry, Weighed-Down, Wounded, Sinking, Numb and Emerging. As each look progresses to the next one, the collection aims to take the audience through the various emotional and mental challenges, and end on a hopeful note that the protagonist has begun to overcome them.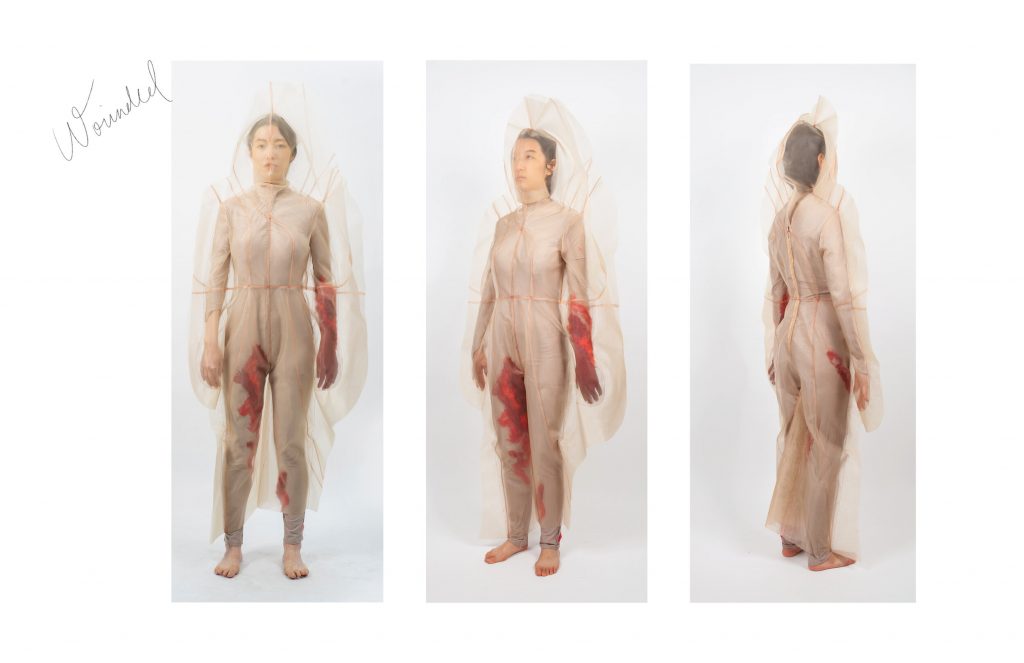 To make the designs, Zhou created a duct tape form of her entire body, which she the stuffed with second-hand Poly-Fil and wrapped in a wetted loosely woven straw fabric named sinamay.  This was complemented by sensual shells made from gauze, chiffon and organza, which allowed the designer to play with the tension between visibility and inaccessibility and highlight the central theme of "confinement". For some looks, Zhou used red organza and yarn to add various blood-coloured accents which represented wounds – both physical and emotional.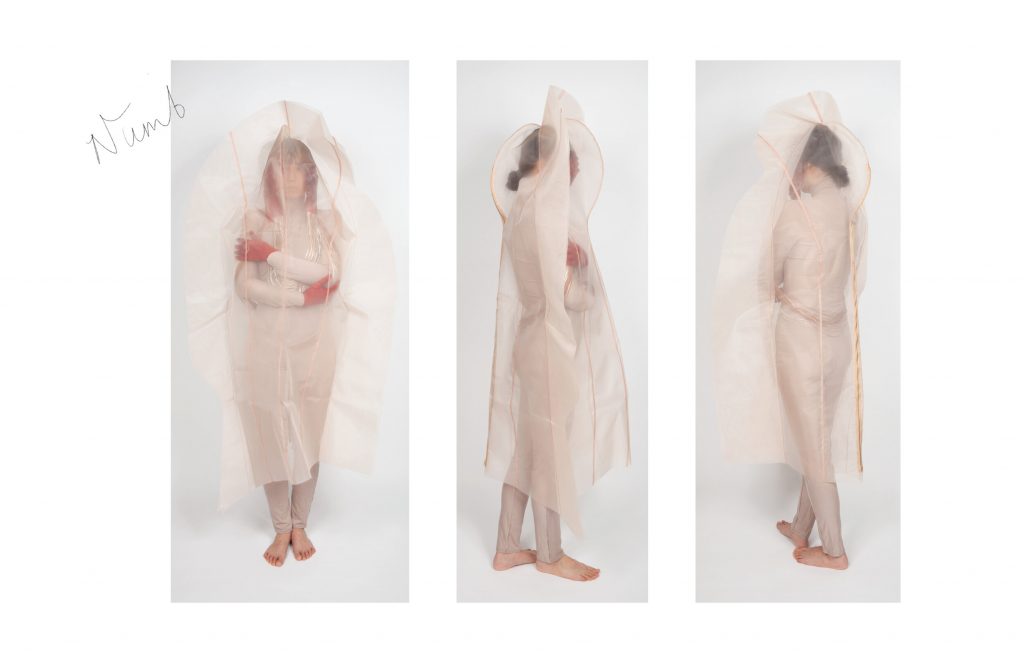 Described by the designer as rather interactive sculptures that live on human bodies than functional pieces, the outfits do not take comfort or utility into consideration. However, the wearer is not completely paralyzed by the garments. When trying to move or walk in them, their actions are analogies of the active battles with emotions that foreshadow the final piece depicting the emergence from the confinement of the inner world.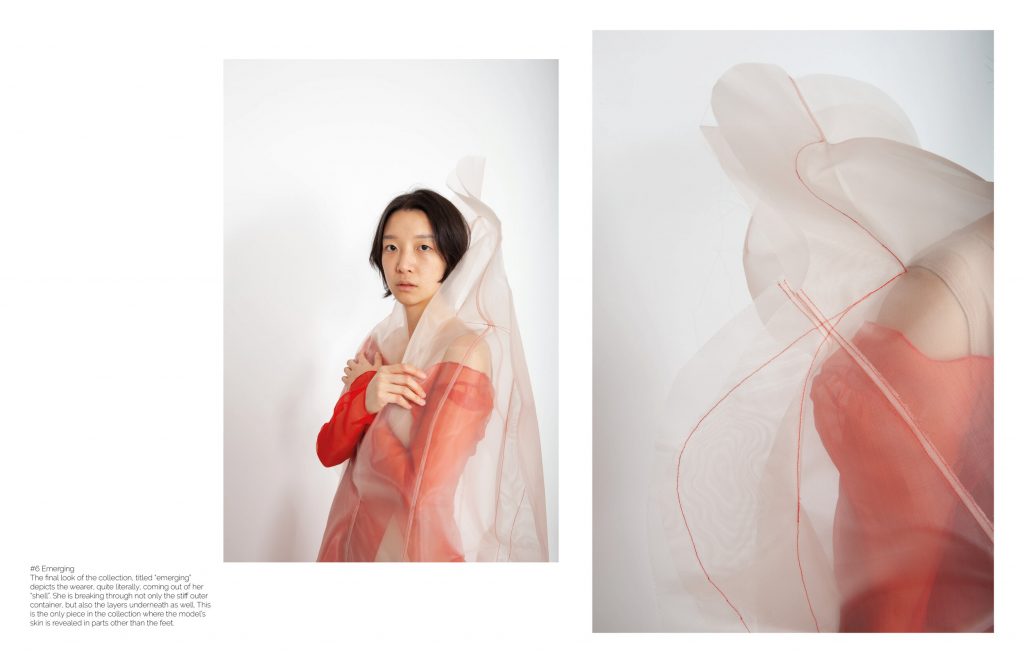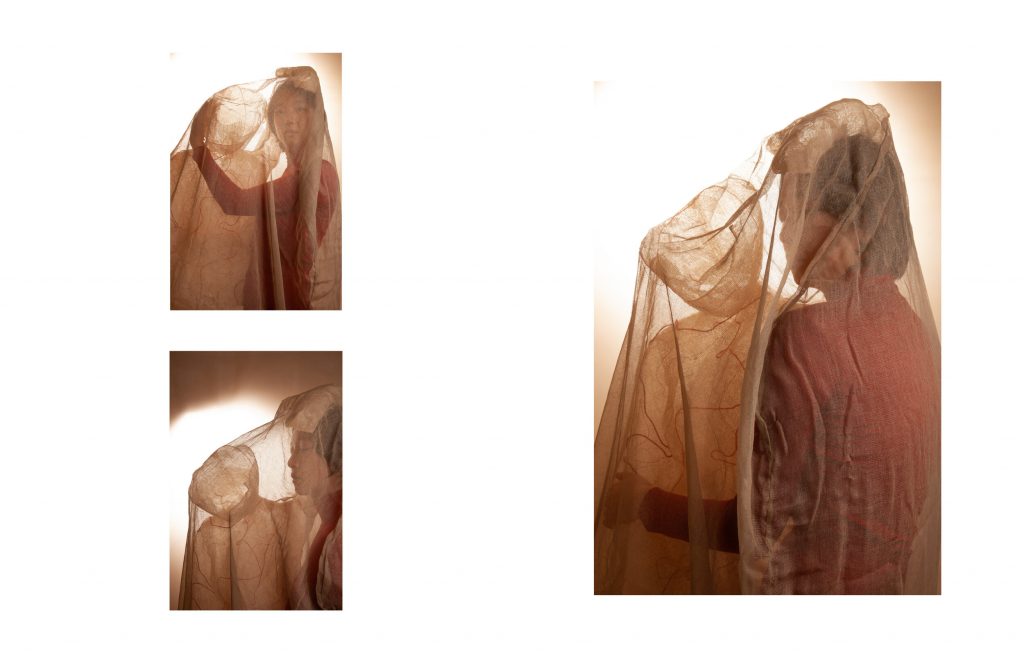 According to the designer, she took inspiration from Chinese photographer Ren Hang, who works almost exclusively with portraits and bodies, and French-based, Chinese-born fashion designer Yiqing.
Design Academy Eindhoven graduate Santa Kupča deals with the coronavirus topic in a more ironic and playful way. Three parts of her Stuck-at-Home Masquerade – Hesitant to RSVP, Dolce Far Niente and Public Library – are collections of garments that express how the designer felt when being isolated in time of the lockdown. Rather than an actual fashion collection, Stuck-at-Home is described by the designer as "an exhibitionist masquerade where the wearer is the decor piece behind the screen."
When Zoom conversation became an integral part of our daily lives, Kupča discovered she was distracted by wanting to see how she looked onscreen and suddenly felt like she was trying to stage everything around her. She then developed three items of clothing that each represents a different "mundane" aspect of having to stay indoors in an attempt to make the everyday more celebratory – and to keep their wearer cosy during remote video calls.
Each piece is made using materials that the designer found around her home during lockdown, including the stuffing of an old duvet and leftover polyester fabric. To create different patterns on the duvet dresses, Kupča used a regular home printer.
The Hesitant to RSVP look is about dressing up while impatiently counting the days for the lockdown to be over. It is printed with the pattern of a used calendar where each of the passing days has been crossed out with a green highlighter. It relates to postponed meetings, chaotic calendars and confused marker crosses
Designed to represent "pleasant idleness," the Dolce Far Niente dress embraces the essence of doing nothing and enjoying it. It encompasses a floor-length A-dress printed with a gradient design that softly changes in colour from pastel yellow to candy pink. The designer describes it as "illuminating a feeling of a princess who's prepared to go out and socialize," as well as "the pure awkwardness that arises from not knowing how to act around people anymore."
The last outfit, Public Library exaggerates the literary background and prompts an introspective for personal Zoom conversation.