Rebounding craze of the early 1980s is long gone, but there is still an ongoing debate about the health benefits trampoline can offer. While pro-bouncers cite the NASA research showing that physical output was greater from jumping on a trampoline than running, others claim that rebound exercise is aerobically mild. Whoever is right, the fact is true that although a trampoline looks like a toy, it comprises a gravity-generating device and offers a mood-boosting experience. That is probably why designers readily include this bouncing gear into their projects.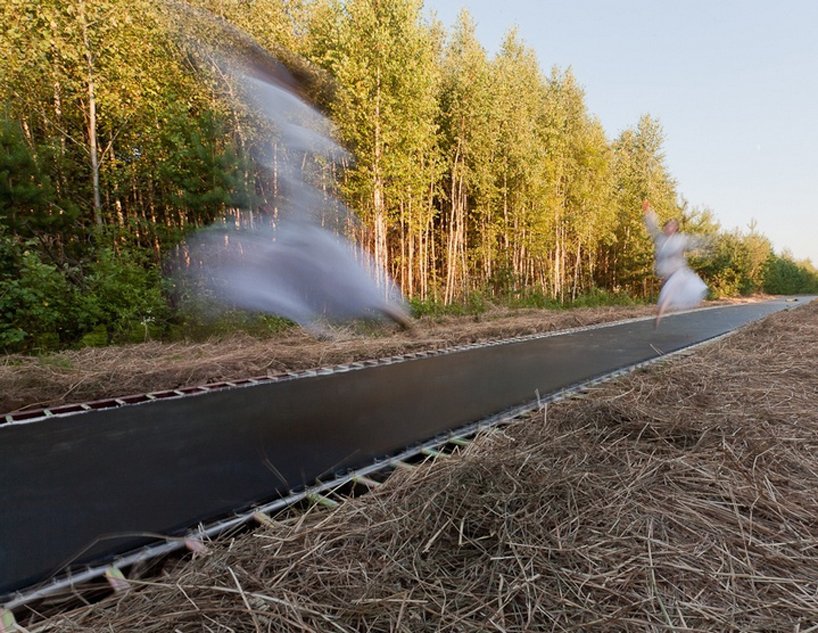 Designed by Rotterdam based design office Atelier Ari, Le Voyeur is an interactive pavilion in the Parc des Îles, on a site of Europe's former biggest coal mining factory. Aiming to highlight the industrial past of the UNESCO world heritage site and the transformed mining basin, the pavilion works like an inverted watchtower, and invites visitors to observe the transformed post-industrial landscape in a different way.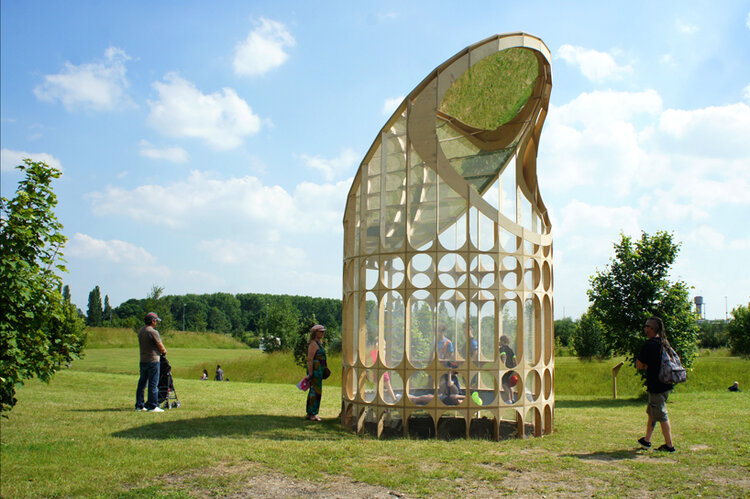 Paying homage to the demolished buildings in the historic mining landscape, the structure boasts a round shape and arched corners. The six meter tall pavilion is made of  plywood  and slanted at the top, with an oval aluminum mirror placed at such an angle that the landscape can only be seen from inside.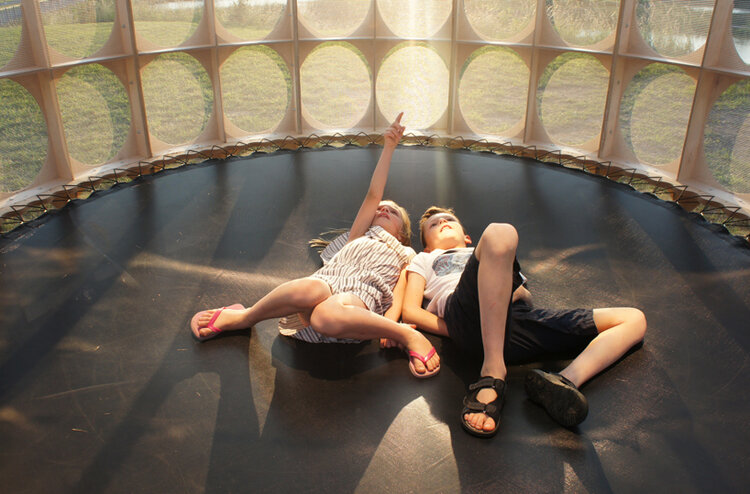 Lying in the pavilion's trampoline floor, people can observe an overview on the landscape from a low point. Through a large mirror, the artificial lakes and the former slag heaps of the park, which are otherwise not accessible for the public, can be experienced from a bird's eye perspective in a playful way, while comfortably resting on the highly stretched trampoline.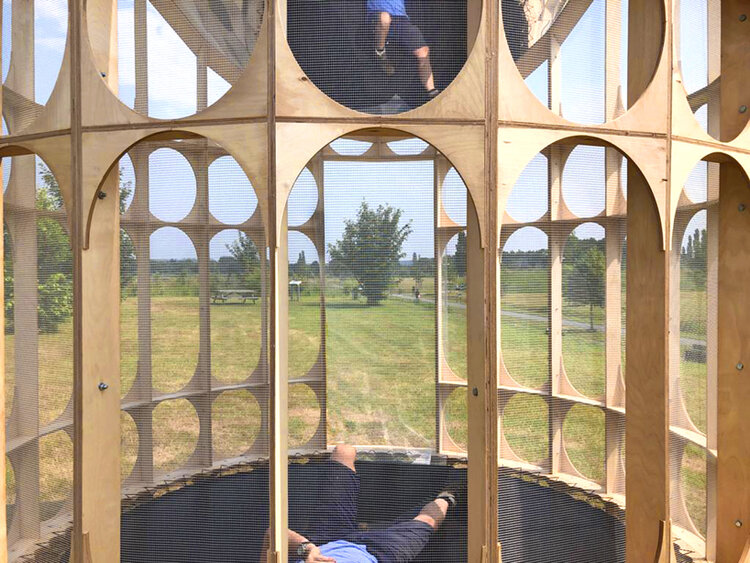 The mirror works both ways, and the interior as well as people inside the pavilion are reflected above the ground in it, visible from afar.
Royal College of Art graduates Meret Vollenweider and Wasabii Ng have noticed that in our search for convenience and energy efficiency we do not understand how things work anymore. Electricity is perceived like an invisible thing. To address this issue, they have developed Inefficiency Machines, a series of interactive objects that use physical human exertion to power consumer electric products and place the user within processes usually hidden behind a switch.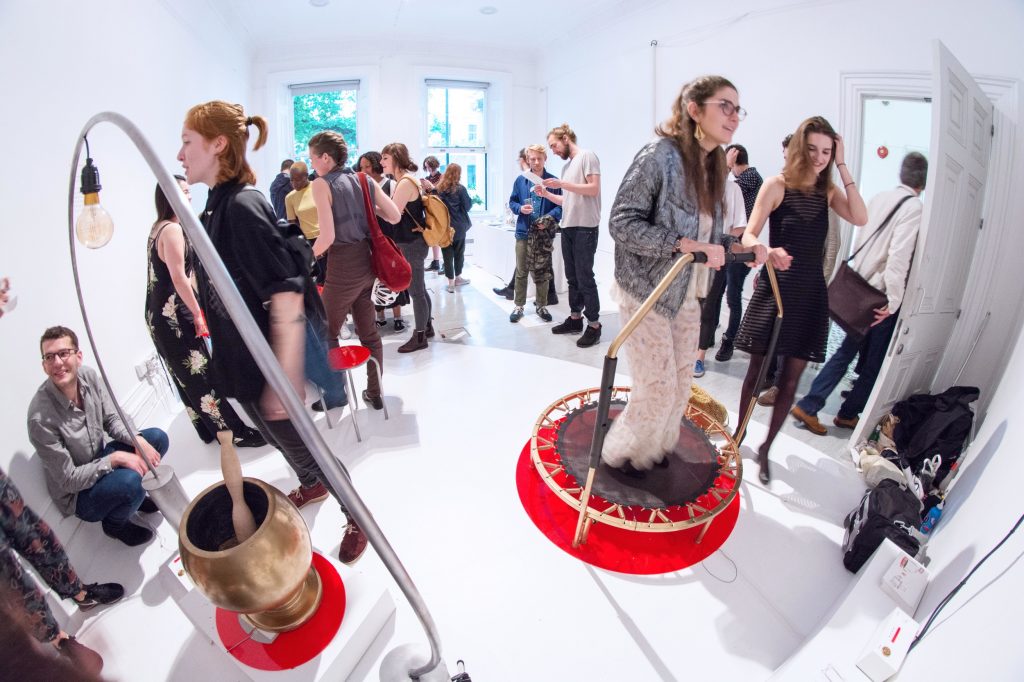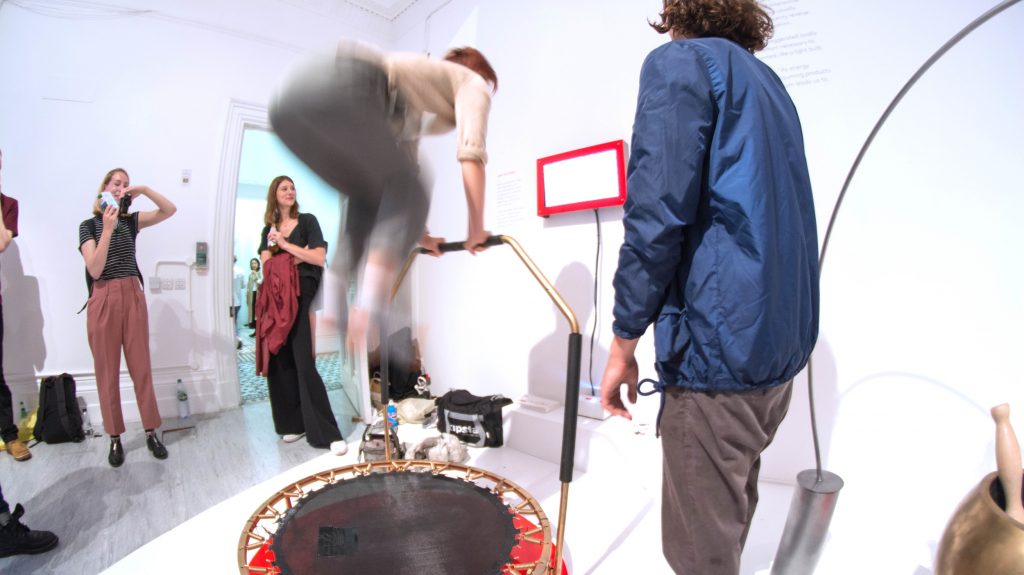 Participants are invited to perform repetitive, exaggerated bodily movements to understand the effort necessary to power something taken for granted – e.g. to light up a bulb by pounding with a pestle in a mortar, or power a hairdryer by screaming into a microphone.
One of the devices suggests jumping up and down repeatedly on a trampoline to turn on a television. The faster the user bounces, the more power is provided to the appliance. After that, they receive a printout stating how much energy they generated and comparing it to the average energy consumption of the appliance they were attempting to power. This helps them realise how much it actually takes to power appliances they use every day, making the very notion of electricity more tangible.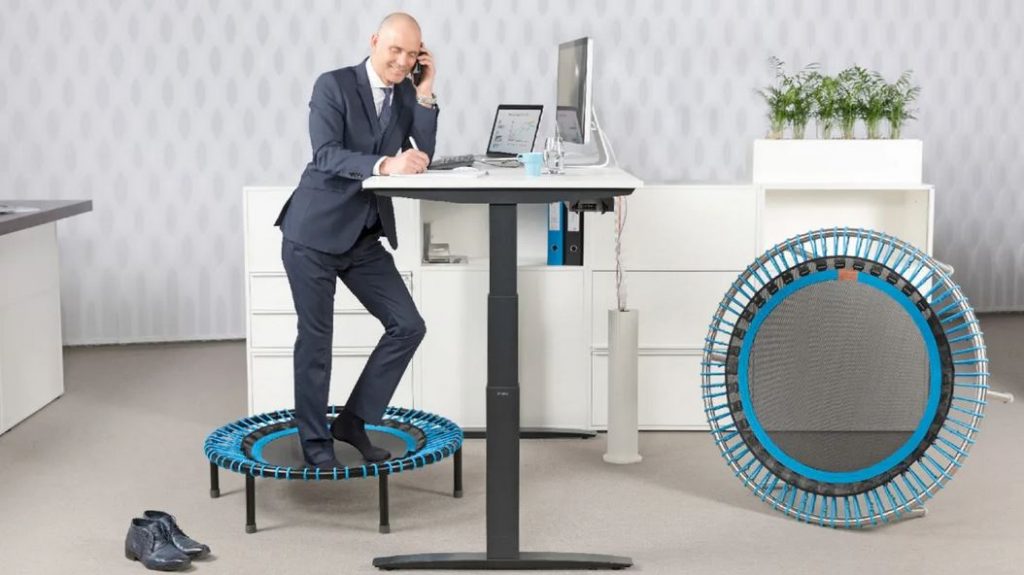 Bellicon, a company producing trampolines for fitness workouts, offers to replace desk chairs with mini-trampolines, or rebounders, in order  to combat sedentary lifestyles of office workers – no matter if they work in a traditional office or remotely in a home-office setup.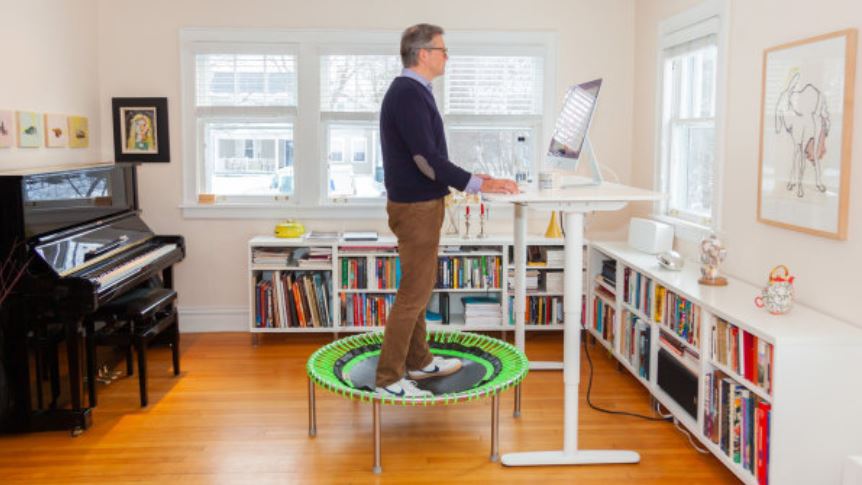 According to the company managers, rebounders can be placed at each desk in an open-plan environment encouraging office workers to bounce for hours while working at a standing desk, or around a conference table in a meeting room inviting users to a micro-workout. Besides, they are lightweight and small enough to stow away at the end of the workday.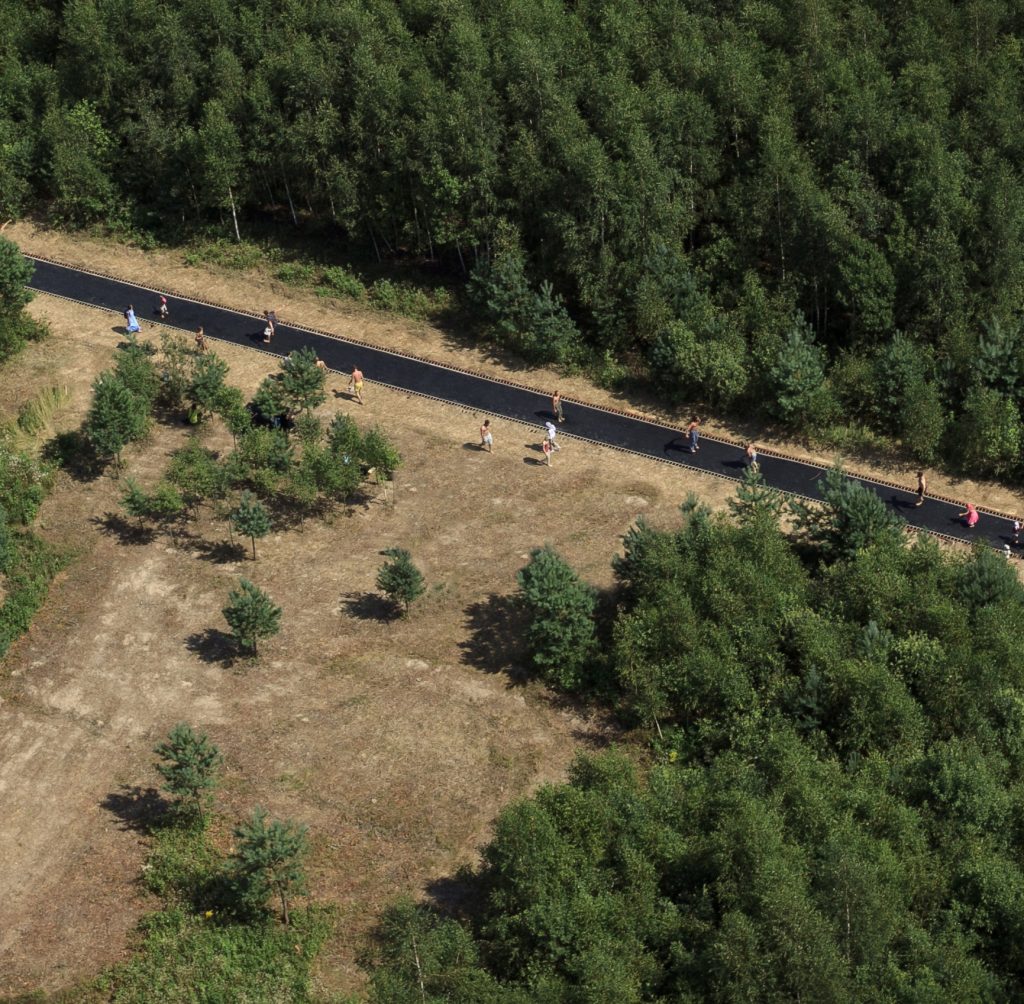 Estonian architecture studio Salto has used trampoline to design the Fast Track, a site-specific road installation commissioned by the contemporary arts festival Archstoyanie in 2012. The idea behind the project was to challenge the concept of infrastructure that normally focuses on technical and functional aspects, tending to be ignorant to its environment.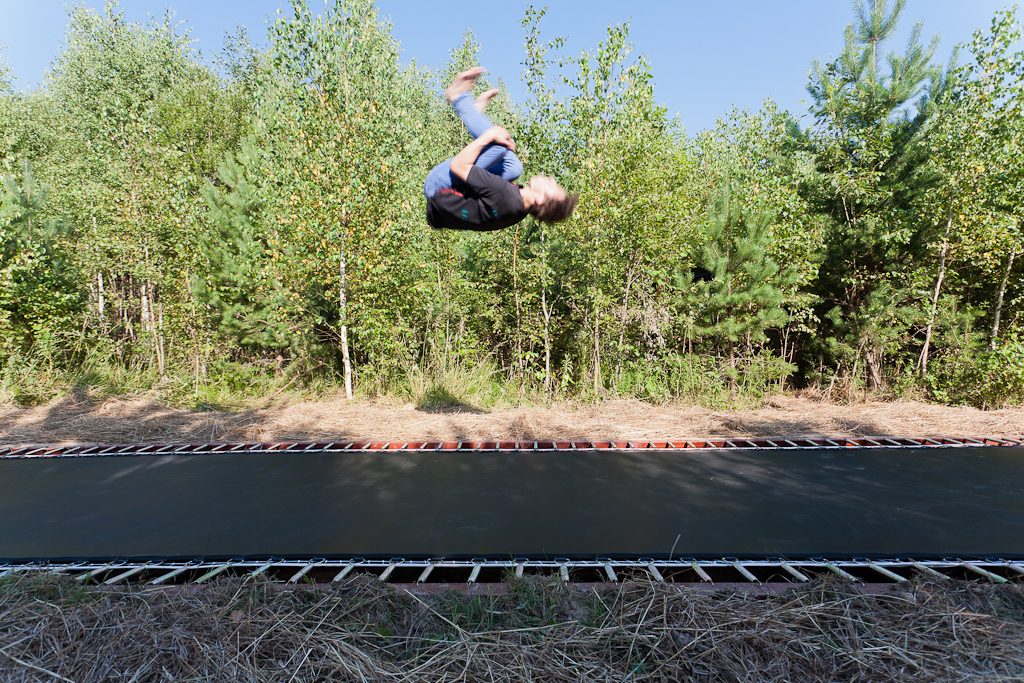 Placed in the woods of Nikola-Lenivets, arts park in Russia, the 51 metre long rubber trampoline road enabled the user to explore new experiences in moving and perceiving their surroundings in a whole new emotional way.