The pandemic has returned the spotlight to the soap thanks to the fact that it can disrupt the lipid membranes that protect pathogens with its natural surfactants. The resulting high demand for synthetic liquid soaps has led to burgeoning plastic waste, which forced product designers to think of more sustainable approaches to self-cleansing and looked at ways of encouraging the use of soap without the need for plastic packaging.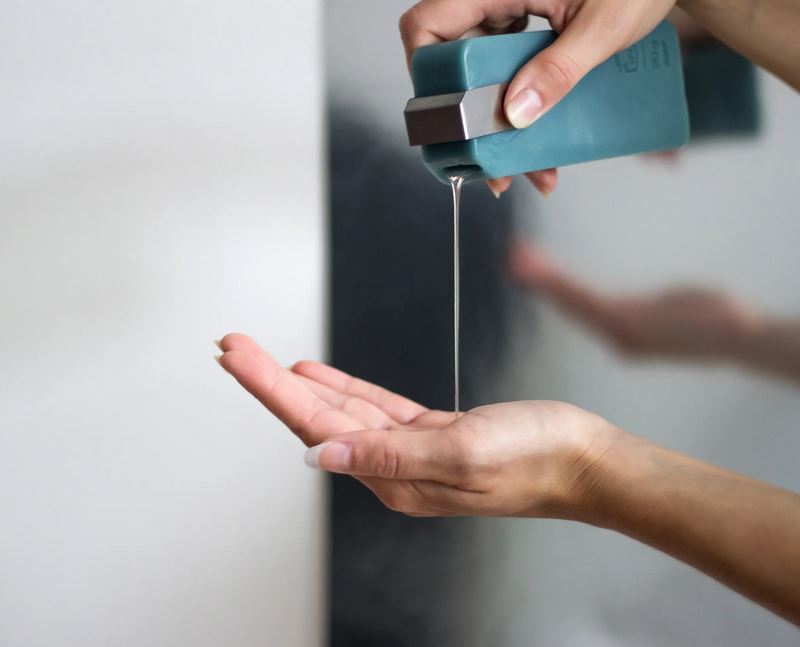 The solution for reducing plastic waste caused by the use of liquid soaps and gels offered by Jonna Breitenhuber, a product and process designer based in Berlin, is an ingenious packaging for liquid soap made from soap itself.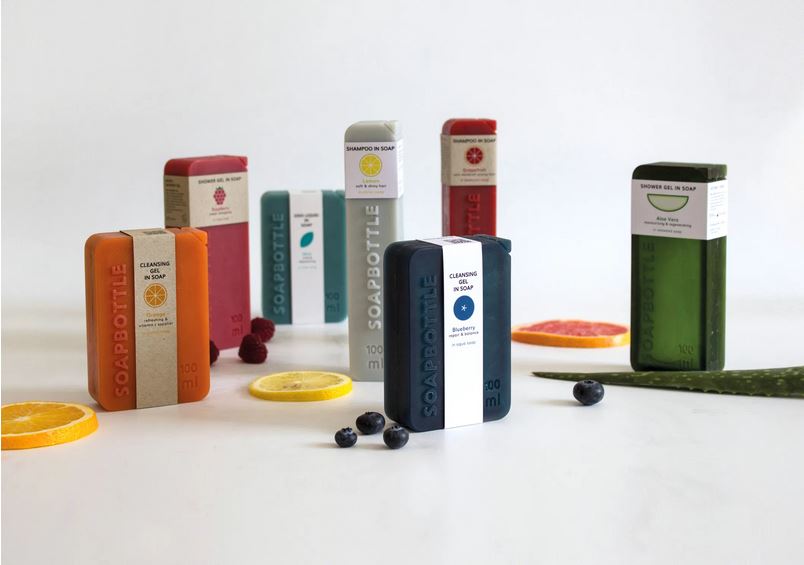 Aptly named Soapbottle, the package consists of 80 grams of soap and can hold one litre of liquid, lasting for approximately a month, thanks to its water-insoluble layer coating that slows down the dissolving process.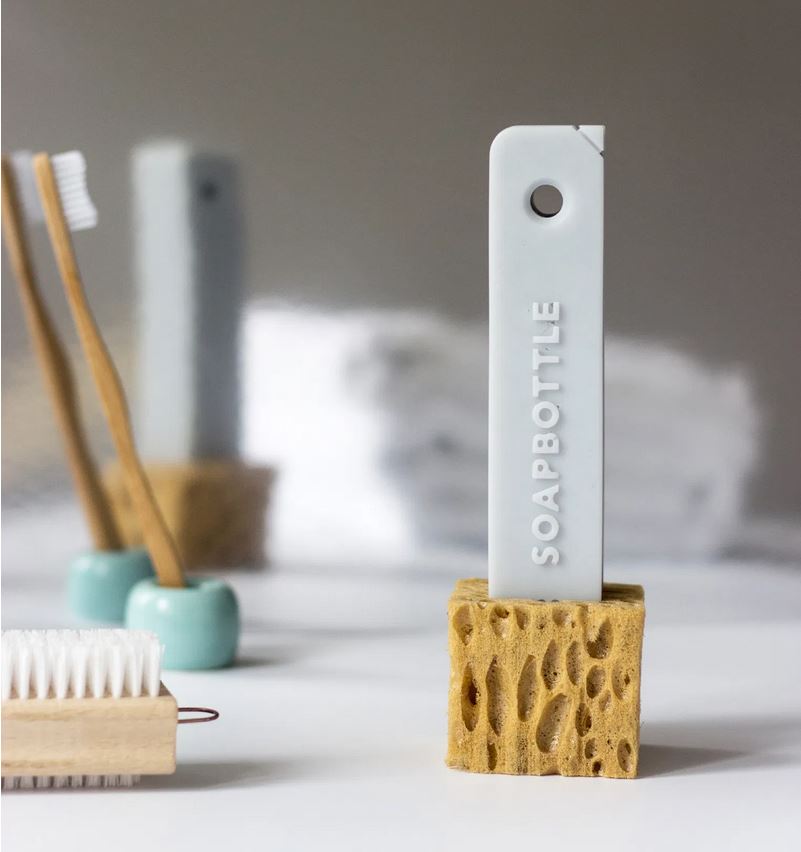 The bottle is opened by clipping off a corner with the reusable metal closure. When in use, it can be propped up on a sponge or hung in the shower by looping a string around it. Once empty, the bottle can be used as a soap bar or alternatively turned into detergent – this can be easily done by grating the packaging and adding soda and natron.
Soapbottle is presented in a rectangular shape and comes in various sizes and vivid colour options.
Swedish design studio Form Us With Love has launched Forgo, a cosmetics brand that proposes to make soap using a concentrated powder mixed with tap water. The product comes in single paper sachets, each containing 12 grams of powder and creating 250 millilitres of hand soap, alongside a simple glass refill bottle as part of a subscription-based service. The solution drastically cuts down the amount of plastic packaging and minimizes carbon emissions produced by shipping larger, heavier containers.
The brand uses the same six core elements that make up the conventional liquid soap. But instead of  mixing them with different liquid components in-house like cosmetics companies normally do, Forgo offers them in concentrated powder form. The process of mixing the product takes less than a minute, as a sachet is emptied into the bottle, which is filled with hot tap water and shaken thoroughly. A fine mesh filter in the pump, the only  plastic component, aerates it into a user-friendly foam.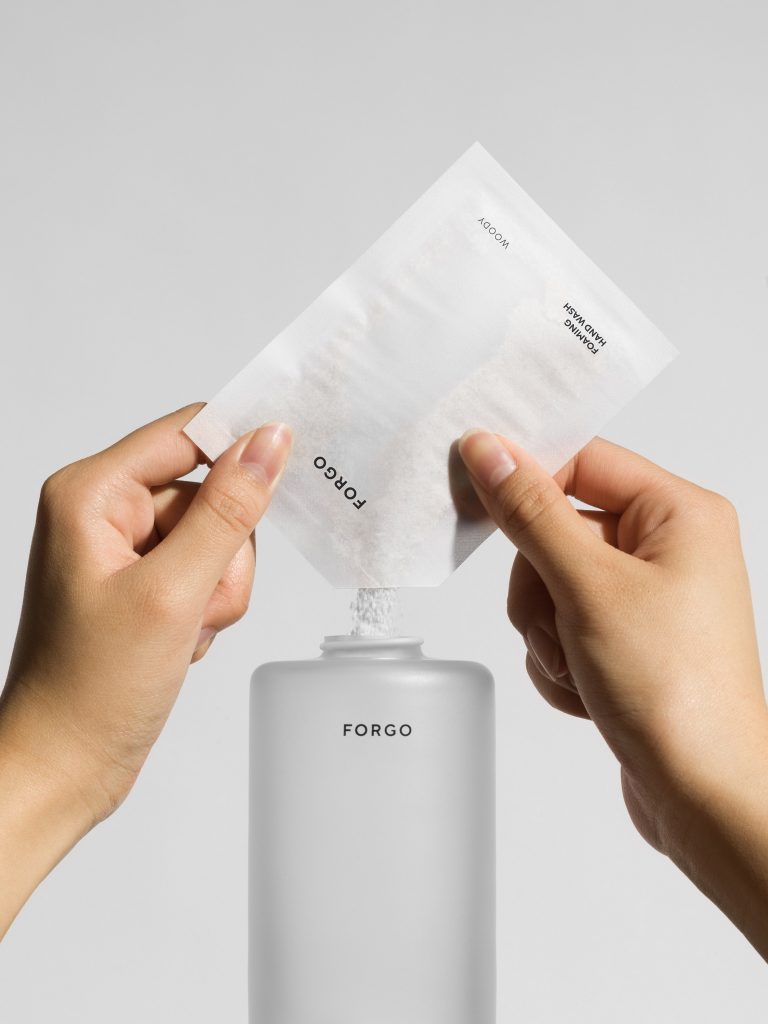 The Forgo sachets are made of paper, but unlike packets used for individual sugar serving that are coated with plastic and are extremely difficult to recycle, they are produced using a water-soluble, compostable paper coating. After use, the sachets dissolve just through water, heat and friction.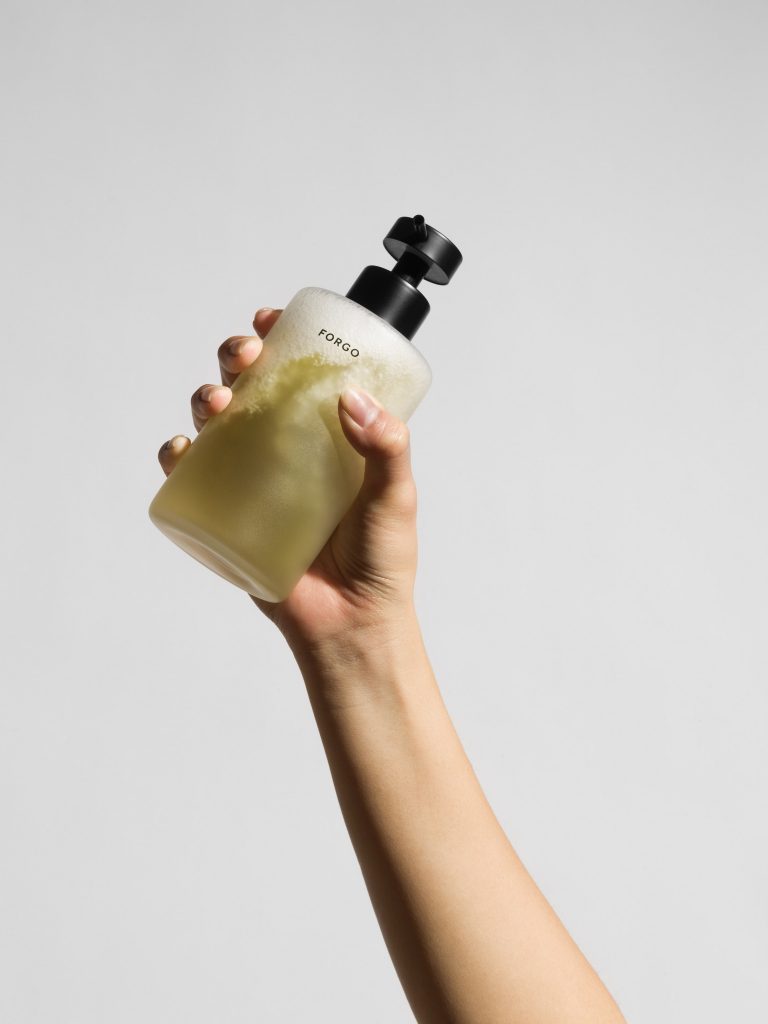 The next step for Forgo is extending the product range through body wash, face wash, deodorant, and toothpaste. The team admits that the existing product works great with dishes, which makes them think of a universal one-for-all soap.
Yingxuan Teo, a multidisciplinary designer based in Singapore, has offered a more radical solution. Concerned by the fact that there are tonnes of chemicals and unknown ingredients in the soap we use every day, she has created a soap-making device so that people can produce their own cosmetics at home.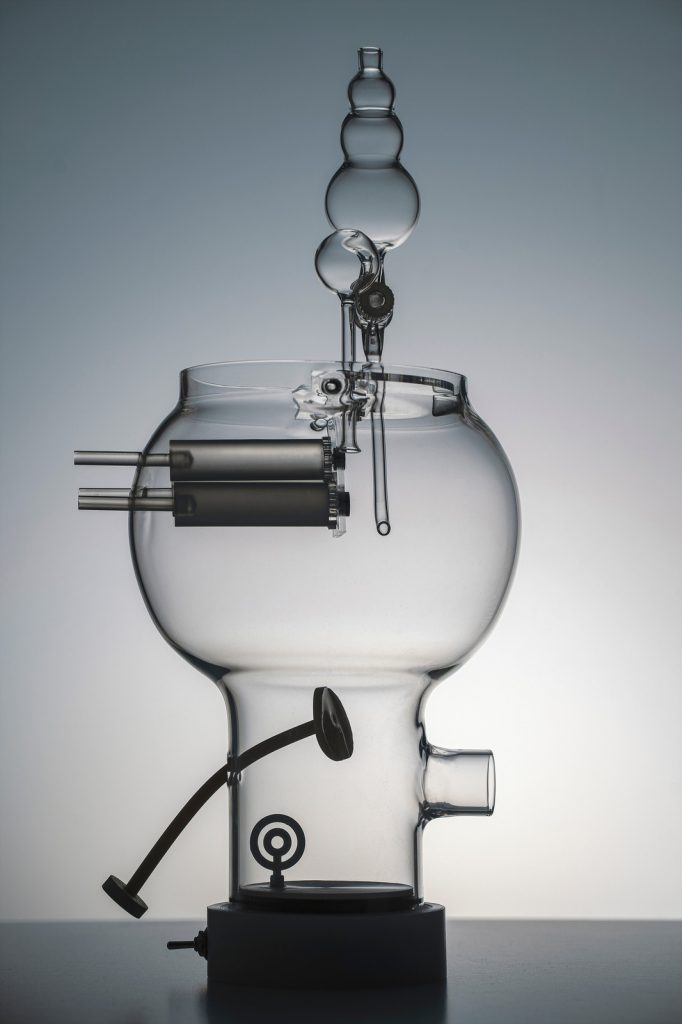 Called Mass Production of Happiness, her device harks back to the traditional craft of extracting natural saponins from soap nuts and utilizing natural ingredients such as Aleo Vera, so that users can take comfort in knowing the provenance of their skincare goods.