Keeping fit and exercising have become an inseparable part of our daily life, which makes product designers seek ways to fill this daily routine with aesthetics. The challenge is to create gym equipment that is pleasing to the eye as much as it is functional, no matter if it is used in- or outdoors.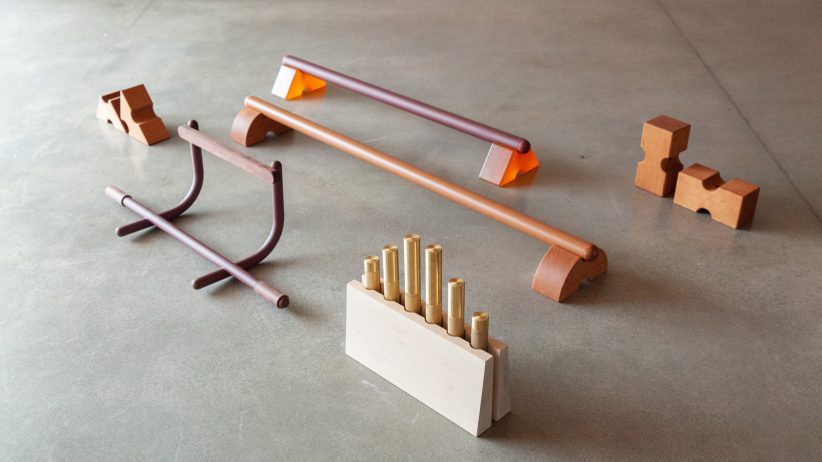 Swedish design studio Tingest headed by Alexander Lervik has developed a collection of training equipment that can be a natural part of the home décor placed prominently in any room when not in use. Exercising at home has become a popular habit, while finding storage room for all the equipment has grown to be a constant challenge.
This Scandinavian-designed collection features dumbbells in black and white marble, cork trigger point rollers and yoga blocks, a bamboo hula-hoop, a wooden bench and cast iron kettle bells, all items in a minimalist design that adds a strong identity to any house.
The beauty of these objects is in detail: marble dumbells come with a slightly sandy bottom surface to avoid free rolling, the hula-hoop features a leather wall hook, while the wooden bench includes a padded leather seat and can be easily placed as an additional furniture in the entrance hall of a house.
Committed to the production of high-end workout tools, Rhode Island-based design studio Work in Use produces fitness equipment that is display worthy and will fit seamlessly into a minimalist lifestyle.  Aimed to create active lifestyle through good design, the collection features pull-up bars, gymnastic rings, parallettes, hand weights and balance rails, each piece meticulously handcrafted with attention to detail from cherry wood, brass, bronze, leather and rubber instead of conventional plastic.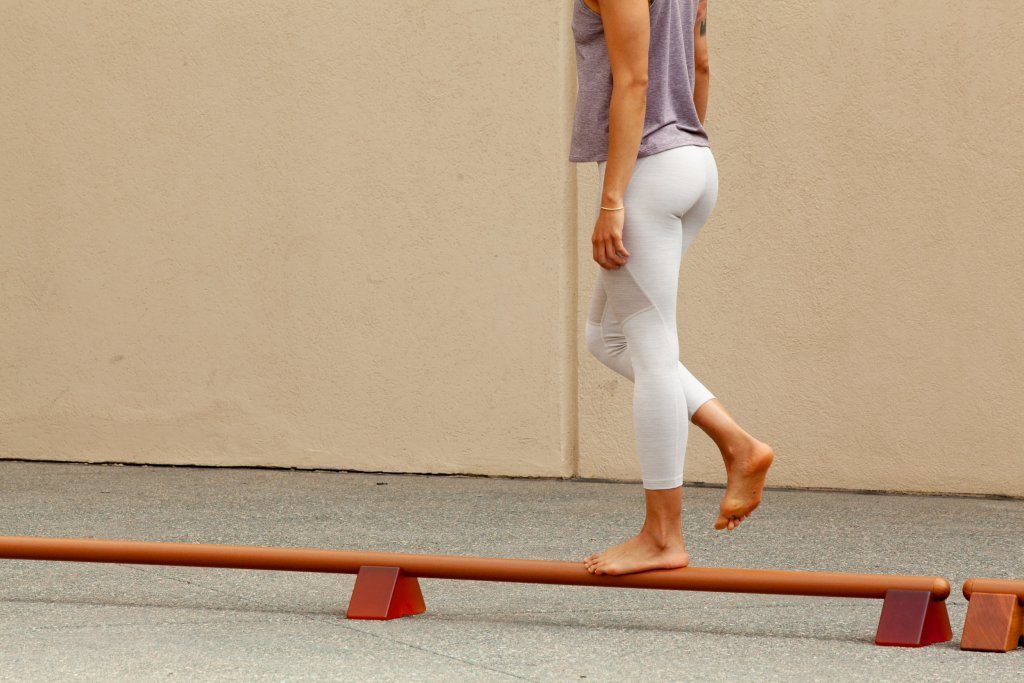 All of these objects are meant to be used for everyday practice, in addition to movement training that fuses gymnastics with elements of dance and martial arts. Simultaneously they can be displayed at home as a celebration of their craft and materiality, rather than hidden or placed out of sight.
The Kebne outdoor gym equipment designed by Swedish design studio Kauppi&Kauppi  is named after Sweden's highest mountain Kebnekaise and bears resemblance to the summit's shape.  It is a family of five units positioning themselves between public furniture, outdoor gym and landscape architecture. A meeting place and a sculpture, as suitable for the city as for the beach, Kebne is originally created for unlimited customizable workouts employing the user's own body weight for resistance.
Just as the Kebnekaise mountain gathers a wide diversity of people with different backgrounds, the Kebne crossbars placed at different heights and featuring different types of grips can be used by people regardless of age, height or level of fitness – from light exercise to even the most intense training.
Beginners and experts alike can create their perfect workout by simply adjusting grip and body position, the system is designed to be suitable even for users in wheelchairs. The Kebne also provides pictographic symbols as guidance on how to perform the most common muscle training steps when using the equipment.