Sadly, plastic pollution is a devastating problem for the world's oceans and marine life. According to the UN, about 8m tons of plastic waste is dumped in the seas annually. Increasing the global awareness of the ocean plastics issue alongside ocean clean-up and zero waste philosophy could be a solution. Environment-conscious designers express their concern with the problem and try to get through to people all over the globe with their recycle art projects.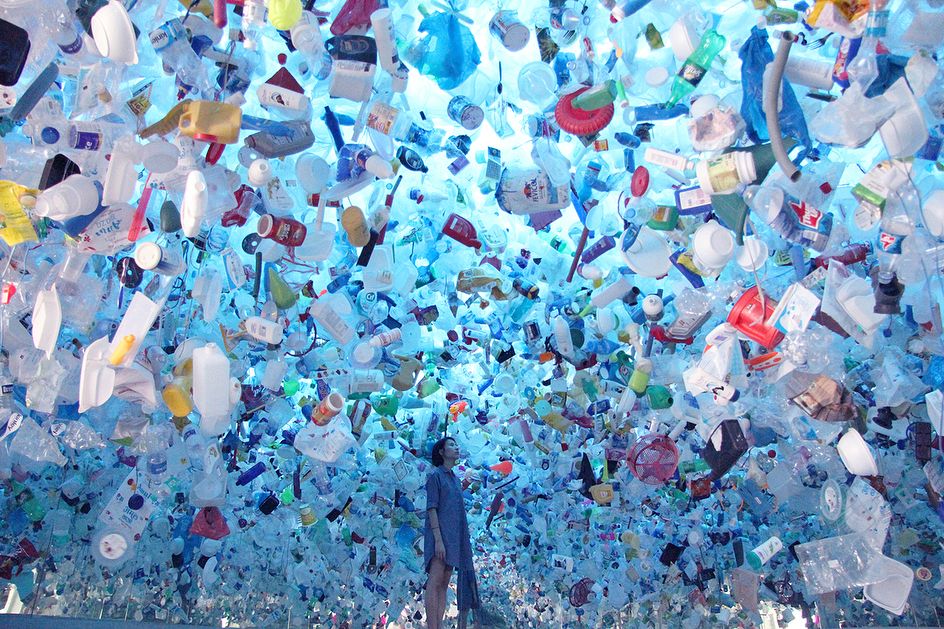 Plastic Ocean, a stunning interactive art installation by Singaporean artist Tan Zi Xi, tackles the issue of pollution head-on by recreating a physical manifestation of the Pacific Ocean Garbage Patch. With her 3D artwork which allows visitors to experience how marine creatures see the waste, Xi aimed to open the eyes of people to the amount of plastic we are throwing away.
The work required collecting and cleaning 500kg of discarded non-biodegradables – more than 26,000 pieces – to express the sensation of floating in a sea of trash. At the same time, the artwork embodies the wonders of recycling and repurposing as well as the transformative power of art.
London-based design and architecture studio Shed collaborated with non-profit organizations Project 0 and Sky Ocean Rescue on the design of a pop-up store in London that supports #PassOnPlastic movement and serves as a visual reminder to consumers of the growing problem of ocean plastic. Products on sale within the store include reusable alternatives for bottles, cups, cutlery sets as well as beeswax food wrapping designed by celebrity ambassadors, with profits donated to WWF.
What at first sight looks like terazzo texture covering walls and floor of the shop turns out to be imagery of everyday plastic products such as toothbrushes, plastic packaging and bottle caps as visitors approach.  According to the studio, this revelation was intended to make visitors reconsider how they dispose of single-use plastic. Shed call this approach 'beautiful provocation' which helps highlight the existing problem.
A single white wall in the shop was designed to stand out among the multicoloured collage of plastic debris. Headlined with Message Without A Bottle, it invites visitors to write their position against single-use plastic.
London-based industrial designer Brodie Neill has created the Capsule, a contemporary hourglass filled with microplastic instead of sand. Microplastic is literally everywhere in the ocean, it has been discovered even at the deepest point of ocean, in Mariana Trench in the western Pacific Ocean. The designer works with environmental agencies and beach combers, using plastic collected from these partnering sites in each individual piece. These locations are engraved on metal caps on either end of the hourglass.
The designer has been working with ocean plastic for many years. In 2017 he launched a whole series of furniture made using the recycled ocean plastic material, which he named Ocean Terrazzo. Instead of using chips of marble or granite in regular terrazzo, Neill uses pieces of plastic washed up on beaches. The resulting slab is composed of about 70% plastic aggregate and 30% resin.