When you think of air-filled objects, bouncy castles and pool floats are probably the first things that come to mind. However, the inflatables have become the part of contemporary architecture and art world and are being used in increasingly innovative ways. Having come onto the radar as early as the 1960s, inflatable architecture, experts say, is back in fashion these days.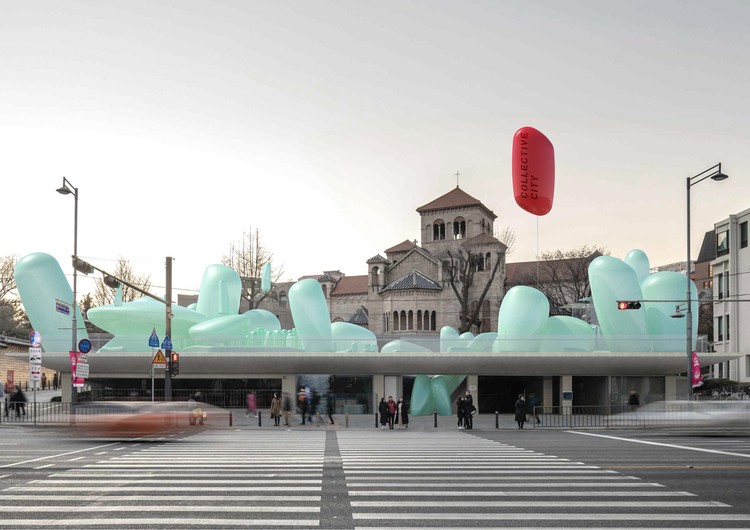 The Moscow based office SKNYPL submitted a proposal for New Korean Garden, an inflatable garden atop the Seoul Hall of Urbanism & Architecture in South Korea. The elements of the garden are made of EFTE (ethylene tetrafluoroethylene), convenient and recyclable material, filled with air to be light and mobile. Their colour and shape evoke associations with plants, stones, and hills – the key elements of the theory of harmony in the Korean garden.
Designed not only to create a landmark for the city but also to form a contemporary gathering space, the garden features a 'field of relax' for hedonistic rest as well as a playground for children. Due to the mobility of its inflatable elements, the garden can be reshaped to accommodate conferences and exhibitions offering multiple possibilities to express the unique vision of each lecturer. Thus, New Korean Garden becomes a living organism that changes over time.
The Mexican artist and designer Norberto Miranda has created three inflatable pavilions shaped as giant beans to host a travelling museum in the central garden of Papalotla, Mexico. Paying homage to Mexican culture with their colourful patterned skins, the structures were designed to provide entertainment to local residents. They house music, science and cultural exhibitions for all ages with a set of fun activities that transform information into easy-to-learn facts. At night, interior light makes the beans glow.
Polish designer Oskar Zieta has created a public sculpture in Wrocław using a unique inflated steel technique he plans to use for larger works of architecture. The reflective undulating Nawa pavilion is an ultralight, yet durable construction made up of several dozens steel arches forming a gate for everyone to walk through freely. Nawa's organic shape and polished steel surface reflecting the surroundings create the effect of the sculpture naturally growing straight from the ground and changing its appearance throughout the day.
The ultralight weight became possible thanks to FiDU – the innovative technology invented by Zięta. Thanks to inflating steel forms with compressed air, the objects become durable and stable, maintaining lightness at the same time. Zieta's aspiration is to use FiDU in architecture as facade elements or bearing elements.
Back in 2011, the Spanish architect and founder of Studio 9 Enric Ruiz Geli chose a more traditional yet highly sustainable technique to create a bespoke inflatable façade for the Media-ICT building in Barcelona. Despite its playful exterior, the building deals with serious sustainability issues. It is clad in 2,500m2 of ETFE pneumatic panels with up to three air chambers which enables energy savings of 20%.
It is EFTE lightweight transparent layers of film inflated with low-pressure air that made it possible to create adjustable thermally-responsive units. The building also uses renewable energy sources, a green roof and solar panels to reduce carbon emissions by 95%.