Nowadays, proper workspace design is used both to expresses and support corporate identity. The latest office development trends and ideas keep pace with the modern life and are truly inspiring. Most often, the aim is to accommodate the millennials and land best experts into the team, which is a demanding task. Let us see how appealing it may be to work in a trendy and well thought-through office space.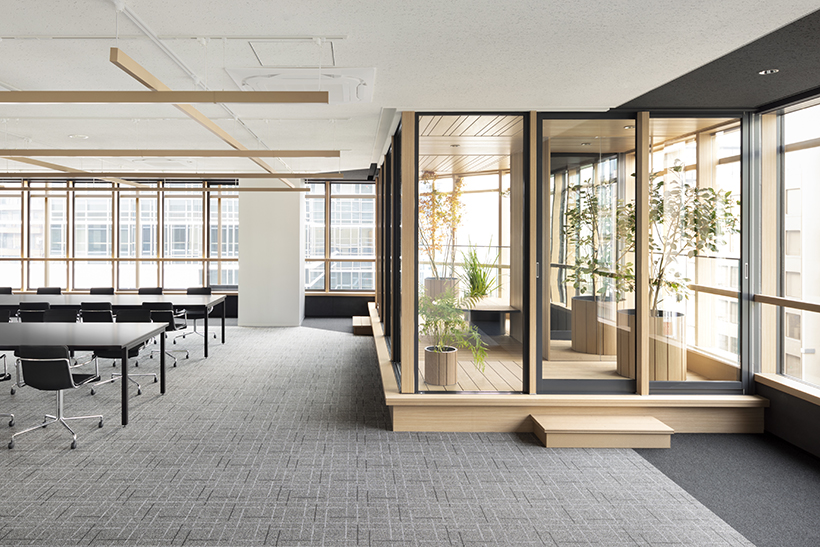 Nendo has landed in the Tokyo neighborhood of Kojimachi with its interior and exterior design project for an eleven-story office building. While typical office buildings are usually closed-off blocks with artificial climate control and no real physical connection with their exterior environments, Kojimachi Terrace is designed to allow for a more physical perception of the outdoors, such as, for example, for witnessing the changing weather and seasons. Balconies are placed sporadically on six floors of the building, and each terrace can be easily transformed into a private meeting area just by closing doors and windows.
The highest levels house a unique open-air garden "Sky Forest", that incorporates lush greenery infused with natural light and air, and serves as a nature-like hideaway for employees.
Many rails and pillars are here to prevent accidents which could occur due to the abundance of open windows and terraces, and to support the window construction. Yet they are woven into the natural looking grid that reduces the flat and cold impression made by most office buildings.
Property developer Dunmoore and design firm Run For The Hills joined their expertise in a new multi-business office space: Bennetts Hill House. The project transformed a previously run-down Georgian bank in the heart of Birmingham into an urban chic, loft style office space spanning almost 20,000 sq. ft. and spreading across five floors.
Run For The Hills employed a sophisticated yet contemporary interior solution: the open-plan space features super high ceilings with exposed concrete pillars and steel beams, and oversized vintage blackened steel mirrors. Large steel-framed windows on all sides allow natural light to flood through the space.
Stylish shaker style kitchens feature crisp marble worktops, dark painted cabinets and doors and antique brass taps, while stylized antique bathroom appliances allude to the office's Georgian heritage.
Spacon & X have redesigned Space10's research and design lab in Copenhagen's meatpacking district to bring more flexibility to their existing space. The three floors of an open-plan building house a fabrication laboratory, tech studio and flexible meeting rooms.
The new office design focuses on wellbeing, sustainability and community. A lot of thought went into how to attract digital nomads relying on flextime and virtual offices back into the 'offline' one. The 'chaotic' open plan layout was substituted with steel-framed sound-absorbing cubes and flexible panels that optimize different environments for varied activities.
The resulting workplace reassesses the role of a physical office in today's digital world. Being able to work from anywhere does not necessarily mean one has to. A physical workplace ties people to a common goal and represents an organization's core beliefs. This office space is a true example of a future office that fosters innovation and work, along with personal relationships, and a sense of community.