Nendo is a design studio founded in 2002 by Oki Sato, one of the world's most well-known and prolific designers. Based in Tokyo and Milan, Nendo ('clay' in Japanese) designs graphics, products, furniture, installations and interiors that seek to surprise people in subtle, intelligent and playful ways. At the heart of the studio's vision are simplicity, curiosity and craftsmanship.  Here is a brief selection of Nendo's fascinating work.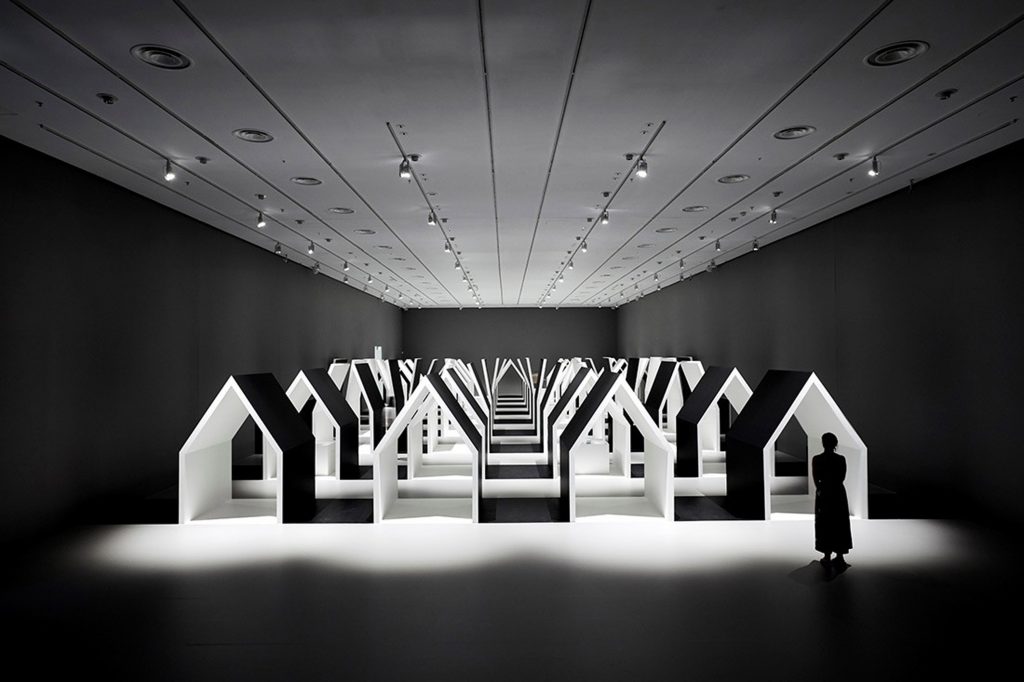 Between Two Worlds, Photo by Sean Fennessy
Between Two Worlds is a groundbreaking exhibition at National Gallery of Victoria running until April 7, 2019, featuring the work of Dutch artist M. C. Escher combined with the work of Nendo designer Oki Sato. Escher is famed as a master of optical illusion, creating some of the must iconic images of the twentieth century that intrigue viewers with their visual puzzles and challenge established notions around space, time and the everyday world. Escher's work depicts impossible architectural structures, endless staircases and seamless transformations of form and pattern. His fantastical constructions and repetitive, infinity patterns reveal a technical and inventive genius that in recent years has become increasingly revered and celebrated. Nendo's Oki Sato builds on Escher's optical illusions to create an otherworldly spatial installation by taking cues from Escher's manipulation of space and his use of shifting perspectives and playful visual devices.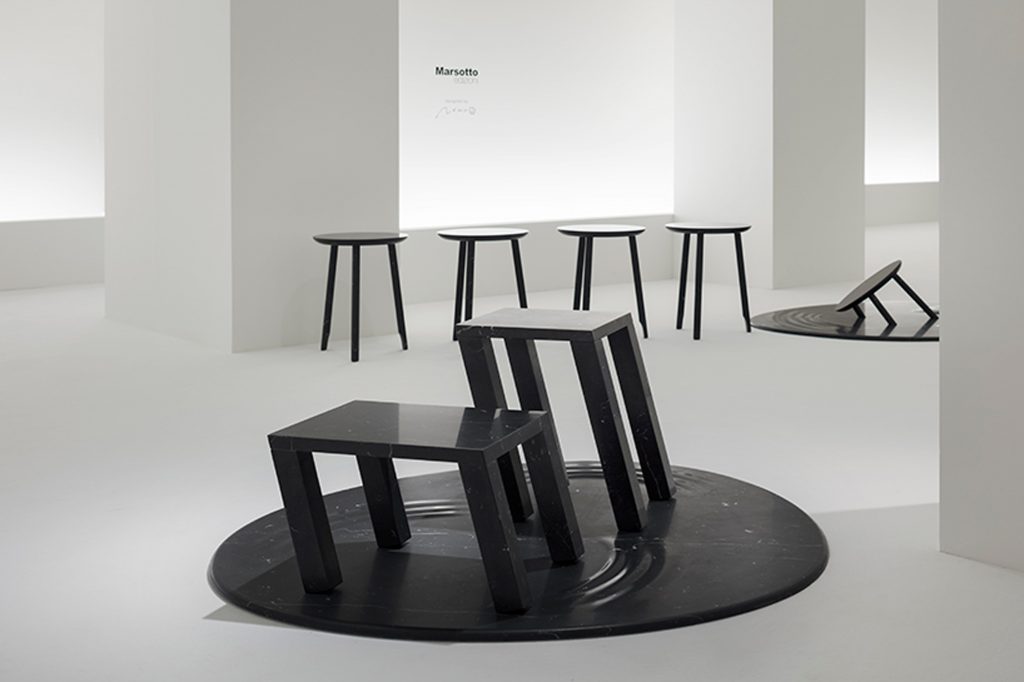 Nendo for Marsotto// Takumi Ota
Marsotto Edizioni is famed for its expertise in marble processing so Nendo created pedestals, and the objects they were showcasing, for Milan Design Week 2018 exhibition. Since this exhibition showcased linear and sharp furniture, the pedestals were designed in contrasting rounded shapes to resemble puddles: Edges were softened, and gentle ripples added on the top surfaces to accentuate the soft appearance. Each piece was produced by a multi-milling machine followed by a manual polishing process. Furniture pieces were then placed on top of the puddle-like stands to give the illusion of the objects melting into liquid or emerging from it. Some pieces looked as if they were sinking into others, such as a bowl sinking into the table it was placed on.  
Blooming Shades, Photo Akihiro Yoshida
We love these Blooming Shades blinds that open and close in reaction to people and light intensity, while also offering a unique design statement when they turn into blooming flowers when closed. The blinds are constructed from two layers of high-quality shading film – the kind also used in camera shutters. Sandwiched in between them is a layer of a shape memory alloy, which when connected to electricity develops resistance and generates heat, pushing out the film and emphasising the shape of a flower: As the temperature inside a room rises, the flowers automatically open to block bright light and maintain pleasant room temperature.
Nendo was taking part in BE OPEN event The Garden of Wonders at Fuorisalone and Expo 2015.