This week art lovers have the chance to bag unique works and help make history!
April 18th sees the opening of one of the most definitive skateboarding art exhibitions marking another milestone in the efforts to first save, and now restore, the world-famous Undercroft skateboarding space beneath London's Southbank centre on the River Thames.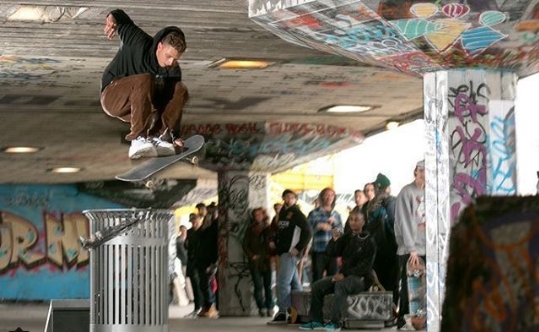 Artist and skateboarder Blondey McCoy, whose work will also feature in the show, skating the Undercroft.
The show 426m2 , at East London gallery  features top artists such as Haroshi, Shepard Fairey, James Jarvis, Blonde McCoy, Goldie and Ged Wells and is part of a collaborative crowdfunding effort by Long Live Southbank and The Southbank Centre to raise £790,000 to enable the restoration of the Queen Elizabeth Hall Undercroft for skateboarding, BMXers and visual artists. The title 426㎡ takes its name from lost sections of Southbank long since hidden away.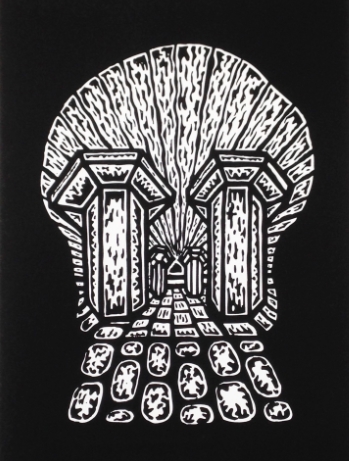 Southbank Skull, one of the works from artist Ged Wells.
The Undercroft is revered as the birthplace of British skateboarding, home to skaters, BMX riders and graffiti artists for the last five decades, making it the oldest recognised and still existing skateboarding space in the world. But maintaining its status didn't come without a fight. In March 2013 The Southbank Centre unveiled £120m plans to redevelop the Undercroft into shops and restaurants and move the skaters further down the river.
However, the skating community fought back and with high profile support from around the world – including from then Mayor of London Boris Johnson, it managed to secure the future of the Undercroft for the next generation of skaters.
To read more about the fight to save the Undercroft and the significance of skateboarding to urban spaces take a look at this feature: goo.gl/34x6ai