Reportedly, 92 million tons of textile waste are generated by the fashion industry every year. Wearing vintage and second-hand is great but the next big trend in sustainable fashion is making clothing out of discarded items. Frustrated with the excessive use of the world's natural resources, and the amount of waste produced worldwide, young fashion designers choose to create unconventional garments out of reclaimed materials, turning waste into something new.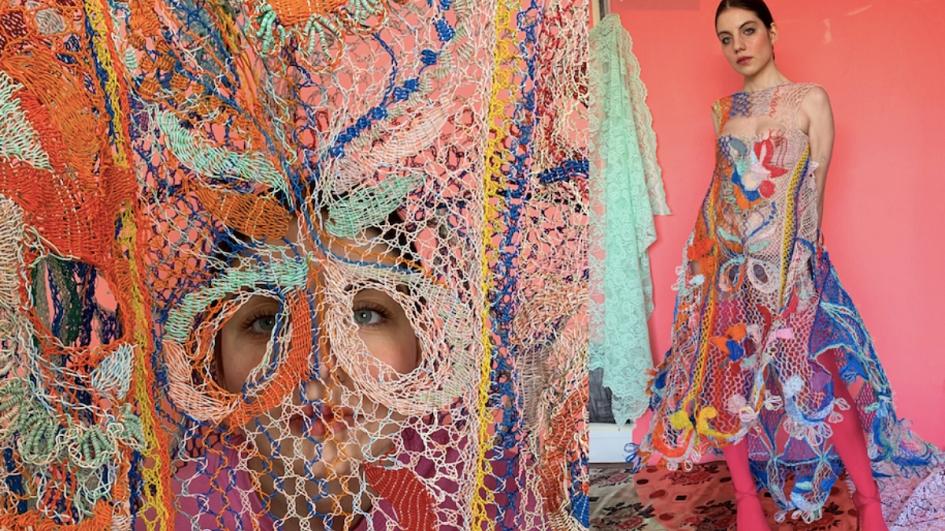 Concerned by the fact that 50 million tonnes of electronic waste is discarded annually, Central Saint Martins womenswear graduate Alexandra Sipa has used reclaimed electrical wires to weave fabric for her Romanian Camouflage collection.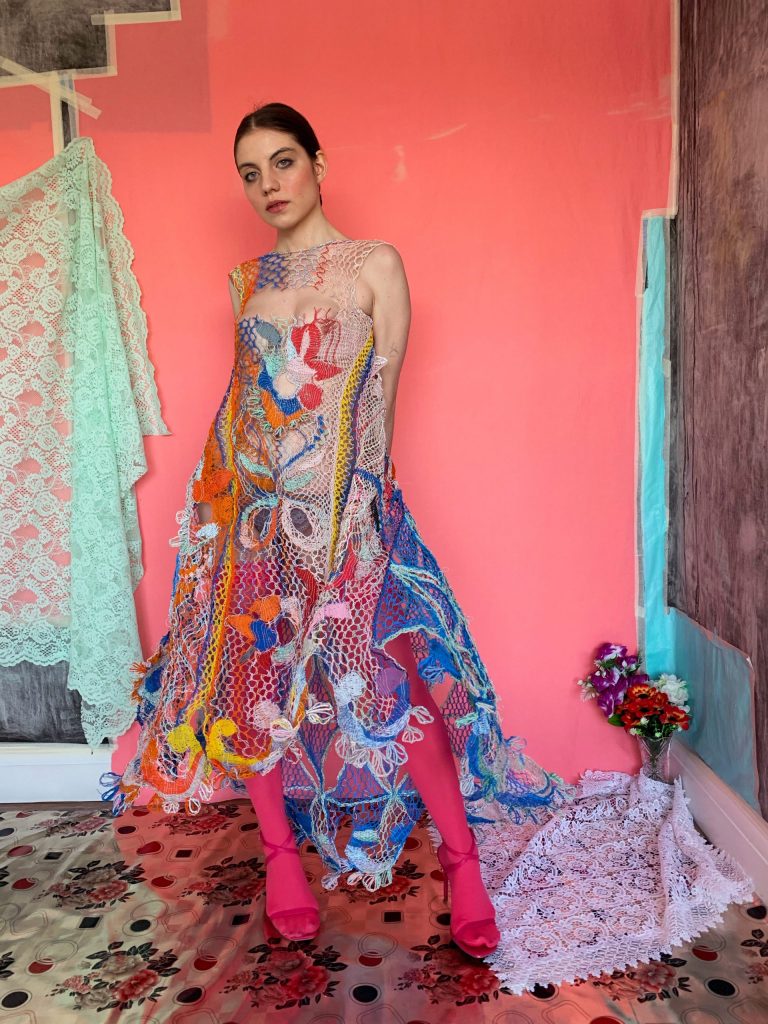 The designer sourced the cables in their raw form from a London recycling centre and used traditional lacemaking techniques to repurpose them into a comfortable and polished finish. She adapted the traditional technique of bobbin lace, where threads are wound onto elongated spools called bobbins in order to make them easier to handle and twist together. The designer admits that it took her a lot of practice to get the wires to mimic the softness of traditional lace.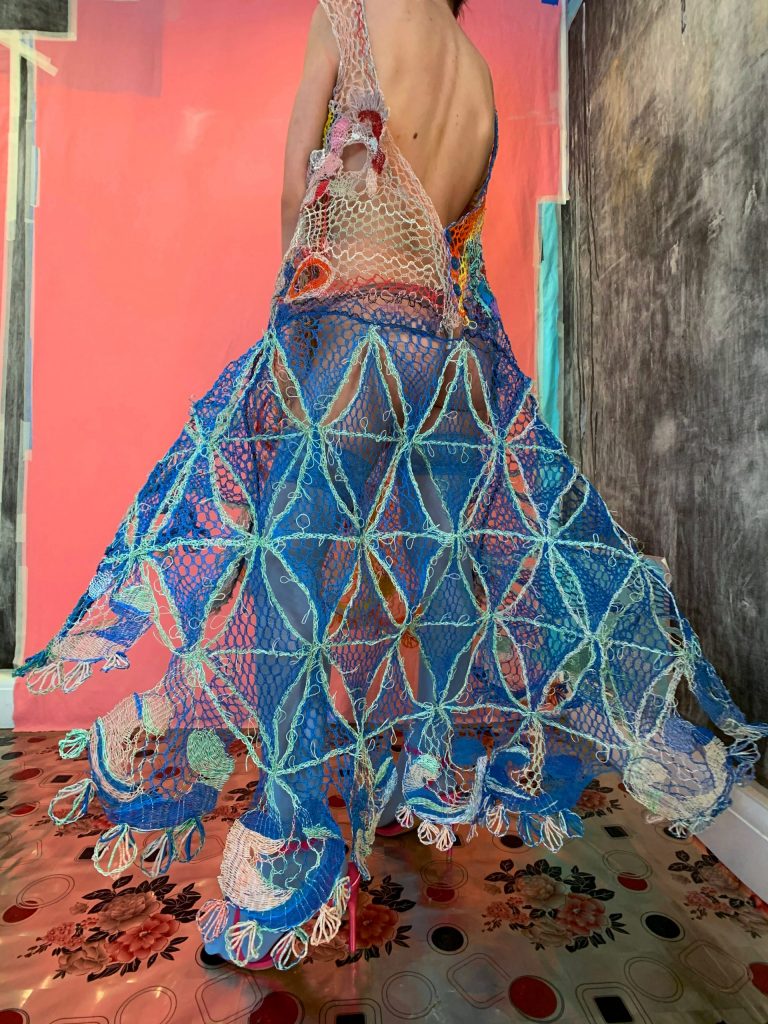 Born in Romania from a lingerie designer mother, Sipa was inspired by the "contrast between heightened austerity and extreme femininity" that she observed in her native Romania, where women get dressed up to go to the supermarket, while at home they do not throw away anything, cherishing and repairing the most mundane objects.
The designer who has previously worked for high-end fashion houses including Oscar de la Renta and Balenciaga managed to fashion abstract floral patterns and oversized ruffles from the multicoloured lace made from discarded cables. The collection includes all kinds of garments from a scallop-edged vest, to a bustier with pink velvet straps and two intricate, floor-length dresses, and also incorporates other salvaged materials, with a blouse made from garment factory offcuts and a jacket from beach towels.
For his It Was Better Tomorrow collection, Central Saint Martins college fashion student Benjamin Benmoyal recovered discarded video and audio cassette tapes into unconventional iridescent fabric. He hand-weaved the tape, made useless by the digital age, with recycled yarns and Tencel (a fibre made from wood pulp).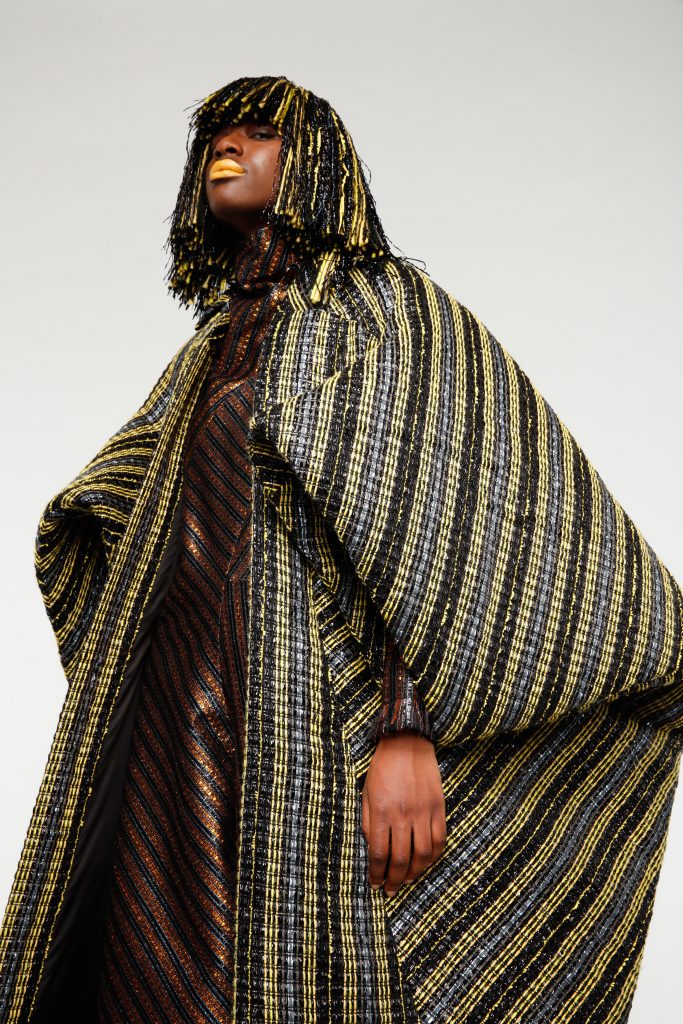 Benmoyal found inspiration for his designs, which include a range of structural garments patterned with colourful stripes, in the shapes of brutalist architecture from the '60s and '70s located across his hometown of Paris, as well as movies and designs of the time.  Aiming to achieve the same "utopian and optimistic visual concept" characteristic of the era, for his garments he embraced such structural shapes as wide flared trousers, protruding geometric collars and boxy shoulder-pads.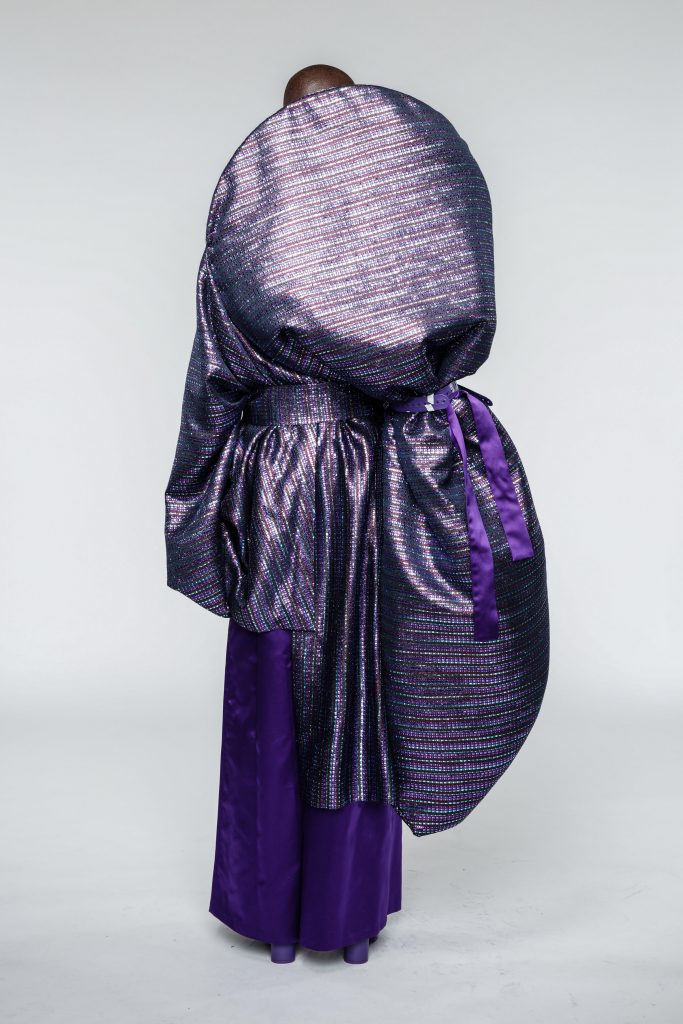 The project also has a tinge of nostalgia to it, as using VHS tapes from his favourite childhood Disney movies symbolized to the designer the idea of his lost naivety.
Daylight Matters collection by another CSM student Jiyong Kim comprises eight looks made from the fabric, buttons and zips from reclaimed vintage garments, as well as textile industry offcuts and antique fabrics such as curtains and parasols.
What makes the collection remarkable, however, is that rather than using traditional printing and dying processes, he left out the finished garments in the direct sunlight for up to five months to fade gradually. This helped to forego large amounts of water and harmful chemicals used in standard production methods.
A dark blue trench coat was exposed to the sun while tied with a belt, and an orange velvet bomber jacket was displayed with the sleeves rolled up. In this way, all exposed areas were bleached to a lighter shade while the nooks and crevices maintained their original darker colouring, which resulted in organic flowing patterns.
According to the designer, rain promotes sun fading, while wind moves the garment little by little, such small movements creating gradations of colour and a certain visual depth that could never be created with printing.