Traditionally, moss is regarded as a humble plant or even a menace for gardeners. Now, researchers and designers all over the world are exploring how certain moss cultures could be used as air-purifiers, devices offering positive effects for the temperature and humidity, or even a source of renewable energy.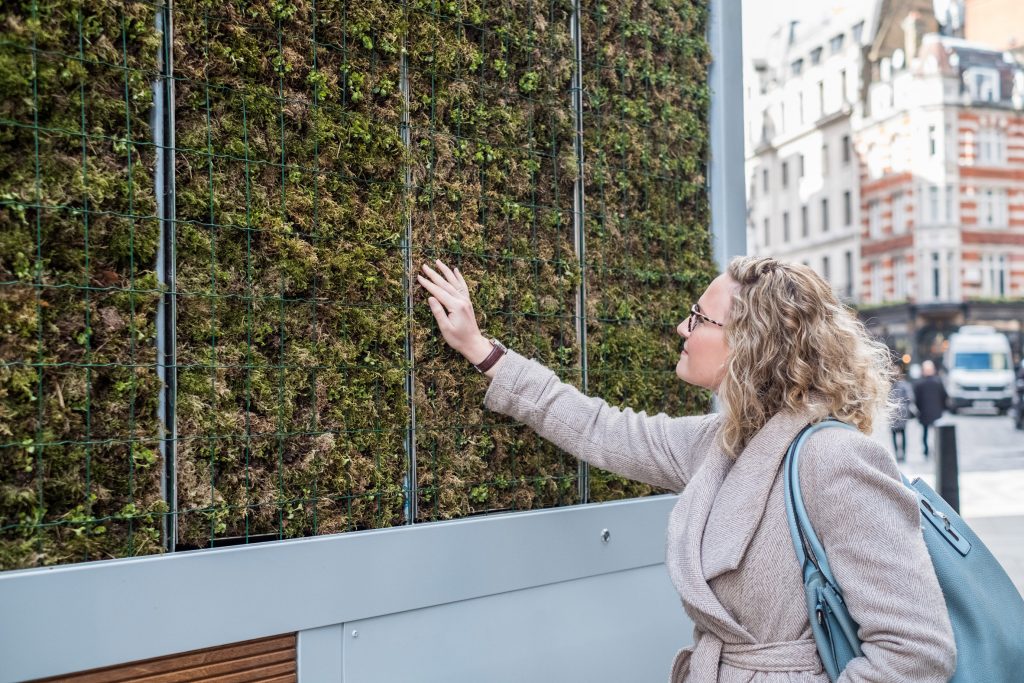 The 'Moss Table' is an output of the Design in Science research project at Cambridge University's Institute for Manufacturing. It is a conceptual design by Postdoctoral Researcher Paolo Bombelli intended to illustrate the possible future use of biophotovoltaic technology (BPV). Looking towards the future of BPV technology, he has teamed up with designers Alex Driver and Carlos Peralta to suggest a future in which hybrid natural/artificial objects are utilised in the home.
BVP devices generate renewable energy and other useful by-products through the photosynthetic processes of living organisms such as algae and moss. Biophotovoltaic technology is at a very early stage of development. Now, the Moss Table  produces about 520 Joules of energy per day, which can be used to power small electronic devices like a digital alarm clock, but cannot currently power the table's integrated lamp. However, scientists anticipate that with further research, applications like the concept may be feasible. Given their low cost, BPV may become a competitive alternative to solar panels and bio-fuels in the future.
The body of the Moss Table is made from ABS plastic, while the lamp shade and top surface of the table are produced of acrylic, as are the 'moss pots' inside the table. The pots include stainless steel connectors, carbon electrodes, soil, moss and water, ensuring that moss would continue to grow and generate energy.
Other projects by Bombelli include Moss-FM, the world's first plant-powered radio, and P2P (Plant to Power) 'solar hub' built to test the potential of different combinations of green technologies to generate power. While realization of these concepts may yet require years of development, the exploration is designed to spur further research and investment in BVP technology.
German startup Green City Solutions has integrated moss in its CityTree, which is claimed by the company to be the world's first intelligent biological air filter. The structure comprises a city bench equipped with a so-called "living wall", which is filled with a variety of moss types that naturally absorb pollution. The wall of irrigated mosses has the air-purifying power equivalent to 275 real trees, while the whole design only takes up a fraction of the space.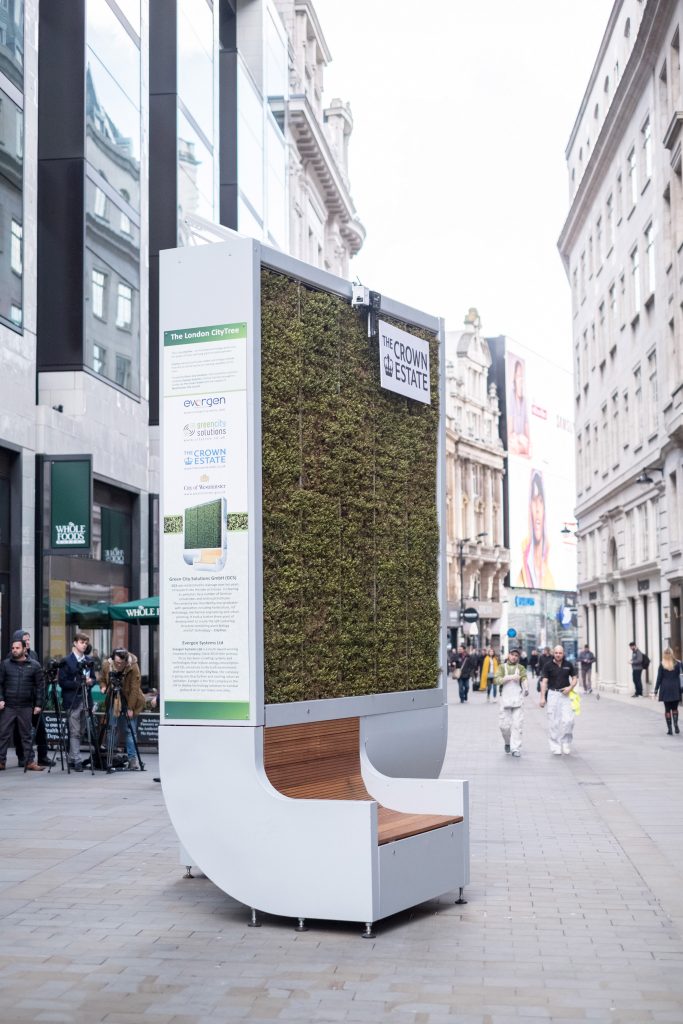 Generally, moss is barely able to survive in the urban conditions, where its natural ability to filter out and absorb air pollutants such as particulates and nitrogen dioxide is needed the most. The CityTree creates an environment with constant access to water and shade, where the specially cultivated moss cultures can thrive. Water provision is either connected or independent, thanks to a fully automated irrigation system, which can collect rainwater.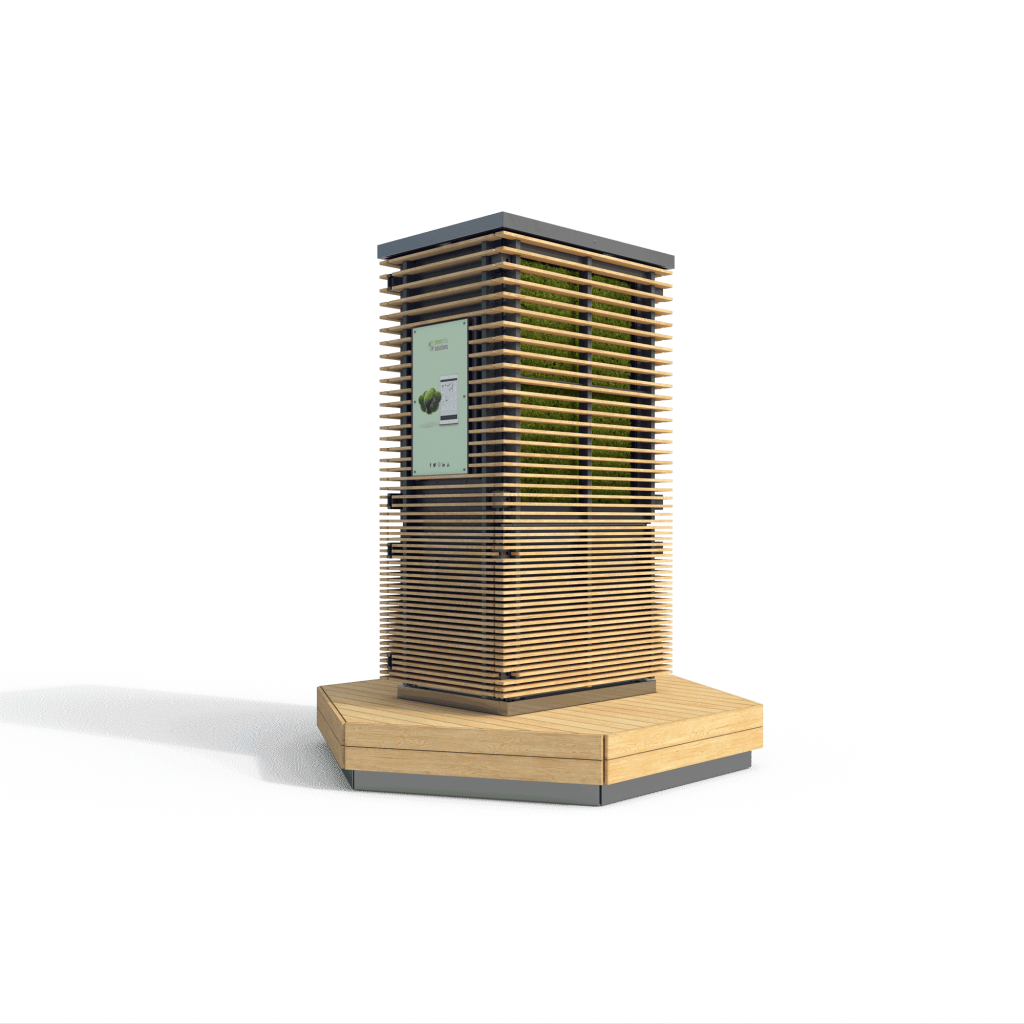 The living structure can be powered by solar panels or via grid connection. Using Internet of Things technology, it is able to measure and maintain its own performance and the plants' requirements. Controllable ventilation technology allows airflow to be intensified, meaning that the filter effect can be increased as required.
Mosses store large quantities of moisture, and the considerably increased evaporation surface creates an immense cooling effect. That is why the mossy wall also helps to combat the "urban heat island effect."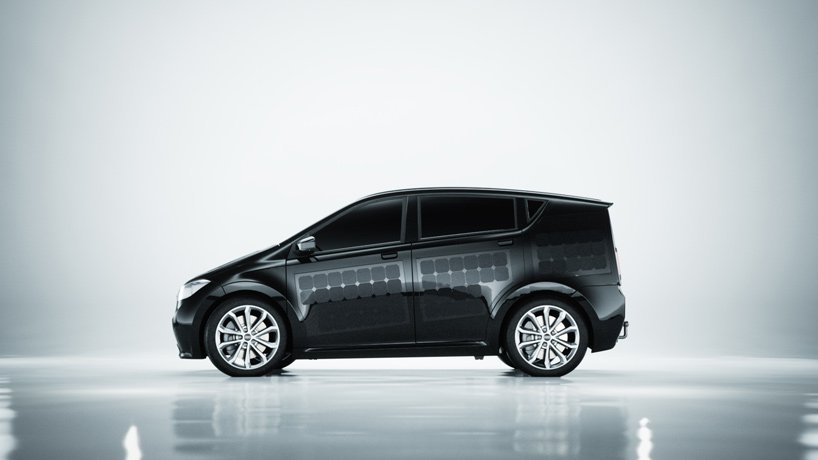 German electric car maker Sono Motors has opted for dead moss to filter air inside Sion, which is set to be the first mass-produced electric vehicle with solar integration. Named Bresono, the feature is described by the manufacturer as a natural filter that improves the interior climate and reduces particulate pollution.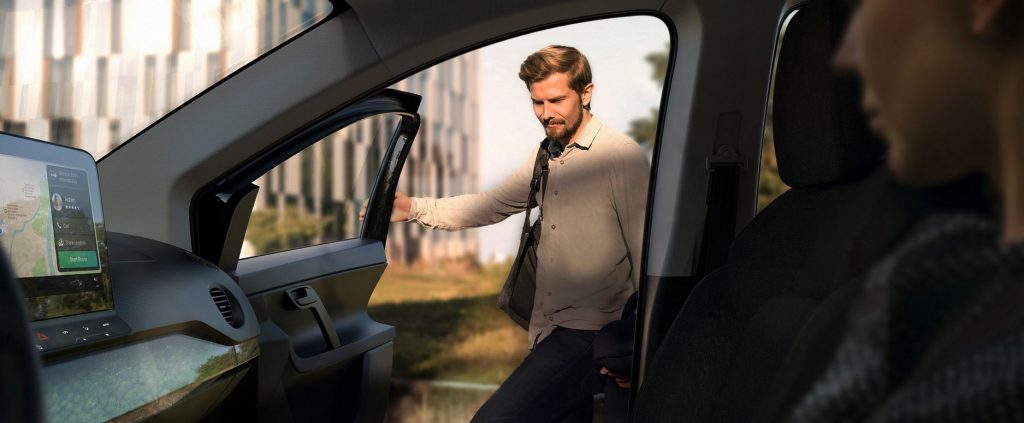 Strands of island moss are integrated into the car's dashboard covered with a transparent panel just beneath a 10-inch digital display. The moss uses electrostatic gravitation to filter up to 20% of particulate matter out of the air while offering positive effects for the temperature and humidity inside the vehicle.