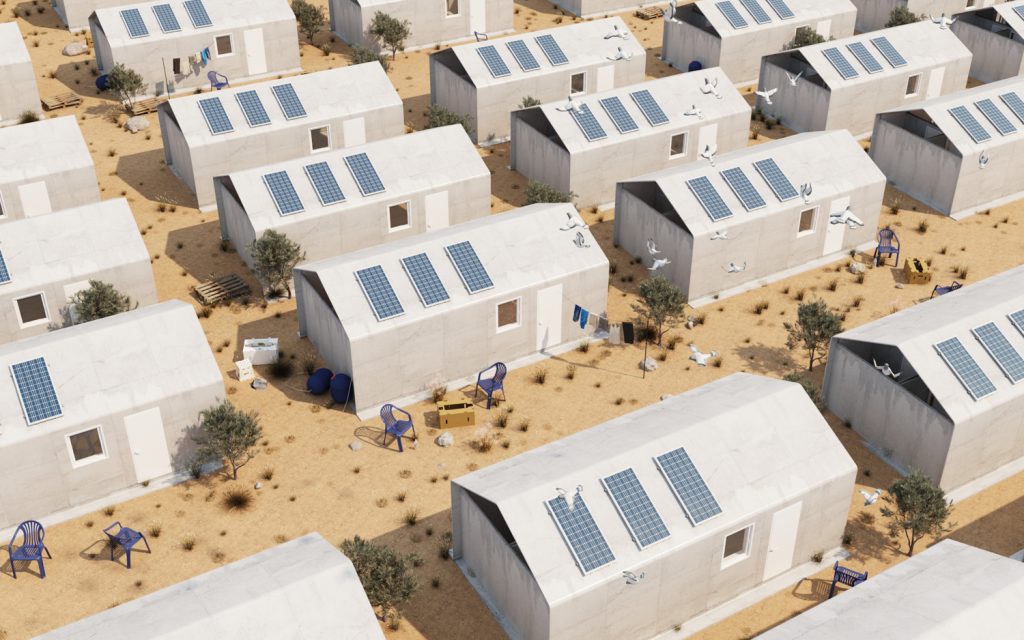 The Better Shelter developed in partnership between the IKEA foundation and the United Nations High Commissioner for Refugees (UNHCR) is one of the first scalable design solutions aimed to provide shelter housing for people affected by the refugee crisis. The project was initiated in 2010 and rolled out on a rage sacle in 2015. Since then, more than 50,000 shelters were provided for refugee camps, transit sites and emergency response programs in 50 countries in Europe, Africa, South America, the Middle East and Asia.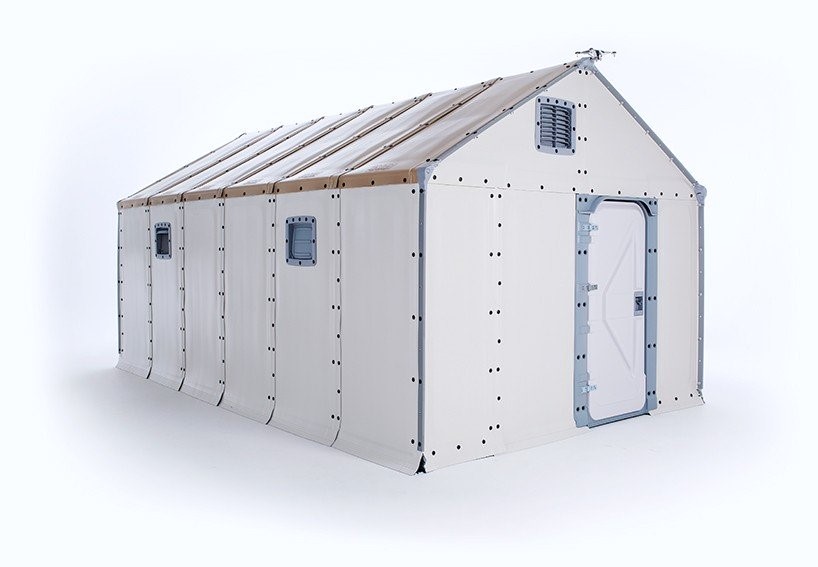 True to IKEA's revered flat-pack technology used in their furniture design, the structure is delivered in two 80kg cardboard boxes, which makes it easy to transport, featuring detailed instructions. The set includes three main parts: steel foundation, roof with ventilation and solar paneling, walls with windows and entrance. The shelter requires a team of four people to assemble. It takes about four hours depending on experience and location to set the whole structure up.
Designed to meet the needs for the activities of basic living, privacy and security, it is both cost effective and durable. Once completed, the space can accommodate up to 5 people and has a lifespan of three years.
The shelter's modular design allows for adaptation to different areas of use, making it a versatile shelter option for humanitarian organisations operating in different contexts worldwide where implementation of local solutions is not possible. The units are used not only as temporary shelter but also serve as communal infrastructure such as clinics, classrooms and child friendly spaces.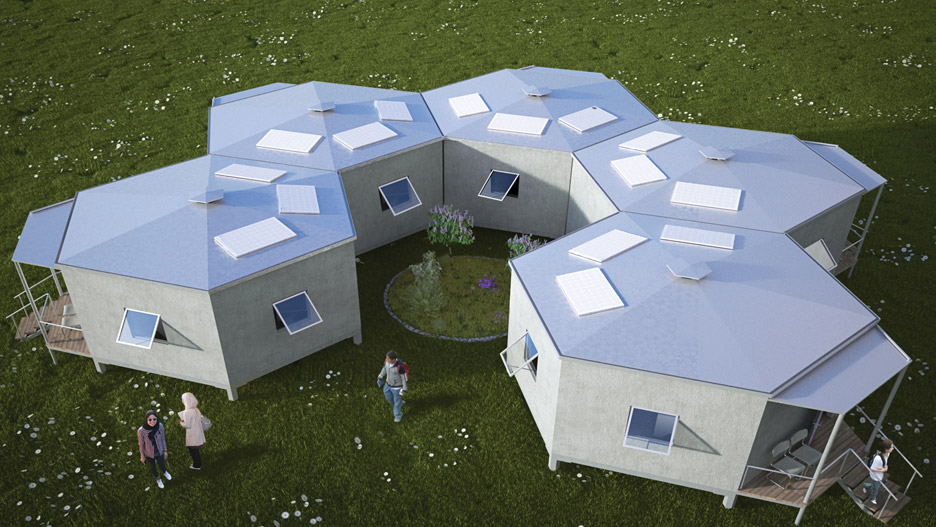 Minnesota-based Architects for Society, a nonprofit design practice founded by architects and designers from the US, Spain, Canada, Jordan and the Netherlands, follow in the steps of the Better Shelter with their refugee dwelling project, the Hex House. The design is conceived as a sustainable, rapidly deployable structure based on Structural Insulated Panel (SIP) technology, which can be shipped flat-pack and easily assembled on-site.
The Hex House has the flexibility to be both a permanent or temporary structure. The 40sqm structure's walls, flooring and roof would be constructed of SIPs with steel facings and rigid foam insulation, ensuring a lifespan of 15 to 20 years. Designed to be self-supporting, the walls and roof panels are locked together using tongue and groove joints, and form a sturdy structural shell. The units can be arranged next to each other in various ways. They can be joined to form larger homes and share walls for enhanced thermal performance or be combined with courtyards and driveways.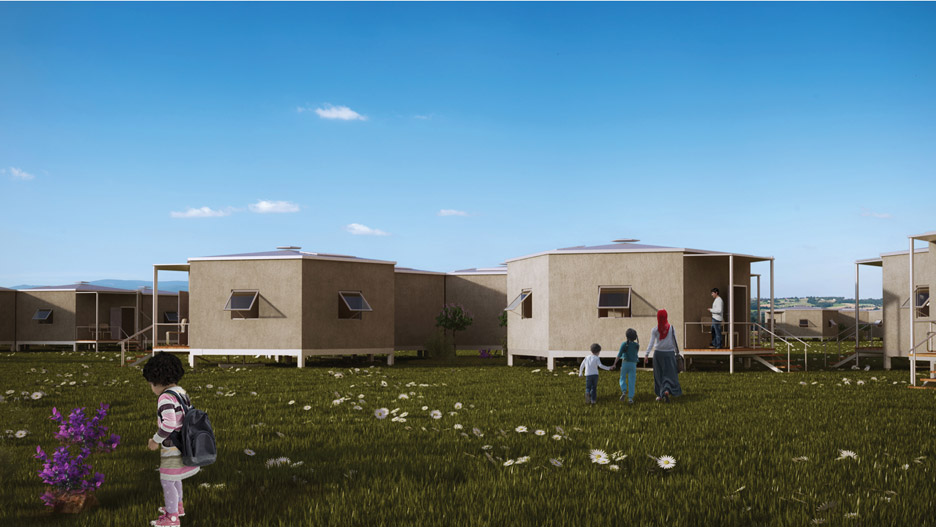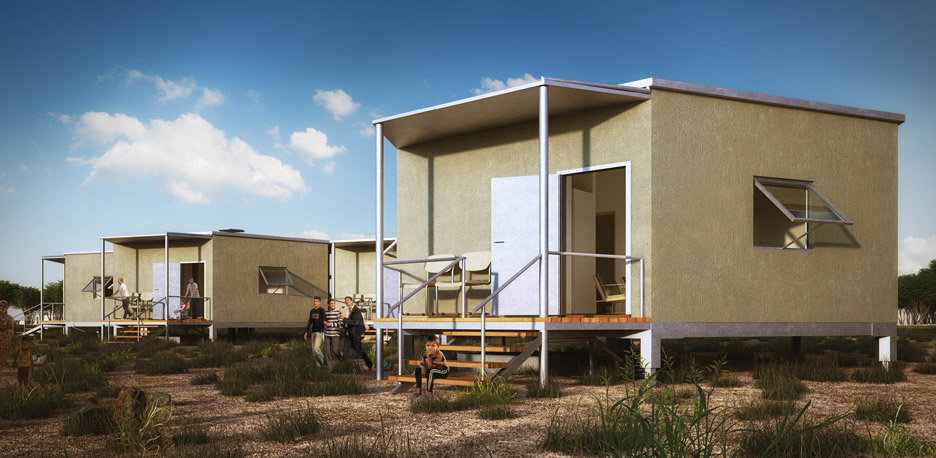 The design is not only cost effective but also dignified. Each shelter contains two bedrooms, a kitchen, a bathroom, a living room and a small porch. The roof and floor panels are standardised to ensure efficiency in fabrication, packing and transportation. Natural ventilation s provided by ventilation shafts on opposing sides of the structure. In order to make the unit off-grid, the team plans to include rainwater harvesting systems, underground water storage tanks and rooftop solar panels that can power lighting and small electronics. Thanks to its hexagonal shape, roof allows for maximum solar incidence as the sun moves across the sky.
The exteriors can be clad in stucco, wood, or other materials using typical mechanical fasteners, while the material palette for interiors includes gypsum walls, bamboo cabinetry, and ceramic tile flooring in the bathroom.
Cortex Shelter by Amsterdam-based conceptual architecture studio Cutwork is one of the latest proposals for refugee housing, prompted by events taking place around the world. The design encompassed a 'just-add-water' concrete shelter that would require no skilled labor to build and can last up to 30 years, which potentially makes it a better option to the currently used tent refugee camps.
The structure would be built with Cortex Composites, a type of flatpack concrete sheeting that can be rolled over the frame of bent metallic tubes and set into a permanent form by adding water. After the concrete textile is hydrated, the water soluble fabric holding it disintegrates, leaving behind concrete reinforced by a framework of 3D matting. It takes two people and just a day to build the structure. The concrete shell then hardens in 24 hours.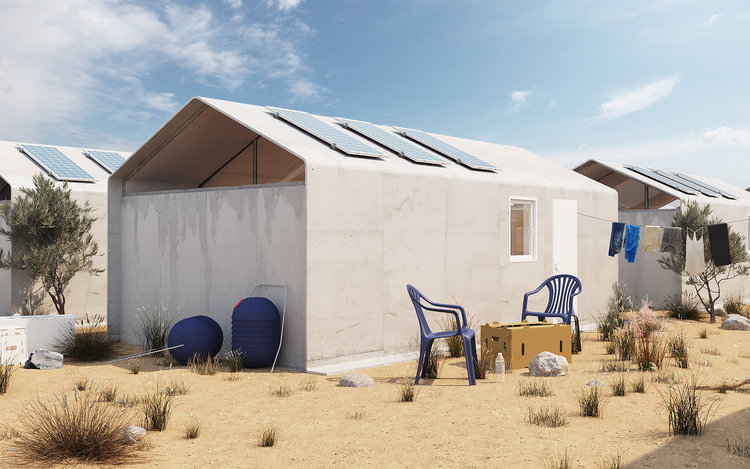 Washable panels of insulation would be fixed onto interior walls. A high window in one of the gables would bring natural light, while providing privacy. Solar panels could be placed on the roof, to generate power for lights and phone chargers.
The Cortex Shelter has enough space for a kitchen and a bathroom to be installed inside, which would keep women and children refugees safe from the communal cooking and toilet areas of the camps.