Public transport stop is probably a place where you least of all expect to spend time of your life. However, with cities around the world aiming to boost public transportation in order to reduce car usage, some of the latest tram and bus stops can really create a memorable experience.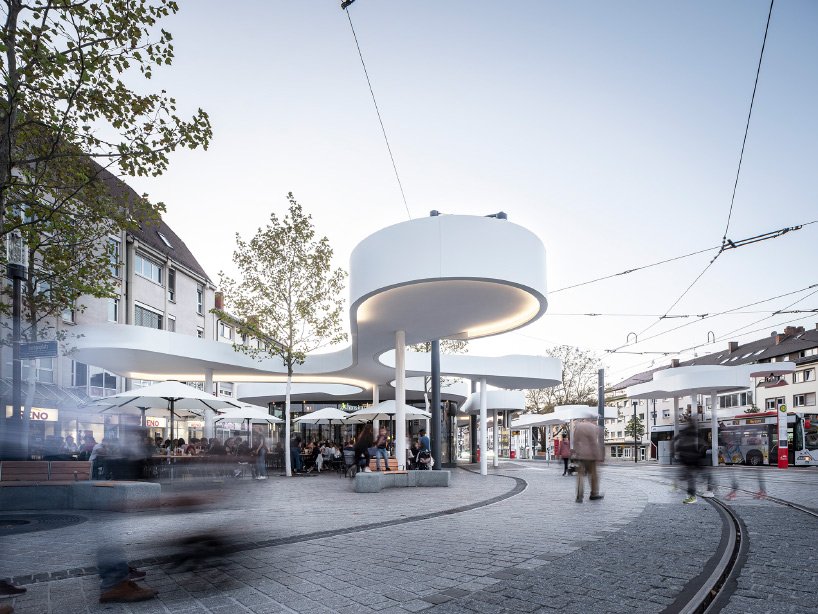 Berlin-based international award winning architecture office J. MAYER H. has completed a freestanding pavilion on Europaplatz in Freiburg, Germany that functions as a new tram and bus station including gastronomy and spaces for the VAG. Its expansive roofing with J. MAYER H.'s signature curved form shapes the new appearance of the square and marks the entrance to Freiburg's city center.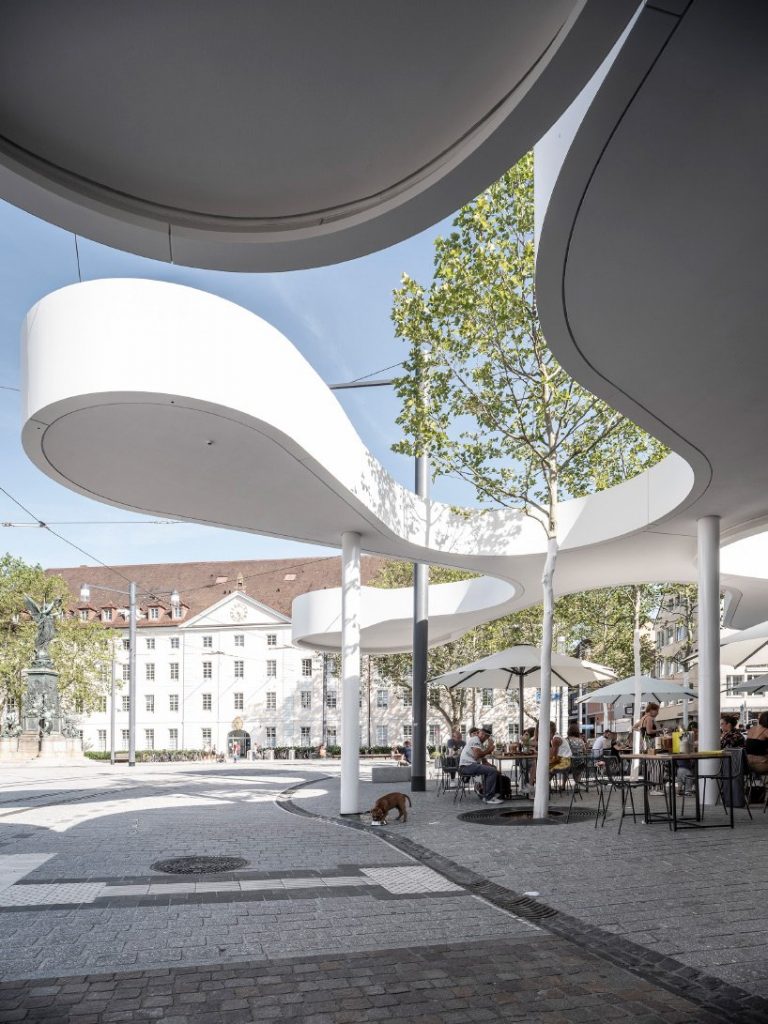 Built as a part of major re-planning of the traffic ring around the old city, the new pavilion has everything to become a communicative place and meeting point that combines the needs of public transportation and urban experience.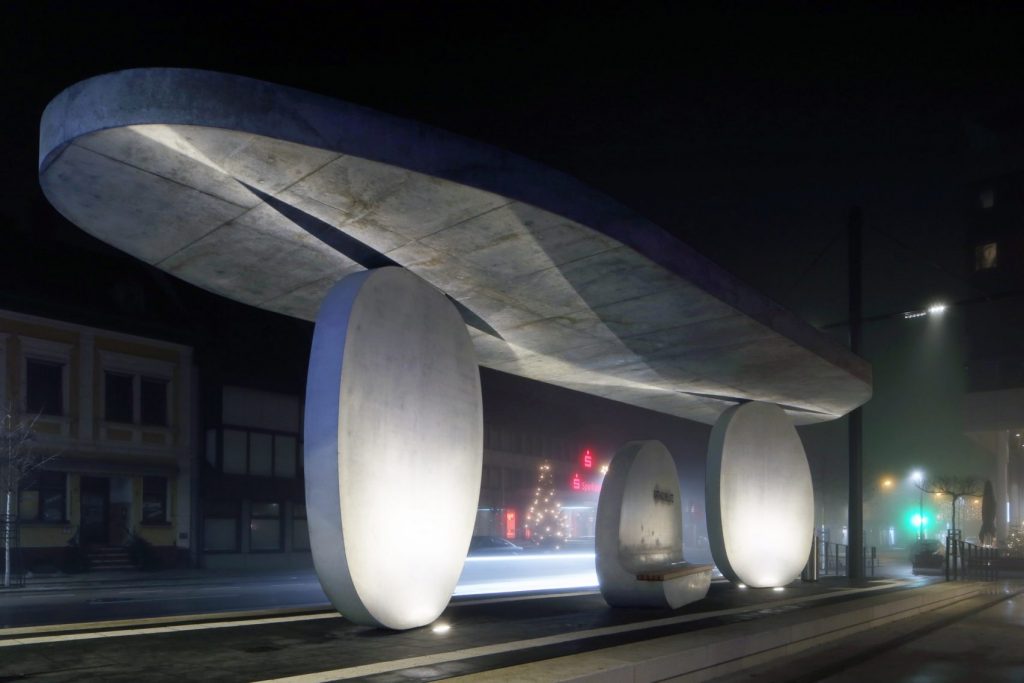 Another impressive work by J. MAYER H. is a tram stop made from a stack of exposed-concrete discs in Kehl, Germany. The new tram line connects the cities of Kehl and Strasbourg in France over the border across the Rhine. On the French side, a landscape-like spatial fold designed by Zaha Hadid was created for the terminal station in 2001, and 2018 saw the creation of its distinctive counterpart on the other end of the line in Germany by J. MAYER H.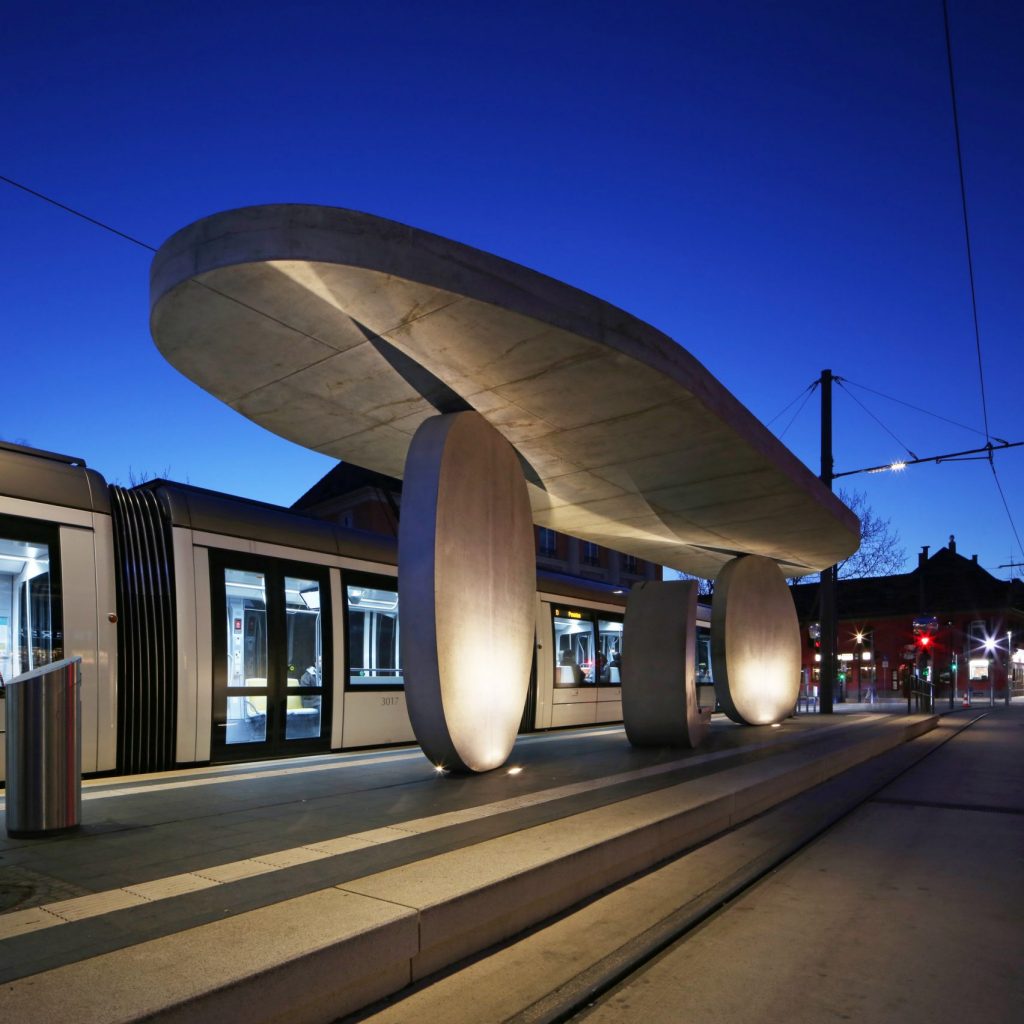 Described by the studio as 'infrastructural sculpture', the new stop features two shelters placed between the tram lines, each one constructed from two vertical exposed-concrete discs that support a concrete roof with a third vertical disk incorporating a seating unit. Evolved through what the team calls dirty geometry – evaluations, the eight organic outlines condense aspects of dynamism, balance, lability, and mobility in an infrastructural sculpture.
The Research Institute of Sweden asked the Netherlands-based Rombout Frieling Lab to design an experimental bus station which transforms the waiting experience. The main advantage of the new stop titled Station of Being is that it frees the travelers from the duty of looking out for the bus, which is especially important in the extreme climate of Umeå.
Whenever the bus approaches the station, it emits a combination of lights and sounds, which is different for every bus line. The spectacle is installed in the roof and is visible from afar, informing the transport users about the bus statuses. According to the team, this allows travelers to use the waiting time for themselves until they are politely being woken up.
Pods hanging from the station's roof provide comfortable leaning possibilities and protect those waiting from the wind. Users can rotate the pods enabling users to find a perfect configuration for social encounters or enjoying the surrounding nature.
Discover more bus stops here