Plywood has come a long way since its introduction in the early 20th century, from a substitute to solid wood to the primary choice for many designers in search of a sustainable and durable material that comes with a friendly price tag. Its advanced strength, light weight and flexibility make plywood the perfect pick for modern furniture designers.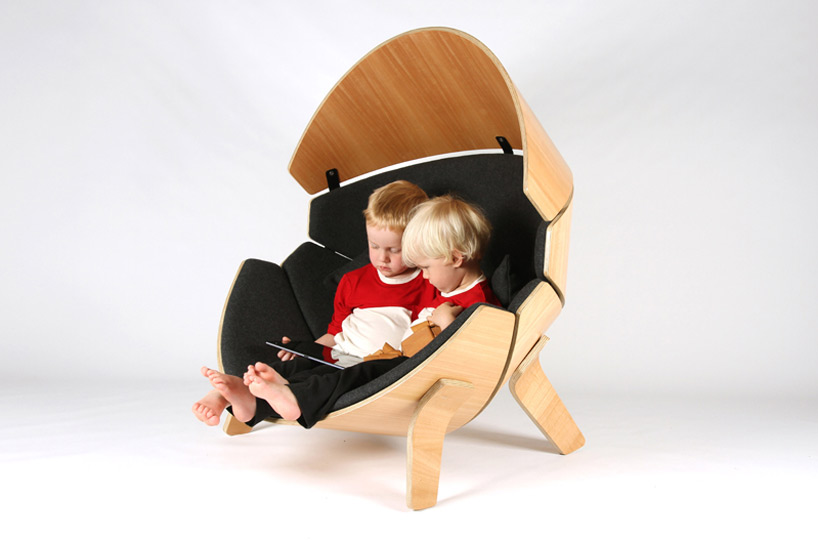 New York based artist and wood worker Ken Landauer of Fn Furniture moved from creating expensive furniture to high-quality, low-waste and friendly priced pieces made of plywood.
The result is minimalist and sturdy chairs, stools as well as shelves, tables and sofas with high sustainability characteristics which are very comfortable to use: as a trained yogi Landauer based each design on yogic principles and energetic flow into consideration.
The designer thinks out each section to maximize as much of the plywood sheet as possible, making use up to 94-100% of the material.
The Corza lounge chair by South Korean studio Metafaux Design is equally sustainable and affordable. This eco-friendly piece with replaceable elements is manufactured by CNC cutting on birch plywood and joined by 15mm thick flat cork panels, which can be changed when worn out from use.
The production technique includes bending trimmed parts by hand, which requires less energy consumption in comparison to conventional processes and reduces the piece's ecological footptint.
New Zealand design studio Think & Shift has developed a 'Hideaway Chair' that enables children to escape from the noise and business of their surrounding environment. Made of molded plywood with wood upholstery, it is geared for children with its low height and an entirely different approach to ergonomics and comfort, but is also visually appealing to adults.
Thanks to its spherical shape that makes the chair closed, the seat provides private space for quiet time and encourages children to sit in any fashion they'd like to: upside-down, side-ways, curled up in a ball, with multiple friends, with a blanket, on their knees, their backs — just about every way, other than the up-right, straight-backed position conventional chairs force them into.
Akos Huber, Hungarian architect and designer currently living and working in Portland, was influenced by unworldliness and lightness of the iconic statue of Nike of Samothrace at the Louvre when designing his Wing Sofa, which similarly becomes the central element dominating the place.
Crafted by fixing veneers of beech plywood to a template by vacuum suction, the winged organic-looking structure resembles an impressive sculpture. The seat is created from a flexible rope stretching in between the two bent plywood sheets of the base and the back and ending in a marine knot as a nod to the history of the statue, as back in 190 BC the Greek sculpture was created in celebration of a naval victory.
The shape itself gives the user legroom, making it easier to use. The sofa is stackable so it is not so difficult to transport and store as well.
Japanese manufacturer Nittax has developed a contemporary take on plywood infusing it with resin that bears more durable and stronger qualities. The multicoloured material named Complite was used by Tokyo-based designer Ryu Kozeki in his Cantus Firmus chair and armchair, whose design showcases the material's properties.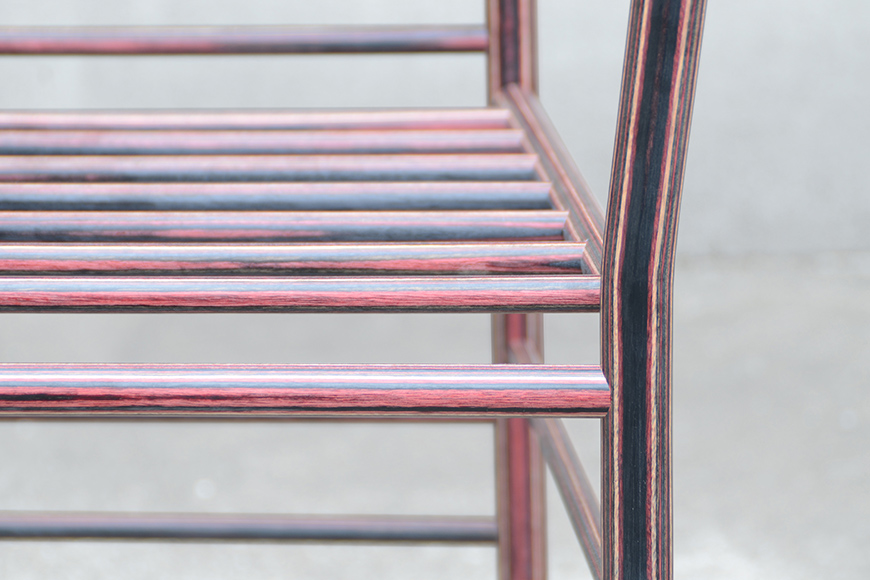 Thinly structured furniture pieces create a sophisticated impression and bring to mind the typical eighteenth-century shaker's chair.