Skateboarding has gone a long way from an underground sport when it began in 1960s California to mainstream. As the sport is becoming an activity enjoyed in cities across the world, skateparks are being built as spaces providing a different way of experiencing spaces. With so much spirit and innovative design involved, skating spaces nowadays are more than a type of sports facility.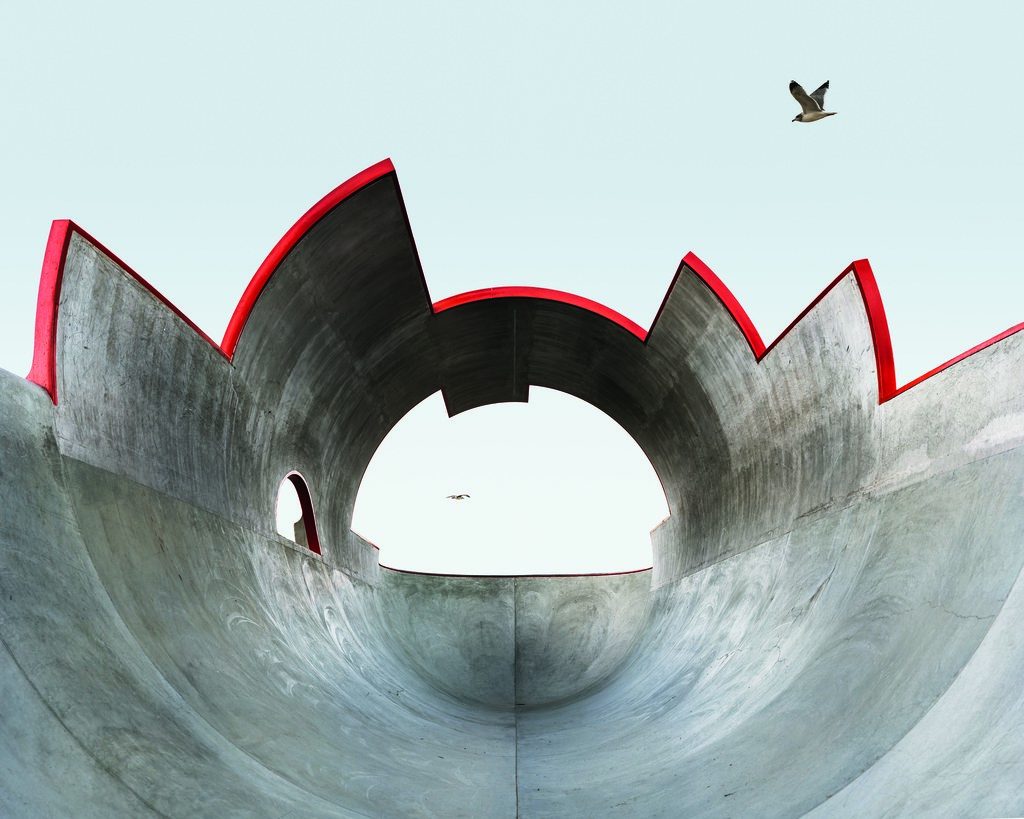 Oslo Skatehall by the local studio Dark Arkitekter, Glifberg-Lykke and IOU Ramps stands now as the best custom-designed skatepark, and one of the largest ones in northern Europe. The architectural signature of this 2,900-square-metre indoor-outdoor facility is 'the elements and movement of skateboarding' which is not at all about swirls and curves. Two dominating structural elements, one light and one dark, form cantilevers, inclined in opposite directions to the underlying terrain. Perforated aluminum sheets of the façade are decorated with a pattern of Morse code symbols which transcribe the law of 1978 forbidding the use of skateboards in Norway.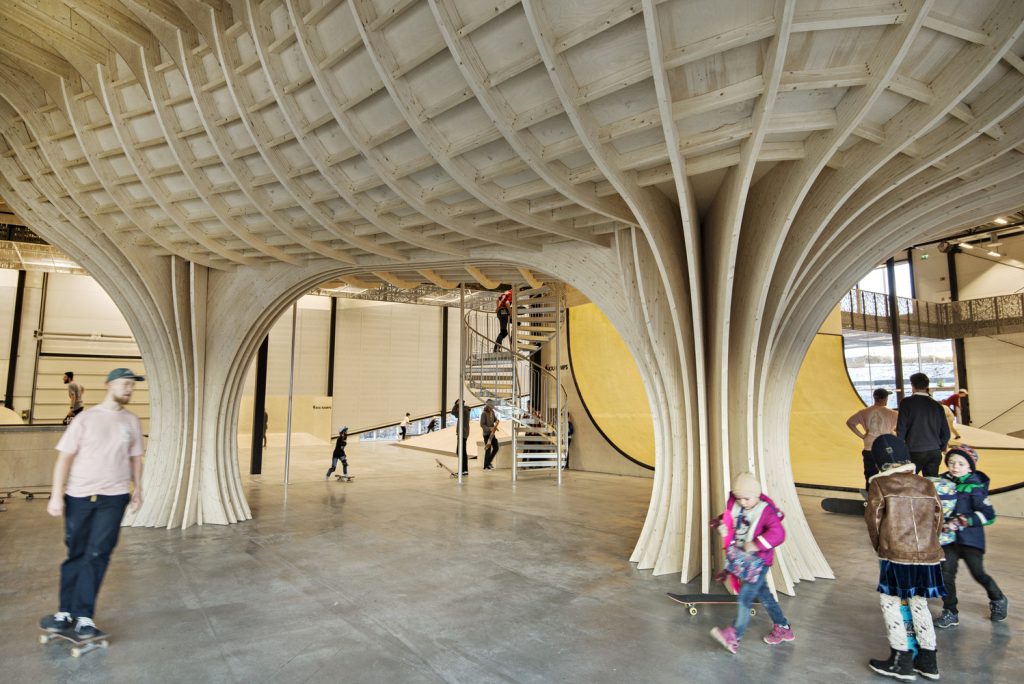 Internally, the skatehall features an exposed sculptural organically shaped framework for the raised bowl which resembles a beautifully strange mushroom completely made of 'raw' wood.
The idea behind the concept was to allow viewers from outside to watch the action inside. From the concrete amphitheatre set in the hillside and walking path on a higher terrain, skating activities outside in the park and inside the hall can be experienced simultaneously. When the gates are opened, these interior and exterior skating spaces become fully connected. This distinctive feature of the building creates unique possibilities for major events and competitions.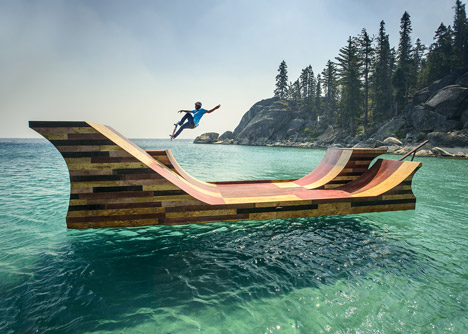 Miami art director Jerry Blohm and Jeff King developed and built a skateboarding ramp floating over the Lake Tahoe for Californian skater Bob Burnquist. The wooden structure featuring one half pipe, one quarter pipe and one 45-degree ramp was put together in just four days and then stained with different colours to create horizontal stripes.
Weighted riggers were attached in case the ramp oscillated too much in the water.  The ramp without any supports looks spectacular set against the beautiful California landscape. It's an unexpected treat to see someone skating in the middle of water.
Le Cube is an installation by skateboarder Scott Oster and John Manaves of Chicago-based architecture practice MANA located in Le Bon Marché, one of the most prominent stores in Paris. Designed as a thought-provoking intersection between sport and sculptural art, it encompasses a mirrored cube placed in the store's central atrium and punctuated by a full-pipe – a 360-degree concave structure that skateboarders use to perform gravity-defying stunts.
When it was not being activated, Le Cube sat quietly, luminously reflecting the architecture of its surroundings—warm lights, decorative iron handrails, and the famous crossing escalators of Le Bon Marché. The reflections of the interior retail space created the illusion that the full-pipe was a cylindrical void suspended within the open interior courtyard of the store.
The Church of Santa Barbara in Llanera, Spain was built in 1912 by local architect Manuel del Busto, but some years later it was deserted to be later rediscovered by a group of skaters. The pews in the nave of the newly established Kaos Temple, or simply La Iglesia Skate (Skate Church) were replaced by a massive halfpipe.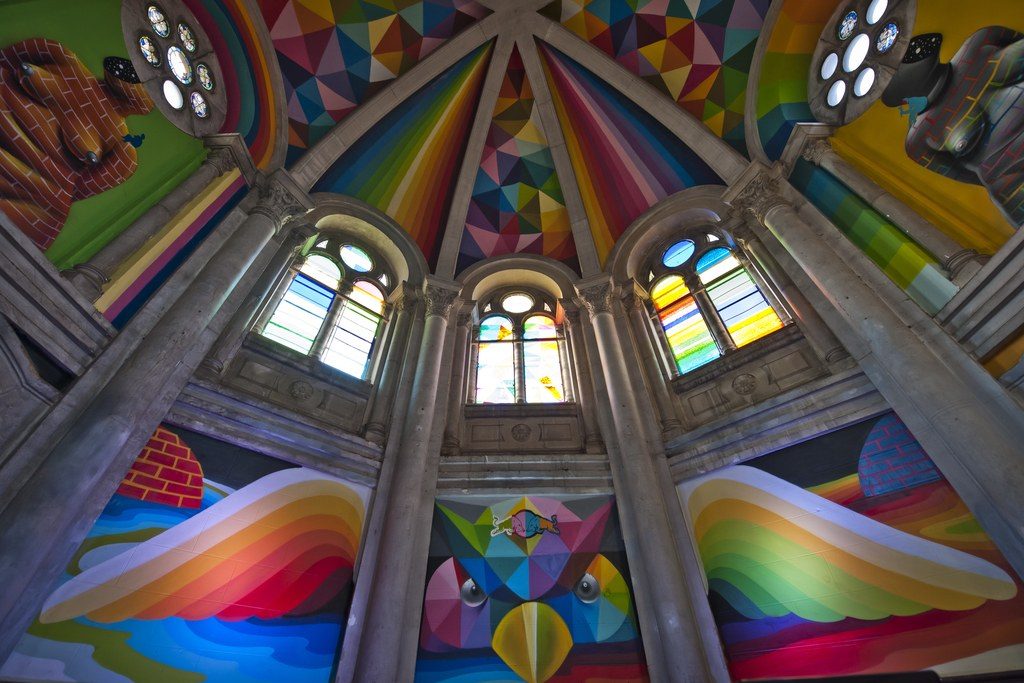 Spanish artist Okuda San Miguel, known for his brightly colored geometric art inspired by graffiti, was commissioned to create bold signature murals. They look exactly like a kind of graphics you might expect to find as a part of skateboard or T-shirt design. San Miguel himself describes his artwork for the church as his 'personal Sistine Chapel'.
Inspired by the beauty and architecture of Californian skateparks which he sees as 'anti-architecture', photographer Amir Zaki created the 'Empty Vessels' series which includes photographs of both deserted skateparks and broken ceramics. To shoot empty skate parks in perfect lighting, Zaki arrived around dawn. The result is a kind of landscape photography in which lifeless concrete wastelands are transformed into thrilling canyons, plateaus and peaks.