Art Basel these days is as much about sales as it is about performances. The show that connects Basel, Miami and Hong Kong, works not only as a mirror for the current art market but also as an indicator of global art trends. Now that the 48th edition in Basel is over (the show was on from June 15 to June 18), we can sum up a few interesting observations.
Though Art Basel generally attracts a more prestigious pack of collectors than any other fair, this year the demand for pricey, well-established art was unusually high even for this world's top art fair. The early sales indicated the reaction of the market towards political and economic turbulences. Besides, a growing number of visitors and buyers from China, Korea and Japan, ensured demand for 'weighty' artists. And if the previous years were more about search for new stars on the arts scene,  this year the approach is much more down-to-earth.
The works sold as mega-deals were by the following artists':   Philip Guston, Piero Manzoni,  Alberto Burri, Marlene Dumas, Wolfgang Tillmans.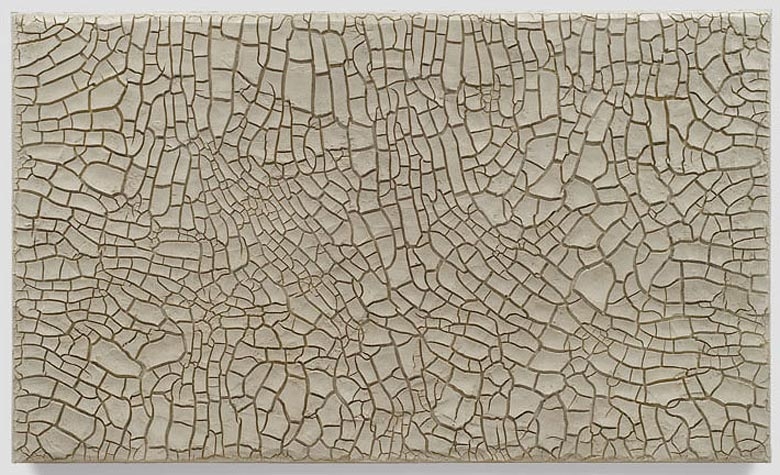 (Cretto Grande Bianco, 1982 – Alberto Burri)
Still, there has also been a number of innovations and surprises far beyond the financial side. The 'Parcours' sector was a site-specific initiative, engaging famous artists as well as passers-by to create projects of their own. The city's neighborhoods were temporarily overtaken by so-called interventions at plazas, classrooms, riverbanks, water fountains and more. So, American artist Amanda Ross-Ho scattered enlarged replicas of keys across Basel.
(via NYTimes)
Projects from established and historical artists were on display in the 'Feature' sector. It hosted photography, paintings and installations
(Golden Buddha, 2005 – Nam June Paik)
(The Rich Uncle Rides the Julbock, 2014 – Oscar Enberg)
'Statements' was a sector, aiming at solo projects by emerging artists eligible to receive the prestigious Baloise Art Prize. The main sector was 'Galleries' – it brought together 291 galleries from 35 countries, including newcomers from Egypt and New Zealand.
(Jean-Michel Basquiat on Richard Gray's stand – via Artnet News)
All in all the fair presented more than 4000 artists involved in countless exhibitions and performances. All who've missed the Fair — you can still get a glimpse of what it was like and roam through the artist' works here: www.artbasel.com/basel